Advisories are evolving with the coronavirus outbreak, and the weather is getting chillier, but Hyde Parkers are continuing to find ways to exercise, both indoors and outdoors. 
Alan Brazil, a marathoner who runs all winter long, barring days when he would risk frostbite, said the most important thing to do is to find someone with whom to run or walk.
Black ice is difficult to spot, Brazil said. "I think the thing there is to try to stick to well-lit areas, because when you're in dark areas, it's almost impossible to detect it." He furthermore recommended taking familiar paths, citing the Lakefront Trail, Lake Park Avenue and the paths through Washington and Jackson parks as his favorite routes.
"I think people are by and large complying with maintaining their distance. You don't see people stopping much; you see people following the rules staying moving the whole time they're out there," he said. 
Even beyond a mask, gear is also important. In Chicago, that means layers: a base that wicks perspiration, fleece thermals to conserve heat and a waterproof shell to keep the rain and snow off. In January and February, Brazil recommends foot- and hand-warmers, available at local pharmacies.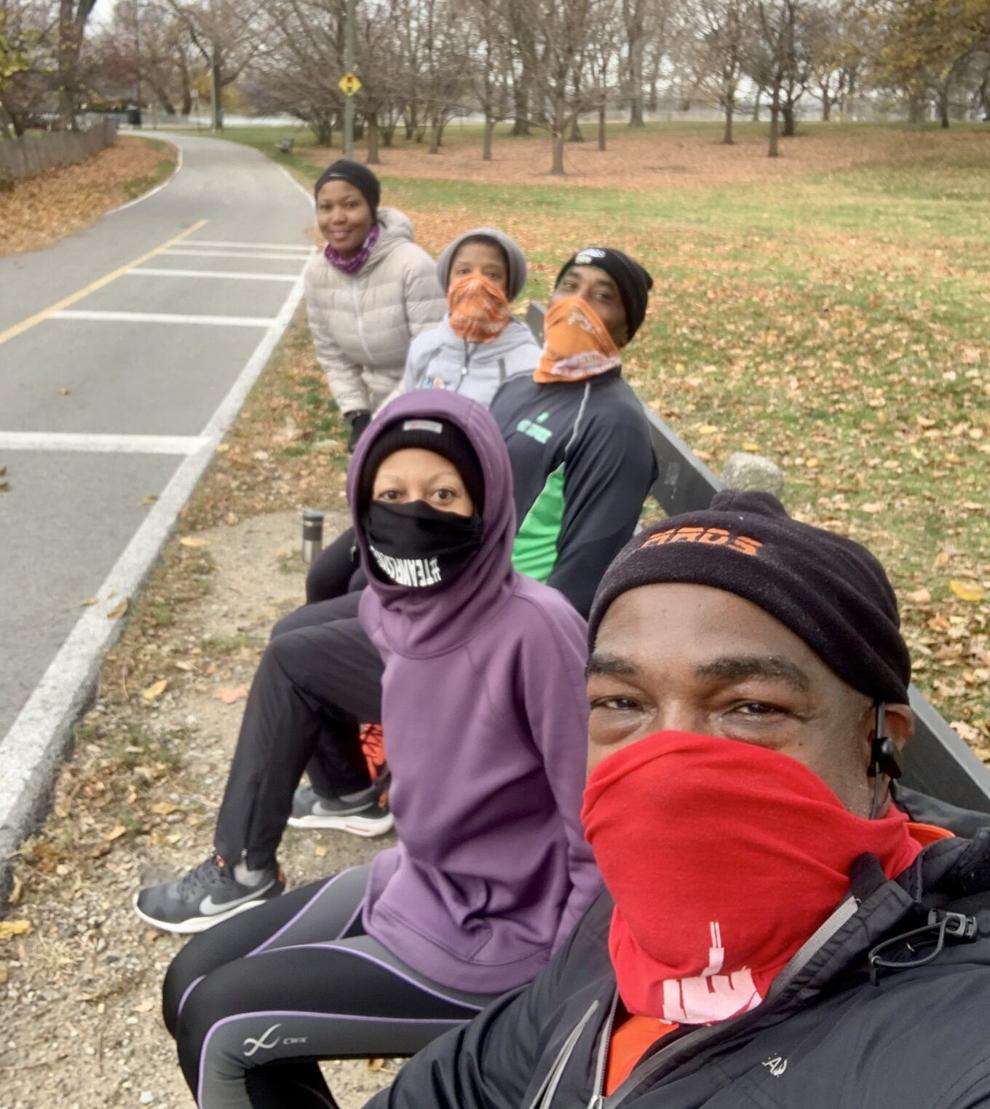 Avi Schwab, an all-seasons Hyde Park cyclist, said simply getting out of the house is "100% the hardest part" of winter bicycling.
"Having gear is good, but honestly, the hardest part for me is the difference between being able to throw on a jersey and shorts and get outside, and having to gear up with everything," he said. "For me, it's just so much harder to have to go through all of that."
As many people's commutes have been cancelled, Schwab recommended replacing it with a morning run to a coffee shop. Like Brazil, he also recommends finding someone with whom to go biking, though social distancing advice is moving him to avoid the large cycling clubs still operating in the city.
As far as gear, Schwab recommended people double down on gloves, heavy socks and waterproof shoes or boots. Wearing plastic shopping bags between socks and shoes can keep water and wind out, and pedal straps get bonus points. He has never put winter fat tires on his bike, but he advises against slick skinny city tires for the cold months.
"Tires with a little bit more nubbiness have gotten me through biking the Lakefront Trail in basically everything apart from heavy snow, which you're probably not going to be out in anyway, unless you're actually mountain biking," he said. "The city is really good at keeping the streets well-cleared, and the lakefront path actually gets pretty well-groomed in the winter, too. Actually, once you get to the lakefront path, once you get in that direction, you don't need a lot. If you're in the street and there's snow on the ground, take a rut."
While Schwab hasn't done it much in the winter, his standard ride at this point has been the Lakefront Trail to its southern terminus then down along South Shore Drive to Steelworkers Park at 87th Street and Lake Michigan, the former site of U.S. Steel's South Works that has been turned into a post-industrial, natural landscape.
"It's so cool and beautiful. You can go in there, and you feel like you're completely out of the city," he said.
Under the city's stay-at-home advisory, indoor and outdoor meetings and social events are to be capped at 10 people.
Two popular winter sports, hockey and basketball, are now listed as higher risk by the Illinois Department of Public Health, the latter due to close contact between players and the fact that it is played indoors.
Lower-risk sports and activities include dance, bowling, swimming, running, cycling, skiing, walking and weight-lifting, as long as masking and social distance rules are enforced. 
Both the University of Chicago and Chicago Public Schools have cancelled their winter sports seasons. Gyms are operating at 25% capacity, and classes are cancelled.
While organized hockey is cancelled for the season, the ice rink at the Midway Plaisance is scheduled to open on Friday, Nov. 27, with a 50-person capacity limit. The warming building will only be used for renting skates and restrooms; patrons who own skates should arrive dressed and use the outside benches to put them on.
Open skate runs from noon to 7 on Friday, Saturday and Sunday, with stick-and-put classes for up to 10 participants beginning the weekend of Dec. 5.
Like every year, fishermen will take advantage of the piers in Hyde Park's parks this winter. Cross-country skiers will glide through trails. Cyclists, joggers and walkers bundle up and carry on, braving the elements.
And, eight months into the pandemic, working out at home remains an attractive option, especially as temperatures begin to drop below freezing again. Stephanie Greene, a Hyde Park yoga teacher who teaches virtual classes, said people do not need anything besides their body weight to stay active in their apartments.
"There are a lot of exercise forms that are really only dependent on having your body, and yoga is one of those," she said. "There's also mat pilates. There're a lot of bodyweight high-intensity interval training circuits that you can find online. There're plenty of forms of movement that can take us over the hump of not having weights of a mat. You really only need yourself to do those forms of movement, and I think that's what's really special about them."
Furthermore, she recommends a routine, exercising at the same time every day.
"It's just a great way to remind yourself 'it's time,'" she said. "I feel like throughout the quarantine and staying inside, a lot of us have seen our routines change. Maybe it is that you used to go to a spin class on Saturday mornings, but your spin studio closed. Still set those similar routines and patterns into your day-to-day life around exercise and movement."
Capitol News Illinois reporter Peter Hancock contributed from Springfield. CNI is a nonprofit, nonpartisan news service covering state government funded primarily by the Illinois Press Foundation and the Robert R. McCormick Foundation. The Herald is a member of the Illinois Press Association.