To the Editor:
When I learned of Ruth Bader Ginsburg's passing, it was during a group text with my team. After the news broke the first reply was an "OMG" from my friend, Dr. Ramsey Ellis.
Dr. Ellis didn't need to say much more than that. "OMG" because Justice Ginsburg's death was sad and devastating. She was a giant, as you know, in her field, an icon for many.
She devoted her entire career to the pursuit of justice and fighting discrimination. She was small, as we all know, but mighty. Her resiliency as she bounced back from many medical setbacks in recent years was both an inspiration and so amazing. She kept working, hearing cases and writing opinions despite numerous hospitalizations.
Even this week, in her final days, she summoned her granddaughter, Clara, and dictated a brief statement, which I will talk about later.
Those of you who know me in the audience know know how much I love "Hamilton." I've only seen it six times. Near the end of the musical, after Hamilton is shot and his life is flashing in front of him he proclaims, "Legacy, what is a legacy? It's planting seeds in a garden you never get to see."
Fortunately, RBG was able to see the early stages of the garden she planted. The garden she got to see includes:
Female students at the Virginia Military Institute, thanks to her opinion that struck down the school's all-male admissions policy.

The Lily Ledbetter Fair Pay Act which was inspired by and passed following her dissent in Ledbetter vs. Goodyear Tire and Rubber Company.

Striking down a Texas law that imposed rules on reproductive health clinics that were designed to discourage women from exercising their right to choose.
But there are seeds she has yet to see blossom, and it is our responsibility to carry on her legacy and make sure that all people are equal in the eyes of the law.
We have to continue the fight for workers, reproductive and women's rights, voting rights and fairness in the administration of justice.
We need to vote, we need to make sure our family and friends and associates vote. We need to make sure total strangers to us vote!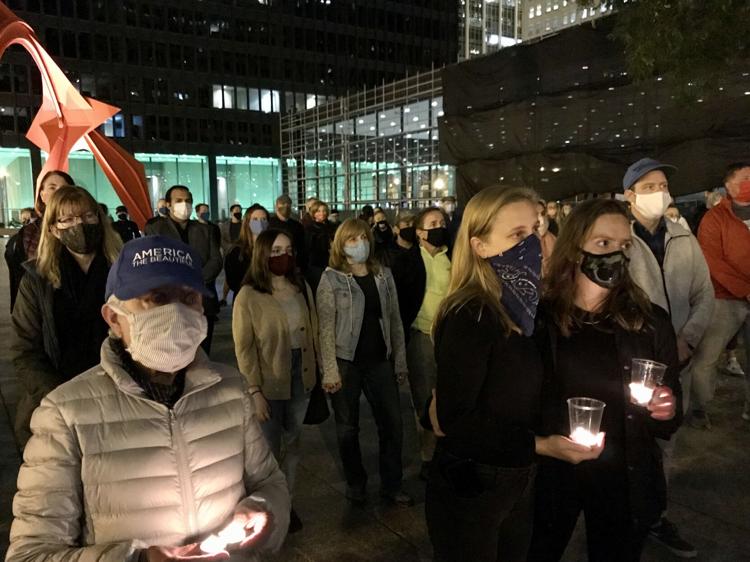 And we have to remember her last wish: "My most fervent wish is that I will not be replaced until a new president is installed" is the statement she dictated to her granddaughter.
People, it is on us to make sure that Joe Biden is that new president and Kamala Harris is his vice president. That is our responsibility. We need to honor her with action. It is on us to make sure that Democrats have a majority in the Senate and they are the ones who confirm her replacement.
It is on us to send a message to Donald Trump, the "Grim Reaper," Mitch McConnell, and Senate Republicans that they must respect the final wishes of the Notorious RBG!
Let's make sure our voices are heard and turn up the pressure, we turn up the heat, we just turn it up for the next month and a half! And remember this: Someday we will have a new justice — and hopefully it's one that we all approve of — but Ruth is irreplaceable.
Rep. Robin Kelly