Alfred Klinger was a man with a poem for every occasion. For his 90th birthday celebration, which he advertised in the Herald as a catered affair open to the entire neighborhood, he recited a 45-minute autobiographical epic. 
His passion for poetry was matched by his love of people. On his deathbed, he reminded his daughter Cecilia, as he had always done for all his children, what a marvelous person she was. 
Al died on December 25 in Seattle, Washington, at the age of 94. Throughout his life, he was a soldier, doctor, husband, father, grandfather, friend, social activist, exercise enthusiast, poet and longtime Hyde Park-Kenwood resident.
Al was born on May 19, 1926 to Hungarian immigrants Joseph and Julia (née Abraham) Klinger. He and his three siblings were raised in an Orthodox Jewish household in the West Side neighborhood of Lawndale. Al attended Marshall High School, where he was a letterman in baseball, in addition to being on the boxing and gymnastics teams.
At 17, he shipped off to Europe and fought in World War II. During the Battle of Remagen in Germany in March 1945, he was shot in the neck; two close friends, the soldiers who marched one ahead and one behind him in his army unit, were killed. 
He returned with a Purple Heart, the daily memory of his friends, and the determination to do good. "I wanted, essentially, to save the world," he said in a 2016 profile in the South Side Weekly. "I still think of why I survived and why they did not."
As a beneficiary of the G.I. Bill, Al believed in the positive impact of government and the importance of education. The bill enabled him to attend college at the University of Wisconsin-Madison from 1946 to 1949 and complete his medical degree at the University of Illinois at Chicago from 1949 to 1953. 
He interned at Cook County Hospital and completed his residency at the James Brown (formerly West Side) VA Medical Center and Mount Sinai Hospital in internal medicine from 1954-1957. Here, he met his wife Catherine "Kit" Holmes, a traveling nurse from northern England. They married in 1957 and raised three daughters and one son in Hyde Park.
Al dedicated his life to social and racial justice. From 1957 to 1958, he had a fellowship at Bronzeville's Michael Reese Hospital in hematology. While at Michael Reese, he advocated for the inclusion of Black doctors and patients. He attended the Freedom March with Dr. Martin Luther King, Jr. in Mississippi as part of the medical team and served as a medic at the 1968 Democratic Convention in Chicago. 
His nephew Gerald Rudnick remembered that, as a teenager, Al brought him to hear King speak at the University of Chicago in front of a small audience and introduced him afterward.
Al shared an office with Dr. Syd Bild for many years at 53rd and Woodlawn. Most of Al's patients were low-income; many came from public housing projects and areas surrounding Hyde Park. In 1967, Al was a member of the initial team of doctors who founded Miles Square Clinic, unique because West Side community members had an active role in its formation and administration.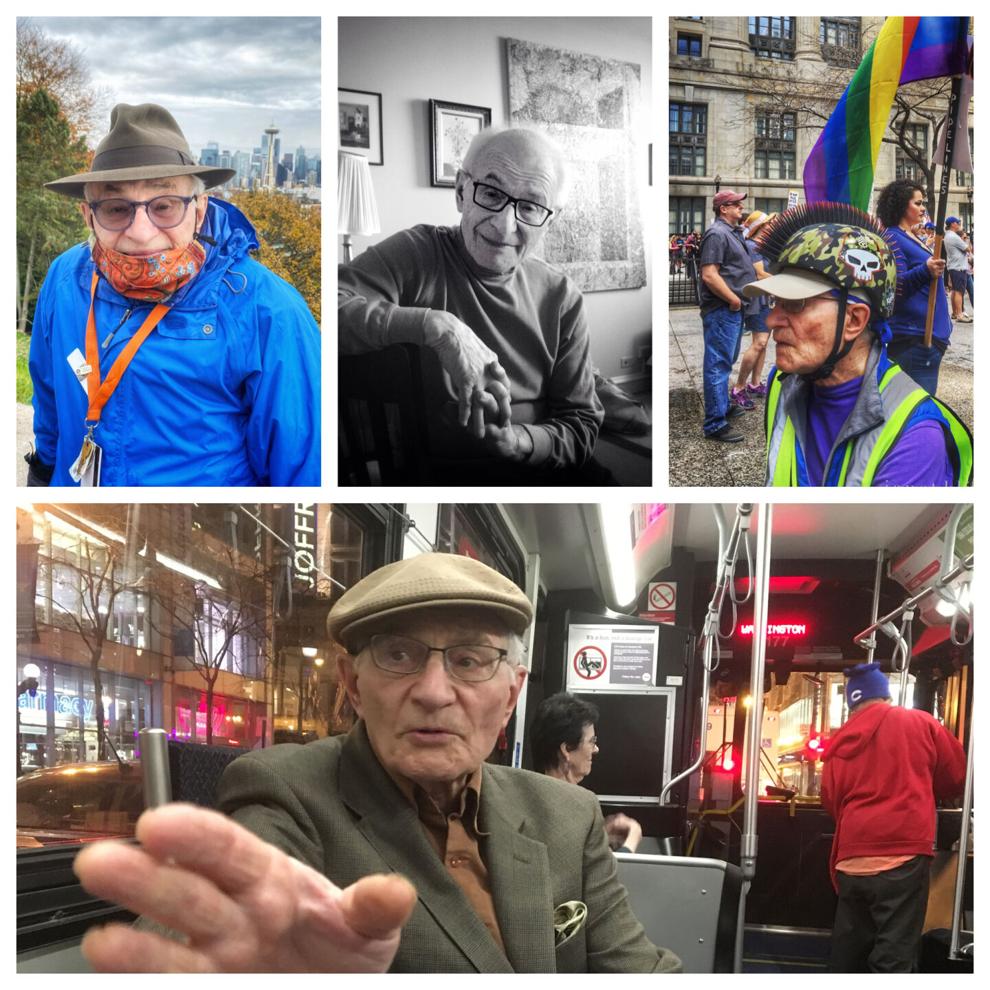 Al witnessed firsthand the food insecurity experienced by many of his patients and believed malnutrition was a national problem. In 1968, he testified before the Congressional Committee to advocate for school breakfast and lunch programs. He ended his presentation by saying, "I'm in favor of the police, instead of riding shotguns, carrying around food packages with them." That same year, Al wrote the grant to establish a breakfast program that became the model for all Chicago Public Schools.
In the 1970s, Al became involved in the formation of the Hyde Park Community Health Center in Harper Court. Like Miles Square, it was run with input from community members. The clinic was eventually taken over by Michael Reese Hospital and Al decided he needed a change from internal medicine. Al and Catherine moved to England for two years and at age 60, he studied Occupational Medicine at London Hospital Medical College. He went on to become the doctor at Ford's South Side car manufacturing plant.
In 1990, Al joined School of the Americas Watch at the Fort Benning U.S. military base to protest human rights abuses, chaining himself to a fence.
After retiring from medicine, he dedicated more time to social activism. He was a former co-chair and active member of the Jane Addams Senior Caucus, a Chicago-based organization that advocates issues important to senior citizens, notably health care and affordable housing. 
Friend and neighbor Mark Shortly, who would eventually serve as co-chair of the caucus described the time Al brought him to his first demonstration with the organization. It was around 2007, during the Bush administration, and the group was protesting the privatization of Social Security downtown.
"On the way there he said he would probably sit in the middle of the street and stop traffic," Shortly recalled. "He invited me to join but, as a novice, I declined. So he handed me his wallet because he thought he'd be arrested and I could bail him out. That just goes to show his dedication." 
In 2017, Al traveled 220 miles by foot and kick scooter from Chicago to Springfield as part of a protest urging Illinois lawmakers to agree on an annual state budget. He celebrated his 91st birthday amongst fellow activists and friends during the two-week journey.
Al was a prolific writer, penning poems, short stories and op-eds throughout his life and was a finalist in the Gwendolyn Brooks Poetry Slam. He was also an exercise enthusiast. In addition to rollerblading and cross-country skiing, Al enjoyed swimming. Cecilia recalls her dad biking between their home and Lake Michigan in his bathrobe. He jogged before it was in vogue. In his mid-80s, he took up long distance cycling and camping through national parks with a group that included his nephew.
Al spent his last years in Hyde Park at the Windermere House, a "naturally occurring retirement center," as friend and neighbor John Murphy describes it. According to Murphy, Al believed medical practitioners had an obligation to the community.
"He was a mensch, a generally good man in so many ways who would do anything for you, committed to the work of social justice. His medical practice was associated with causes like Quentin Young, on socialized medicine," Murphy said. 
Al was a core member of the Chicago Hyde Park Village Men's Group, a tight-knit community he kept in contact with even after moving to Seattle in 2019. 
Allen Lang, another long-time friend and member of the group, shared his favorite anecdote about Al in an email chain.
"What I most remember was his story of a night close to German lines," Lang wrote, "when in the dark of night he found a pond and took a bath, blissfully oblivious to the war all around him." 
Al is predeceased by wife Catherine and eldest daughter Lily Ann. He is survived by children Cecilia, Daniel, Janet, granddaughter Ellie, and many nieces and nephews. Those who would like to remember Al can send donations to Jane Addams Senior Caucus: seniorcaucus.org/donate.
A virtual Celebration of Life will take place on Feb. 25 at 6 p.m. Details at: caringbridge.org/visit/alfredklinger.