We're bringing you the first two editions of our new, twice-monthly newsletter from the editor for free. If you'd like to continue receiving them, sign up for a print or digital subscription today. If you're already a print subscriber and would like to get access to the newsletter, please log into your account and make sure we have your email. You'll need your account number and zip code. Both are listed on the mailing label on your copy of the paper.
Dear reader,
Last week, our new publisher, Jason Schumer, wrote a letter asking for support from all of you. He outlined how the Herald has been suffering from the same issues as small community papers across the country, and announced a new subscription model.
This newsletter, which will come out every other week, is part of that project. It's going to be a place where I'll talk about some of the Herald's stories in greater detail (more on that below) and share articles from ourselves and other outlets I think are worth your attention, but I also would like it to be a jumping-off point for conversation between people in the neighborhood, both with each other and with us. We want to ensure that people feel like they can reach out to us and make themselves heard beyond a comment underneath one of our articles. That's just to say: if you like this, and even if you don't, feel free to shoot me a note! (I'm at c.belanger@hpherald.com.)
A little about myself: I started at the Herald this past February, and have been working as editor for slightly over two months now. Before that, I was a freelance reporter, with a bit of writing in places like Chicago magazine and the Chicago Reader, and completed a fellowship at City Bureau, where I wrote this story about Englewood residents working to buy up property in their neighborhood. In college, I was managing editor of the South Side Weekly for a year, and I've continued writing and editing for them since. (See, for instance, this essay from last year reviewing a newish biography of Nelson Algren.)
Biographies aside, I'm interested in community journalism because I think people deserve to know what's going on in their neighborhood, and they deserve to have someone covering all the stuff, big and small, that might affect their lives. But I'm also interested in the sense you develop, walking by any given street corner, of being able to see into its past and future, or perhaps just more deeply into its present.
That feeling, of course, isn't always there day-to-day, when you're trying to give people useful news about press conferences and SSA meetings, so this newsletter is an attempt to pursue the things in our own work I find worth some extracurricular excavation. That will often take the form of a little bit of historical research, as it did this week, but it could also be something akin to this story from March, which explored the thread connecting a clothing donation box in Nichols Park to the Guatemalan textile industry. Either way, it'll be an attempt to share something I find interesting, and I hope you will too.
Going deep
I'll usually use this space to talk about a story from the past few weeks that I found something particularly striking about, or thought warranted a little more exploration. This week I want to talk about a death notice we ran in our Nov. 26 issue for Beatrice Akiko Takeuchi, who passed away on Nov. 11 at the age of 99. The notice itself is full of all sorts of fascinating details, like the fact — interesting to me for obvious reasons — that her family published a paper called the Great Northern Daily News. Seattle was a hub for Japanese immigration; the Great Northern, which began publishing in 1910, was at one point one of three Japanese-language dailies published in the city.
In an interview she gave later in life, Beatrice remembered that Chinese newspaper publishers often borrowed her father's type-casting machine despite the Sino-Japanese War taking place at the time, visiting the family's home late at night to avoid being seen publicly.
While it's hard to gauge how successful the paper was — there isn't much information floating around online about circulation numbers — it did last until 1942, when Japanese Americans were forced into internment camps and it had to shut down. You can look through the paper's archives here. (The Herald itself is one of the few remaining papers from the sprawling, small-scale urban publishing industry of the late 19th and early 20th century, outlasting short-lived South Side contemporaries like the Auburn Parker and Englewood News.)
Looking through some historical records, I also discovered Beatrice's name on a passenger list for the Hiye Maru, an ocean liner coming into Seattle in February 1938. Though she was an American citizen, she's on the list of "alien passengers," presumably because she was a minor traveling with her mother.
But Beatrice almost didn't make the trip on that particular ship: less than a month earlier, Rolfe M. Forsyth, a 28-year-old Canadian man seemingly angered by Japan's invasion of China the previous year, tried to blow the Hiye Maru up with a time bomb while it was docked on the Seattle waterfront. 
Forsyth drowned in the freezing water, which also jammed the bomb after leaking into the suitcase where it was stored.
Back to Beatrice: she had begun to study at the Cornish School of Allied Arts in Seattle when she and her family were interned — first at Camp Harmony in Puyallup, Washington, and later in Minidoka, Idaho. After she fell ill, she was allowed to leave and continue her studies, though not in the "exclusion zone" along the West Coast. Instead, she applied and got into the New Bauhaus, a school of design founded by the famous Hungarian painter László Moholy-Nagy that would later become part of the Illinois Institute of Technology (IIT).
The death notice fills out the rest of the story. Beatrice finished her degree at IIT some time after the war, and taught design both there and at the School of the Art Institute of Chicago. After living in Chicago, including Hyde Park, she moved to Harbert, Michigan, and South Bend, Indiana. Her brother Arthur, an architect and a professor emeritus at IIT, still lives in the neighborhood.
When her son Mike stopped by the office to pick up a few copies of the paper, he also told me that Beatrice had been one of the stars of the show in "The New Bauhaus," a documentary about Moholy-Nagy's school released last year. More information about the film here. 
In what you might term a bittersweet coincidence, the week after Beatrice's death notice (picture left) we ran another obituary for a Hyde Parker involved in a significant 20th-century civil rights battle. Hyman Rochman, who passed away in October, was a professor of pathology at the University of Chicago. But as Philana Woo explains in her obituary for Hyman, he was also a staunch anti-apartheid activist in his youth, thrown out of his family home in Johannesburg because his parents worried his politics would be bad for their café grocery store business.
Hyman would later hide Nelson Mandela at his home — "when anyone came to the house during the day, I would dash out to the backyard and pretend to be the gardener," Mandela recounted in Long Walk to Freedom, his autobiography. 
Rochman and his wife, Hazel, (both pictured above) escaped the country shortly after and had their passports revoked by the South African government. (For a comprehensive explanation of the country's patchwork, ill-conceived attempts to weaponize travel documents against dissidents, see this article.)
He and his family came to Chicago in 1972. Apart from his professorship, he was head of Clinical Chemistry at the University of Chicago Medicine and worked at La Rabida Children's Hospital.
Writing
Aaron, our trusty staff writer, spoke to some local residents with disabilities who are excited that the new bridge by 43rd Street will give them much easier access to the lakefront. 
Contributing writer Kelly Milan covered a rally to save Mercy Hospital in Bronzeville. For a more academic tie-in, check out this upcoming book from University of Chicago historian Gabriel Winant about the rise of the service economy, particularly in the Rust Belt.
Alex Shur, another contributing writer, explored how homeless advocates are looking to create more permanent housing, even as they try to deal with the effects of the pandemic on young people. Good long analysis of the problems faced by some service providers.
Marc, who normally photographs but also moonlights as a writer, wrote about how Chicago Park District budget cuts will affect our local parks. I thought this was particularly interesting because I haven't seen much citywide coverage of the CPD budget, and because of the disparities some groups think still exist between investment in the North Side and the rest of the city.
Andrea Holliday, who was on staff for the Herald in the early eighties, just started freelancing for us again — exciting! She wrote this insightful story about the Hyde Park Refugee Project's new fundraiser, and what the group's work could look like under a new presidential administration.
Reading
Hannah Edgar wrote a really beautiful feature in the Reader about artist and writer Art Castillo, his panorama that's still up in Jimmy's, and a bohemian Hyde Park that's since been lost. 
Also in the Reader, a deep-dive into the distribution of basketball courts in public parks across the city. As far as I know, the district still hasn't put the rims back up at the courts by Cornell Drive and 47th Street, or on the lakefront court near Oakwood Beach.
I'd be remiss also not to mention the South Side Weekly's annual and characteristically magnificent Best of the South Side issue. (We reprinted a couple of the Hyde Park and Woodlawn blurbs in this week's Herald, so get a copy if you haven't already.)
Outside of journalism, I've been reading the first volume of the Javier Marías trilogy Your Face Tomorrow. I like it a lot, but would appreciate whether anyone can tell me if it's worth ordering the next two hefty novels in order to finish the job.
For the road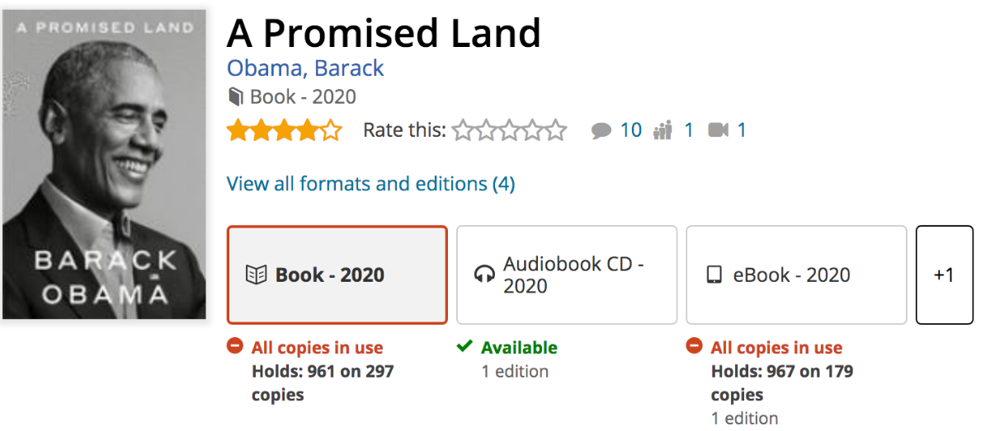 A reader recently sent over a link to the Chicago Public LIbrary's website with the information that she was buried deep in the hold line for Barack Obama's new memoir, A Promised Land. (As you can see above, her position somewhere in the 700s was bad but not the worst.) 
Of course, if you want to read something by Obama for free, just take a look through the Herald's archives for his columns during his tenure as state Senator. Exhibit A offered up below: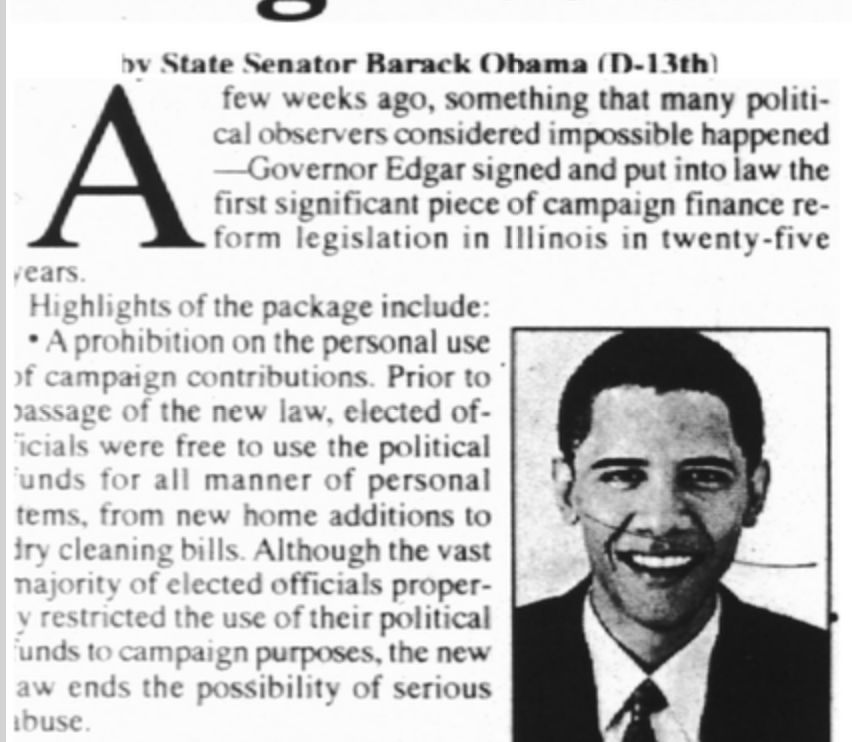 That's all for the inaugural edition of the newsletter. I suspect future versions will be shorter than this one, but thank you for reading to the end; I'd love to hear from you about what you liked (or, again, didn't!). Drop me a line when you get the chance — look forward to hearing from you. 
Best, 
Christian Belanger
We're bringing you the first two editions of our new, twice-monthly newsletter from the editor for free. If you'd like to continue receiving them, sign up for a print or digital subscription today.