Cook County Board President Toni Preckwinkle is skeptical that the coronavirus pandemic will have a positive effect on the social and economic inequality of the nation, as some have suggested.
"Frankly, the idea that this crisis is going to transform inequality in this country seems to me to be incredibly optimistic," she said. "The inequality which African Americans are challenged by as a result of 250 years of slavery and 100 years of brutal oppression afterwards and the idea that one single event is going to magically change this profoundly racist country — and a country that's willing to tolerate tremendous income inequality – is optimistic.
"It doesn't mean we shouldn't try to work to use this crisis … as an opportunity to address those things. But I think you have to have realistic expectations."
Preckwinkle said her job is to try to help as many people as she can: "We run a health care system and criminal justice system, and I've worked hard (to try to guarantee) that we deliver good care throughout health care system and that I can make our criminal justice system as fair as possible in a country that's profoundly racist and in which Black and Brown people get ground up."
Half of the county's budget goes to health care, and she said that their two hospitals, Stroger, 1969 Ogden Ave., and Provident, 500 E. 51st St., are 50% occupied by COVID-19 patients and provide 48% of the county's charity care.
"We've always had a mission of serving whoever came through our door," she explained. "We continue to have that mission in the midst of this crisis." County emergency management and regional security teams are also working to address the horrific toll the pandemic is taking at area nursing homes.
The Cook County Jail, 2700 S. California Ave., was the nation's top coronavirus hotspot in early April, and Preckwinkle said it is now absolutely vital to lower its population, which has been a longstanding goal for her. It averaged 6,000 inmates per day in December 2017, with a capacity of 10,607 when she became the county executive in 2010. Its population on Friday was 4,196, which she credited to a joint effort to release people accused of nonviolent crimes between her administration, judges, the state's attorney, the sheriff and the public defender.
"We've had four deaths in the jail," she observed. "I would point out that the last two, the most-recent death was of someone who was accused of murder. The previous death was somebody who was accused multiple times of abusing children. There will be people who are not going to be able to be released from our jail because they are a danger to us.
"We're trying to reduce as safely as we can the jail population by releasing those accused of nonviolent crimes," she continued, "but the jail will continue to be a Petri dish, because it's a congregant facility."
"Frankly, I see no reason why it shouldn't continue to remain at this very low level. If we can, in the midst of a pandemic, release people accused of nonviolent crimes, why can't we do that when things are good?"
She said it is a good thing that Chicago Police Department officers are arresting fewer people: "They historically have arrested people in Black and Brown neighborhoods for petty, antisocial behavior that White people never get arrested for, like smoking dope."
On the business recovery front, Preckwinkle noted a program that highlights the federal Paycheck Protection Program that provides grants to businesses that keep employees on payroll during the crisis. The county also has a $10,000, five-year, no-interest loan, the Community Recovery Initiative, to independent gig and contract workers who make less than $100,000 annually; she said it is also waiving some fines and fees among businesses and deferring remitted payments through May and June.
Last week, Mayor Lori Lightfoot named Preckwinkle to her COVID-19 Recovery Taskforce, specifically the working group on regional coordination. "Regions with the least inequality perform the best," Preckwinkle said at the April 23 announcement, held in the shadow of the Michigan Avenue Water Tower that survived the Great Chicago Fire, "and for this to happen, we need to work together to drive this change."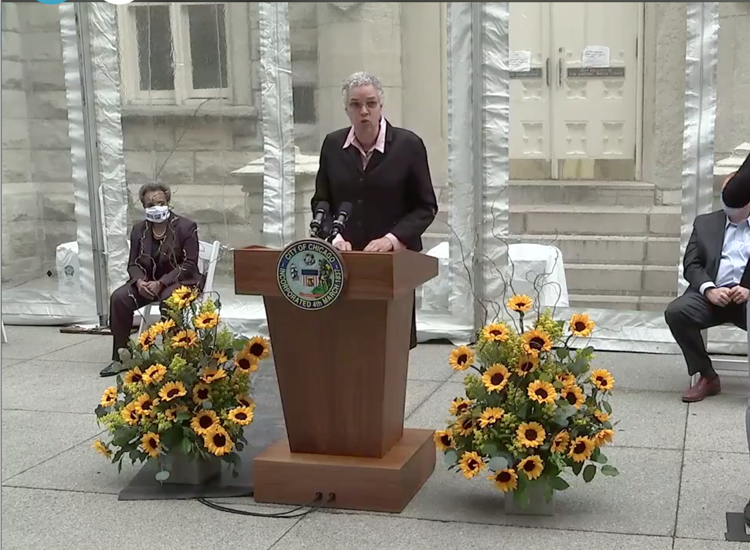 "We'll be talking soon about the direction which we're going to take," Preckwinkle on Monday, referring to her working group co-chairs. "We've got a little bit of time, because the governor has extended his shelter-in-place order through the end of May."
She also referenced the Chicago Regional Growth Corporation, a partnership between the eight Chicagoland counties in Illinois, and said work would be done to support the metalworking and trucking industries, promote exporting among small and medium-sized producers and encourage foreign direct investment in the region.
On a social front, Preckwinkle hopes the pandemic will hurry along the city-mandated rise in the minimum wage to $15 an hour, which is due to occur in July 2021. Critical grocery workers should be able to support families, she said.
Like everyone, Preckwinkle is practicing social distancing: outside of the demands of her job, she takes her dog on walks around the neighborhood. Her longstanding enjoyment of science fiction and mysteries occupies free time. She encouraged people to reach out to family and friends, volunteer by delivering groceries or, if they can, donate (which she has done, to the First Unitarian Church of Chicago, 5650 S. Woodlawn Ave., WBEZ and the Seminary Co-op Bookstore, 5751 S. Woodlawn Ave.).
"I think we would be better off if we put our time into investing into our social networks and being sure that everybody's alright and we're helping those people we can help," she said. "It's better to focus on what you can do to be helpful to yourself and your family and everybody else, and let's lift up those people who are heroes."
And, a minute later, a wallop of sobering realism: "Everyone's going to know someone who's been sick, and everyone's going to know somebody who's died."
"I've had the privilege of being an elected official for 30 years," she said. "A lot of bad things have happened in that time." The 1995 heat wave killed many of her constituents in the 4th Ward. She served through the Sept. 11 attacks and the Great Recession. Those experiences, she said, are helping her through this one.
People have faced generational challenges, from the Great Depression to World War II; said she expects that the pandemic "will have a similar, dramatic impact on everyone who suffers through it. It's a test of the resiliency and strength of your country, and I hope that we survive this with grace and strength and grace."
Preckwinkle expects that we will. As for herself, "I do what I can every day, and I understand that that's all I can do."