Incidents of police officers' misconduct toward Anjanette Young, a Black woman, sparked tempers at the Dec. 16 City Council meeting.
Pilsen Ald. Byron Sigcho-Lopez (25th) said there is a systemic problem with police brutality in Chicago during the virtual meeting, referring to the mistaken 2019 police raid on Young, who was handcuffed naked and told officers dozens of times that they had the wrong home, as first reported by CBS 2.
The Tribune has since reported that Mayor Lori Lightfoot's administration tried to block WBBM from airing body camera footage of the raid, released under a Freedom of Information Act request, and tried to have Young sanctioned for allegedly violating a confidentiality order.
Lightfoot ruled Sigcho-Lopez out of order during the council meeting.
"Instead of reprimanding somebody for speaking out, I think that they should be outraged," Ald. Leslie Hairston (5th) said of the mayor's interaction with Sigcho-Lopez in an interview after the council meeting.
"Every woman should be outraged, and particularly I as a Black woman should be outraged. This conduct would not have happened if the woman were White," Hairston said. "Every woman should be outraged, and the mayor should be outraged."
Ald. Jeanette Taylor (20th) was also angry about Lightfoot's interaction with the alderman, saying, "Lori needs to learn that we are her coworkers. We don't work for her. And she was very disrespectful and wrong challenging Ald. Sigcho-Lopez. That was not right."
(In her post-meeting press conference, Lightfoot said she was furious as a Black woman about the situation and expressed empathy with and apologized to Young. Lightfoot denied the charge that the city had sought to sanction Young.)
In a post-meeting interview, Taylor said the city should not sanction Young, adding, "It's funny Black women are always here to save this country, but you're never here to save us."
"They need to give this woman whatever she is asking for, and we definitely need CPAC," Taylor said, referring to the Civilian Police Accountability Council, which Lightfoot does not support.
On Dec. 18, Taylor and fellow South Side Alds. Raymond Lopez (15th) and Stephanie Coleman (16th) called for a special City Council meeting on Dec. 22 to force a vote on an order to stop the Chicago Law Department from sanctioning Young.
Hours later, the city announced Young and her attorney would not face sanctions."I again want to reiterate and affirm my commitment to righting the wrongs in this case and moving forward with full transparency and accountability," Lightfoot said in a statement.
Taylor, Lopez and Coleman then withdrew their call for a second December council meeting.
Hairston said the Chicago Police Department "has not gotten the memo that this is unacceptable and will not be tolerated," and she said aldermen need to move swiftly on police reform and civilian accountability.
It is now December of the year of the largest mass protest action in the United States in more than 50 years, driven overwhelmingly by police brutality, and the Chicago City Council has not passed substantive police reform.
"'Chicago ain't ready for reform,' but they're going to have to be forced to reform. It must be forced to reform," Hairston said. "I'm all for civil disobedience."
Taylor said that Chicago will call itself "progressive" because former policeman Jason Van Dyke, who murdered Laquan McDonald, was sentenced to prison, but that doesn't make it so, especially without legislative police reform. Retraining the police does not equate with systemic reform, she said.
"Lori is a cop," Taylor said. "I don't see why people don't see that. You can't run from your past and what you used to be."
Lightfoot, a former assistant U.S. attorney, served as president of the Chicago Police Board and chaired the Chicago Police Accountability Task Force before being elected mayor.
After the meeting, the Progressive Caucus, of which Hairston and Taylor are members and Ald. Sophia King (4th) chairs, issued a statement calling for transparency and accountability, expressing outrage and sympathy for Young.
"This incident further erodes the already-tenuous relationship between CPD and people of color across the city," they wrote. "We call on the Inspector General to conduct a thorough examination of this incident, including why it took COPA (the Civilian Office of Police Accountability) nine months to open an investigation and to determine whether there was any attempt to thwart transparency."
Furthermore, the caucus said they would work with other aldermen to hold subject matter hearings about the incident.
"Whether it's how the warrant was issued and executed, why the body cams were prematurely turned off, and why the Law Department may have fought the release of this video, Chicagoans deserve to know exactly what went wrong here and what city leaders are going to do to fix it," they wrote.
"We urge Mayor Lightfoot to help accomplish this by working with us and the entire City Council to create a Civilian Safety Oversight Board and recommit to upholding the full spirit of democratic justice. There are numerous other substantial policies at our fingertips — warrant-service reform, ending incommunicado detention and rolling back improper surveillance, to name a few."
During the meeting, King, Hairston and Taylor voted to recommend a $300,000 settlement to a 16-year-old Black special education student at Marshall High Student in Garfield Park whom two school police officers dragged down a staircase by her wrists before using a Taser on and punching her.
The two officers involved are no longer assigned as school resource officers.
Hairston said her vote was out of her responsibility to protect taxpayers from more liability.
"This is what the parties negotiated," she said, declining comment on the settlement itself as she was not one of the parties in the suit and saying, "I assume both sides were represented by counsel, and this is what they agreed to."
Taylor voted for the settlement but said, "No amount of money is going to fix their dignity, their pride and their mental capacity." She said she voted for it because "anything that they get from the city that they're asking for, they deserve."
Taylor said she is burned out with City Council but said she is not considering resignation.
"I just need some new coworkers who ain't worried about their money or their check and are worried about the people they're supposed to represent," she said. "Hell no. I would never give this system the benefit of the doubt. But I know how to step away, and I know how to give myself some space."
Other ordinances passed
In addition to a six month-extended anti-gentrification ordinance with rules forcing large-scale developers to build more apartments for low- and middle-income residents in three North Side areas, King, Hairston and Taylor voted with a majority of their colleagues to enact a pilot legalization of coach houses and granny flats in certain areas of the city.
"Additional dwelling units," or ADUs had been illegal across Chicago since the 1950s and remain so in Hyde Park-Kenwood, which was not mapped into the five pilot zones.
"Each neighborhood is different in terms of density, and I think that Hyde Park already has the density; South Shore already has the density, and South Shore has the affordability," Hairston said. Asked about the issue of affordability in Hyde Park, Hairston pointed out that the ordinance is a pilot.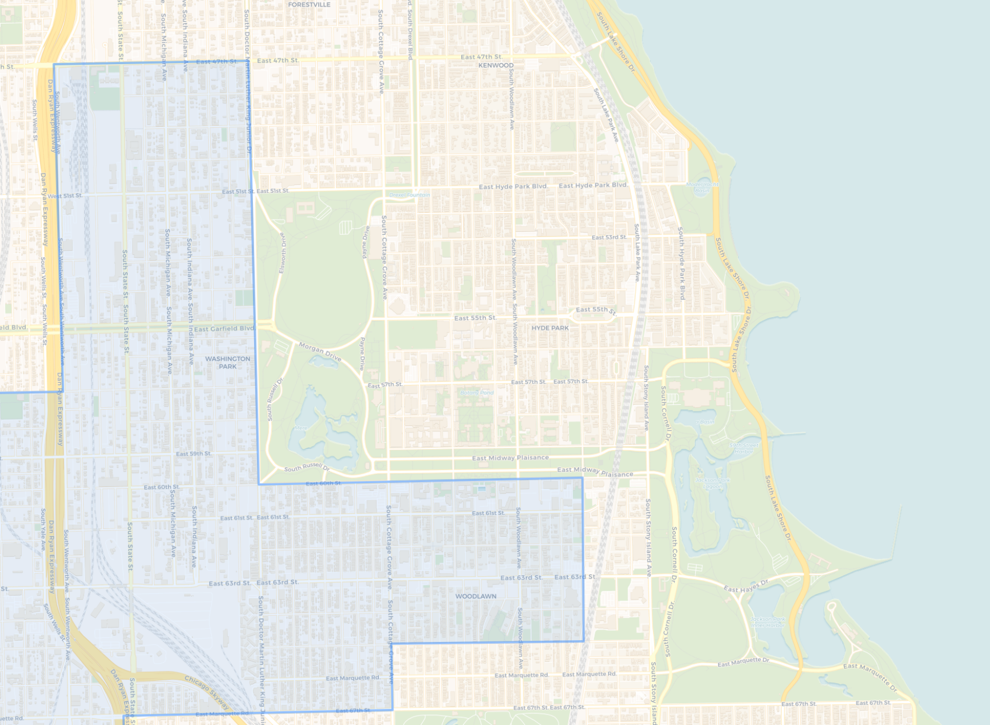 Washington Park and most of Woodlawn, however, are included in a pilot zone.
"I'm never against that, because what's being built now in the ward definitely helps folks to keep their homes, and it's another source of income," she said. As the pilot goes into effect, she said she will be looking to ensure that those benefiting from the pilot are those who needed boosted incomes and an ability to stay in their homes.
Every business and public vehicle license that would have expired between March 15, 2020, and June 15, 2021, is considered active through June 15, and individuals and businesses have until that date to renew their licenses.
Furthermore, bars and restaurants operating in private parking lots, sidewalks or closed streets under the city's Expanded Outdoor Dining Program can do so through the end of 2021.
"Chicago's businesses have dealt with so much throughout the COVID-19 crisis and they have stepped up to keep our community safe and healthy," Lightfoot said in a statement. "My administration is committed to doing everything we can to remove regulatory burdens and make sure that the City is aiding the recovery efforts. The extension of these measures will provide critical emergency relief to tens of thousands of Chicago's businesses."
Hairston said she was happy to support businesses amid a public health crisis and recession, noting that one in particular had lobbied her to support the ordinance.
"This is an extremely tough time, and we are bending over backwards to try to make accommodations in a way that we can," she said.
Taylor, too, said she was happy to support it, particularly for constituents currently wanting to start businesses.
"Any opportunity to give them some help and support, I'm all for," she said.
The council also passed Lightfoot's re-appointment of three Special Service Area No. 61, Downtown Hyde Park, commissioners: Nancy Stanek of Toys et Cetera, 1502 E 55th St., Gregory B. Guttman of Mac Properties, 1364 E. 53rd St., and Chairman George W. Rumsey of the Computer Resource Center, 1525 E. 53rd St., Suite 902