SPRINGFIELD — One of the most transformative six-day periods in the history of Illinois government came to an end Wednesday with the election of west suburban Rep. Emanuel "Chris" Welch (D-7th) as the state's House speaker — the first Black man to hold the title.
Equally groundbreaking was the fact that Welch unseated Southwest Side Rep. Michael Madigan (D-22nd), the nation's longest-serving legislative leader who had been speaker for all but two years since 1983.
Welch sought a unifying tone in his first floor speech as speaker, telling his fellow lawmakers "today will be the last time I talk about us as Democrats or Republicans."
"We will need to work together to make difficult decisions, folks," he said, receiving applause from Republicans. "Let's get ready. Because we are going to have to make some difficult decisions to control spending while we protect our most vulnerable residents and while we ensure schools receive the funding that they need."
After the floor speech, Welch said during a news conference he had not had time to digest the historic events that led to his speakership. The House adjourned its Tuesday session at 4:14 a.m. on Jan. 14 and reconvened to pass a massive criminal justice reform bill and certify Welch as speaker just hours later.
The 22 members of the House Black Caucus, chaired by Rep. Kambium Buckner (D-26th), urged him to run for speaker in a closed-door caucus on Jan. 12, Welch said, and he had no plans to do so before their urging.
All but one of those members had supported Madigan on the first closed-door ballot between Democrats over the weekend. In the end, they provided the backbone for Welch's late push after Madigan suspended his campaign and Welch built a broader support coalition than three other challengers.
Buckner accompanied Welch to the dais after his election to take his oath of office. "To see a person who looks like me, lead the body where 'the Great Liberator,' Abraham Lincoln, got his political start is truly momentous," he said on Twitter. "Proud to call you friend, colleague and speaker!"
Welch's election did not receive the backing of every Democratic member in the House. North Side Rep. Kelly Cassidy (14th), who had run for the speakership, and Lance Yednock (76th) from Ottawa voted present.
Cassidy later issued a statement saying diversification of leadership in Illinois should be celebrated, but she called for a "vigorous review" into allegations against Welch that were outlined in a Tribune article in the waning hours of his run for speaker.
The Tribune cited a 2002 police report from west suburban Hillside that accused Welch of slamming an ex-girlfriend's head into a kitchen countertop numerous times after she called him "a loser." The Tribune said the woman elected not to press charges after talking it over with Welch's relative, according to the report.
Welch denied the allegations at the time, according to the Tribune report. He also issued a statement this week when confronted with the past allegation.
"This verbal argument occurred nearly two decades ago," he said in the statement. "I will be honest that I have reconciled with the individual since that night. In fact, after our dispute we sought out the authorities ourselves. Their family lives in my district and are proud supporters of my public service and work."
Cassidy said in her statement she respects Welch and considers him "a good man" but she reserved her vote "because, at the same time that we're ending years of scandal over allegations of sexual harassment and corruption, we have also just been made aware of troubling allegations from Speaker Welch's past."
"He has denied each allegation, and we certainly have seen plenty of examples of Black men being wrongfully accused," she said. "I feel strongly that I have been too outspoken on issues of sexual harassment and domestic violence to simply ignore these questions."
Asked about the allegations Wednesday in a news conference after his election, Welch said he did not see a need to go beyond the statement and he respected the privacy of the individuals involved.
"And I think my life's work here in the legislature shows my respect for women," he said.
As Cassidy referenced, Madigan's decades-long grip on power as House speaker and Democratic Party of Illinois chairman was weakened in 2018 amid a sexual harassment scandal that led to the firing of several top aides from his administration, including his longtime chief of staff.
Madigan was further weakened last year when he was named in a court document by utility giant Commonwealth Edison. The company admitted to a years-long bribery scheme aimed at influencing Madigan by providing jobs to his associates.
---
Looking ahead to their next two-year terms, both Reps. Tarver, who represents southern Kenwood east of Woodlawn Avenue and Hyde Park east of Ellis Avenue, and Buckner said they will continue to center racial equity and justice in their legislative work.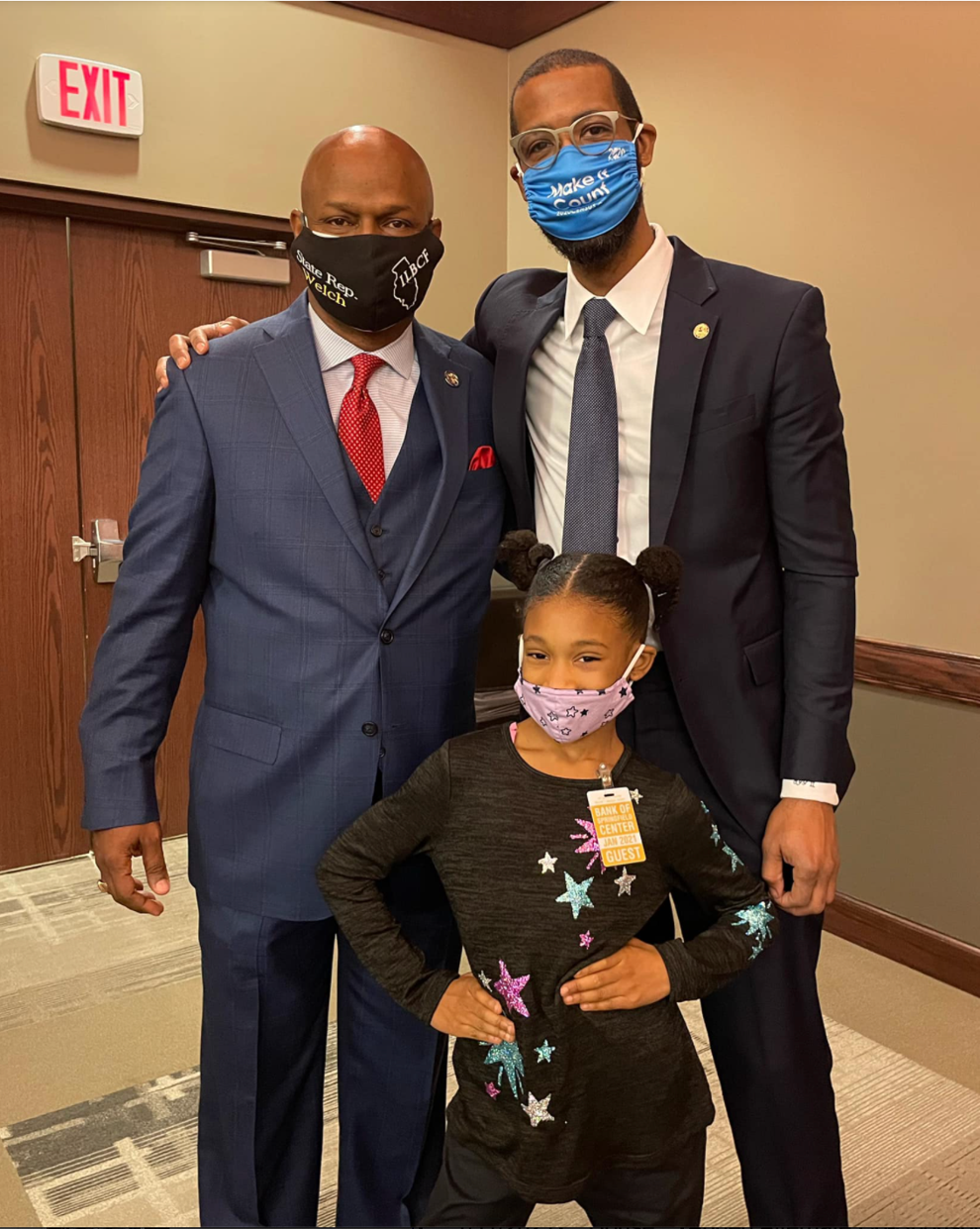 "As demonstrated by the COVID-19 pandemic, Black communities are not provided with the same resources to healthcare and other essential services that keep people healthy and well," Tarver said in a statement. "By fundamentally changing how we invest in state services and holding bad actors accountable, we can ensure that people of color are provided with opportunities that white supremacy and racism have aimed to prevent for far too long.
"No matter what, I will continue my fight for the Black community and other individuals who have been discriminated against for no other reason than what they look like. I look forward to working with my colleagues so that the injustices done to our communities can begin to be repaired and we can move forward as a unified state, country and world."
In a statement, Buckner said he is committed to getting COVID-19 relief funds distributed fairly, "to COVID-19 testing, vaccine distribution and education, as well as community health care" and "struggling families and small businesses, not large corporations and billionaires that have taken advantage of the pandemic to get richer and richer."
"I will not balance the budget on the backs of struggling families and seniors relying on lifesaving services nor will I support cuts to programs that reduce violence and help lift families out of poverty," he said. "While we must pass a balanced budget, we also have to pass a responsible budget that protects investments in the children and families of our state through education, health care, jobs and violence reduction."
Herald staff writer Aaron Gettinger contributed from Chicago. Capitol News Illinois is a nonprofit, nonpartisan news service covering state government funded primarily by the Illinois Press Foundation and the Robert R. McCormick Foundation. The Herald is a member of the Illinois Press Association.