Preschool and special needs students returned to Hyde Park-Kenwood public schools this week, though the area's City Council delegation and many parents remain opposed to the decision.
Students in kindergarten through 8th grade are due to return to Chicago Public Schools in February.
In opening remarks to the City Council Education Committee Monday morning, Deputy Chief of Elementary Schools Felicia Sanders said that African American pre-kindergarten enrollment is down 44% "and many of our diverse learners who would normally receive intensive, therapeutic services at schools are not getting the support that they need, placing a huge burden on their families."
Despite the distribution of computers and high-speed internet, students are falling behind, Sanders said, so schools need to open while the district does everything that can be done to keep everyone safe. She noted that remote learning remains an option for those who want it.
"Simply put, we would not reopen our school buildings if our public health officials did not believe it was safe to do so," she said. 
Beyond standard protocols like free reusable masks and social distancing, the district is implementing daily health screeners, temperature checks, surveillance testing for staff, nearly $9 million in high-efficiency particulate air, or HEPA, filter purifiers for every classroom with students, indoor air quality and ventilation audits for every school in the district, learning pods for students and hundreds of additional custodians.
"We understand that these are uncomfortable times and that this return is not easy, but we are confident that as soon as the staff returns, they will see we have taken the right measures to protect them and that in-person learning can occur even in the most challenging times," Sanders said.
Ald. Sophia King (4th), vice chair of the committee, announced her opposition to CPS reopening at this time during her question.
"This is about what's best for our students, for our teachers, for our families," she said. "I respect tremendously individuals on both sides of this conversation, but we should seek to hear diverging opinions. I think our country has shown us what happens when we don't, especially since this is new to all of us, including scientists in the field. There's so much changing information day by day, week by week."
She said "there will never be an ideal time" to open schools during the coronavirus pandemic, "but there will certainly be a better time when we are more optimally prepared." She urged focus on social-emotional learning, engagement, synchronous-asynchronous learning balance and cohort pods for vulnerable students, further suggesting "a more robust opening in the fall."
"Given the vaccine that's being rolled out just now, given that we're at the height of the second phase of this pandemic, seeing that current research shows that schools tend to have the same positivity rate as their surrounding communities — which is recent data — and this disproportionately impacts Black and Brown communities, given that these same families are choosing not to return...why wouldn't we wait?" King asked.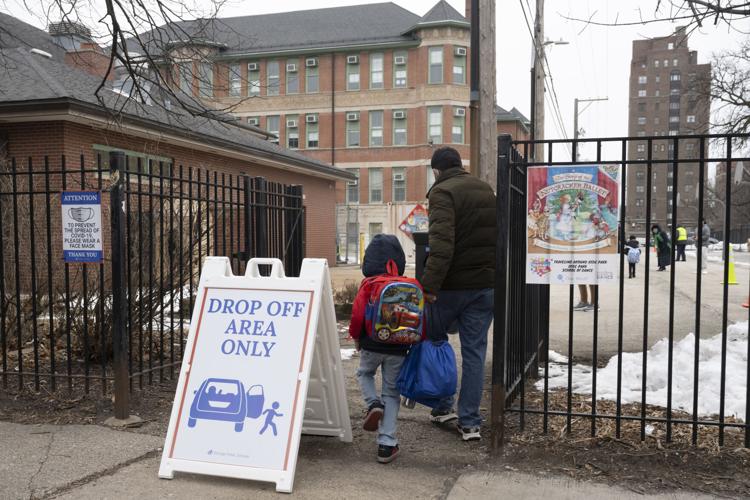 Marielle Fricchione, a pediatric infectious disease specialist who directed the Chicago Department of Public Health's immunization program, noted that the city's current infection rate is half that of the second wave's peak in early November. If Chicago were at the second wave's peak, the doubling time for the total number of people infected in the city would be below 18 days — currently the district's benchmark for closing schools. Instead, the city's current doubling time is 84 days.
"For us as public health experts, it means that we are in control of this outbreak," Fricchione said. Although people still traveled over the holidays and saw families, the city anticipated this and put in stronger mitigation strategies. 
Fricchione said said the city's case rate is on its way down "almost to where we were in the summer from the second wave." While Mayor Lori Lightfoot's stay-at-home advisory has been extended, Fricchione said it is a sign that "community mitigation strategies are as strong as possible when we start to re-phase our children into learning."
"We're probably in the plateau of the post-holiday bump," she said, acknowledging that the city does not know how long it will go. The stay-at-home advisory, she said, will help assess the "bump's" impact, and she noted that Thanksgiving data suggested that holiday bumps only last a week or so.
King cited a study with data from Michigan and Washington state suggesting that COVID-19 may spread at the same rate in schools as it spreads in the surrounding community. 
Katharine Strunk, a Michigan State University education policy professor and one of the study's authors, told The San Diego Union-Tribune that having the disease in the community probably means there is "some" disease in the community's schools, so the better job a school does with preventing the coronavirus' spread with testing, masks, social distancing, etc., the better. 
Last month, WBEZ reported that only around 37% of CPS students, or 77,000 out of 210,000, plan to go back to school in person, with 67.5% of White parents planning to send their children back but only 33.9% of Black families and 31% of Latino families planning to do so. 
Black and Latino families, WBEZ reported, make up 80% of CPS families.
King, for her part, asked how CPS and city officials can reconcile opening schools with the fact that Black and Latino neighborhoods have some of the highest rates of COVID-19 in the city.
Fricchione responded that children still have the smallest number of cases in the city by far. "Of those cases, the youth settings team in the COVID bureau additionally tracks those case associated with youth settings, and that proportion of pediatric cases is extremely small," she said.
Regarding simultaneous instruction, CPS reports that in-person students and remote students can receive the same lesson at the same time, or teachers can teach remote students while in-person students are learning independently.
Citing the American Academy of Pediatrics, which reported earlier this month that in-person learning at schools following COVID-19 public health guidance "does not seem to significantly increase community transmission of the virus," Fricchione noted infectious disease experts' confidence that approved vaccines will protect against the more transmissible strain of COVID-19. 
The new variant does not cause a more severe form of the disease, and layered mitigation strategies the district is putting into place work against it.
Ald. Jeanette Taylor (20th) equated the city's stay-at-home advisory with "choosing who's going to die," though Fricchione said, "We have seen no deaths from our studies of the 138 schools that have been open so far, related to school-associated transmission. We've seen nine cases since the summer of school transmission."
Asked to detail what a typical CPS school day will look like, Chief of Teaching and Learning Sherly Chavarria said students will arrive, be asked if family members have completed a health screener prior to arrival, have their temperatures taken and be asked to maintain social distance before getting to their classroom. Parents will be discouraged from coming into the building.
Children will remain in their pods in their classrooms over most of the day. Pod sizes will vary depending on the size of the classroom but will generally be around 15. Schools are asked to follow health protocols in assigning bathrooms to specific homerooms, and bathrooms will be cleaned in between use. Depending on school size, students may be able to use art classrooms, gymnasiums or cafeterias, but it entirely depends on the size of the school.
"The idea then in the classroom is that they will be able to have basic movement in the classroom. It's not to think they will be able to stay in their seat all day, but there will be considerations that have been given in terms of making sure that teachers are designing the instructional day in such a way that allows them to maintain social distance," Chavarria said, confirming that teachers will design what the day looks like within the classroom.
"Some things teachers should keep in mind is that you wouldn't ask all students to come to the rug at the same time perhaps the way you used to," she said. "You might have socially distanced spots so that students are moving in such a way that allows them to maintain social distance. If you're pooling a small group, you might use two tables when you might have used one previously. But there will be movement throughout the day."
In response to Taylor's questioning, Chavarria confirmed that students will have gym, recess, art and music classes, and computer and science labs. "The intent is that we will all of the parts of the school that that the students have been accustomed to," she said.
When Taylor asked about the "sick pods" — the care rooms where sick children can be isolated and attended to until they can be picked up by parents or guardians — Chief Health Officer Kenneth Fox explained that the children will wear a medical-grade face mask while they wait and that their caretaker will be in full personal protective equipment.
"The parents pick them up and they go home and they stay there until they're better, unless they have COVID symptoms, in which case they go to their doctor, they get a test, they get evaluated. If they have COVID, they're isolated for 10 days, and then they will return to school," Fox said. 
Getting a coronavirus test is required for symptomatic students; Chief of Facilities Clarence Carson noted that students and families must pass the health screener — including questions about COVID-19 symptoms, including fevers — every day, though Taylor noted that children come to school with runny noses already and that people have the coronavirus despite being asymptomatic.
Face masks, consistently and uniformly worn, have been proven to be a profoundly effective measure against the asymptomatic spread of the coronavirus.
Carson said that the 380 district schools currently open with students currently have nurses working at them. District officials, responding to Taylor's questioning, confirmed that 650 CPS principals and staff have contracted COVID-19 since the pandemic began.
West Side Ald. Michael Scott Jr. (24th), the committee chairman, left open the possibility for representatives from the teachers' and principals' unions to testify at later hearings.