Eight months after Congress passed the CARES Act, small businesses in Hyde Park and nationwide are on the precipice of collapse, millions of unemployed Americans face the loss of extra federal benefits at the end of the year, and Chicago and Illinois finances are reeling.
Rep. Bobby Rush (D-1st) hopes that more federal aid will come in during Congress' lame-duck session, but discussions between the two chambers and a now-outgoing presidential administration have been at a standstill for months.
Rush is blaming the delay on Senate Republicans.
House Democrats passed a second round of stimulus, the HEROES Act, in May; It included aid to federal agencies, state and local governments, unemployment and food-purchasing programs, small businesses and self-employed people, and hazard pay for essential workers. It never moved in the Senate.
"We've pleaded, we've cajoled," Rush said in an interview. "I just hope that it will come. I hope that the president has a change of heart and that he would, even to protect his legacy, get behind the HEROES Act that the House passed, and that he would work with Mitch McConnell to pass through the Senate and sign some relief for the American businessperson."
At this point, The Associated Press reports that House Speaker Nancy Pelosi is pushing $2 trillion in new coronavirus aid while Senate Majority Leader McConnell is proposing a $500 billion package, paid for in part by $455 billion in left-over small business lending funds. Meanwhile, President-elect Joe Biden is calling for billions in emergency COVID-19 assistance before the end of the year.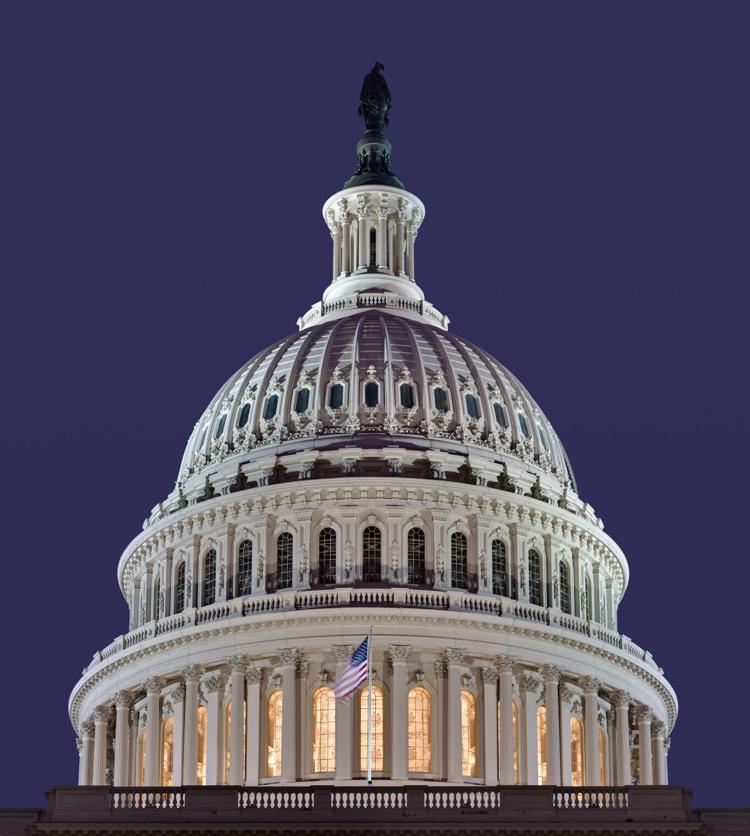 Rush said he and other congressional Democrats are frustrated that "the Senate has failed to do its work and the president doesn't show any concern for small businesses that I and others have." He observed the GOP's longstanding image cultivation of "being the party of small businesses" and called it a masquerade.
"They've abdicated their responsibility," he continued. "The Senate has spent the last two years of this Congress on replacing federal judges. They have no other hoot about the pain and the problem of small businesses. That's been the only constant: filling the vacancies in the federal court system, not on opening up spall businesses, not on providing relief for small businesses, not on providing relief for renters and landlords, but solely on stacking the federal judiciary full of conservative Republicans."
With 44 days left in the congressional session and 61 days before Inauguration Day, Rush hopes that assistance will come. And he thinks the prospective Biden presidency will provide congressional Democrats with significantly more negotiating power with the Senate, regardless of which party ends up controlling it after Jan. 5 runoffs in Georgia.
"I believe that the trade-offs will become more apparent. I mean that the Senate, in order to get some of their legislation passed, will want to negotiate with a Democratic president," he said. "I believe that the HEROES Act, or some variation that will protect small businesses, will become a priority. I never say never. I don't ever close the door on my hopes and my dreams, that we will be able to provide some relief to the 1st congressional district's small businesses."
He is also in support of expanding unemployment assistance, including direct payments, like the $1,200 everyone received earlier this year through the CARES Act.
"We have to jumpstart this economy, and the most immediate and effective way to jumpstart the economy is to put dollars into the American people's pocketbooks and wallets," he said. "I think that providing direct payments is the most immediate and effective way to bring them out, to jumpstart our economy."
Of course, there is the question of the transfer of power, with President Donald Trump's ongoing refusal to concede the election and attempts to use his office to subvert Biden's win. Rush called Trump's extraordinary actions "a charade" driven by the president's "megalomania" and inability to come to terms with defeat.
Rush, however, said he is sufficiently convinced that American democratic institutions will survive this and that "the American people will disdain this madness that we are in right now."
Coming up on his 28th year in Washington — he won reelection this year by a huge margin — Rush said he thought the congressional GOP were "responsible, honorable legislators who disagreed on policy," but he worries about working with the opposition because of their muted support for the president since the election.
"I just hope we haven't crossed the line of no return," he said. "I pray that they will again regain their sense of responsibility to the American people and to this nation. … On the one hand, I'm astonished and astounded; on the other hand, I'm hopeful and optimistic."
At any rate, Rush, now a fairly senior congressman, quite proud of his membership on the Committee on Energy and Commerce and a key figure in American energy policy, is planning to introduce seven bills on the first day of the next congressional term.
One, his No. 1 priority, would amend federal code to make gun trafficking and selling a trafficked firearm criminal offenses and put in further restrictions on firearm transfers. A bill named for Emmett Till would make lynching a federal hate crime. The RESCUE Act for Black and Community Banks would create an Office of Black and Community Banks in the Treasury Department, allow the U.S. comptroller to provide them with more regulatory flexibility and encourage the federal government to use them for banking.
In energy policy, Rush wants to pass his Blue Collar to Green Collar Jobs Development Act which would provide increased funding for education for manufacturing and green energy jobs.
And in police reform, he has legislation that would establish uniform licensing standards for federal law enforcement officers; it would require states to establish similar licensing standards or risk losing federal money.
"I think that would go a long way to limit the power, authority and influence of police unions over our law enforcement agencies and also our municipalities and state governments," he said.
"One of the problems that we have in Chicago is that the FOP (Fraternal Order of Police) has tremendous, outlandish influence over policing in our community, and we need to make sure that we can curtail that influence. And I think we can do that by introducing a licensing mandate for police officers who are employed by municipalities, state governments and at the federal level."