U.S. Rep. Bobby Rush (D-1st) is asking the National Guard Bureau to request funding for major renovations to the Gen. Richard L. Jones Armory, and the former Black Panther is also spearheading legislative effort to force the FBI to release its full files related to COINTELPRO, an illegal surveillance and infiltration program aimed at internal political organizations from 1956 to 1971.
In a Herald interview, Rush also discussed his work on energy policy, the cornerstone of his work on Capitol Hill. He was a soldier and an activist before becoming a preacher and entering elected office. Now in his 15th term in Washington, he is serving as chairman of the Subcommittee on Energy.
Asked how he got that role, he recalled his chairmanship of what was then called the City Council Committee on Energy, Environmental Protection and Public Utilities, and said joining the House Energy and Commerce Committee in 1993 seemed like a no-brainer.
"At that time, energy issues had kind of quieted down somewhat after the gas shortages in the '70s," he said. "I had a premonition that it was going to become huge, and it is huge."
Says renovation of Jones Armory could benefit South Siders as well as National Guard
The 295,000 square foot armory, 5200 S. Cottage Grove Ave., was built in 1931 and is the headquarters of the Illinois National Guard's the 2nd Battalion 178th Infantry — dating back to a segregated 1871 Chicago militia organization that became the "Fighting Eighth" World War I unit commemorated by the Bronzeville Victory Monument — and the 122nd Field Artillery Battalion.
Rush said he became aware of its need for upgrades during a ceremony last October marking the 50th year of its renaming for Richard L. Jones, a veteran of the world wars who retired a one-star general as well as a Chicago Defender publisher and ambassador to Liberia. The National Guard asked him about federal renovation funding, and, after a meeting, he wrote the letter, getting Sens. Dick Durbin (D) and Tammy Duckworth (D) to join.
"Maintaining an active presence in Chicago and providing a clean, safe, and functional facility to capitalize on the recruiting market found on the South Side of Chicago is critical to maintaining fully manned and diverse units in the Illinois Army National Guard (ILARNG)," they wrote to Gen. Daniel R. Hokanson, chief of the U.S. National Guard Bureau, on May 3. "Your support for this project ensures the General Jones Armory continues to serve the Soldiers of the ILARNG and local citizens of this diverse area, providing opportunity for long-term growth."
Today, the National Guard uses the building for office space and storage but occupies less than 50% of it, and the unoccupied square footage prevents the force from competing for federal dollars to build readiness centers. Should the renovations take place, Rush said multiple guard units from other locations could come to the armory. Logistically, 200 more parking spaces would be added to the site for military vehicles and Washington Park parking, and hundreds more soldiers could drill there. An expansion would bring 750 part-time and 20 full-time jobs, Rush said.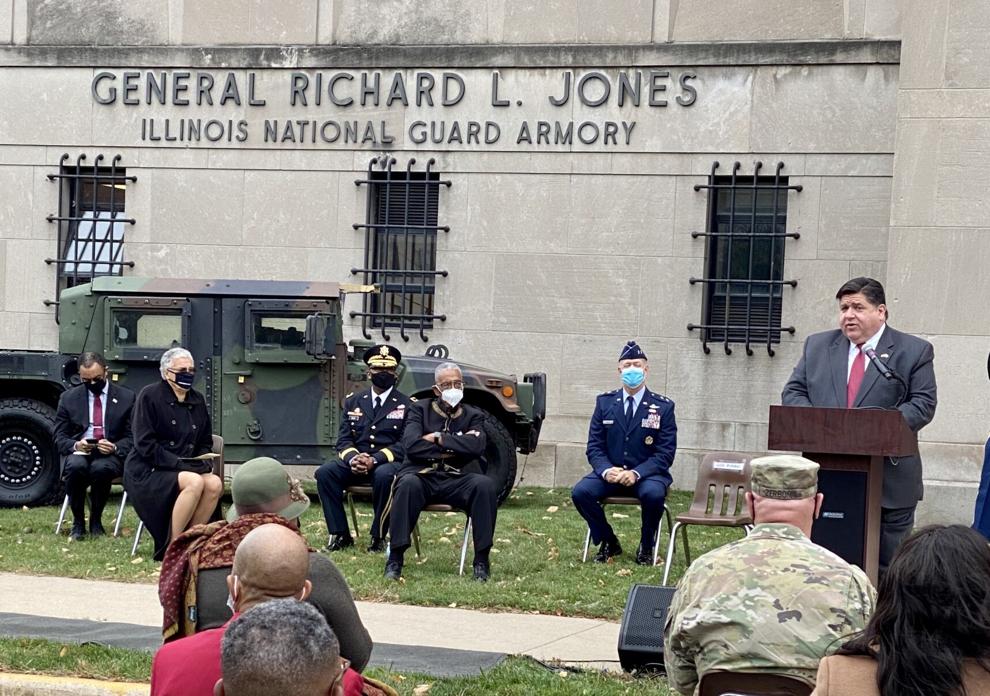 But the Jones Armory additionally contains an arena within it, which WBEZ reports has hosted races, rodeos, dog shows and other sporting events. In the 1960s, the Nation of Islam hosted rallies there. Rush said Malcolm X spoke there and that the Rev. Jesse Jackson's Operation PUSH held events there, too.
"The Jones Armory has meant so much to Hyde Park and the overall South Side community, and for years it's been an underutilized facility," he said. "I just think it could really serve as a part of the community life."
He suggested a museum could go into the site, commemorating the history and service of Black national guardsmen, or the refurbishment of spaces for weddings and other events. (The armory contains an ornamental Memorial Room.)
"If we really look at this structure, it's a pretty building, everybody knows where it is, it sits in a really important location on the South Side, and I just think that the potential is enormous for what this building could be utilized for," he said.
Rush and the senators are asking the National Guard Bureau to request $75 million in military construction funding in this year's unfunded requirements process; the renovations would also take $25 million from the state.
Rush said he will not take "no" for an answer from the National Guard Bureau and that the House Appropriations Committee stands ready to include the money.
"I can't think of any other urban districts in Congress that have this kind of prevailing arguments in favor of funding for a project like this," he said.
Says COINTELPRO legislation would right historical wrong
As it stands, Rush's resolution forcing a public disclosure of the FBI's COINTELPRO records has 14 Democratic co-sponsors, and he believes the effort has legs during this Congress. The 74-year-old noted that Baby Boomers are still by far the largest age cohort in Congress — 230 out of 432 House members in February, per the Pew Research Center — and recalled his generation's "negative harassment and difficulties with the FBI."
Rush, frankly, had more of those experiences than perhaps any other member of Congress. He co-founded the Illinois Black Panther Party and was a friend of Fred Hampton, its chairman, who was assassinated on Dec. 4, 1969, by a tactical unit of the Cook County state's attorney's office and the Chicago Police Department, in conjunction with the FBI.
Rush said he and the other Panthers knew at the time that they were being surveilled: "They were sending letters in order to try to promote violence between the Blackstone Rangers and the Panther Party. They would send letters that were obviously not written by African Americans but were written by somebody with a theoretical or academic knowledge of how Black people expressed themselves. 'Who is this talking?' It was the right words and the wrong idioms, but they would be trying to provoke you. And we instinctively knew that it was the FBI."
Furthermore, they knew there were agents provocateurs within various organizations and their own who were with the FBI. They would have cameras and take notes. They knew them by name, although at the time they did not know the breadth and depth of the infiltration.
The matter of opening up the full records for unencumbered public review — the COINTELPRO, short for "Counter Intelligence Program," records are subject to the Freedom of Information Act — matters, Rush said, because people's rights, and their families', were violated.
"We had the chief law enforcement agency in our nation that was operating outside of the law," he said. "It was pervasive, and in Chicago, we had Fred Hampton's assassination. And Fred Hampton's assassination was the only state-sanctioned assassination for a political reason in the history of this nation."
Timing is everything to pass legislation in Washington, Rush said, and he said there is a bipartisan moment of sensitivity in Congress now about what the FBI has done and is doing.
Discusses new energy policy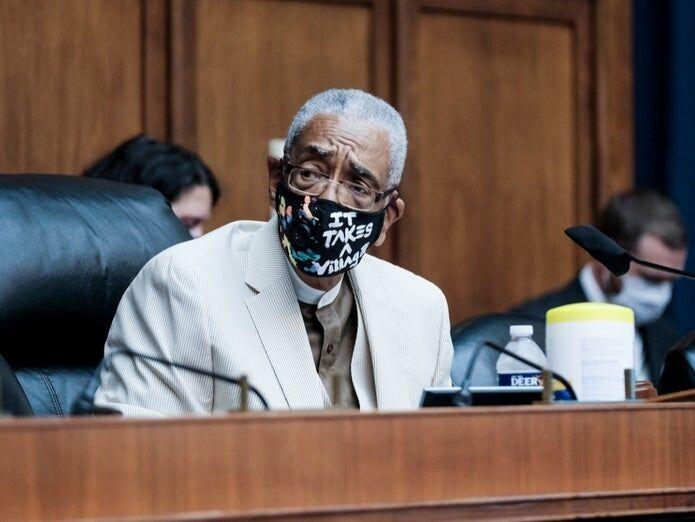 Rush said his chief interest in energy policy is in its ability to create jobs. His most-recent policy enactment came in the second major coronavirus-related stimulus, passed in the waning days of former President Donald Trump's administration last December, as the Energy Act of 2020, which included billions of dollars for weatherization assistance for low-income retrofits and loan-guarantees for projects involving emission-reducing technologies.
This year, Rush has introduced:
The Blue Collar to Green Collar Jobs Development Act, a workforce development bill that would establish a nationwide renewable energy-related jobs program and increase the number of people of color, women and veterans in those jobs.
The NO EXHAUST Act, a comprehensive package of bills, would promote the manufacture and use of electric cars by granting $2 billion per year for electric vehicle charging equipment, $2.5 billion per year for large-scale projects to electrify transportation and $2.5 billion annually to accelerate domestic manufacturing of electric vehicles.

The Energy Equity Act

, which would establish an environmental and energy justice office at the Energy Department to promote environmental justice, reduce energy cost in disadvantaged communities and increase clean energy in underserved communities.
Asked if any of these bills actually stand a chance of passage, Rush noted the Democrats' probable two-year control of Congress and the White House, even with the filibuster.
"There are no guarantees," he said, "but part of the assurances that we operate in is the fact that if you work hard and get your bills passed through the Senate, numerically, we should be able to get a lot of these bills passed. You count the votes, and one of the things that I pride myself on is being able to work on both sides of the aisle, in terms of Republicans and Democrats, but I can also work with some conservative Democrats.
"I know Sen. Joe Manchin (D-W.Va.) quite well. I served with him. I serve with Sen. Kyrsten Sinema (D-Ariz.) very well. A lot of these senators, they came in the House. And at the end of the day, politics is all about relationships, and I have a relationship with a number of senators whom I can call on. I think they all view me with a level of respect, and they know I'm a serious legislator."