On a bench in Jackson Park, Darrell Wirth looked up from his newspapers on the unseasonably warm fall day on which it seemed inevitable that President Donald Trump would not win reelection to say, "The only good thing is maybe he's gone, or at least we don't have to subject ourselves to his lies."
Trump is not the first to suffer Wirth's contempt for politicians. Wirth said the United States has not had a liberal president since Lyndon Johnson, and that, he said, was only because John F. Kennedy got assassinated. President Jimmy Carter was too conservative for his tastes, and President Barack Obama "thought he was the messiah" only to be eaten up by the Republicans for eight years.
But Wirth voted for former Vice President Joe Biden. "I have degrees of animosity for politicians," he explained. "Some are worse than others. He's not a very good candidate, and he's going to go right back to the center and make some peace with (Majority Leader Mitch) McConnell if the Republicans keep the Senate, but he's a thousand times better than the idiot in the White House."
On Wooded Island, South Shore resident Elizabeth Murray was ebullient. She is an attorney and her husband an independent contractor, and both receive insurance from the Affordable Care Act, as do many of her colleagues. Furthermore, she suffered a stroke when she was 41 and is therefore protected against discrimination because of a pre-existing condition under the law.
"What I am going to get out of this is the maintenance — hopefully, if the Supreme Court doesn't do just the opposite — of affordable health care for all," she said.
Much has been made of the fact that the election was not a "blue wave": House Democrats lost seats, and the Senate will likely remain in Republican control. But Murray said, "In life, you can't have it all. You just can't have it all, but it doesn't mean that my mindset can't be changed."
Obamacare is imperiled again by the Supreme Court, but she takes comfort in its survival in Congress and the judiciary to this point, and she is heartened by Biden's likely win.
"I trust that people will do the right thing," she said. "I believe that there is a higher power, and no matter what happens, he will never keep us down. You can try to keep us down, but we'll never stay down. We'll keep coming up. Even if you destroy me today, there's gonna be my children and my grandchildren who are gonna prevail."
As the likelihood of Trump's defeat in the Electoral College grew sharper, the Associated Press reported that Biden was "on the cusp of winning the presidency." People in famously liberal Hyde Park and across the famously Democratic South Side breathed increasingly deep sighs of relief.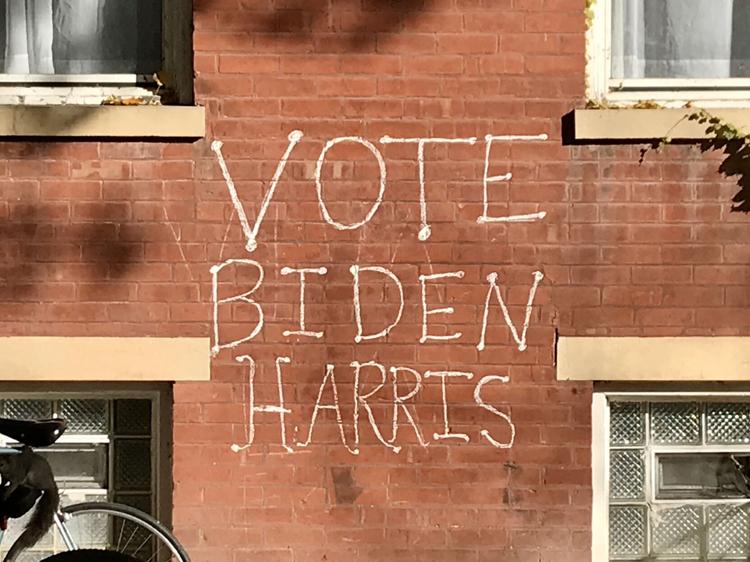 At the Hyde Park Shopping Center, Kristen De Man, a University of Chicago doctoral student in philosophy, said she had been checking her for updates about the race 10-12 times a day for news updates. 
"I try not to be overly glued to it, because it's just a lot of stress, but I am pretty anxious about the results," she said, adding that, regardless of the polling data that suggested a wider win for Biden and Democratic congressional candidates, she expected the close races. She pointed out that the polls were off four years ago, too.
"I did suspect that Trump would get more votes than the polls suggested," De Man said. She wants to preserve Obamacare, and she hopes that Biden will take action against climate change.
"That's an important issue to me," she continued. "I think that they're things that affect all of us. We all depend on a healthy earth, and we all depend on the general wellbeing of the population, which is in large part dependent on available health care."
Marie Greaney described working on a big project for their neurobiology research job at the U. of C. while responding to their friends' anxiety and stress over the past several days like whiplash: "I was like, 'I was stressed about work, but now I'm stressed about you being stressed.'"
The election was far closer than they thought it would be, but Greaney began to feel more confident that Trump would be defeated by Thursday morning. Given the 2016 election, they were not shocked, but they had hoped that more Americans would have changed their mind about him after his four-year performance as president.
Greaney is from Columbia, Maryland, outside of Washington, but they said conservative family members in Upstate New York changed their opinions of him over his presidency, and Greaney figured others like them had, too.
"Up until this year, I still believed a lot of the bill of goods about the foundation of the country as this democratic place where people value the integrity of the leaders," Greaney said. "Instead, I think we've gotten a lot of people who don't seem to mind tearing down other people, and I don't know if people don't know if he's lying or don't care."
Millions more people voted for Trump this year than in 2016, which scares Greaney: "Not just that they want different people in power in the country, but that they see the nation being run for different purposes and with different values in mind. And I don't see a change of people coming together and having a moment of reconciliation and having a frank discussion about it, the way things are going right now." 
Greaney expects four years of partisan gridlock in Washington, and they do not expect material improvements to her life from a Biden presidency. But as a queer person, Greaney is fearful about the Supreme Court's ruling on rights and protections for LGBTQ people, women, immigrants and for racial and ethnic minorities.
"I don't worry for myself, because I'm in a protected area," Greaney said. "Chicago is not a place where I feel I am very threatened."
In Woodlawn, however, people said the Obama presidency paid off in terms of added value to their lives and reported excitement about the potential benefits a Biden presidency could bring.
Torri Manard said other people in the neighborhood convinced him to vote for Biden, "But I don't know, because I really don't know him. I don't hang around him. (Politicians) don't come through and voice their view of opinion, what they're going to do to help everybody. It's just like they're using the people to vote for them to get in and do some crooked stuff."
But he feels like that about all politicians — "Obama too. What did he do? Nothing but bring health care, that's all he did." But Manard said Obamacare has been good for him, given that his insurance covers his high blood pressure and diabetes medication with no copays. He is also on disability and furthermore relies on Social Security benefits, and he believes that Biden will expand the social safety net.
"If it helps make Chicago a better place, I'm all with it, but I don't want no crooked president like Donald Trump, like what he did, coming in with the coronavirus and killing off all these people," he said. "He took the presidency to humiliate people, and he was always focused on disrespecting people, talking dirty, talking bad. I don't know what kind of person he is; he's rude and disrespectful."
Derrick Clark sat out of the 2016 election, but he was quite happy to see Biden winning out of extreme dissatisfaction with Trump's handling of the coronavirus pandemic: "He's not listening to the scientists and the doctors. He's doing what he wants to do."
Furthermore, Clark is not pleased with Trump's posturing since Election Day: on Twitter, the president declared he has "claimed, for Electoral Vote purposes," several toss-up states, including many that are trending towards Biden.
"Trump is very, very agitated now, because he knows Joe Biden won," Clark observed. 
Clark called Trump "a bad guy" and said his opinion of him only deteriorated after he took office. 
"The coronavirus is changing everything for everybody. It's killing old people, and people that I love are getting sick from the coronavirus. So I gotta speak up," he said. "Biden supports the women, he supports education, he's supporting health care, he supports Social Security, and he supports the old people. And that's very important."
Of course, former Secretary of State Hillary Clinton ran on a very similar platform four years ago. "Hillary, she was her own thing. She was doing her own thing. She wasn't going to be the president, I know that. And even if people would have tried to put her in office, they wouldn't have let her run the country," Clark said. "Joe Biden was the vice president. He was the vice president, so yes, he can run the country."
Kenneth Lyons said regardless of his opinion of the president's personal conduct, he is also displeased with the way Trump has handled the pandemic and the social unrest this summer.
"I could appreciate him putting the onus on the governors of each state to follow along with their numbers and regulate how they shut down the city or what have you, but a lot of things have come out with him knowing (about the coronavirus) and not taking the necessary precautional steps to make sure that we were prepared for something like this," he said. "And that shows lack of leadership. Someone who is in that kind of position, as president of the United States, should always be doing something to protect the American people, for the good of the people."
Lyons, who voted for Clinton in 2016, said he does admire Trump's "backbone," though he acknowledged that Trump seems "swayed by his own internal intent to profit in whatever way or however he feels."
"But overall, this has been a ride, and I would like to see what Biden has to offer," Lyons continued. He does not foresee circumstances getting worse ("though there's a possibility") and pointed to higher education and housing policies put into place during Biden's vice presidency that improved his own life.
Black Americans "know what struggle is; struggle is not new to us," Lyons said. "We don't necessarily have all the advantages. Sometimes we just have to scrape and do what's best and find a way. But because that's not our bottom line, the things that are our bottom line are not being addressed. 
"There are Black men and women being ruthlessly murdered on the street, and no one is saying anything per se. When Trump was asked about it, he moved around. That's something you address. Social injustice is our bottom line. Maybe it's not economics as much, because we know how to make it to make it. But when we start seeing out kind being treated in that fashion, it's like, 'Wait a minute.' If he had been able to express that in a different way, he may have swayed or won. Like, 'Now he cares.' You just want to know somebody cares about your bottom line." 
Ultimately, Lyons said the pandemic, with its universality, is now every American's bottom line — he thinks that fact may also help explain Trump's probable loss.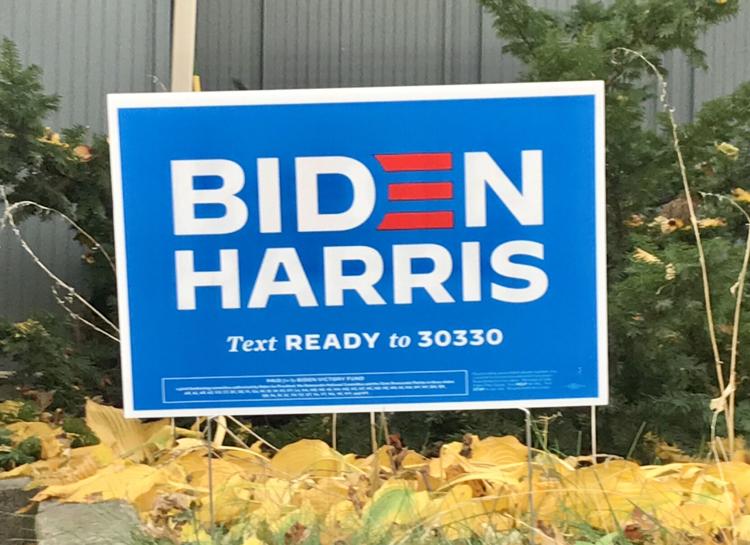 Back north of the Midway Plaisance, Gregory Houck praised the likelihood that Biden would face a GOP-controlled Senate. 
"When you have everyone on the same party, it rolls on ahead. If it's all Republican, it's too much government. If it's all Democrat, it's too much government. And we need to slow it down," he said. "I don't know if the two-party system if the best system, but if you're going to have two parties, then you might as well have them in balance."
True to form, Houck voted for former Lake County Sheriff Mark Curran (R), who lost to U.S. Sen. Dick Durbin (D-Ill.), and Biden. Houck said he trends towards Republican candidates but was turned off by Trump's unprofessionalism and dishonesty as well as the derision with which his former Cabinet members described him.
He did not vote in 2016, and said that had now-U.S. Sen. Mitt Romney (R-Utah) run as an independent, he would have supported him.
As for Jennifer Johnson, she said, "My take is, as it concerns the presidency, if the Lord gives us a new president, we have one, and therefore it could be Joe Biden, or it could be Donald Trump."
Nevertheless, she admitted, with some hesitation, that she had supported Biden. 
"I looked at it as something different," she explained. "There's a lot of complaints that the president that we now have, Mr. Trump, is not doing so well. I look at it like this, and we need to be wearing masks. We need to be standing six feet from one another and stuff like that. And the president, the leader of the country, doesn't intend to be wearing it like he should. That to be is an offense right there."
"I don't have trust for either one. My trust is in the Lord," Johnson said when asked if she thought Biden would improve her life as president. "If he brings either one of those parties across to do the right thing, good."