Chicagoans took to the streets late Saturday morning in jubilation once news organizations projected that former Vice President Joe Biden had won the presidential election.
Crowds gathered along the Magnificent Mile and Upper Wacker Drive, in sight of the outgoing president's River North skyscraper condo-hotel, into the night.
Button-down Hyde Park, true to form, celebrated for a sensible 15 minutes or so in the morning after the call, with residents going on back patios to cheer, bang pots and pans together, ring bells and clap hands.
Rebecca Hall celebrated with neighbors in her East Hyde Park alleyway then headed to the North Side to run errands. When she returned after nightfall, residents had put speakers and lights at their back windows and were dancing in the street, a re-up of the socially distanced dance parties thrown in the spring to boost morale.
"That went on for maybe another half hour or so, and there were some requests taken, and there was a very polite wrap-up of, 'Well, should we keep going? Well, maybe it's time to wrap it up. I love you so much, neighbors!'" she said. "It was bringing back some of that block solidarity. It was very lovely."
A final count of the votes will not be published until Nov. 17, as mail-in and provisional ballots are tallied, but it is clear that Biden and Harris won more than 90% of the vote in Hyde Park-Kenwood.
Ald. Leslie Hairston, the 5th Ward's Democratic committeewoman, cheered the results: "I think we've been seeing the messages with Black Lives Matter and with the injustices that it's time for us to take back our power and utilize our power, and that's the power to vote and to demand change."
"To be lied to by the commander in chief and to have that play down, and to continuously do that — we know that he knew beforehand, but then the people that it impacts the most are the ones least able to endure it. There've been more Black people who have died from COVID-19 related illnesses than any other, particularly here on the South Side."
In a statement, former President Barack Obama, who votes from his registered address in Kenwood, congratulated the president- and vice president-elect for their "historic and decisive victory."
"We're fortunate that Joe's got what it takes to be president and already carries himself that way," Obama wrote, noting the unparalleled challenges Biden faces: "a raging pandemic, an unequal economy and justice system, a democracy at risk and a climate in peril."
"I know he'll do the job with the best interests of every American at heart, whether or not he had their vote. So I encourage every American to give him a chance and lend him your support," Obama continued. "It will be up to not just Joe and Kamala, but each of us, to do our part — to reach out beyond out comfort zone, to listen to others, to lower the temperature and find some common ground from which to move forward, all of us remembering that we are one nation, under God."
Jacky Grimshaw, a 50-year political activist on the South Side (among her contemporaries: U.S. Rep. Ralph Metcalfe, Mayor Harold Washington and Obama), was anxious and nervous on election night but had to keep her adult children calm, "because they were freaking out."
"I kept telling them, 'Breathe. It's going to be alright,'" she remembered. By Wednesday, it was, "OK guys, let's get this done." As Michigan and Wisconsin swung for Biden, she breathed easier, then "began to hyperventilate again" as it all came down to Pennsylvania. But on Friday night, when returns from the Keystone State and Georgia swung towards Biden and the former vice president held his lead in Arizona, she went to bed confident.  
"On Saturday, when he came through, I was ready. I was in the celebration mood by the time they announced," she said. A second after the call, Grimshaw's daughter called her. They talked for 15-20 minutes as her son texted her, causing her to miss the banging of pots and pans in Hyde Park. But after she put down the phone, Grimshaw poured herself "a nice, big, cold drink of water," followed by socially distanced Champagne with friends in the garden a few hours later.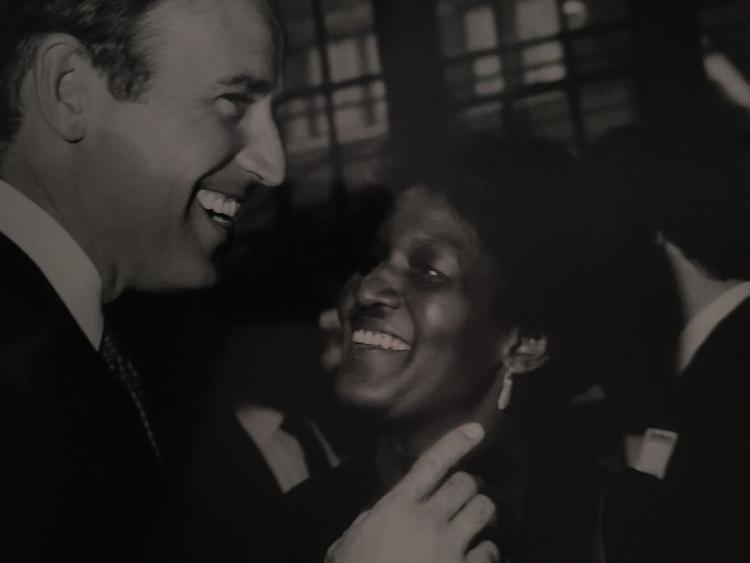 Nevertheless, Grimshaw cannot believe that 71 million-plus of her "national neighbors voted for this idiot," and she wonders what they were voting for. Not just out of party line, she said, noting that many Republicans voted for Biden. Some just because of how their investments are doing, "even though (President Donald Trump) is destroying the climate, so you may not have a world (in which) to spend that 401(k)," she said. "It's like, is that the only thing you care about?"
"Then I'm thinking, 'Well, they voted for him because they support his xenophobic, racist, misogynist ideas.' How many of that 70 million hold that view?" she asked. "Seventy million? That is a hell of a lot of people. And if that is our problem, if 70 million people really are racist, then there is not much we can do with this generation. … We have to start with the children, because if 70 million, (aged) 18 and over, believe that racism is that big in their lives and hearts, they're lost. There's nothing Democrats can say to them."
Democratic paths to victory in states like Wisconsin, Michigan, Pennsylvania, Georgia and Illinois come from Black votes in Milwaukee, Detroit, Philadelphia, Atlanta and Chicago. Black voters were the last to join the New Deal coalition, but eight decades later, they remain the party's most-supportive bloc. 
Asked what a Biden presidency must deliver to get Black voters to turn out in the future, Grimshaw said that there is a gendered dynamic at play — "Black women will pretty much vote no matter what; Black men, not so" — but she that the federal government could equalize funding disparities in public education, which are disparately funded in the United States based on local property taxes. 
The federal government could create Black wealth by finally addressing the legacy of redlining as well as providing access to capital for homeownership and business loans. And she said the federal government could provide employment opportunities to Black adults through stimulus, akin to Obama's 2009 Recovery Act, passed in response to the Great Recession.
"On the socio-cultural thing, we have to deal with the police," Grimshaw said. "This is part of the racist mindset, this inherent racism, that gives the police a happy trigger finger whenever they see a Black person." Specifically, she said there should be retraining policies and re-equipping police with tasers.
Senate Majority Leader Mitch McConnell (R-Ky.) infamously said he wanted to ensure that Obama would be a one-term president, and he appears likely to retain his majority during the beginning of Biden's presidency. But Grimshaw, for her part, said she does not expect such lockstep opposition to the incoming president, absent Trump's incumbent vitriol, and hopes McConnell will not be able to block as much as he did before.
"But I could be wrong," she said.