County Commissioner Bill Lowry (D-3rd) is in support of President Toni Preckwinkle's just-introduced $6.9 billion budget proposal that lays off positions at Cook County Health and cuts vacant positions at the sheriff's office, but does not raise taxes.
He said he and the other commissioners helped her draft it since June. The board will have meetings over the budget into next month before a vote on passage.
"When we had the mid-year projection, we certainly thought we'd be looking at a pretty big deficit, so I'm pleased that the budget is balanced," Lowry said in an Oct. 15 interview. "I'm pleased that the budget is balanced without us creating any new taxes or increasing percentages relative to any existing taxes. That's very good."
Rather than raising property tax rates, the budget aims to cover a shortfall of more than $409 million by tapping a rainy-day reserve fund, federal stimulus aid, Chicago TIF district revenue and expected county sales tax revenue — as well as the eliminated vacant positions and layoffs.
The 300 currently-empty positions in the sheriff's office would remain so to close a gap of more than $222 million.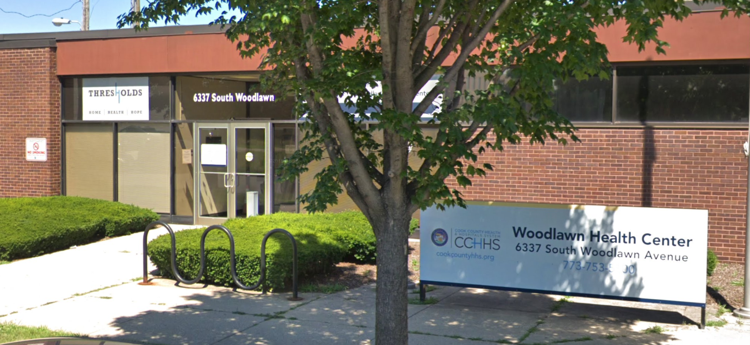 Lowry echoed Preckwinkle's argument that essential services are not being cut with the budget.
"To the extent that there will be layoffs, I have been informed that individuals affected will be offered positions elsewhere within the county," he said. "No one wants to see any layoffs, but if you have to see them, I think that it makes a difference if the individuals affected are given an option to have employment elsewhere in the county."
Charity care for low-income residents is projected to cost Cook County Health $312 million in the next fiscal year; the system provides 55% of such care in the county. Lowry said he is lobbying the state government to reimburse and support a greater percentage of the treatment for those who cannot afford to pay for their treatments. He does not expect action from the General Assembly during its short fall veto session but is hopeful for the spring session next year.
Lowry said he lobbied for vacant positions to be eliminated before existing employees were laid-off during the preliminary budgetary negotiations, and he said he wanted to ensure that patients could keep their existing relationships with physicians once operations at Woodlawn and Near South are consolidated at Sengstacke, which is scheduled to happen on Dec. 1.
"Change is always difficult," Lowry said when asked about the optics of closing public health clinics in Woodlawn and in Bronzeville in the middle of a pandemic and recession. "Change is something that even I am resistant to, but I think we are in difficult times where you have to look at the necessity of change. So then the question becomes, how can you go about the necessary change without impacting, in a negative way, the lives of those you've been elected to serve?"
When discussions came to closing the two clinics, Lowry said his role was to get information and require transparency on the number of patients they serve, which he said is in decline, and their physical condition, which he said is wanting. He said he has not himself visited either of them.
Unionized nurses, for their part, are continuing their campaign against job cuts at the Cook County Health and Hospitals System, included in its $3.4 billion budget, and protested outside of the County Building, 118 N. Clark St., as Preckwinkle introduced it.
To help combat the Cook County Health system's potential $187 million shortfall, 130 workers are to be laid off by the end of November; 46 were let go in June. Thirteen of the laid-off workers will be nurses, and five of the positions are earmarked for Provident.
Two clinics in Lowry's district — the Woodlawn, 6337 S. Woodlawn Ave., and Near South, 3525 S. Michigan Ave., health centers — are slated to close, with operations consolidated at the John Sengstacke Health Center at Provident Hospital, 500 E. 51st St. (A new Provident Hospital facility remains one of Lowry's major goals in the years ahead.)
Melanie Balogun, a neonatal intensive care charge nurse at Provident, said there is only one housekeeping staffer working overnight on the fourth floor at the hospital. She is afraid of what the pending layoffs will mean for operations, when supplies need to be delivered and medical waste disposed of immediately for the sake of infection control.
"I've always considered us factory workers on the factory floor, and if you take away those workers and you're still keeping these three or four supervisors in place, what are they doing? Because they're not actually doing the work," she said. "Why have three managers or directors? What are their positions? One person can do that position, but the salary is so much higher than … the workers."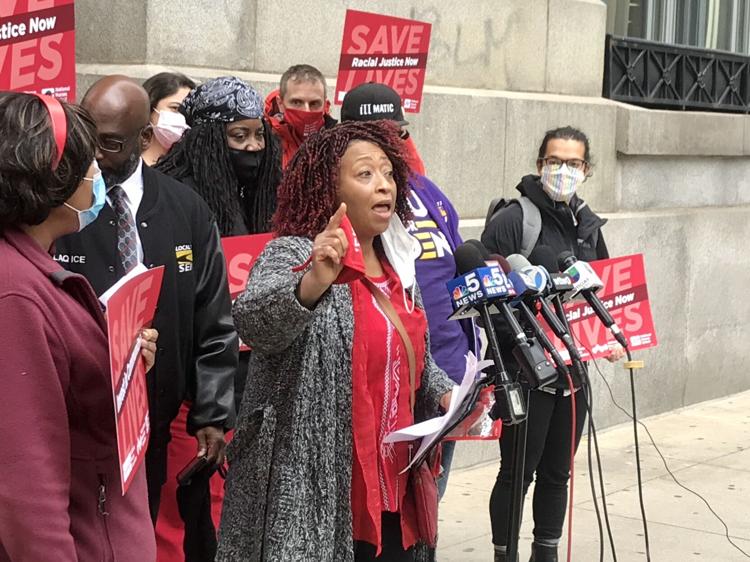 "We understand that our commissioners have to balance the budget, but we should not be balancing it on the backs of the poor, the vulnerable, those who are in need of medical services during this pandemic," said Joyce Ball with National Nurses United on Oct. 15 as Preckwinkle gave her speech. "By cutting the services, we are going to cause more people to suffer. Black and Brown communities have suffered enough."
Consuelo Vargas, who works the emergency department at Stroger Hospital, 1969 Ogden Ave., said environmental services workers, transporters, health care advocates, medical assistants and clerks will be affected by the layoffs in addition to nurses.
"It's across the system. It's not like it's concentrated in one unit or Provident vs. Stroger vs. the clinics," she said. She compared the closure of South Side facilities to the creation of food deserts when neighborhood groceries close, adding that some residents are afraid to travel outside of their neighborhoods for care while others have mobility issues.
"Our patients come to us because they are directed sometimes by nonprofit and for-profit hospitals, because they do not have the right insurance, or they do not have insurance," Vargas said. "I am concerned that Cook County is changing the mission of our hospital."
Nurses' skills remain in demand, she observed: "I can call anywhere, and I can have a job by this afternoon. This is not about our jobs. It's about what the community needs. It's about what our patients need."
Lowry observed that, because of the pandemic, 2020 was going to be a tough year no matter what. Expected sales tax revenues never materialized; neither did tax revenues from hotels and amusements.
"Those sources of revenue weren't there, so given that reality, we did have to decide how may we continue to provide the services, how may we continue to provide health care for our residents, given that truism," he said. "I'd rather have change that ends up producing a balanced budget as opposed to change that ends up producing a new tax for the people of the 3rd district."