Early voting began across Chicago's neighborhoods today, with hefty lines winding their way around polling places in the 4th, 5th and 20th wards before they opened at 8:30 a.m. 
First to arrive outside Ray Elementary School, 5631 S. Kimbark Ave., were South Shore residents Yvonne Tuck, 83, and daughter Jennifer Hill. 
Tuck, patiently waiting in her lawn chair, reported to the 5th Ward voting site with Hill around 5:30 a.m. 
"When I tried to register online to do it by mail, it was too late. That's why we ended up with me bringing her down (here) early," Hill said, explaining why she chose to cast her vote today.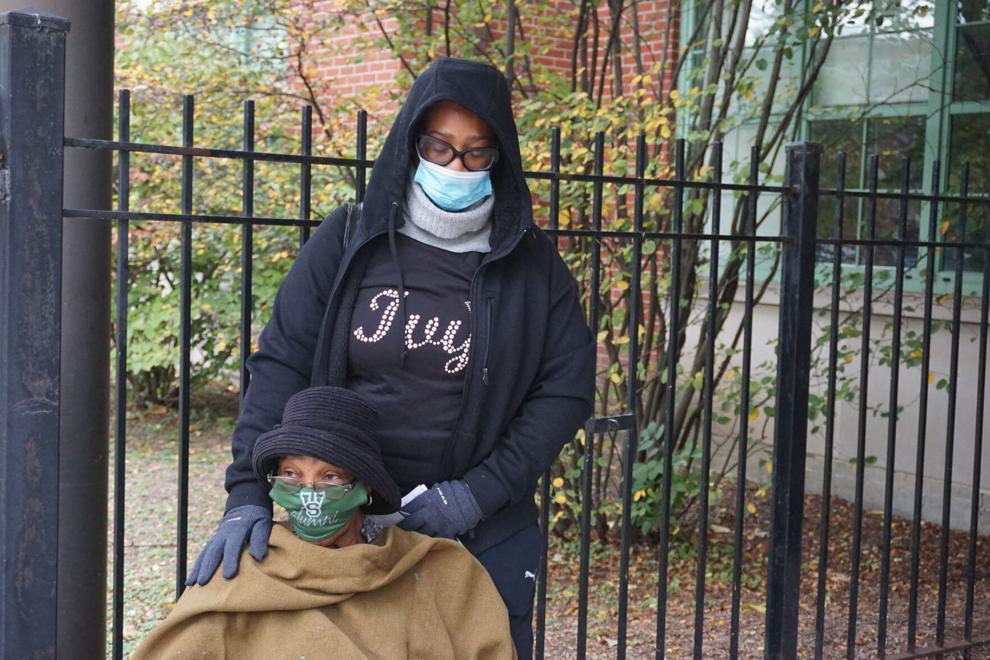 For senior citizen Tuck, health care was the most pressing concern.  
"Health care services need to improve. You are limited in certain areas, especially where I live, we don't have any medical facilities. We have to come over here to the University of Chicago," she said. Though she added that she approves of the medical facilities at the U. of C., she also maintained that she would prefer services closer to home. 
The polling began with a delay of a few minutes due to a technical glitch in the machine, and priority was given to those who were present to drop off their sealed ballots.
Meanwhile, the queue extended almost to the end of the block, as one group discussed how some early voters in other states had stood in 10-hour lines to cast ballots. 
Further down the line were South Shore residents Kimberli Pullin and Elaine Jones, and Jessica Sivels and her mother Joan Sivels from Woodlawn. The group arrived promptly at 7 a.m.; despite the cold and gloomy weather on a mid-week morning, they were enthusiastic. All four said that health care was their primary concern this year.  
"I just want to do it in person so I know my vote is counted. I don't care how long it takes — I just want to be here in person," Pullin said. 
Although they followed the presidential and vice presidential debates, Pullin found the presidential debate rough — Jones likened it to a "kitty fight".
"I want somebody who is going to be in office (and) is going to be fair to everyone, not just a specific race. Just love everyone and help everyone out," she said.
In the 20th Ward, about three dozen people lined up on the concrete outside of John Fiske Elementary School at South 60th Street and Langley Avenue. Raymond Ezekiel and Wilbert Kellogg both said they were there to vote President Donald Trump out of office.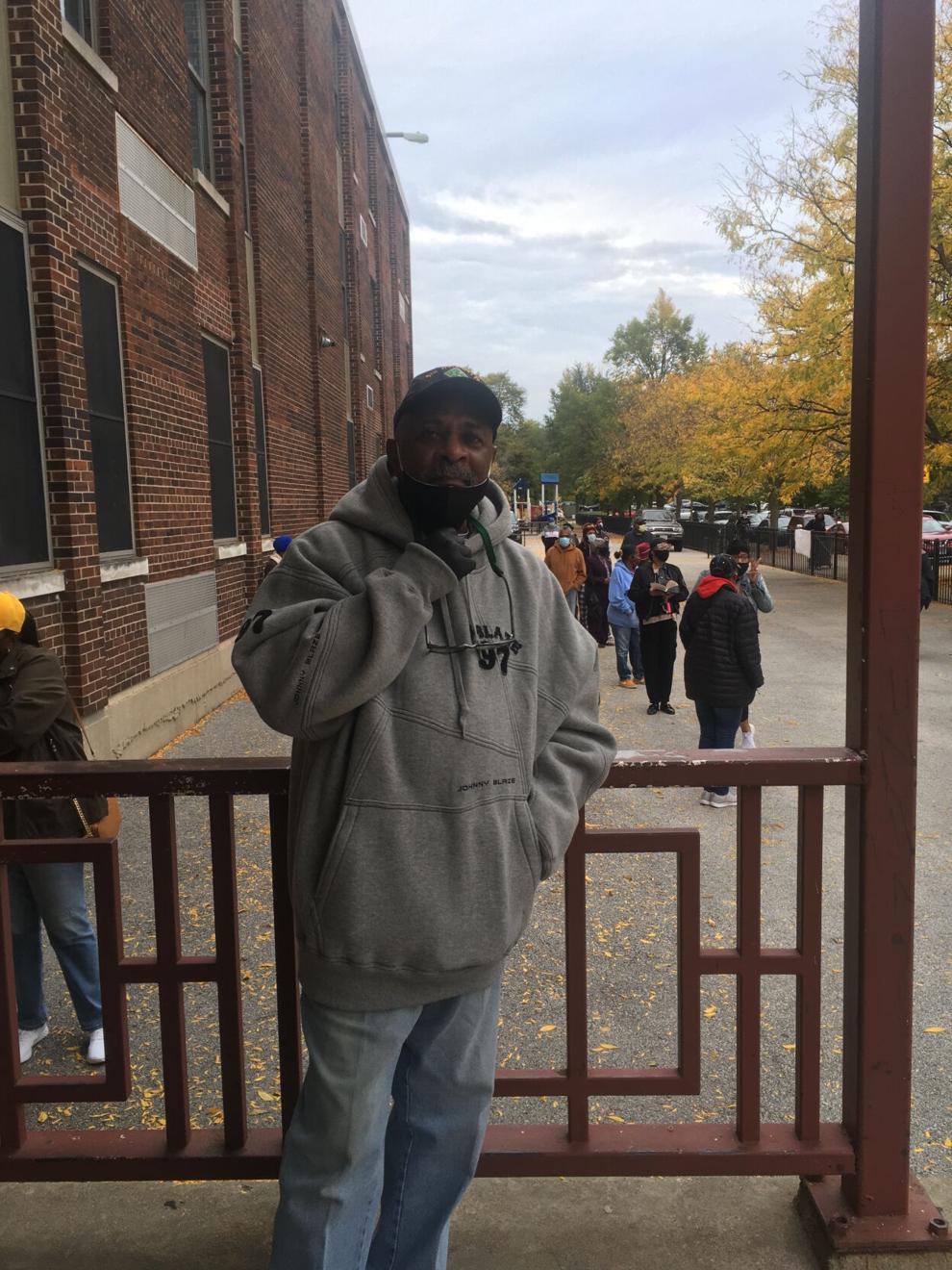 "He lies a lot, he lies a lot," said Ezekiel, a retired Amtrak employee, who came to vote in person after receiving a mail-in ballot with the wrong voter information. "He lied about the pandemic disease, and people tend to listen to the president." 
"It's important to be here to vote. I love Kamala, (especially) after she had that debate with Pence," said Kellogg, a Woodlawn resident, who added that he also planned to vote for the graduated income tax amendment on the ballot this year. 
In the 4th Ward, Natasha and Anthony Love were at the tail end of another long line at the Dr. Martin Luther King, Jr. Center, 4314 S Cottage Grove Ave, though the married couple didn't mind much.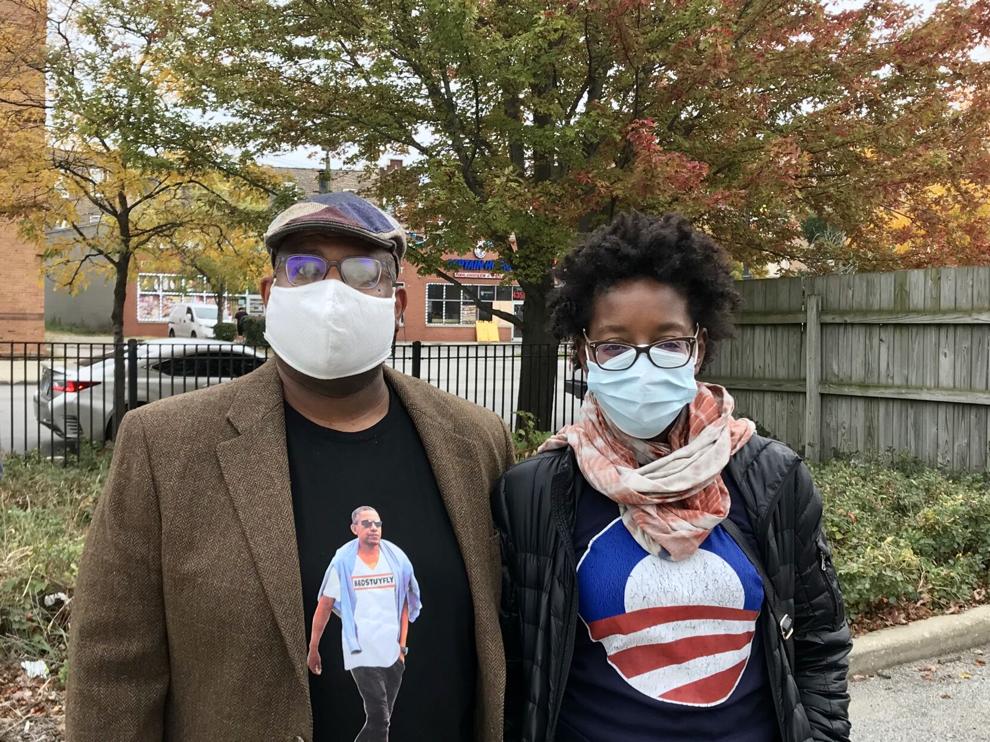 "I love when I see long lines in communities that are going to be most impacted by the policies that are being made. I actually get disappointed when the line is not long, because I feel like there's not enough engagement" said Natasha. "This makes me feel like people are coming out and people are voting." 
Both of the Loves, who live in Oakland, are voting for Biden. "Clear and simple, we have a five-year-old daughter, and we want her America to be much better than ours," said Anthony, who is optimistic that a Biden presidency will help move the country forward, particularly after the protest movement that took place following the death of George Floyd in Minneapolis. 
"The protest groups that I saw were very diverse," he said. "I mean, you look at the Civil Rights Movement, you knew that they were diverse as well. But I think they're really diverse now, and I think a lot of people — more than just (those) who have been affected — want to see change as well."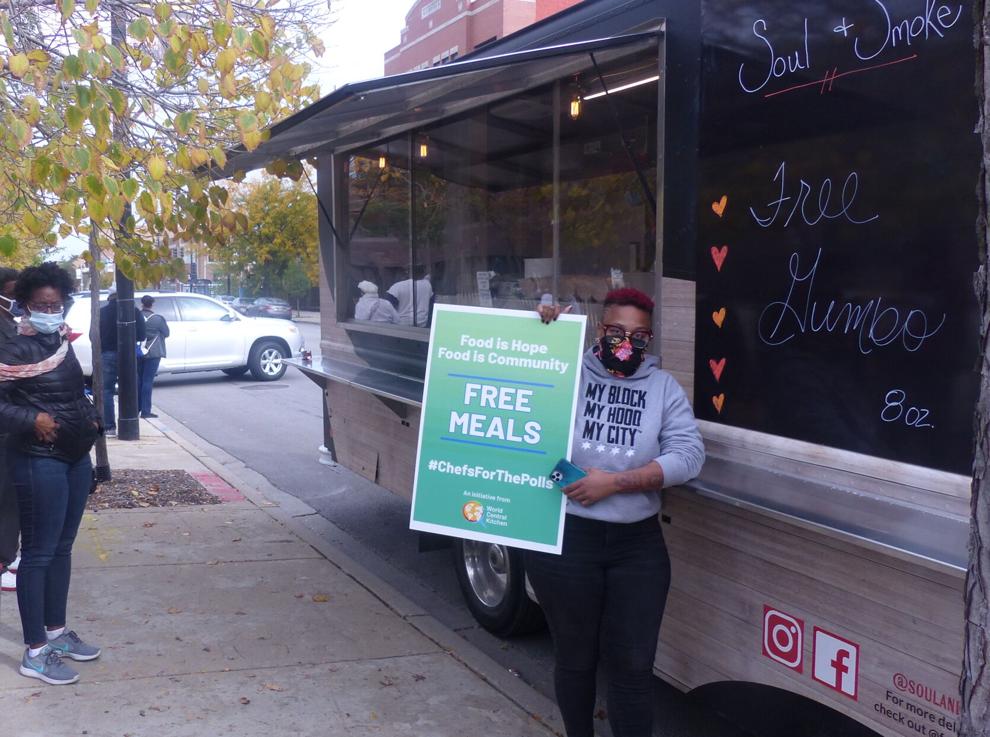 Mellissa Wells, who stopped by to vote before heading to work in the suburbs, said she wants to see something done about gun violence.
"It just seems like no one can really control it, it's just out of everybody's hands. But we really need a law against gun violence. We really, really do," she said, adding that she's excited to vote in the presidential race. "I won't say I trust all Democrats, but I trust Biden, because he worked so closely with Obama."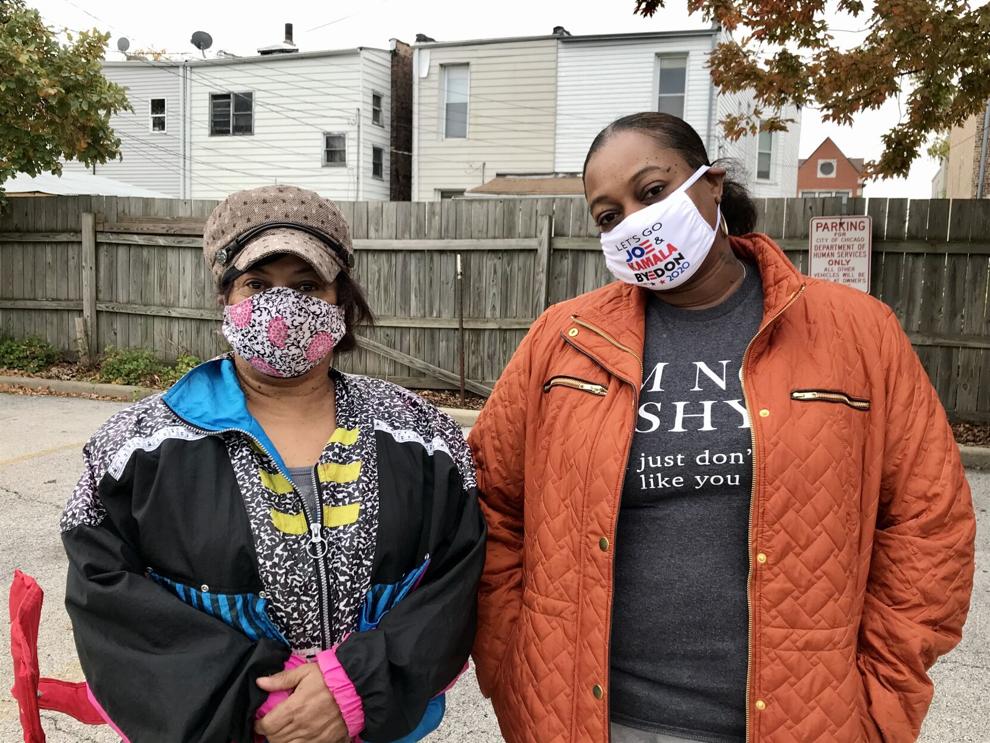 Down-ballot races also motivated some voters to come out. "We wanted to come early because we had done research on the judges, said Menjiwei Latham, who was there with two friends. "We knew it was going to take us the length of time to go through all the judges we had done our little research on and place our votes." 
Latham said she was "especially against" Judge Michael Toomin, who heads up the Cook County Juvenile Justice division. Toomin came under fire this spring after he made it more difficult for juveniles to seek release from detention during the coronavirus pandemic. (After the Cook County Democratic Party withheld its endorsement of him, Toomin said it was retribution for his role in the Jussie Smollett case.) 
Latham's friend, Shikilia Tukes, said she was supporting Cook County State's Attorney Kim Foxx.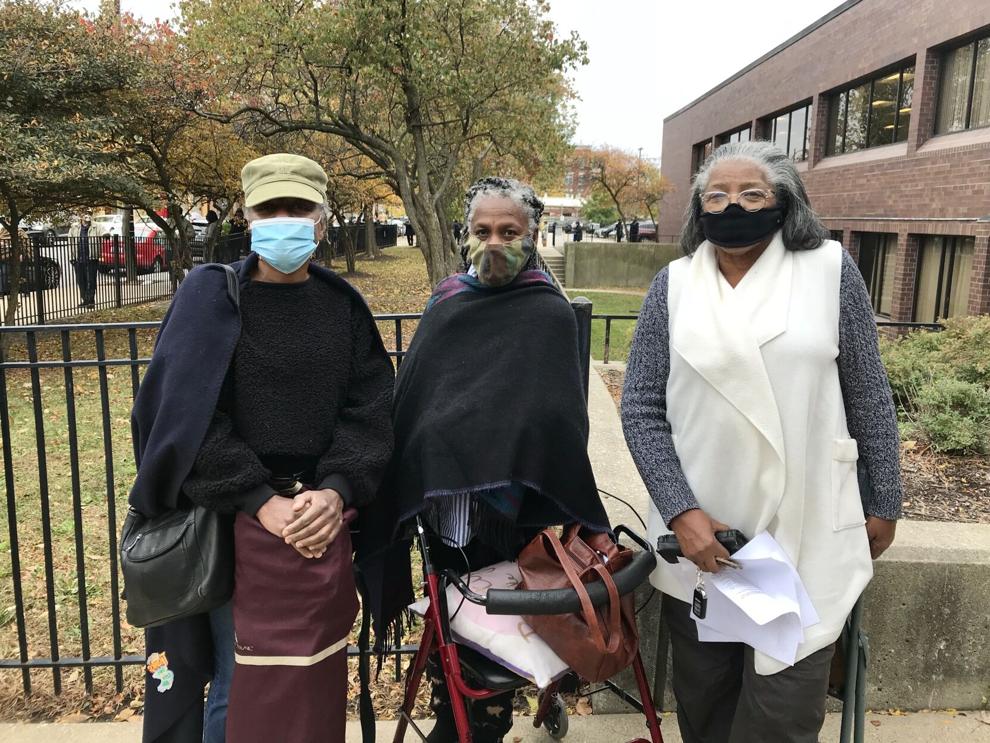 "She's been making sure that people are fairly prosecuted and not in jail for longer than they need to be," said Tukes. "That matters to me because there are a lot of people in my community that are unfairly sitting in jails, who don't have the money to pay for bail. It matters to me to have them able to be free citizens and able to vote." 
Polls are open Monday to Friday, 8:30 a.m. to 7 p.m, and Saturday and Sunday from 9 a.m. to 5 p.m. Visit chicagoelections.gov for more information.