Hyde Park and surrounding South Side neighborhoods have been conducive to Black women in politics for decades.
Jacky Grimshaw worked for former Ald. Leon Despres from the late 1960s, and she organized precincts for Harold Washington when he ran for the Illinois Senate in 1976.
The neighborhood sent Carol Moseley Braun to Springfield as the first Black female state representative in 1979; she lived in the neighborhood when she was elected to the U.S. Senate in 1992.
Toni Preckwinkle ran for City Council twice in the 1980s before winning election in 1991. Today, the 4th, 5th and 20th wards are all represented by Black women: Sophia King, Leslie Hairston and Jeanette Taylor.
African Americans are not an ideological monolith, but the demographic is steadfast in its support for Democratic candidates. No segment of the American population votes for Democrats as uniformly as Black women. Now, for the first time, a Black woman, Sen. Kamala Harris (Calif.), is on the party's ticket.
Harris noted the distinction in her acceptance speech to the atypical nominating convention, noting that Black women fought to earn the passage of the 19th Amendment 100 years ago yet still did not receive the ballots they were due.
"But they were undeterred," Harris said, speaking from Wilmington, Delaware. "Without fanfare or recognition, they organized, testified, rallied, marched, and fought—not just for their vote, but for a seat at the table. These women and the generations that followed worked to make democracy and opportunity real in the lives of all of us who followed."
"They paved the way for the trailblazing leadership of Barack Obama and Hillary Clinton. And these women inspired us to pick up the torch, and fight on. Women like Mary Church Terrell and Mary McCleod Bethune. Fannie Lou Hamer and Diane Nash. Constance Baker Motley and Shirley Chisholm. We're not often taught their stories. But as Americans, we all stand on their shoulders."
Earlier in the week, Moseley Braun read Illinois Democratic delegates' votes for former Vice President Joe Biden and Sen. Bernie Sanders (Vt.) outside of the Old State Capitol in Springfield, but she did not mention in her speech that she and Harris are an elite club: the only two Black women in the history of the republic to win election to the Senate.
In 1992, Moseley Braun, then the county Recorder of Deeds, harnessed enough antipathy about incumbent Sen. Alan Dixon's vote in favor of Justice Clarence Thomas' appointment to the Supreme Court that she beat him in a three-way primary race, backed by women, liberals and voters of color. Moseley Braun hailed Harris's special appeal to immigrants, Indian Americans and White people who want to see progress in race and gender relations.
All of this is because politics follows culture, she observed: "That's how it is that you got a Kamala Harris. That's frankly what happened when I got elected. People were able to see that I had something to offer, and they were prepared to give me a chance. My mother's generation could not even imagine her getting to the United States Senate, much less being a vice presidential nominee in one of the major parties. It shows progress in the country as much as anything else."
"What I hope you can take out of this what an important thing this says about the American people," Moseley Braun continued. "It says that our country has moved to the point that it is not extraordinary, it is not unusual, it is not something that has to be beaten down. It is something that the country can embrace and is willing to embrace."
In an interview, Hairston, who is the council's fourth-most-senior alderman, said she did not want to downplay the historic nature of Harris' nomination but stressed that her race and gender did not make her their party's vice presidential nominee.
Harris and Hairston are around the same age, and both are attorneys. Before her election to the Senate, Harris was the San Francisco District Attorney and California Attorney General; Hairston's public service began in Springfield as an Assistant Attorney General and as a litigator in the Appellate Prosecutor's Office. As Hairston pointed out, both are members of the Alpha Kappa Alpha sorority.
"While I don't want to downplay the historical significance, that is not why she is a nominee," Hairston said in an interview. "It is her skill. It is her lifelong experience. It is the causes for which she fought and lived through: busing and a lot of the things people are still protesting today. She, like myself, has been through it, and so she brings a different perspective. She knows what it is like to be discriminated against and still persevere."
Like former President Barack Obama — a longtime associate of Hairston's and a one-time constituent — Harris has a bi-racial background and African heritage outside of the Great Migration out of the American South. 
Hairston and Harris met briefly when Harris, then campaigning for president, stopped in Chicago. The alderman said Harris is a dynamic, candid, personable speaker who does not back away from hard questions from sensitive areas.
"Her message was not the plain rhetoric: it was not the standard rhetoric that you get, and people talk about understanding what it's like to be poor or need investment, but they don't really get it," Hairston said. "And that's why we're here at this moment at this time, because people just don't get it. And we can't continue to pay lip service and not back it up with investment in every area that it needs. And until we start making that happen, we are going to have that unrest."
Harris is no radical; she has expressed regret for enforcing a state policy as attorney general that led to the arrest of some habitually truant schoolchildren's parents and guardians. And the most radical woman in local politics, Woodlawn's socialist Ald Taylor, views Harris with doses of cautiousness and realpolitik. She will vote for her and Biden this fall.
Taylor's background is far outside of the norm among politicians but not uncommon among Black Americans. She was born in the working poor, her father died when she was 13; her first baby was born when she was 15; and she graduated from Olive-Harvey College as a working mother. She came to prominence through activism, hunger-striking to save Dyett High School from closure, not through the local party, and she has said her aldermanic salary has given her economic security for the first time in her life.
"From a Black woman to a Black woman, I care about what she does," Taylor said. "Now I'm a little concerned about her history because of the number of Black and Latino youth she locked up, but I will say she's better than what we've got. At least I can say she's been transparent. She ain't trying to hide nothing."
While Taylor said she would have preferred the former vice president had chosen the Stacey Abrams, the former Georgia House Minority Leader, or Nina Turner, a former Ohio state senator who co-chaired Sanders' presidential campaign, as his running mate, his choice of Harris was the reason she will vote for him instead of writing in Obama or Harold Washington. Had Biden not chosen a Black woman, Taylor thinks he would have lost in November. The country cannot keep choosing between the better of two evils, she said.
Between Mayor Lori Lightfoot and the multitude of Black women in local and nationwide elected office, Taylor said Harris' nomination shows Black girls that they can be anything they want to be. "Her being VP is important to all of us, because it just solidifies what we're saying: we are in a space to support and help, and that's what she's going to do," she said. "Biden doesn't have clarity on a bunch of things — especially not being a woman."
While Taylor has not met Harris, she echoed Hairston when describing her ultimate support for her, political differences aside. After Biden named her his running mate, Taylor spent a few hours online watching videos of Harris interacting with voters on the campaign trail during her own presidential campaign.
"I just heard her talk. And sometimes I was like, "Hm, she's just saying stuff that's the right answer,'" Taylor said. "But there was this one particular video where she was just honest, saying, 'I don't always feel like I always did the right thing in my job.' When you can own something like that, when you can say something like that, then I can meet you halfway."
"Black women are always fixing it," Taylor observed, "and she'll be the person who brings the nurturing touch that this country needs. This country has been kicking our ass for years, and now it's time for some nurturing."
For her part, Grimshaw, 78, said she was never sidelined because of her race or gender during her early political work in Hyde Park or later, for Washington and U.S. Rep. Ralph Metcalfe (D-1st), in Englewood. "Most of the folks who worked on the campaigns were women," she remembered. "And I think it was based upon women understanding the importance of making political changes."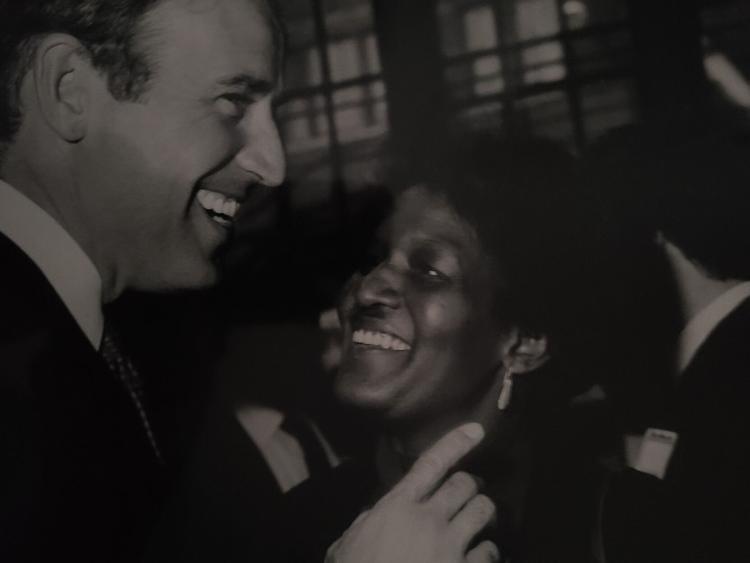 She has known Biden for decades and called his selection of Harris "a good indication of the kind of person that he is."
"He recognized how he got to where he got to, and that was on the backs of Black voters and particularly Black women voters," she said. "Selecting Kamala Harris, I think, is an indication of his recognition of that support and his wanting to give back as much as he could for what he received."
On the other hand, Grimshaw said the Democratic Party has been slow to get where Biden is today in recognizing Black women's importance to their future. But she discounted a question about whether it was irritating to see the nomination of vice presidential candidates like Sens. Tim Kaine (Va.), John Edwards (N.C.), Joe Lieberman (Conn.) or Lloyd Bentsen (Texas) over the years.
"Jesse Jackson ran twice. He got a lot of support. It was a fair fight each time he ran — not just from Blacks, but from the rainbow coalition that came about," she said.
Ultimately, Biden will win or lose this fall on his the basis of his own strength, she said; given expectations that he may only serve one term if he wins, she said it puts Harris in a good position to run in 2024: "I think that will be the test as to whether or not the Democratic Party 'has come a long way, baby,' as they say, to giving Black women their due for their longtime, loyal support," she said.
This article has been updated to correct a misspelling.