City Council passed Mayor Lori Lightfoot's $16.7 "recovery" budget that raises funding for social and city services and closes a $733 million budget deficit with the support of Alds. Sophia King (4th) and Leslie Hairston (5th).
The budget includes $2 billion of aid from the federal government's March-passed American Rescue Plan and a $76.5 million bump in property taxes — as WBEZ reports, around $25 million each to inflation, to pay for public infrastructure and from new property construction over the past year.
This comes out to around $10.74 for the average home in the 5th Ward, Hairston said at an Oct. 26 constituents' meeting. Residential property values are determined by the Cook County assessor's office.
"The weight of COVID-19 and social unrest has shined a light on the vast structural inequities in our city, our county and our country. This awakening has highlighted, now more than ever, that we must do more for our marginalized, especially in our Black and brown communities," said King at a Progressive Reform Caucus press conference before the Oct. 27 meeting.
The unrest of the past 19 months has informed the city of where its budget priorities should be, she said. King, who chairs the progressives, said she was proud of the way her caucus members fought for vulnerable communities in the budget.
"While we didn't get everything that we wanted, there are very major wins that we got, and we want to champion this budget as a progressive budget, and it's one that we fought for, I would say, most of the things that are included in it," she said.
Beyond salaries and for pensions for city workers and debt payments — the largest expense in any city budget, with $2.3 billion for pensions alone, enough to fully fund them by 2045 — the 2022 budget contains $6 billion in grants. In those grants as well as in local funds and new economic development bond developments, there are $1.9 billion worth of investments in community safety, some of which go for more than one year.
Mental health funding is getting funded seven-times over since 2019, to the tune of $86 million, much of which will be spent next year. Twenty-nine more employees are getting hired to staff the city's remaining mental health clinics, the hours of which are getting extended. (The nearest clinic is the Greater Grand/Mid-South Mental Health Center, 4314 S. Cottage Grove Ave., 312-747-0036.) Crain's also reports that the Chicago Department of Public Health, which runs the clinics, is getting funding to strengthen outpatient drug addiction treatment services.
Funding for direct violence prevention interventions, like community outreach and youth services, is getting $135 million, up from $50 million this year, and $150 million is going to youth job programs.
"Environmental justice" initiatives like climate change mitigation and equitable tree canopy distribution on the South and West sides — Crain's reports a plan to plant 15,000 trees a year for five years another to hire more tree-trimming staff as well — is getting $188 million. Tree-trimming in Chicago will change from a complaint-based system to one wherein crews are assigned to take care of issues in particular areas of the city.
Bond funding is providing a lot of the $635 million going towards affordable housing, some of which will be built over the next three years. More than $200 million is going to homeless services; Crain's reports that the budget will add more outreach workers to the Chicago Department of Family and Support Services. A yearlong, $31.5 million pilot program will give 5,000 low-income households $500 a month in a test of universal basic income.
City money distributed to private entities is distributed by an open and competitive request-for-proposal (RFP) process. "There is not any particular pot of funds that says '5th Ward, you get 'x' number of dollars for homelessness, for violence prevention,'" Hairston said at her ward meeting.
The budget also includes $1.9 billion for the Chicago Police Department, $200 million more than last year. At the progressives' news conference, King said caucus members worked to eliminate department vacancies, and Hairston pointed out that most of the police budget goes to wages and salaries.
"That goes up every year regardless of any of the measures that we take," she said.
Passing the budget took seven roll call votes. King and Hairston voted for all of them. Except for an administrative ordinance authorizing the actual spending of the money, Ald. Jeanette Taylor (20th) voted "no" on the others: an update of the municipal code to get it in line with new state laws, an amendment of the 2021 budget to repay $465 million in borrowing, the $16.7 billion budget itself, the authorization of borrowing the fund the budget, a revenue ordinance that included new fines and fees, and the $76.5 million property tax levy.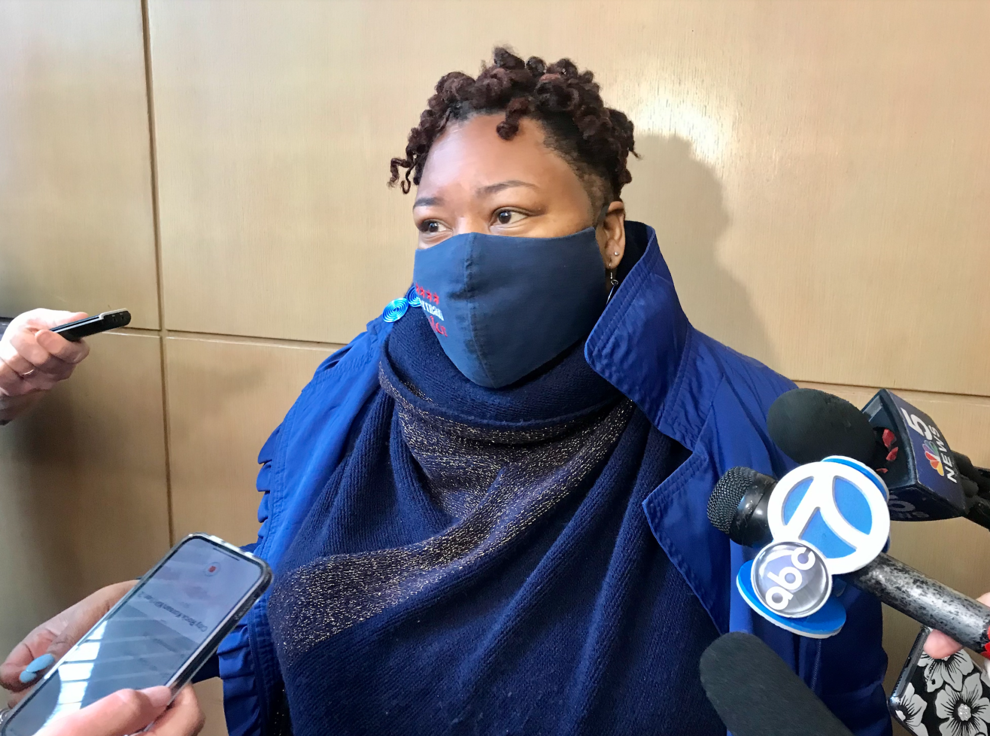 In comments after the meeting, Taylor said her near across-the-board opposition to the budget was on principle, given the package's property tax increase and increase of money going towards the police. She also noted that the budget, with its social service investments, was going to pass with or without her support.
"At the end of the day, your votes show who you are. And I vote with the moral principle that Chicago is one of the richest cities in the country and the world, and we can do right by all our citizens," she said, noting the city's homeless encampments and out-of-school young people.
"I'm not going to vote against constituents. The median income in my ward is $25,000. I'm not going to vote to raise property taxes," she said. "We could have done so much better. We had all this money, and this was a great opportunity. And we just didn't do it. We do the bare minimum as usual."
Taylor recalled that the city used 60% of its discretionary 2020-passed CARES Act funding for the police department and said she doesn't feel safer as a result.
"We continue to put more in the police budget, but crime is going up. The clearance rate is horrible," she said. "You still don't see any change. And as much as we spend out in lawsuits, where is the legislation and the policy saying let's see this change?"
Mayor Lori Lightfoot recalled the late Timuel Black's description of the self-contained Bronzeville of his youth, "Where dollars turned over and over again in redlined communities with vibrant commercial corridors and all the amenities that attract more business and growth."
She said her budget would build on investments made in her Invest South/West program, which has put $750 million in public funding into 12 commercial corridors on the South and West sides, including Cottage Grove Avenue in Bronzeville.
Lightfoot noted the specific dollars in the budget for small business support, building on top of the $100 million-plus already provided for small business support. But she also said supporting working families and individuals means supporting Chicago's businesses.
"We want to be holistic in the way in which we are supporting the businesses in our communities. That's why we spend so much time engaging with chambers of commerce, individual businesses and business organizations," she said. "I feel very good about the investments that we've made, because they're informed by the partnerships and the collaborations that have really served us well throughout the course of the pandemic."
Lightfoot referenced Mayor Harold Washington's 1987 budget, which he died before passing, in her post-meeting remarks.
"People who I know who were close to him, who worked so hard to build a working majority on this City Council so his dreams for a better Chicago could actually be realized, those dreams are coming true now," she said. "They're dreams delayed, but they're not dreams denied."
Pastor Charlene Hill of the United Church of Hyde Park, 1448 E. 53rd St., gave the invocation at the beginning of the council meeting, praying for the alderpersons to have help in serving their constituents, for wisdom as they made their decisions and for blessings for the city.
"Remind us in heated moments, even though we are not always on the same side, we are on the same team," she prayed. "Give us clarity and energy to sit through one more meeting, an important meeting, the budget meeting," she said, drawing laughs at the culmination of weeks of meetings.