Speaking in Washington Park after a weekend of protests and violence, Gov. J.B. Pritzker and Black state legislators said they would work to reform law enforcement in Illinois, though timing remains uncertain.
"We must find a way forward," Pritzker said at the KLEO Art Residences, 5504 S. Michigan Ave. "I do not pretend to know the pain that's experienced by Black America — the pain of knowing what happened to George Floyd could happen to you or your child, but I do know at this moment we are overwhelmed here in the State of Illinois with rage and with passion and with sorrow."
Speaking a few hours later just five blocks away, in front of boarded-up businesses at the Grant Boulevard Plaza, 5401 S. Wentworth Ave., Rep. Kambium Buckner (D-26) spoke to those experiences.
"For generations, Black parents and Black guardians have given the same lecture to all of our children: Act a certain way, don't go certain places, avoid confrontations," Buckner said. "This is essentially a direction from us to our youth about how to stay safe from the police."
But Black people have suffered horrible fates, he observed, while being respectful, avoiding confrontation, not going certain places and following instructions. "To our youth, we realize that we have not protected you," he said, "because frankly we have not been able to protect ourselves.
Looting is wrong, but Buckner said he had to observe the decades of "looting of our communities, our schools, our hospitals, our hopes, our dreams, our dignity."
"As one of the younger members of the Illinois Legislative Black Caucus, my job here today is to speak to our youth," Buckner said. "I've been in the streets and in the community every single day for the past week or so. I've spoken to many of our young people, and they all are speaking with one voice."
"We know why you are angry, and rightfully so," he said. "But this cannot be just like every other time, and I've got a feeling that it won't be. We need to channel our energies in the right direction and stand with our youth in order to lead the charge to make that happen."
When the time for reform comes, after people process their grief, Pritzker said activists and organizers will "help show the way."
"The path ahead will not be easy," the governor cautioned. "Longstanding systems don't shift on their own. But this is necessary work." He called for police reform "with genuine investigations, transparency and accountability" and "sustained economic investment in Black and Brown communities."
Though protesters are calling for immediate action on police reform, Pritzker said he is hesitant to use his office to call a special legislative session to tackle the issue, explaining that he would leave it to the House and Senate leadership to do so and noting the peril of meeting amid the pandemic.
"They've proven that they can, and that's encouraging," Pritzker said, referring to the truncated session that saw the House meet in the Bank of Springfield Center arena instead of the statehouse.
But he said he supports change statewide and in Chicago: "It's very important to me that we establish an agenda that's led in part by the very peaceful protesters that are out on the streets, who were there protesting last night and the night before and the night before — folks who were there with legitimate grievances."
At the other press conference, Rep. Justin Slaughter (D-27th), who chairs the Judiciary Criminal Committee, listed the Black Caucus' criminal justice demands: prompt access to police conduct files, public tracking and reportage of police disciplinary measures, whistle-blowing protections for officers, repercussions for improper use of body cameras and cultural, racial sensitivity trainin;. "modernizing" the use-of-force statute "to clarify threats and to prioritize preserving life" and ensuring detainees receive prompt access to phone calls to counsel when incarcerated in police stations.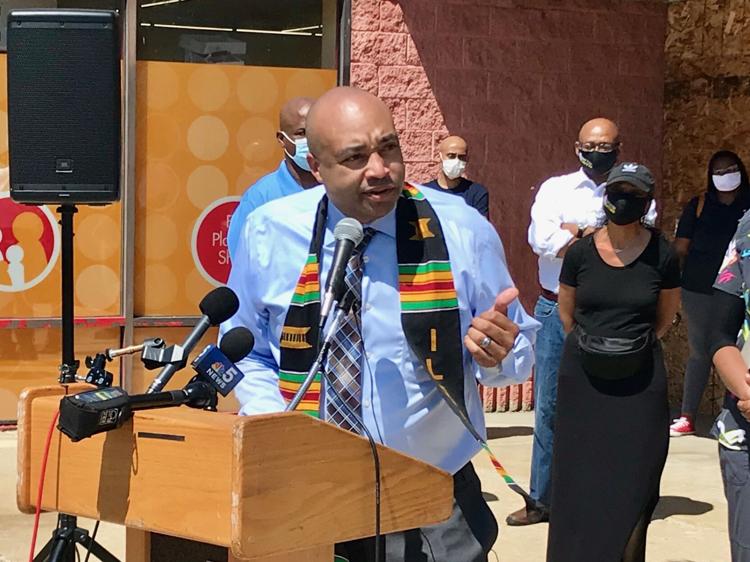 In an interview, Slaughter said there was legislation, either standalone or omnibus, for each point on the list. Barring a special session, General Assembly's fall veto session is months away. Slaughter said subject matter hearings were a possibility in the meantime.
Before reporters, Senate Majority Leader Kimberly Lightford (D-4th) called on Pritzker, Senate President Don Harmon (D-39th), House Speaker Mike Madigan (D-22nd) and other legislators of both parties "to support legislative initiatives that support our communities."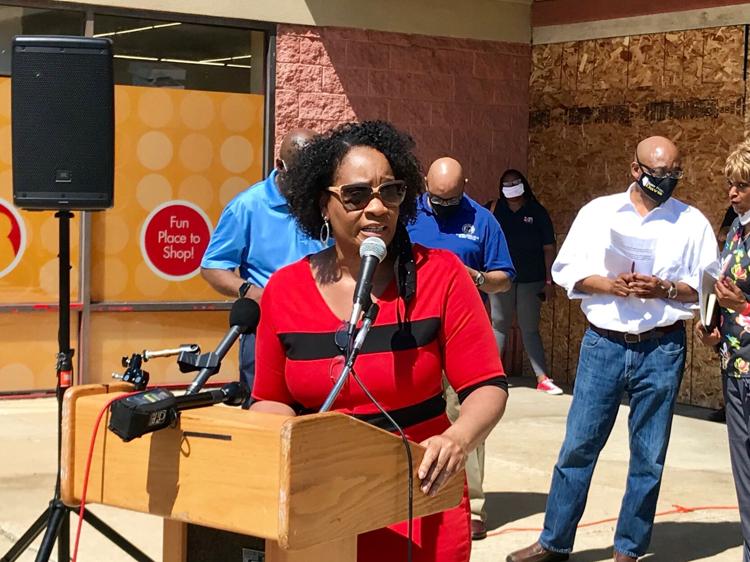 In an interview, she said she told Harmon just prior to the press conference that there was a need for immediate relief and that he said he and Senate Democrats would help, but it will take legislators from several backgrounds to do anything. Amid an evolving pandemic and recession, she said the General Assembly may need to meet in August or September to work on the budget before the November veto session.
Promises for reform have failed to materialize time and time again, but Lightford said this time is different. "I think the whole world is watching us today," she said, with heavy, nationwide pressure against systems of oppression. She urged protesters to stay peaceful: "If people still want to raise their voice, I see nothing wrong with that."
The unrest comes as Hyde Park-Kenwood's other state legislators also have been vocal on police reform, from Sen. Robert Peters' (D-13th) longstanding aim to end cash bond in the state to Rep. Curtis J. Tarver II's (D-25th) proposals, recently expressed on Twitter, to reform the state's statute indemnification for injuries caused by police officer and his bill that would revoke officers' pensions if they are convicted of felonies.
After Pritzker's press conference, Cook County Board President Toni Preckwinkle noted that Derek Chauvin, the former Minneapolis policeman who killed Floyd, had several misconduct complaints against him, though he remained on the force.
"I think we need some legislative support for police accountability, both at the local level and the state level," she said. "We need legislation about training officers (and) professional development, like every other profession. But most of all, we need investment in our Black and Brown communities, which have been so devastated by disinvestment. It's not decades: it's generations.
"We have to figure out how we're going to address the multiple challenges our Black and Brown communities face if we're going to do anything about the injustice in our country," she continued. "I think it's the obligation of those of us who are residents to push people to take the actions that we believe are appropriate."