Seventy-five minutes after polls opened at Ray School, 5631 S. Kimbark Ave., on Election Day, social worker Ursula Wagner was ready to go work as a poll watcher if she got the call from the Chicago Lawyers' Committee for Civil Rights. 
"I just wanted to do something useful on Election Day, and so protecting democracy at the polls seemed like a good way to do that," she said near the polling place for the 27th Precinct, the neighborhood's largest. She had originally planned to go to Wisconsin to volunteer, but the deteriorating coronavirus conditions in that state convinced her to stay home.
Should voters report intimidation or any other problems as they vote, the nonpartisan Lawyers' Committee would send volunteers like Wagner in to act "as an extra set of eyes," she said. "They say it's sort of like having a traffic cop on the highway: once the poll watcher is there, people seem to be more on their best behavior."
Wagner said it is scary to think such work may be necessary. Though she is not worried about a physical threat, she said her training focused more around combating election disinformation, around what people can and can't do at the polls and what to do if someone's voting eligibility is challenged.
"Honestly, I was up pretty late studying my manual," she said. And for that, she's glad: she is on call until 8 p.m. and hopes to fall asleep soon thereafter to avoid the potential "emotional roller-coaster of watching the results come in with no clear outcome."
First-year University of Chicago student Daniel Espejo, from the Maryland suburbs of Washington, said his family kept sending him videos from the capital of buildings getting boarded up ahead of tonight.
"Especially if Trump were to win, I think that there might be some rioting and that kind of stuff, but my main take is that I don't think we're going to have concrete results up for a while," he said. "I think getting too upset about it today is not a good idea. Because of COVID and also because of the political climate, I think there might be some kind of Bush v. Gore situation."
Nevertheless, Espejo, a self-described moderate, said he hopes that Biden will win, castigating the president for his cavalier attitude toward mask-wearing, expressing disagreement with nearly all of his policies "on a fundamental level" and "the way he is, fundamentally."
"It's just been inspiring for me to see Republicans as well, like with the Lincoln Project, coming forward, like Cindy McCain, who have come forward to say, 'We've been Republicans our whole lives, but vote for Joe,'" he said. "Just the way Trump is, it's just ridiculous."
His impression of the mood among U. of C. students is overwhelmingly pro-Biden, minus a small, albeit vocal, contingent for the president.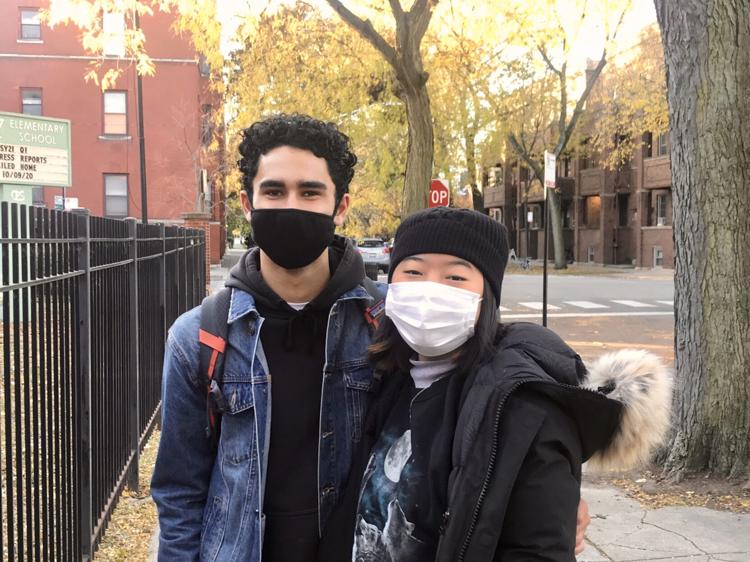 Christina Byun, another first-year from San Diego, said she wants Biden to win — the economy, the only metric on which polling data suggests the public still backs the president, is not the only thing that matters in the country, she said — but she is trying not to get her hopes up.
"No one thought it would be Trump, like we would all joke about it, and it ended up being Trump. But I think because of that, voter turnout has just been insane this election, especially with early voting. That makes me hopeful, and I've never seen so much effort to get the vote out this early," she said. "Especially with COVID, I think there's reason to."
John Zurbrigg, a retired Ancona School teacher out for an early morning walk with his wife Judy, a family daycare provider on hiatus because of the pandemic, said this is the most important election of his life.
"It feels like the whole institutional structure of our country is at stake in this election," he said. "I'm hopeful, but I'm very anxious. Because of what happened last time, when we had expectations and they didn't turn out that way, I'm worried. I think the chances are good. But I'm also worried about the post-election trauma that's going to happen."
Judy, for her part, was taken by Biden's readiness to organize as an executive, as well as his 2017 memoir, "Promise Me, Dad," about the death of his son, Delaware Attorney General Beau Biden.
"He's learned from his mistakes, and he's willing to continue admitting his mistakes," she said. "He's learned from all the sorrow that he's had to take in, with the death of his son and the long-time-ago death of his wife and daughter. I think that makes you a stronger, more compassionate person. I think he's proven during the election period that he's capable of a sustained, rational approach to things, plus empathy for others."
During an interview along 57th Street, Mellissa DeMille commented on how nice it was to walk to work at the University of Chicago instead of her commute by car from the suburbs of New Haven, Connecticut, to her last job at Yale University. But because of the move, a name change, and pandemic-caused bureaucratic delays in getting new ID, she found herself unable to vote in this election in Illinois.
"I have a lot of guilt," she said. "I'm not blaming the election people. I'm blaming myself for not getting my ducks in a row sooner. I let my passport expire, and I was afraid to go in and even bother to go in and get an Illinois driver's license because of my document problems."
The guilt, DeMille said, comes from telling anyone who will listen to vote, "and here I am, the demographic who really needed to stand up this time." The fact that more middle-aged White women voted for Trump than former Secretary of State Hillary Clinton weighs heavily on her, "but I think finally, maybe, they've woken up. And at any rate, she takes comfort that her son in Ohio will cast a ballot, as will her son in New York who has a GOP congressman in a competitive election.
Jonathan Knotek, walking eastbound on 57th after voting at Kozminski Community Academy, 936 E. 54th St., was just in awe that, two years after the 2018 midterm elections, Election Day 2020 had finally arrived: "It's hopeful, it's scary, it's a little bit of everything."
He voted for Biden after supporting Sen. Bernie Sanders (Vt.) in the March Democratic primary, but he said there is "no choice" between Biden and Trump, describing the former as fundamentally decent and the latter as fundamentally bad.
"The last four years, for anyone who's been paying attention, in my mind — and I do know people whom I like who are on the other side — if you have a working brain, I don't know how you see what's happened in the last four years and don't vote in a different direction," he said.
Knotek said the liberal Catholic values with which he was raised, "to help other people and to look out for other people and to not think of yourself first," motivate his own politics. "I'm not saying that's what Republicans do," he said, "I'm saying that's what the current leader of the Republican Party does."
"If I myself as a White man cannot acknowledge the privilege that I hold and the fact that a lot of people are afraid to lose that privilege, then I'm not being honest with myself or anyone else for that matter," he said. "I think at the end of the day it's fear, and at the end of the day, I think White men in particular vote, sometimes, the way they do, because they're afraid to lose power or vote for people who might want to take it away from them. And then there's a heavy dose of misogyny and racism and everything else as well."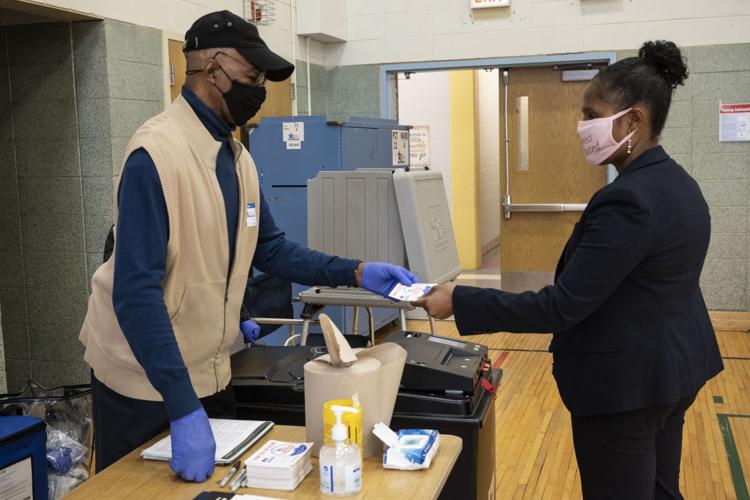 At 10 a.m., a contingent of Democratic state, county and city politicians — Gov. J.B. Pritzker, Lt. Gov. Juliana Stratton, state Rep. Curtis J. Tarver II (25th) county Board President Toni Preckwinkle, State's Attorney Kim Foxx, county Commissioner Bill Lowry (3rd) and Ald. Sophia King (4th) — made an appearance at Shoesmith School, 1330 E. 50th St. King cast her ballot in the gymnasium as house music played.
Helena Duncan, a Hyde Park resident who organizes with the Lift the Ban Coalition, confronted Pritzker outside of the school about his position on rent control.
"We were out here to confront Gov. Pritkzer about why he has not done anything to lift the ban on rent control, which was something that he publicly stated he supported when he was campaigning for his seat," Duncan said in an interview after the encounter. "We know that he did have the power to lift the ban under his executive orders. He's claimed that he can't, and that's been disputed by legal analyses.
"Regardless, he's thrown his weight, his support and his money behind the fair tax, despite that being a legislative issue, and he can full well do the same for rent control."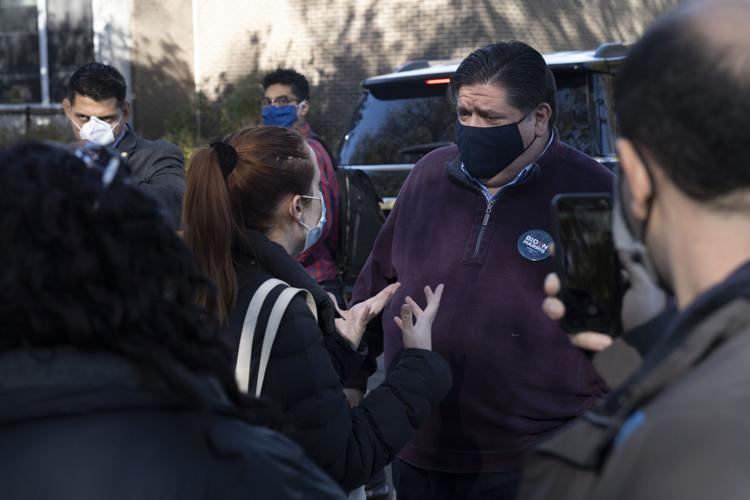 After the politicians left, Aspen Gage, a nanny providing childcare in Shoesmith-adjacent Kenwood Park, said she did not vote this year, explaining that she personally felt separated from the American political process.
She is frustrated that the pandemic response has become so politicized, and she said she never feels that politicians have constituents' best interests at heart.
"People really feel that they need to vote, and they feel that they're making this huge difference in their communities. And they are, because they're putting those people into office," she said. "But what do they do once they get there? And how much of me voting and what I'm asking for are they listening to?"
Emanuel Morris, sitting on the other end of the park, moved out of Hyde Park a month ago to open a business in Atlanta, but came back because of his Illinois voter registration to cast his ballot. He was emphatic about the need to oust Trump, citing the sharp rise in racial tensions under him compared to his predecessor, President Barack Obama.
"When Obama was in office, it was love. Like he had love for the people. And with this guy, you can definitely feel that White males are a lot more vocal about their hate for Black men and Black people in general," he said. "I just want the leader of our country, whoever he may be, to just be fair and have some empathy and sympathy for the people.
"Because the people are f-cked up out here, man," he continued, comparing "Make America Great Again" hats to Ku Klux Klan robes.
In the afternoon, there were few lines at Hyde Park's polling places, though there were plenty of volunteers standing outside and asking people if they had voted. (One man said he already had and added, "Trump, Trump today.")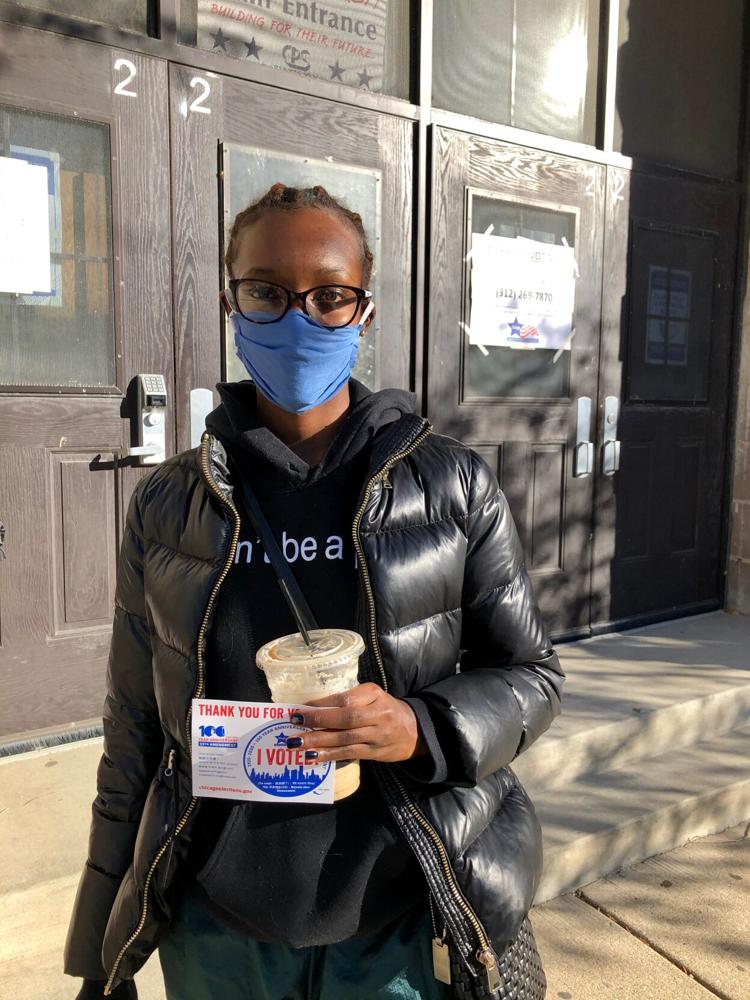 Shana Burns, 25, said she decided voting was better than not voting. "With me being Black, and young, and a woman ... politics is a double edged sword either way it goes, no matter the party, but there isn't a solution for us to figure out the best way to dismantle it or the best solution that will help us," she said. "I know some things, I am still learning some things, and why not vote?" 
Owner Abdul Karim of the Hyde Park Barber Studio, 1431 E. Hyde Park Blvd., called the president "an extremely divisive entity that stokes fires and throws salt in wounds," pointing to his wife and two daughters and Trump's sexual misconduct allegations as the reason, politics aside, why he could not support him.
He also surmised that more Black heads of households are conservative than liberal.
"If you were to look at those religious things, those fiscal things, I think a lot of Black men tend to agree with them," he said. But he acknowledged that the country is changing, with more Black men supporting same-sex marriage and gun violence becoming a nationwide concern.
As a small-business owner, he estimates that Trump's signature overhaul of the federal tax code may have saved him $3,000-4,000. But he observed that it saved gigantic corporations significantly more.
"Ultimately their diatribe about helping Middle America is a little disingenuous and a little dishonest," he said.
On Promontory Point, Cassidy Reves-Sohn and her partner, Uduak Wilson, came to the lakefront to disconnect from election stress. Reves-Sohn mailed her ballot in before that afternoon; Wilson, a U. of C. undergraduate, applied for theirs in Georgia beforehand but never received it and was debating registering same-day in Chicago and voting here.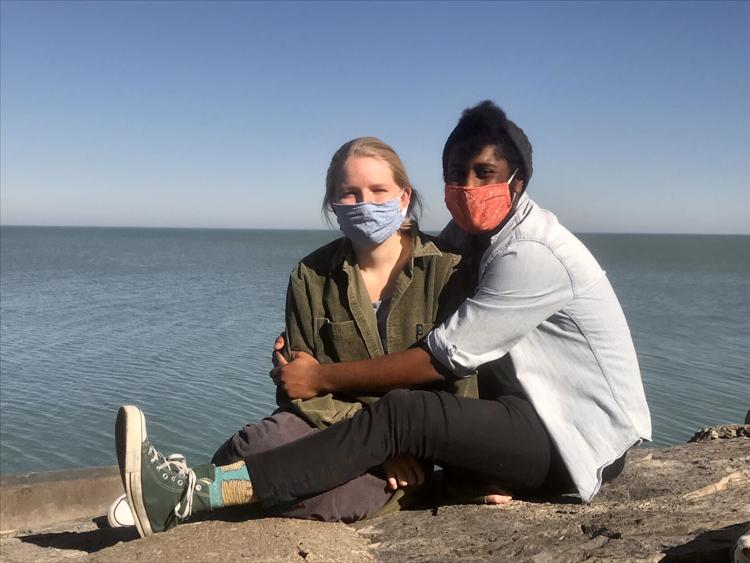 Wilson was mentally preparing for Trump's reelection but cautiously optimistic that it wouldn't happen. They perceive a split within the political left and said a sentiment exists among U. of C. undergraduates to sit the election out of discontent with both major party candidates. Wilson said they think that could be the case at a lot of schools.
Both are supporting Biden, however, after supporting Sanders in the primary. Reves-Sohn, a U. of C. alumna, said she does not think that voting is the only way to get change in the country. She suggested protest, noting her own efforts to get the U. of C. Police Department defunded. Wilson agreed, saying that the spirit of the summer protest movements are still alive.
"I think if Biden wins, that revolution can happen in a lot safer way for a lot of people," Wilson said. "If Trump wins, that revolution might happen a lot quicker and maybe a lot more violently."
Michael Kuby, sitting on the southern edge, said he planned to gather with friends later that evening to not think about the election with them. Nonetheless, he said he was optimistic about Biden's chances.
But when he thinks about millions of his countrymen supporting the president "despite the fact that we still have 500-plus children who've been separated from our government, intentionally, to discourage immigration, and people just seem to think that's OK — 45% — that's pretty upsetting."
Kuby, a gay man, grew up during the social unrest of the Vietnam War and lived through the AIDS crisis, but he said the inhumanity of the last four years, as well as the disregard for the future of the planet in the face of climate change, is more appalling than what he experienced before.
"I don't understand them at all," he said. "It makes me hopeful that if all the ugliness has been exposed, people will know what we need to change more clearly than ever. I think there's hope in the young people, because I think a lot of these attitudes are held by people who are older. As generations pass, I hope that people will be more caring."
As she walked her dog by Coleman Park, 5445 S. Drexel Ave., Paige Bennett said she was calming her anxiety through prayer, meditation, positive thinking and contact with friends, but she was worried about the outcome in any capacity.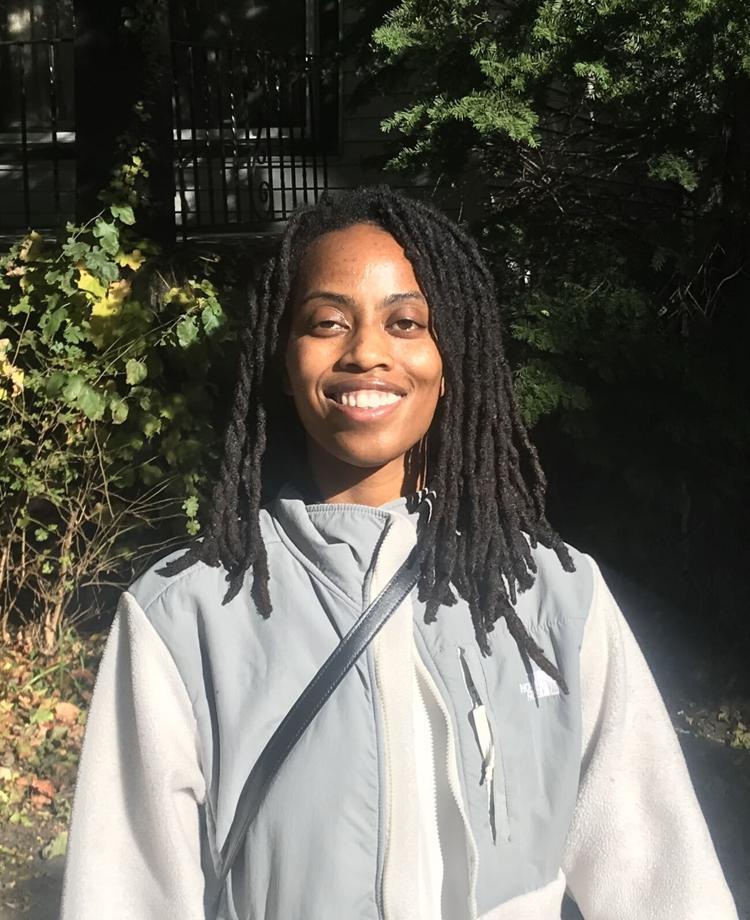 "I'm just worried about civil unrest like we've seen in the past few months," she said. "I'm also worried about people thinking that Trump, if he does win, that this allows them to say or do whatever they want. At the end of the day, no matter if we're Republican, Democrat, independent, whatever, we all just need to get along and figure out ways that we can compromise. We're all just different thinkers, but that doesn't mean that we have to hate one another."
And Dana Bozeman, wearing an Alpha Kappa Alpha face mask, said she was happy to cast a vote for her sorority sister, Sen. Kamala Harris (Calif.) for vice president and that she was ready for the answer to "whether it's going to be four more years of what I feel like has been relative anxiety and depression, because we do know that every day is going to be another dumpster fire, or whether we're going to start building towards something that's better."
The Obama years were good for her, though she said they would not have happened without George W. Bush's presidency. But she also thinks that Obama's presidency provoked Trump's, and that the country must face its history when it comes to socioeconomics and identity.
"We've seen what completely being out there in the open, racist, xenophobic and what that can do — and that some people really want to hold onto that privilege, because that's what they have. What can we do differently?" she said. "I think that the answer has to be uncomfortable conversations that we're starting to have."
"We've been so poor as a country of really looking at our own history that we are doomed to repeat it until we actually confront it," she said. Only at that reckoning, she said, can citizens question whether they really want to really care for one another. But nothing, as a Black woman in America, would surprise her about this country.
And if the president is re-elected? "Keep taking my anxiety medication and pushing on like Black women have since we came here."
Mrinalini Pandey and Christian Belanger contributed