The final vote count is not known — thousands more provisional and mail ballots are left to count — but the broad outline of Hyde Park-Kenwood voters' positions are known, and once again, Democratic candidates have dominated.
A final count from the Chicago Board of Election Commissioners will be published on Nov. 17. The Herald will publish an analysis closer to that time.
While Cook County Board President and Democratic Party Chair Toni Preckwinkle, who is also the 4th Ward's committeewoman, encouraged voters in an interview with the Herald before the election to pass the constitutional amendment for an Illinois graduated income tax, vote against the retention campaign for Judge Michael M. Toomin and to reelect county State's Attorney Kim Foxx (D), the amendment did not pass, and Toomin was retained.
In light of disappointing results for Illinois Democrats, Gov. J.B. Pritzker and U.S. Sens. Dick Durbin and Tammy Duckworth have urged Illinois House Speaker Michael Madigan (D-22nd) to step down as state party leader. Madigan has refused.
Ald. Leslie Hairston, the 5th Ward's Democratic committeewoman, declined to give an opinion one way or another about continued Madigan's leadership when asked. "Right now, I've been focused on this election. I've been focused on President-elect Joe Biden and Vice President-elect Kamala Harris, and that's where I've been focusing my attention," she said.
State and federal elections
Though businessman and perennial candidate Willie Wilson won up to a quarter of the early-counted vote across many Hyde Park-Kenwood precincts, U.S. Sen. Dick Durbin (D) carried the neighborhood and the state and has been re-elected to a fifth term in Washington.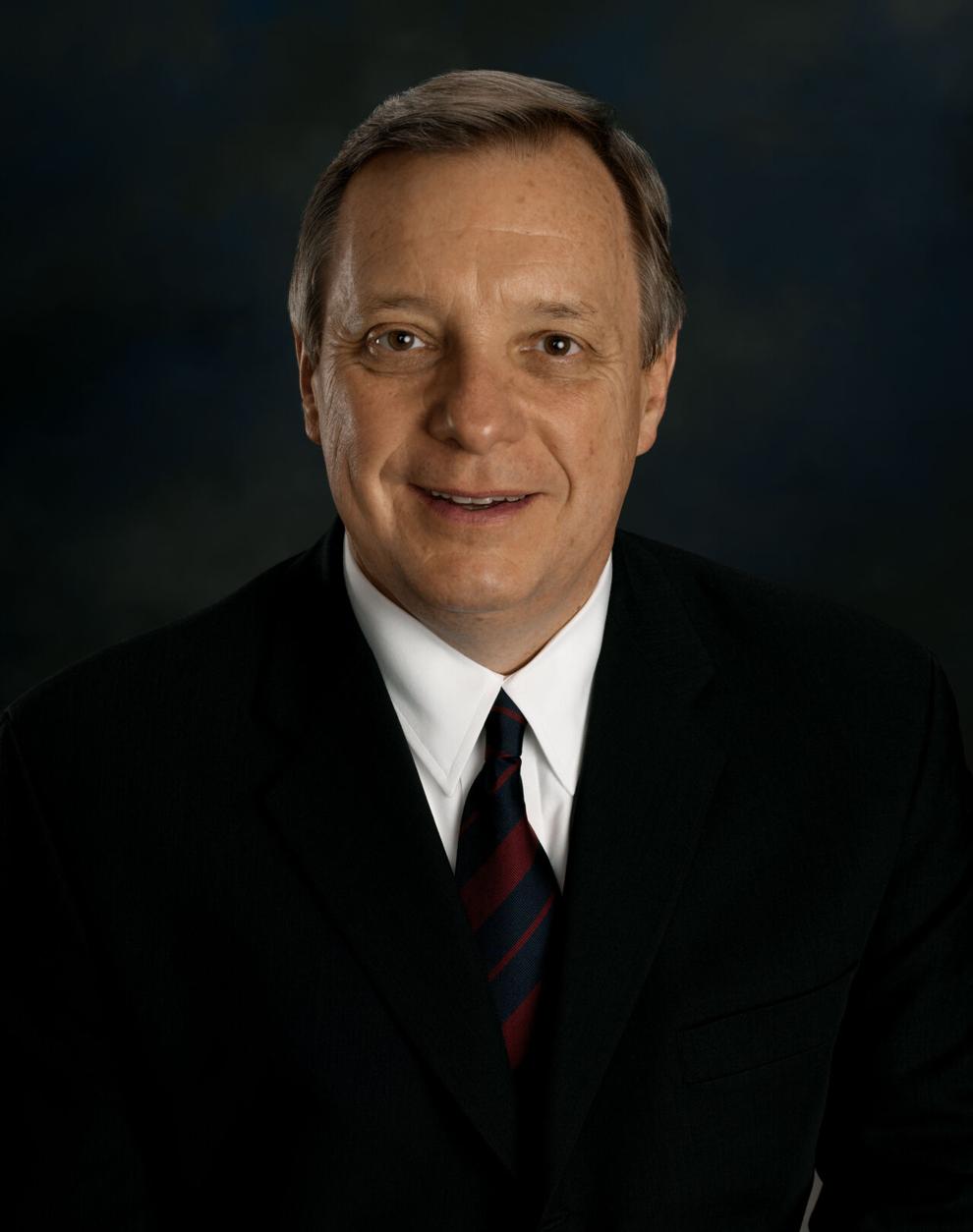 "Thank you, Illinois," he wrote on social media. "I'm honored to continue this fight for our families, our values and our future."
Local U.S. Reps. Bobby Rush (D-1st) and Robin Kelly (D-2nd) were likewise re-elected against minor Republican challengers.
In a statement, Rush said he was humbled and honored and thanked constituents for their votes.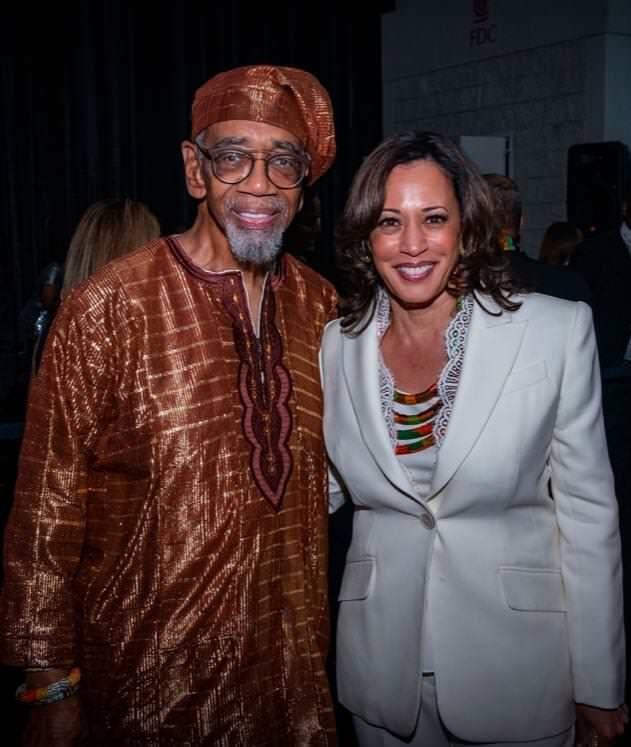 "Although our nation faces an unsteady future, I look forward to working with the Biden-Harris administration to eliminate the painful spectre of COVID-19 — the most immediate threat to the citizens of the 1st District — to restart the economy of our nation, to provide a stimulus package to small businesses and struggling families, to return to a normative public education system for our children, to address the existential threat posed by climate change, and to ensure that the George Floyd Justice in Policing Act becomes the law of our nation," Rush said.
"As President-elect Biden has so accurately stated during his campaign, right now, the soul of our nation is at stake, and I stand ready to do the hard work of preserving it."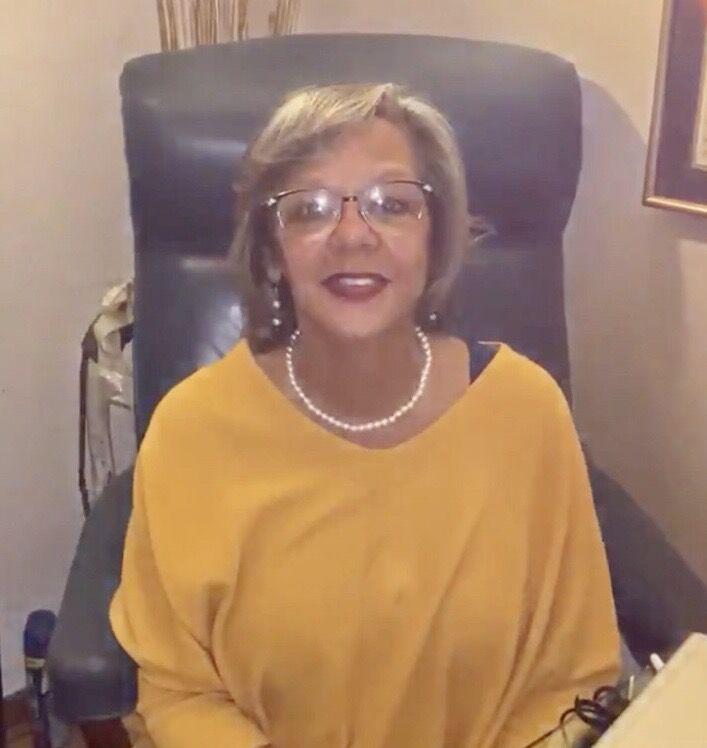 "Thank you so much for reelecting me again to serve the 2nd congressional district of Illinois," Kelly said in a short video statement. "It is truly an honor to be your congresswoman, and I look forward to the next two years."
Rush's campaign could not be reached for comment.
Illinoisans rejected the graduated income tax amendment, though preliminary results show overwhelming local support for the proposal supported by Gov. J.B. Pritzker and the community's state legislators, Sen. Robert Peters (D-13th) and Reps. Curtis J. Tarver II (D-25th) and Kambium Buckner (D-26th), all three of whom were re-elected to the General Assembly unopposed on Tuesday.
Backers of a graduated income tax constitutional amendment conceded defeat Wednesday for Pritzker's marquee policy proposal which was projected to bring in more than $3 billion annually to state coffers.
The Associated Press called the race for the "No" camp, as a large number of outstanding mail ballots were almost certainly not enough to make up for the deficit of approximately 500,000 votes.
In his daily COVID-19 briefing, an agitated Pritzker lashed out against the Republican Party, warned of cuts to public safety and human services and said several other options were on the table for addressing state budget deficits that have been ongoing for decades.
"Illinois' fiscal problems haven't gone away. We now sit at a crossroads," Pritzker said on Nov. 4. "Our state finances still require fundamental structural change. In the coming days I'll be talking with the leaders in the General Assembly about our path forward. But here's what we know for sure: I promised to be a governor who balances the budget and pays the bills that my predecessor left behind."
The failure of the amendment marks the end of a fight led by Pritzker that began when he was running for governor in 2017 and 2018.
The governor had billed the graduated income tax proposal — which would have imposed higher tax rates on higher income earners — as the best of three options, the others being a 20% increase to the state's flat tax or 15 percent across-the-board cuts to state spending.
But he has also frequently warned that discretionary spending has already been reduced drastically in several areas in recent years due to a two-year state budget impasse in which the state racked up a $16 billion backlog of unpaid bills. As of Nov. 4, the Illinois Comptroller's office estimated that backlog at $8.3 billion.
"If you set aside federally protected programs, court ordered obligations and our bond and pension debt, we would have to reduce discretionary spending in our state by approximately 15%," the governor said. "That's 15% fewer state troopers. That's 15% fewer students going to college, 15% fewer working parents receiving child care assistance and 15% less money for your local public schools, which likely means that your property taxes will increase.
Complicating matters is a global pandemic that has ripped a hole in state finances. Even before COVID-19 redefined the state's revenue picture, Pritzker had pegged the state's structural, year-after-year budget deficit at about $3.2 billion. Considering lost revenues due to COVID-19 and associated economic restrictions, that deficit could exceed $7 billion with the graduated tax's failure, Pritzker predicted in April.
In September, Pritzker directed state agency directors to prepare for cuts of up to 5% for the current fiscal year and 10% next fiscal year, which begins July 1.
On Sept. 24, Lt. Gov. Juliana Stratton said lawmakers "will be forced to consider raising income taxes on all Illinois residents by at least 20 percent, regardless of their level of income" if the graduated income tax fails.
The state's path forward could include some combination of cuts and tax increases, as well as borrowing from the federal government's Municipal Liquidity Facility program which was authorized in the state's budget for fiscal year 2021.
"Everything is on the table," Pritzker said.
Hairston said the graduated income tax amendment is fundamentally a state budgetary issue, but she acknowledged that it earned overwhelming support in the city, if overwhelming defeat elsewhere in the state.
"They spent millions on that, and it was very confusing to people," she said. "They muddied the water, and that's what they intended to do. So the wealthy will continue to pay nothing, and we'll still balance the budgets on the backs of the working people."
"We keep talking about the needs of our community and the needs of infrastructure and the needs for capital improvements and the needs for anti-violence program and the needs for this and the needs for that — they have to be funded some kind of way, and we talk about the lack of job opportunities, and when most of the money is going out the door instead of being reinvested in your community, that's a big problem."
County elections
Hyde Park-Kenwood voters did support the Democratic candidates for the Water Reclamation District of Greater Chicago: incumbents Kimberly Neely Dubuclet, who said in a statement that she was honored by the votes and "will continue to represent the diverse communities in our region as we continue to address climate change, flooding and stormwater management across our area" and Cam Davis as well as Commissioner-elect Eira L. Corral Sepúlveda.
Local voters also overwhelmingly supported Northwest Side state Sen. Iris Y. Martinez (D-20th) in her successful campaign for Cook County Clerk of the Circuit Court.
Early figures show that the neighborhood came out heavily in support of incumbent State's Attorney Kim Foxx (D) over Pat O'Brien (R) and Brian Dennehy (L) in an otherwise close race by Cook County standards.
In a late-night speech after receiving O'Brien's concession, Foxx said the work of her campaign to move Cook County forward from being "the wrongful confession capital of the United States" and the days of disgraced former Chicago Police Department Cmdr. John Burge and Sgt. Ronald Watts, "an incarceration system that has failed so many of our communities, communities like the one I grew up in at 624 W. Division."
She said her four-year administration has not been easy but that she has advanced forward a vision of her office for the people, one that has "told the unseemly truth that sometimes our defendants were victims and our victims defendants."
Crime on the South and West sides should be painful for everyone in Chicago, she said.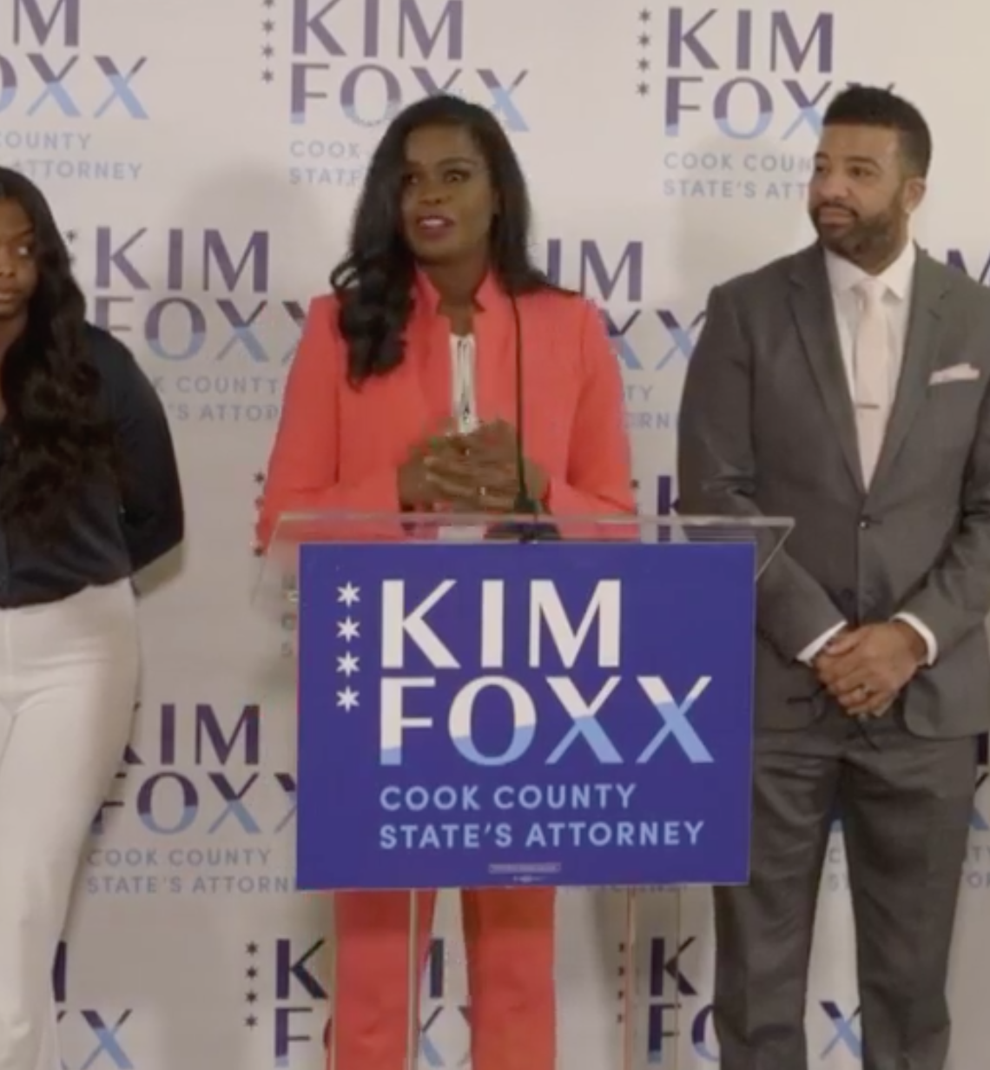 "We are not our best city when there are neighborhoods where there are children who cannot go out to play," She said. "We are not our best city when our elders cannot plant their gardens without fear of being shot. And we cannot talk about this city in a way that I've seen us talk about this city and this county in the past several months, where there's been a distinction of where violence is OK and where we get up in arms in places where we don't normally accept it.
"Violence anywhere," Foxx said, "is a devastation to our county, and when we talk about it, we are not talking just about buildings and structures. We're talking about people who have felt as though their structures have been destroyed."
This has been an incredibly difficult year, she said, acknowledging that her family has suffered from the COVID-19 pandemic in Cook County and striking a parallel between the tolls of the disease and the criminal justice system on people of color.
Foxx said she would fight against sentencing disparities related to low-level offenses and work to help people with substance abuse or mental health issues resources outside of the justice system, as well as act against violent crime and wrongful convictions. 
"I know as a county we are better for the tough conversations about race," Foxx said, "that we won't have to recycle the fear and terror that we saw this summer if we meaningfully address these issues head on and not do the easy thing, which is to be distracted by one issue and not talk about the bigger one."
Judicial elections
With the exception of former Judge Maurice Araujo, who resigned earlier this fall in the face of numerous sexual misconduct allegations, all candidates up for judicial election and retention appeared to win enough votes to take or hold their seats. 
This includes Judge Toomin, who, with Araujo, did not receive the endorsement of the Cook County Democratic Party. In a retention election, judges need 60% of people to vote for them in order to keep their seat. Early results show that Toomin did not hit that threshold in the 4th, 5th or 20th wards. 
The county Democrats withheld their endorsement from Toomin, who courted controversy early in the pandemic because he made it harder for harder for juveniles to seek release from detention, calling him "out of touch" and leading "with an outdated 'scared straight' approach to our children."
Others, including Mayor Lori Lightfoot, who endorsed him, balked at the endorsement issue, as Toomin had appointed a special prosecutor to investigate how Foxxhandled the prosecution of Jussie Smollett, who was indicted for faking an alleged 2019 hate crime against him.
"What they said about Toomin was true: he has presided over juvenile cases and has made poor decisions," said Hairston, an attorney who vice-chaired the party's judiciary committee that recommended the endorsements. "That is what it is, but apparently they mounted a fight, and they won. And that's just the process. Unfortunately, the children of Cook County will suffer in juvenile justice, because he is not a proponent of juvenile justice reform."
A few other judges lost local precincts in Hyde Park in the early count: Patricia Manila Martin, who did not participate in the ratings processes of the Chicago Bar Association, the Chicago Council or Lawyers and the Illinois State Bar Association (ISBA), and Jackie Marie Portman-Brown and John J. Mahoney, who were not recommended by the ISBA.
City referendums
The three non-binding referendums on the ballot — asking whether the city should act to ensure all community areas have broadband internet access, to focus on resiliency, equity and diversity in a city-wide plan for continued growth and sustainability and whether the state should restrict the sale or possession of assault weapons or magazines that can hold more than a certain number of rounds of ammunition — passed by overwhelming margins in both the neighborhood and citywide.
Capitol News Illinois' Jerry Nowicki contributed from Springfield. Capitol News Illinois is a nonprofit, nonpartisan news service covering state government funded primarily by the Illinois Press Foundation and the Robert R. McCormick Foundation. The Herald is a member of the Illinois Press Association.