Dec. 7 marks Toni Preckwinkle's 10th year in office as president of the Cook County Board of Commissioners.
She finds herself dealing, once again, with a recession. This time, however, she passed a budget that did not result in laying off hundreds of civil servants and refinancing, as she did a decade ago in part to close a $487 million gap. Taxes will not rise this year, layoffs in the Cook County Health and Hospital System are minor, despite the closing of two clinics in Bronzeville and Woodlawn, and the county was able to draw on its rainy-day reserves.
"When I came into office, I said we were going to be fiscally responsible. We were going to be transparent and accountable. We were going to provide innovative leadership and improve services," she said. "Those were the mantra, those four things."
She noted that the executive role in county government is not terribly different from her role as the 4th Ward's alderman, a job she held from 1991-2010, repeating the adage that an alderman's job is akin to that of a small-town mayor.
"Most aldermen spend most of their time trying to serve their constituents," she said. "Folks expect you to help them not just get their potholes fixed and their streetlights turned on, but to find affordable housing and to help them get their kids in good schools and to get the mail delivered properly."
Nevertheless, City Hall's most important work is putting together and passing a budget, a legislative process, she said. That job remains at the county level — Cook County's budget this year was $6.9 billion, and Chicago's was $12.8 billion.
The county's responsibilities revolve around two core functions: public safety and public health, both of which have been at the forefront in the year of the the biggest protests in 50 years, sparked by police misconduct, and the worst pandemic in 100 years.
"We worked really hard over the last 10 years on criminal justice reform, and you've seen that in the really dramatic reduction in our jail population from an average of about 10,000-11,000 when I came into office to around 5,600 today. And we're working hard on reducing that to try to deal with the needs of the pandemic," she said.
Preckwinkle said her work to reduce the jail population is done in collaboration with Circuit Court Chief Judge Timothy C. Evans, State's Attorney Kim Foxx and Public Defender Amy P. Campanelli on agreed orders. In an agreed order, Foxx's office doesn't raise an objection to releasing detainees or defendants.
They try to see whether judges can agree to release on I-Bonds — or Individual Bonds, in which defendants don't have to pay money — those whose cash bonds are less than $1,000. Then they are trying to release people in for nonviolent offenses whom Foxx has no objection to releasing. She also noted that Evans had officially reminded his judges in 2017 that cash bond is a last resort and should only be utilized with people deemed a danger to society or flight risks.
"At the height of the pandemic, through the coordinated collaborative work of all the public safety stakeholders, we got the jail population down to about 4,000," Preckwinkle said, adding that she is meeting with Evans, Foxx and Campanelli every week on this effort. "And we're doing our best to best to try to get it down further now from the 5,600 present number, because we can single-cell people, and that will reduce the impact of the pandemic, if we can decompress the jail."
Stroger Hospital, 1969 Ogden Ave., is where Cook County Health treats COVID-19 patients; Preckwinkle said half of its beds were taken by coronavirus patients during the spring surge and that somewhere north of 70% are now. She fears what will happen because of transmission over the holidays.
She sighed. "Public health, clearly, is a challenge in a pandemic, and so is running one of the largest, if not the largest, single-site jails in the country," she said.
Suffice it to say, "We've got some real challenges ahead of us, pandemic-driven," Preckwinkle said, noting the nearly 3,000 Americans known to have died of COVID-19 on Dec. 3, continuing infections and rising hospitalizations. "That milestone won't stand. We're headed into some very difficult months here until we can get wider distribution of the vaccine."
2021, with the all-but-certain continuance of movement restrictions and recession, will also be difficult on government finances. But Preckwinkle, the chair of the Cook County Democratic Party, is "encouraged" by the election of Joe Biden and the defeat of not only a "sexist, racist, anti-immigrant" incumbent, but one "who was doing what he could, frankly, to undermine faith in the institutions that are the essence of our democracy." 
Preckwinkle also chastised the outgoing president for labeling anybody he disagrees with "fake news." And she is deeply worried about his post-Nov. 3 efforts to undermine faith in the elections process.
"If people in this country don't believe that their vote matters or their vote is counted fairly, our democracy is in a lot of trouble," she said. "On the other hand, more people voted in this election than ever before. He got more votes than any losing candidate, and Biden got more votes than any winning candidate. Despite his demonizing and denigrating the electoral process, (people) did come out and vote, for which I'm grateful."
She said the 74 million votes President Donald Trump got are "profoundly disturbing," but there are deeply Republican areas in Cook County, from Lemont in the southwest suburbs to Mount Greenwood on the Southwest Side. 
Preckwinkle acknowledged this. "There are parts of the county where my views as a progressive Democrat probably aren't the views of the majority of folks, but they are my constituents," she said.  "I'm the president of the county. I have to do my best for all the people in the county, and some of them will agree with them will agree with me, and some of them won't, on a particular issue. And some of them belong to a different party than I do. But my job is to try to do the best I can for the people of Cook County, and I've tried to do that for the past decade."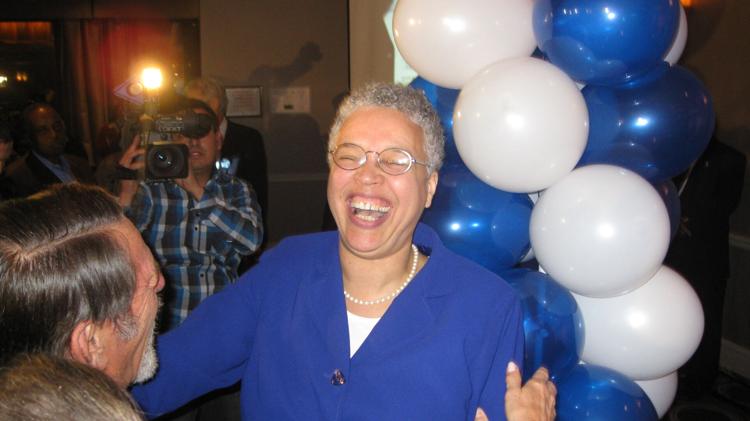 There have been setbacks. After winning the 2010 Democratic primary with a plurality (incumbent Todd H. Stroger came in last, with 13.65%) and winning her first election easily, she won re-nomination and reelection unopposed in 2014. But she supported the board's passage of a sweetened beverage tax of a cent per ounce, the "pop tax," in November 2016, which went into effect in August 2017 before it was repealed amid heavy industry lobbying and went out of existence that November.
Opponents called Preckwinkle "Taxwinkle." She lost the 2019 mayoral campaign with 26% of the vote in the two-way runoff, though she narrowly won Hyde Park-Kenwood.
The nurses' union has strongly protested the county's budget and the closing of the clinics in Bronzeville and Woodlawn this year.
"First of all, both of those are really small facilities," Preckwinkle said. "Secondly, they're within a couple miles of Provident, both of them. What we're trying to do is consolidate services so we can deliver them more efficiently and more broadly. It's not just that we're closing those clinics: we're moving those physicians and all the staff to Provident, in addition to which, we're enhancing services at Provident. 
"You'll get more diagnostic services at Provident. There's going to be a dialysis center. There's going to be a lifestyle center to help people with nutrition and managing their chronic illnesses. We're closing down two small clinics. Everybody's going to have their same primary care physician, their same nurses, whatever. All those people are coming to Provident Hospital to deliver those services there, in a location that's less then two miles away from either of those locations," she continued. 
"If people were going to lose their physicians, if people were going to see fewer services available to them as a result of the closure of these two small clinics, you could maybe make a case that we're withdrawing services. But since we're expanding services at Provident, and nobody loses their primary care physician, and what people have is more access to specialty care, I think we make a good case for the consolidation that we're trying to do next year."
At any rate, fights with labor, special interests, the political right and a stinging rejection by city voters has not caused Preckwinkle to back away from seeking reelection in 2022 — she won a 2018 primary challenge against former Ald. Bob Fioretti (2nd) by a 3-2 margin and the general unopposed. 
"It was Eleanor Roosevelt who said, 'If you want to be in public life, you have to have the hide of an alligator,'" she quoted. "You can't take this stuff personally, and you just have to try to do the best you can and know that not everyone's going to be happy, and hopefully the wisdom of the course that you've taken is borne out by the facts. It goes with public life. 
"And surely if you're an alderman for 20 years, you understand that you're not always going to be greeted with a hug and warmth, that there are always going to be people who are critical and unhappy. And that's just part of the job."