Phillip L. Jones was set up at the corner of 52nd Street and Harper Avenue on Sept. 17, when I ran into him selling paintings. A long line of canvasses of all different sizes and styles stretched down the length of the street. 
His paintings range from abstract designs to realistic portraits. "I try to find things that people like, and then I paint (them)," Jones said. This included numerous portraits of jazz musicians, color-blocked canvases and a surreal painting of a tree, that he was continuing to add to.
Jones, a professional mobile artist who has been painting for more than 40 years, frequently traverses Hyde Park and other parts of the city selling his works. 
Sometimes, he said, he's by the DuSable Black History Museum and Education Center, 740 E. 56th Pl., or down by the lakefront. 
"Most importantly, I like for the community to enjoy the beauty of the art," he said. "I like to get feedback on my work to help me to grow as an artist, to create diverse pieces of artwork that work."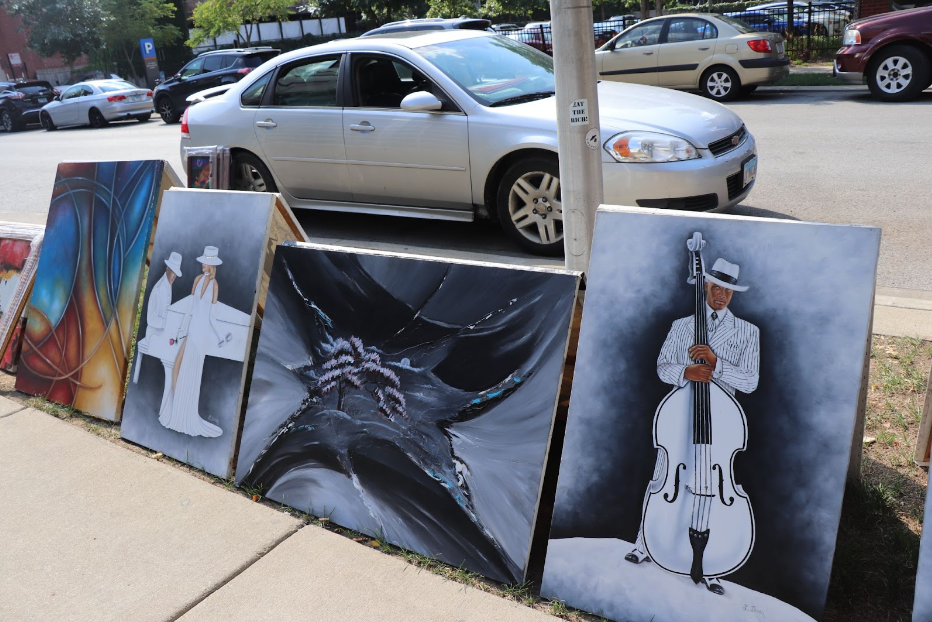 Jones started painting as a profit-making venture while in college at Roosevelt University, where he would paint people's portraits. 
Previously a grant writer, he said "I figured that if I could make money for other people, I should be able to do it for myself too."
After building up clientele and being encouraged by others, he is now looking for a storefront, but is struggling to find one that is affordable in Hyde Park, where rents are priced between $25 to $45 per square foot, or $4,000 per month, Jones said.
Jones had just created his sip and paint business, "INSA Sip & Paint," where people could book parties for adults and kids, when Covid-19 threw a wrench in and halted his plans. For now, he's continuing with the pop-up sales, but he does have business cards made — which include his rates for painting lessons and custom painting and framing.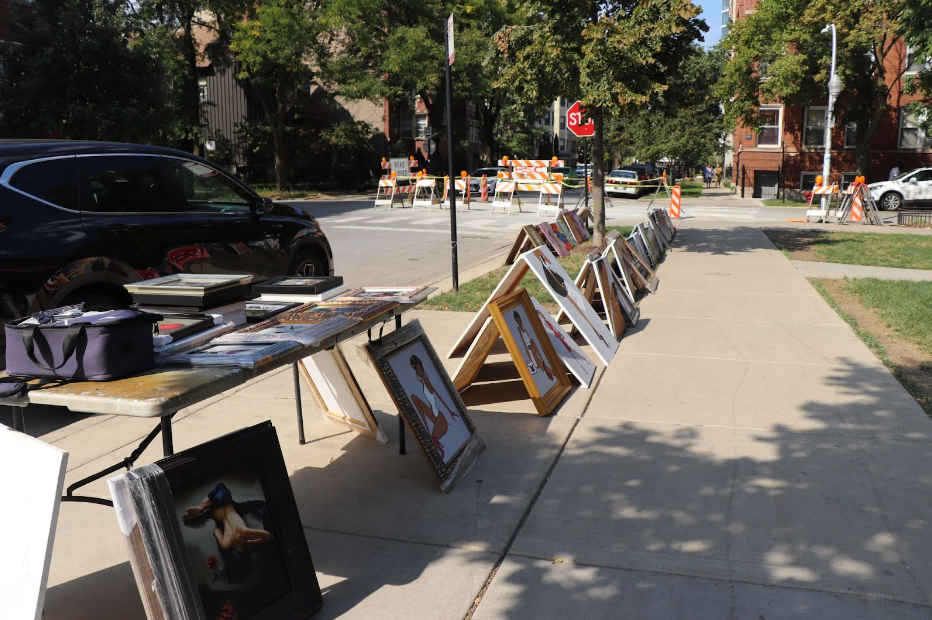 Jones also likes to use his paintings for education purposes. "I walk (the kids) around and show them the different styles and techniques, and explain to them what fine art is, what impressionist art is." Then, he tests the kids by having them tell him which is which. 
"That's one of my goals when I do open the store, is to either do (teaching), or sip and paint, something where people can come in and actually participate."