The United States may soon have a third coronavirus vaccine, with research at the University of Chicago partly to thank if the shots are shown to be safe and effective.
Still to be seen, however, is whether deep distrust among some people of color — already apparent in Chicago and nationwide — can be overcome, and doses of the vaccine can be effectively distributed, ending the pandemic.
Nearly half of the 45,000 global participants in the Johnson & Johnson Phase 3 clinical trials are in the United States, and 465 got their shots at the University of Chicago.
Fifty-two percent of those U. of C. participants were non-White. Director Habibul Ahsan of the Institute for Population and Precision Health, who ran the university's study for the drugmaker, said the majority of people of color taking part in the study were Black.
Ahsan said recruiting African Americans for the COVID-19 trials was much more difficult than usual because of the logistical difficulties posed by the pandemic. Other Institute for Population and Precision Health research studies typically see participant populations that are 60-80% Black.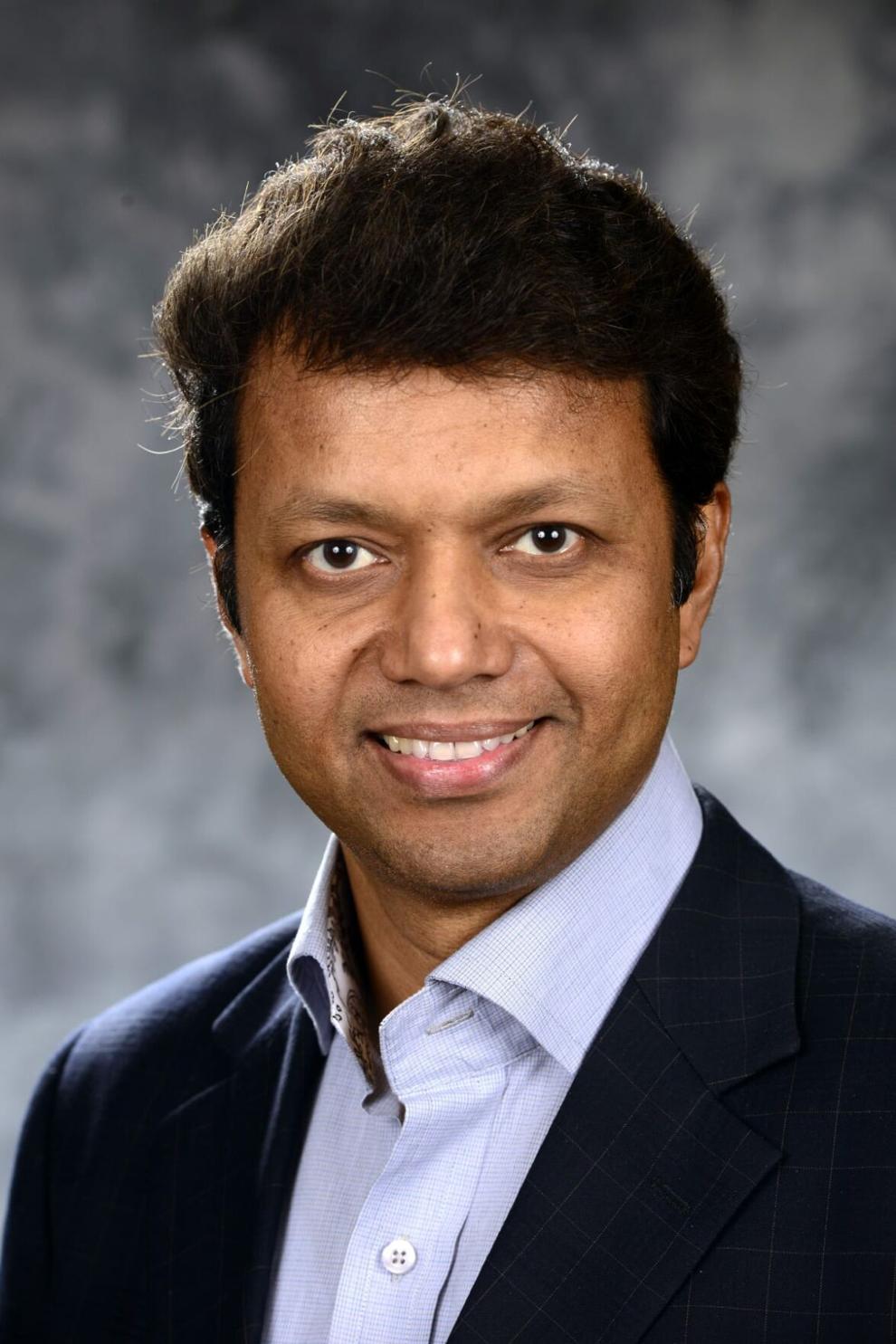 He noted that researchers had to enroll participants in six weeks, a very short period of time. While community-based enrollment typically happens face-to-face, this was not feasible because of the coronavirus risk. 
The study organizers worked with Brenda Battle of the university's Urban Health Initiative to get the word out and did an interview on WVON. But locations where in-person recruitment typically happens, like outpatient clinics and South Side community settings, were off-limits.
"Due to pandemic restriction and intense time pressure, our usual in-person community outreach we couldn't do. We did some engagement using Zoom with community groups and put a website with trial information for interested volunteers," Ahsan said.
The U. of C. still had more African American participants than any other Illinois site and one of the highest in the nation.
"Given all the constraints I would say we had great success," Ahsan said. "For a usual study, when we go to a community and approach the community and send them mail, we call participants, and then our staff meets face to face. It takes time, weeks of engagement.
"This time we only had six weeks to finish all of that, because we were told at the beginning of the first week of November that we had until the first week of December to recruit volunteers. We were not able to do whatever is likely needed for thoroughly engaging this specific population."
Study participants came to the U. of C. Medical Center for their shots — either the experimental vaccine or a placebo — and Ahsan said it turned out to be university staff who disproportionately signed up as study participants. But he said non-White volunteers, especially African Americans, were prioritized.
Ahsan said the Black community is "rightfully" skeptical of health care and biomedical research, including both vaccine research and vaccination campaigns. 
"The hesitancy is also made even worse in participating in a clinical trial," he said, noting African Americans' historical exploitation in biomedical research. "That was another reason why we were less successful than what we had in our previous research studies."
Ahsan noted that the U. of C. also conducted a late-phase trial of the Moderna vaccine, now given an emergency use authorization in the United States, in which 140 people of color were enrolled.
"After the first few weeks, minority participants were only eligible to be enrolled, because they already had more than enough non-minority participants," he said. "The same thing happened for the Johnson trial. Towards the end, the last couple of weeks, they closed for any non-minority participants. They only allowed minority participants, to maximize their participation. That's what we did and we were able to achieve 52% minority participation, which is one of the highest numbers in the nation for the vaccine trials."
Black and Latino people tend to have less access to health care, and they also tend to have the chronic health conditions that put them at higher risks of bad outcomes if they are infected with the coronavirus. They also tend to have a higher risk of contracting the coronavirus, because of the higher likelihood that they work essential, in-person jobs.
"From that perspective, it was very important that they participate in the research studies so that whatever they learn, if an effective vaccine is found, is applicable to them," Ahsan said. He said the U.S. Johnson & Johnson vaccine trial has more non-White volunteers than their proportion of the total U.S. population.
If found to be safe and efficacious, the Johnson & Johnson vaccine would deliver benefits over the vaccines by Moderna and Pfizer-BioNTech, because it is easier to store, cheaper and given in one shot, not two.
"To my knowledge, there is no biological reason for making this vaccine less efficacious in certain ethnic groups based on the knowledge that we have to date," Ahsan said. "It doesn't matter to any disease that comes to mind, including this disease."
Trust issues persist
Daniel Rogers, who lives in Woodlawn, is an Army veteran participating in the Johnson & Johnson trial at the Jesse Brown VA Medical Center, 820 S. Damen Ave., where he said he gets high-quality and affordable health care compared with facilities like the UCMC. 
Asked why he took part in the vaccine trial, he said, "Obviously, it's important to have a vaccine that works and is tested, and it's an opportunity to potentially get the vaccine before I would probably have an opportunity to do so otherwise. I figured why not."
Rogers is also an alumnus of the Booth School of Business, but he said he would have been more hesitant to have gone through the U. of C.'s vaccine trial than he was the VA's trial.
"I would have a lot of questions about what the university's doing and how they're doing it," he said. "I don't necessarily have that with the VA."
When Rogers, who is Black, was a student at Kenwood Academy, a friend of his was shot in the neighborhood and bled out. Rogers blames his death for the UCMC's lack of a trauma center at the time.
"He had to wait over an hour for an ambulance to show up and take him to a hospital, even though he was only half a mile from a hospital," he said.
Rogers stressed the need to contextualize his experience. He called himself someone who "came of age in the '80s and '90s on the South Side of Chicago, which, objectively speaking, was a very violent time," living in Hyde Park that, at the time "was very reticent to take on even a semblance of responsibility for the broader community when it came to health care, clearly to the detriment of everybody else."
And Rogers pointed out how the university — whose hospital lacked a trauma center for his youth, amid the South Side's violence — had fostered that isolation.
"We know (the UCMC) is there. We're not dumb. We take the same buses and trains as everybody else," he said. "We know that the university wants no part of us, and that includes health care. And if there's anything that the community has needed or wanted, that's certainly one thing."
"It's folly that that would not influence perceptions when it comes to something like a vaccine that already has its own skepticism associated with it," he said.
Ahsan, for his part, has worked at the U. of C. for 14 years — coming to Hyde Park from Columbia University in New York, where he worked in Upper Manhattan's Washington Heights and Harlem neighborhoods — and said he has seen a strong and increasing commitment to community health over that time.
"Part of my reason for coming to the University of Chicago was that the university has a commitment, at least at the Medical Center certainly, to addressing the health of the community and especially addressing disparity," he said.
He said the Trauma Center's establishment and the expansion of the emergency department has been a "major effort." He noted the U. of C.'s treating and treatment of COVID-19 patients, including a disproportionate number of Black patients, over the pandemic, whether at the UCMC or through Friend Health and mobile units. And he noted again that previous biomedical research studies at the Institute for Population and Precision Health have had up to 80% African American participation.
Ahsan stressed that no one, including African Americans, have any biological disadvantage from the vaccines and said participants in his study have had uniformly positive experiences.
"I understand that maybe for historical reasons, decades ago, (there is) some residual skepticism in certain community members' minds, but I think the current leadership that I have seen is strongly committed to address this issue," he said.