Preparations are underway to prepare and guard against the local transmission of the novel coronavirus in Hyde Park-Kenwood. The Hyde Park Herald has been and will continue to reach out to public health authorities, elected officials, local schools, businesses and institutions for information about sanitary practices, emergency operations and news updates.
Local Chicago Public Schools (CPS) are open; updates from the Office of Student Health and Wellness are available online. Local Chicago Park District properties are also open.
The University of Chicago has a website, www.coronavirusupdates.uchicago.edu, with up-to-date information. The University of Chicago Medical Center will evaluate any patients with potential COVID-19 symptoms in collaboration with local health departments and the Centers for Disease Control and Prevention.
The CDC urges everyday preventive actions to prevent the spread of respiratory diseases, including COVID-19. Avoid close contact with people who are sick or touching the eyes, nose and mouth. Stay home with you are sick. Cover coughs and sneezes with a tissue and throw the tissue in the trash. Clean and disinfect frequently touched objects and surfaces using a regular household cleaning spray or wipe.
The Chicago Department of Public Health additionally recommends getting a flu vaccine and that childcare facilities, K-12 schools, colleges and universities, businesses, employers and community and faith-based organizations should be reviewing existing emergency operations plans and encouraging sick employees to stay home.
Contact the Herald at herald@hpherald.com or reporters Christian Belanger and Aaron Gettinger at c.belanger@hpherald.com and a.gettinger@hpherald.com to provide information or updates.
Friday, March 13, 12:44 p.m.
The 61st Street Farmers Market will continue as planned at the Experimental Station, 6100 S. Blackstone Ave., on Saturday, March 14, from 9 a.m. to 2 p.m. No samples will be available for tasting, and organizers will provide extra gloves, soap and hand sanitizer
March 13, 12:27 p.m.
St. Thomas and the Apostle School to close, begin e-learning
Following orders from the Archdiocese of Chicago, St. Thomas and the Apostle School Catholic Grade School, 5467 S. Woodlawn Ave., will close and begin indefinite online learning on Monday, March 16.
Teachers will share assignments and lessons for the day by 8 a.m. on weekdays as well as brief videos wherein they will teach and give assignment directions. They will also be available for two hours of electronic office hours. The school is also sending some workbooks home today for work during the closure.
Families will still need to pay enrollment fees over the closure. The school is moving the early re-registration discount deadline to May 1.
"We have already scheduled a 'deep cleaning' of our building for the week of March 23. We are currently looking into the possibility of moving that cleaning to next week. When we return to school, we will continue to implement the cleaning and health and safety habits we have been using at school recently," wrote Principal Tim Gallo in a statement announcing the plans.
March 13, 12:10 p.m.
Smart Museum, Renaissance Society open; Hyde Park Art Center closing 
The Smart Museum of Art, 5550 S. Greenwood Ave., is open, though all public programming is suspended through March 30. Further events may be postponed as the situation develops, and the museum encourages those who are not feeling well to postpone visits.
The Renaissance Society, 5811 S. Ellis Ave., is also open, with forthcoming events in March and April cancelled or postponed.
The Hyde Park Art Center (HPAC), 5020 S. Cornell Ave., will close indefinitely from March 14: "We understand that many people find respite and community within our space and programs and that social distancing practices go against our very purpose and nature. We made this difficult decision with the best interests of our whole community in mind, and we appreciate your understanding and patience while we do our part to keep the community safe and healthy. We also look forward to reconvening with you when it is fully safe to do so."
The March 15 Hyde Park Flea Market, scheduled to be held at HPAC, has been cancelled.
March 13, 12:01 p.m.
Local parks, programming remain open
The Chicago Park District has increased cleaning and sanitary measures in its facilities. As of this time, all programs in Jackson and Nichols parks and the Midway Plaisance will continue as scheduled; ongoing monitoring will determine if any adjustments are needed to ensure community safety.
"The health and safety of our patrons and employees are paramount. The Chicago Park District is working closely with the City of Chicago and the Chicago Department of Public Health to monitor and respond COVID-19," wrote spokeswoman Michele Lemons. "As of today, March 12, the Chicago Park District has not received information suggesting that any patron or employee has contracted COVID-19."
March 13, 11:48 a.m.
Museum of Science and Industry to close through April 6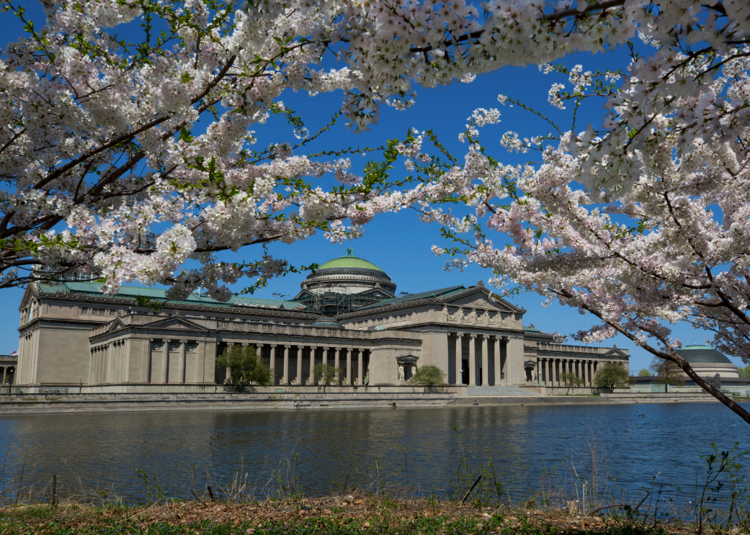 The Museum of Science and Industry, 5700 S. Lake Shore Drive, will close from March 14 through April 6 in an effort to contain the spread of COVID-19.
"As an institution rooted in science, we are proactively taking this step based upon the facts," said President and CEO David Mosena in a statement. "While we have no known cases connected to MSI, we are closing to minimize the spread of this virus and to help ensure the safety and health of our students, guests, employees and their families. While we know that this decision will pose challenges to our community, the available data indicate that taking early and decisive steps to reduce group interactions is critical to controlling the spread of the virus."
All programs and events through April 6 are postponed or cancelled. The museum has an operational plan to reopen on April 7, though it will continually evaluate the situation in accordance with public health guidelines. Hourly and salaried staff will be supported during the closure, including a continuation of health benefits.
Guests who have purchased tickets through April 6 will be refunded.
Thursday, March 12, 10:09 p.m.
State, city release new guidance to slow COVID-19 spread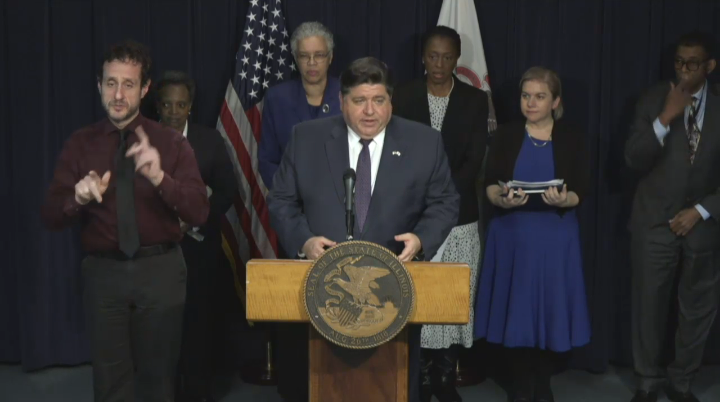 The state's primary elections are still scheduled for March 17, and Chicago Public Schools remain open. But Gov. J.B. Pritzker and Mayor Lori Lightfoot are mandating that all events exceeding 1,000 individuals be cancelled for the next 30 days and encourage community, personal and social events of 250 people or more be cancelled or postponed until May 1.
For events less than 250 people, residents should closely consider who is likely to attend the event and, if it includes vulnerable populations, strongly consider canceling.
The state encourages schools to not hold large assemblies, and CPS is issuing guidance for cancelling events of 50 people or more. Access to school buildings will be restricted to essential personnel.
The Governor's Office and City Hall remain open — residents are encouraged to watch the livestream of March 18 City Council meeting instead of attending in person — but the Thompson Center, the state office building in Chicago, will close to people who do not have state business beginning on Monday.
The state is encouraging businesses to take advantage of teleworking capabilities; every business that can have employees work remotely should do so. For those that cannot, the state encourages employers to take precautions to keep individuals safe: remind staff to stay home when sick, remain flexible on leave policies and promote "robust mitigation approaches" like hand washing, cleaning and offering hand sanitizer.
March 12, 5:15 p.m.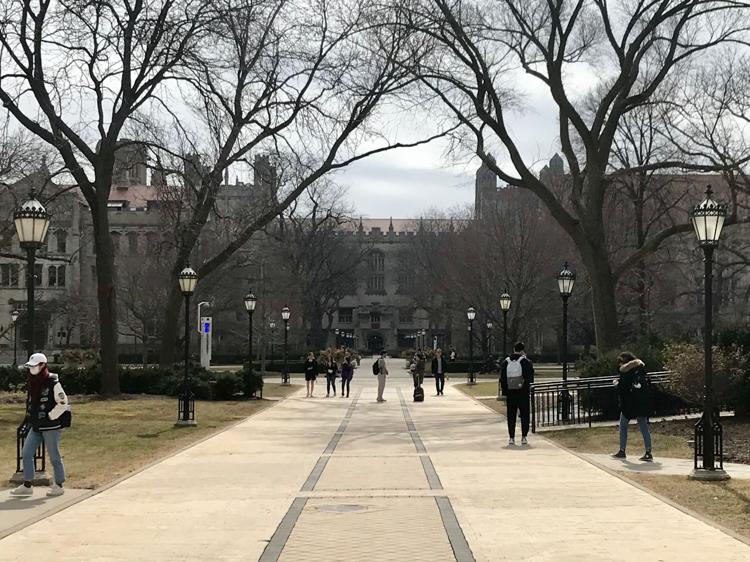 Students crammed for finals while feverishly making plans to get home after the University of Chicago announced that spring classes would move online and that residence halls will close on March 22. The U. of C. Laboratory Schools, 1362 E. 59th St., will implement remote learning on March 30.
At neighborhood retailers, students bought plastic and cardboard moving boxes. People walked through campus in face masks and rubber gloves. Those in line for early voting at the Reynolds Club, 5706 S. University Ave., stood a few feet away from one another. A sign gave a list of best wellness practices — keeping one's distance, using hand sanitizer — for anyone at the polls.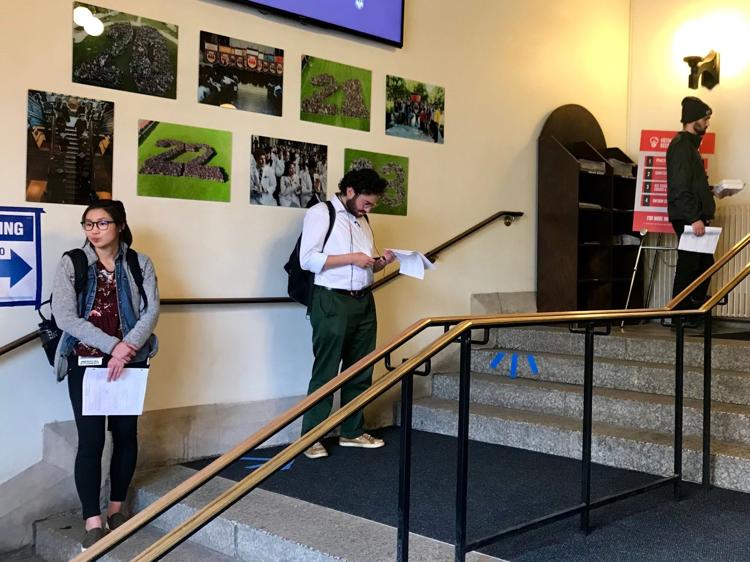 On Facebook, students in the "UChicago Mutual Aid" group have put together a long list of forms and spreadsheets to help each other out with different tasks: food donations, carpooling, babysitting pets and taking care of abandoned houseplants. Some students are also sharing tips on how to get the fastest response from airlines (send a direct message on Twitter) and remotely access any software needed for their classes.
Undergraduate President Jahne Brown wrote on Facebook that money from the Student Government Emergency Fund is available.
Caroline Kubzansky, managing editor of the Chicago Maroon, which broke news of the impending changes, said that the college newspaper will continue publishing through the coming academic quarter. "The newspaper's not going to write itself," she said.
March 12, 4:42 p.m.
The March 21-scheduled citywide Park Advisory Council Conference has been postponed. 
The Jackson Park Advisory Council has postponed the One Earth Film Festival, which was to have taken place this Saturday, March 14. A new date is unscheduled.
University of Chicago Arts + Public Life has announced that six upcoming events will proceed, two will have limited audiences, two have been cancelled and one will be rescheduled.
March 12, 4:33 p.m.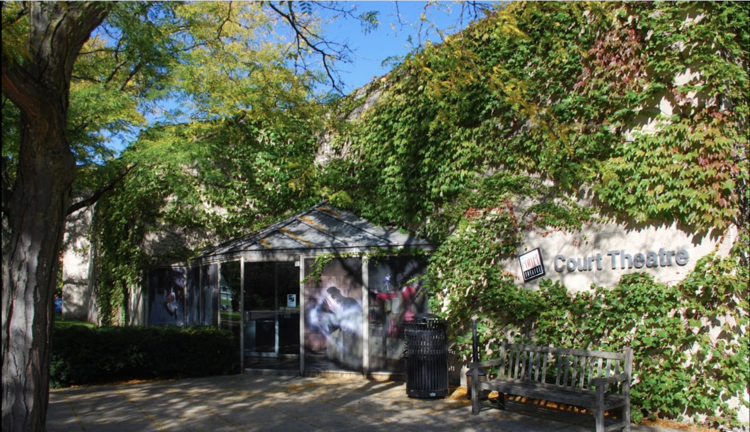 Performances have ceased at the Court Theatre. Productions of "The Lady and the Sea" have been cancelled, and those of "An Iliad," a co-production with the Oriental Institute, 1155 E. 58th St., have been postponed to the summer.
According to the World Health Organization and Centers for Disease Control, many of our patrons and long-term supporters are most at risk of developing serious complications from contracting this virus, a fact we take quite seriously," wrote directors Charles Newell and Angel Ysaguirre in a statement. "As artistic leaders, these are the issues we grapple with this week in the face of extraordinary circumstances. And extraordinary circumstances sometimes call for extraordinary measures."
Bella Tronou, general manager at the Harper Theater, 5238 S. Harper Ave., confirmed that movie screenings continue there with previously reported sanitary practices in effect. Popcorn and drink refills have been temporarily suspended, as customers had to bring back used bags and cups. Staff are disinfecting metal and wood throughout the building during each set of movies, three to eight times a day, up from once in the past.
March 12, 2:13 p.m.
University of Chicago programs at Ray Elementary School, 5631 S. Kimbark Ave. — Artifice, ArtShould, Southside Scribblers and Southside Stem — have been cancelled for the next two weeks. Principal Megan Thole said the school is following Chicago Public Schools protocol in an email.
Ald. Sophia King announced the postponement of the 4th Ward Town Hall that had been scheduled for March 16.
The Seminary Co-op Bookstore, 5751 S. Woodlawn Ave., and 57th Street Books, 1301 E. 57th St., have cancelled all in-store events for the rest of the month.
"We will not be rescheduling any affected events until further notice and will be updating all relevant postings accordingly as soon as possible," wrote marketing director Clancey D'Isa in an email. "We will, however, continue promoting event books in-store and online, including through a free shipping promotion we will be running through April 15."
March 12, 9:55 a.m.
University of Chicago, Lab Schools to begin remote learning on March 30, students instructed to leave on-campus housing by March 22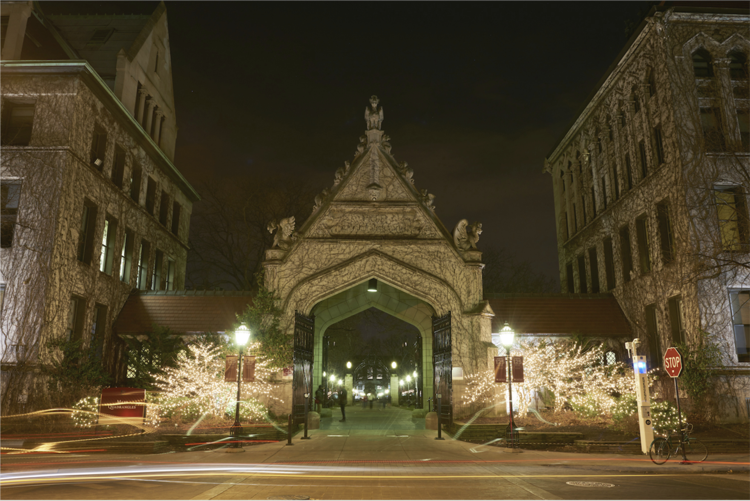 The University of Chicago and Laboratory Schools will begin remote teaching on March 30, the beginning of spring quarter, and students should plan on vacating on-campus housing by March 22.
The university will continue to provide housing, dining, health and other resources to students whose circumstances require them to stay on campus for spring quarter. Financial aid and stipends will continue. The University of Chicago Medical Center will remain open.
"We will be acting collectively to prevent and slow the spread of the virus," wrote President Robert J. Zimmer and Provost Ka Yee C. Lee in an email. "We are committed to maintaining University research and daily operations, and ensuring that all students can realize their academic objectives, but we understand that doing so will present new challenges. We extend our appreciation in advance to our faculty, students, staff and the university community for their collective efforts to fulfil the distinctive mission of the university in today's deeply challenging environment."
"We do not take these important temporary measures lightly," they continued. "The university has a profound responsibility for the health and well-being of our campus community as well as that of our broader community on Chicago's South Side. We have an obligation to our colleagues, our neighbors, and our city to take all reasonable steps to prevent the spread of the disease."
Additional updates will be posted to the university's pandemic website, www.conoravirusupdates.uchicago.edu.
Wednesday, March 11, 6:44 p.m.
The weekend-scheduled Gilbert & Sullivan Opera Company "Pirates of Penzance" performances have been cancelled.
"We are very sad about this, in part because this production looked to be among the very best we've done — certainly the most fun," said producer Nancy Levner in an email.
The company is offering refunds for the tickets, though they note on their website that the costs are tax-deductible donations.
"Sooner or later, we will be back," Levner said in an interview. "It's just too good a show to lose."
March 11, 4:37 p.m.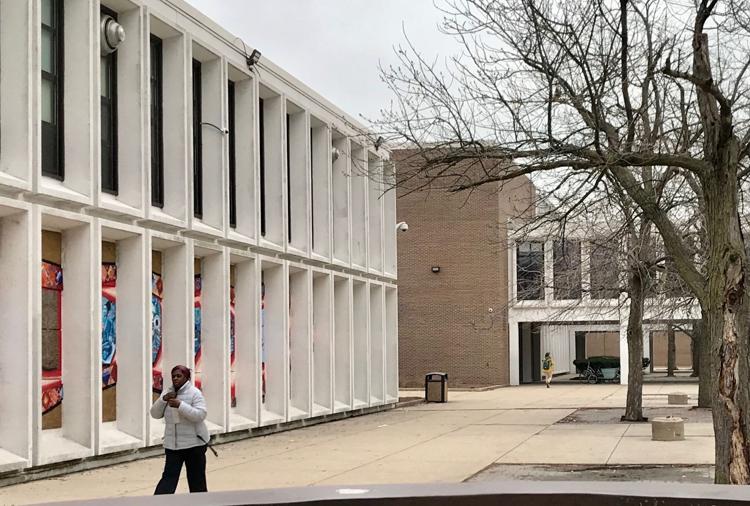 The annual eighth grade trip to Washington, D.C., from Bret Harte Elementary School, 1556 E. 56th St., has been cancelled. Principal Charlie also expects attendance to decline this month because of the coronavirus.
Additional shipments of hand sanitizer and wipes have yet to arrive from Chicago Public Schools, though Bright said the school currently has enough supplies to meet its sanitary needs.
Eighth graders at the Ancona School, 4770 S. Dorchester Ave., will not be going to Mexico this year, said spokeswoman Kira Dault. Teachers are working to develop online learning curricula.
Sanitation protocols have been increased: all teachers have sanitizing spray and are disinfecting their surfaces at the end of each day. Facilities staff are focused on cleaning high-touch surfaces like handrails and doorknobs, and the school is currently not worried about supplies.
Communication with families has increased. Staff are encouraged to remain home if they feel ill. "We are taking into consideration all of these public health guidelines and trying to make rational decisions," Dault said.
Principal Karen Calloway of Kenwood Academy, 5015 S. Blackstone Ave., said the school front-loaded supplies and has sufficient disinfectant and sanitizer. Teachers are doing additional cleanings and encouraging students to wash their hands.
The Herald is continuing to reach out to local schools for information and will provide further updates.
March 11, 3:05 p.m.
The Logan Center, 915 E. 60th St., announced the following changes to its upcoming schedule.
The Grossman Ensemble's March 13 performance has been cancelled.
The audience for the 2020 Community Film Showcase on Saturday, March 14, at 3 p.m. has been limited to 100.
The audience for Greg Murphy's concert on Tuesday, March 17, at 7:30 p.m. has been limited to 60.
The Thursday, March 19, Russoul performance will be rescheduled.
The Thursday, April 2, ETH-NOH-TEC Storytelling Duo performance will be rescheduled.
The Saturday, April 4, AACM concert will be rescheduled.
The Saturday, April 18 Najwa Dance Corps performance will be rescheduled.
March 11, 2:52 p.m.
The Monday, March 16, meeting of the Hyde Park Book Club is cancelled.
Representatives at CVS Pharmacy, 1228 E. 53rd St., confirmed that the store briefly closed last night due to a police incident. It and the three area Walgreens — 1320 E. 47th St., 5036 S. Cottage Grove Ave. and 1554 E. 55th St. — remain open.
Joe Gammariello, who owns Katsaros Pharmacy, 1521 E. 53rd St., commented that his brick-and-mortar business only sees a couple of customers at a time; the cleaning schedule has increased, and staff have access to hand sanitizer and are washing their hands more often.
Deliveries have increased, however, and Gammariello said he will perform them himself, if it comes to that. He has seen no shortage of prescribed medications and is attempting to keep the store stocked with sundries, though he is unable to supply hand sanitizer, masks or aloe vera.
March 11, 12:49 p.m.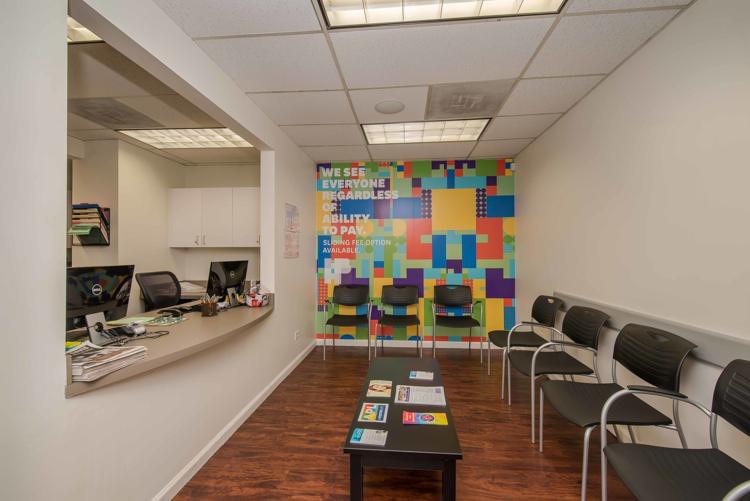 Those particularly at risk for coronavirus infection — older adults and people who have serious chronic medical conditions — should ask pharmacists for a 90-day supply of prescribed medication, says the medical director of a local clinic.
"A lot of insurances, including Medicaid expansion, will cover a 90-day supply," said John Schneider of the local Howard Brown Health clinic, 1525 E. 55th St., who also recommends getting flu shots, ceasing constant following of the news and focusing on mental wellness. 
"People who are anxious and getting depressed or are feeling isolated, that has a direct impact on the immune system, and that can make people more susceptible to COVID-19," he said. "People who are continuously following every case or those maps that show things lighting up, I think it can just be anxiety-provoking. I recommend people take holidays from that sort of stuff."
With the number of coronavirus cases exponentially increasing, the clinic is bracing for patients; Schneider said they will begin arriving at the end of this week and into next week, consistent with what other areas have seen. All employees have goggles and respiratory masks, and consultation rooms are bleached after each visit. An existing mobile unit may be utilized for symptomatic patients around the South Side.
The CDC is additionally recommending higher-risk individuals to "have enough household items and groceries on hand so that you will be prepared to stay at home for a period of time," avoid crowds, cruises and non-essential air travel. "During a COVID-19 outbreak in your community, stay home as much as possible to further reduce your risk of being exposed," the CDC wrote.
March 10, 2:55 p.m.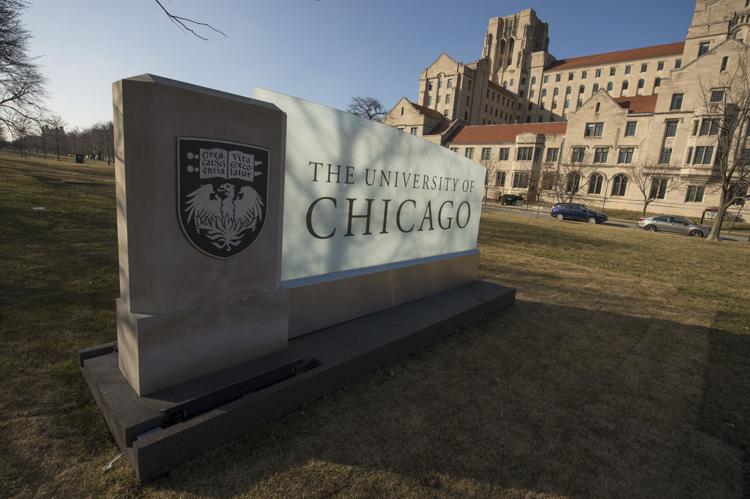 In light of the growing coronavirus outbreak, the University of Chicago has suspended all spring quarter study abroad programs and non-essential travel through April 15.
The U. of C. also has suspended university-sponsored events and any gathering of more than 100 people, although some arts and athletic events may be held "with limitations on the audience." The university also asks outsiders to postpone on-campus visits for the time being.
Monday, March 9, 6 p.m.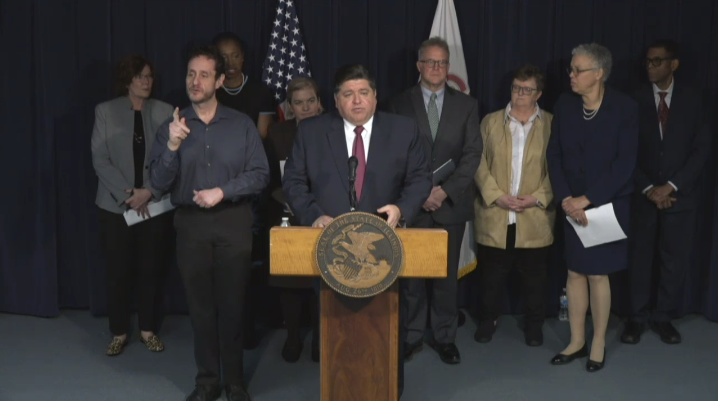 Gov. J.B. Pritzker announced an effective state of emergency in Illinois on Monday, making state and federal disaster resources available to fight the epidemic while urging state residents to prepare for changes in daily life
"To be clear, this declaration will build on an already-robust response that has been developed over many months and is well underway," Pritzker said at a press conference with regional and state officials, including Cook County President Toni Preckwinkle. He praised the state's public health system and Illinois' ability to independently test for COVID-19 to its current and future needs.
Voluntary surveillance testing is underway at 15 hospitals statewide, Pritzker said, and a University of Chicago Medical Center spokeswoman confirmed that random testing will begin at the Hyde Park hospital.
"I know that this is a difficult time for people, as we try to understand and respond to something this new. It's reasonable to feel apprehension," the governor said. "I want folks to understand: this is going to going to affect your daily life, but know that your city, your county and your state officials are working hard to stay ahead of this and to give you all the facts as soon as we know them."
Pritzker asked residents to not take risks that can endanger others in case of sickness. Patients should call health care providers first if they experience symptoms. If asked to self-isolate, follow instructions. Call elderly relatives, friends and neighbors to ensure they have supplies and someone to contact in case of emergencies. Do not hoard supplies or purchase health care equipment like masks that public health officials do not recommend.
"Educate yourself about what's going on every day and what precautions we're asking everyone to take," Pritzker said. "Make good decisions about travel and attending public events."
"I want to urge our residents and our communities to stay calm and heed the recommendations and guidance provided by the Cook County Department of Public Health as well as the Chicago and Illinois departments of public health and the Centers for Disease Control and Prevention," Preckwinkle said.
March 9, 4:53 p.m.
Chicago Hyde Park Village, which serves senior citizens in the neighborhood, announced that it was postponing its annual meeting to minimize risk of spreading the virus. It is also canceling its weekly drop-in this Wednesday, March 11. The office will be open for its regular hours, which can be found at chpv.org.
The U. of C.'s Comer Children's Hospital Service Committee canceled its Irish Coffee Benefit, originally scheduled to be held at 2 p.m. on Saturday, March 14 at Augustana Lutheran Church. There will still be sales for raffle tickets and bids on some silent auction items. To purchase tickets, make silent auction bids, or to mail a donation via USPS, contact Gracemary Rosenthal, 5628 S. Harper Ave., Chicago, IL 60637, through email at gracemary.rosenthal@gmail.com, or on the phone 773-972-3328. A donation can also be made online at comerservicecommittee.org.
March 9, 1:24 p.m.
Mary Frances Trucco, a spokeswoman for Jewel-Osco, which has a location at 6014 S. Cottage Grove Ave., said the supermarket chain has protocols in place to maintain compliance with food safety regulations.
"As always, we encourage customers to wash their fresh food at home. We urge everyone to follow the recommendations of the CDC to help prevent the spread of disease, like frequent hand washing, covering your mouth when you sneeze or cough, and staying at home when you have a fever," she said. "We have provided our employees the latest information from the CDC and are maintaining an internal portal page as a resource for our team. We have asked all employees to follow the CDC's recommendations on how to help prevent the spread of disease, like frequent hand washing, covering your mouth when you sneeze or cough and staying at home when you have a fever."
Kiersten Neumann of the Oriental Institute, 1155 E. 58th St., said the institute is following travel guidelines and health measures advocated by the U. of C., as informed by the CDC and the CDPH.
Stefanie Dziedzic, Chief Relations Officer of Montgomery Place, 5550 S. Shore Drive, declined an interview.
A spokeswoman for CorePower Yoga, which has a location at 1539 E. 53rd St., forwarded a letter from Chief Yoga Officer Heather Peterson saying that the company is following the CDC and World Health Organization for updates.
"We have already taken precautionary steps in studios to be sure we provide the safest environment we can for this community," Peterson wrote. We've reduced physical assists and the use of props. We've also increased cleaning protocols to be sure all doorknobs, props, weights and other surfaces are sanitized more frequently. There are hospital-grade disinfectant sprays available for use on props and weights before and after class. And we are asking that all teachers and students wash their hands and/or use hand sanitizer both before and after class."