Students crammed for finals while feverishly making plans to get home after the University of Chicago announced that spring classes would move online and that residence halls will close on March 22.
In a March 16 email, Provost Ka Yee C. Lee announced that the start of spring quarter would be moved back to April 6, and would last nine weeks instead of ten. The Law School will still begin the quarter on March 30 "to ensure adherence to accreditation guidelines."
The Herald has reached out to the Lab School to see whether it will also push back the start of remote learning to April 6. 
At neighborhood retailers, students bought plastic and cardboard moving boxes. People walked through campus in face masks and rubber gloves. Those in line for early voting at the Reynolds Club, 5706 S. University Ave., stood a few feet away from one another. A sign gave a list of best wellness practices — keeping one's distance, using hand sanitizer — for anyone at the polls.
"We will be acting collectively to prevent and slow the spread of the virus," wrote President Robert J. Zimmer and Provost Ka Yee C. Lee in a March 12 email. "We are committed to maintaining University research and daily operations, and ensuring that all students can realize their academic objectives, but we understand that doing so will present new challenges.
"We extend our appreciation in advance to our faculty, students, staff and the university community for their collective efforts to fulfill the distinctive mission of the university in today's deeply challenging environment."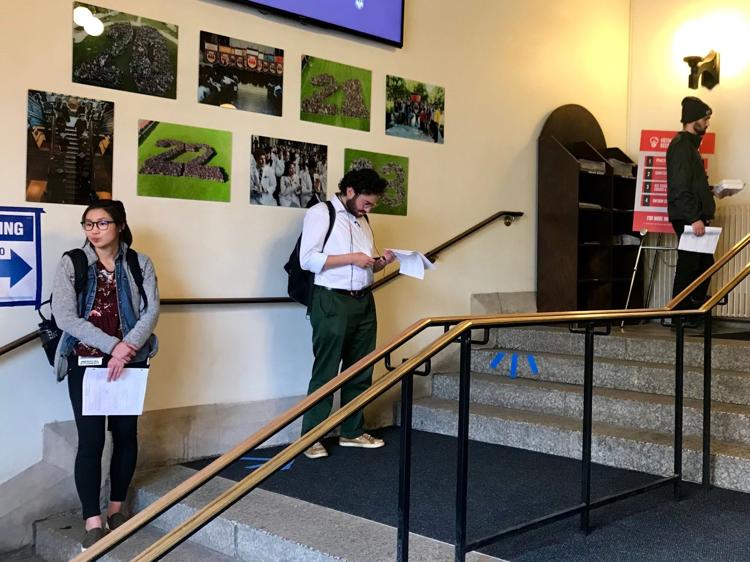 While Zimmer and Lee wrote that financial aid and stipends will continue, first-year student Jack Goodkin, who has a plane ticket home to New York after three finals on Monday, said he was not sure whether he would have to continue paying for room and board.
"It would be horrible to have to pay for housing and food here if we're not going to be here, so I hope the university does something like that," he said, adding that he and others are considering taking leaves of absence.
(The University subsequently clarified: "Room and board costs will be not be assessed for Spring Quarter for students who are leaving campus and vacating their residence hall.")
"Hopefully everybody else stays healthy here, and I feel bad for all the international students who can't travel," Goodkin said.
Second-years Bella Rana, Daniel Zea, and Patricia Weinstein were hauling suitcases with their belongings out of the Max Palevsky Residential Commons, 1101 E. 56th St., on their way to deposit them at an off-campus apartment they discovered through an online spreadsheet put together by students.
The three said they weren't sure if they would be able to leave anything in storage at their dorm. They had heard about the shift to remote classes on Wednesday evening from residence heads who had received an email, but had not been notified themselves until early Thursday. They were also not yet sure whether they are on the hook for other costs, or what will happen to students with work-study jobs. ("Oh, you mean the spicy chaos?" said Weinstein, when stopped for comment.)
"They haven't clarified whether students are still going to have to pay for housing or the student life fee," said Rana.
Rana also said that, as a neuroscience and linguistics major, it's particularly stressful that finals have not been postponed or canceled yet. (Her professor for a Japanese history class pushed back the due date on the final paper.)
"Yeah, if we're lucky, maybe they'll put an extra seat between you and (the next person) when we're taking it," added Weinstein. "That way we're not inhaling someone else's phlegm."
On Facebook, students in the "UChicago Mutual Aid" group have put together a long list of forms and spreadsheets to help each other out with different tasks: food donations, carpooling, babysitting pets and taking care of abandoned houseplants. Some students are also sharing tips on how to get the fastest response from airlines (send a direct message on Twitter) and remotely access any software needed for their classes.
Undergraduate President Jahne Brown wrote on Facebook that money from the Student Government Emergency Fund is available, additionally offering a sign-up for free airport shuttle rides and free boxes and packing tape.
Caroline Kubzansky, managing editor of the Chicago Maroon, which broke news of the impending changes, said that the college newspaper will continue publishing through the coming academic quarter. "The newspaper's not going to write itself," she said.
She will continue living in her off-campus apartment, though some of her four roommates are leaving. "I think people are evaluating based on where they're from," she said. "A significant number" of students are taking leaves, she said, especially those who had planned on now-cancelled study-abroad quarters.
"There's a lot of confusion and a lot of fear," Kubzansky said of the campus mood. "People have been sort of expecting this, but I think they were blindsided anyway."
On the Main Quad, Catherine Thompson, a Spanish language lecturer, said much remains unknown about how she will teach this spring.
"The Language Center is going to give us a tutorial in using Zoom," she said, referring to the web conferencing platform through which U. of C. classes will be taught. "And then I'll have to take it from there. I really have no idea."
Thompson said the situation is similarly foggy at the Illinois Institute of Technology, where she also teaches.
"How do you put a language class online?" she asked. "People do it. There's plenty of online language programs, but our classes are so dependent on interaction and conversation."
Thompson is undergoing chemotherapy and looking forward to not having to go out through the outbreak, though she is still afraid and in shock at the situation. "I don't really know what's going to happen next."