The University of Chicago Medical Center has conducted 3,345 coronavirus tests in the last 30 days, reported Lead Epidemiologist Emily Landon on Thursday, and 437 have been positive. As of Friday, April 3, 84 patients were in the hospital suffering from COVID-19.
Two floors have been cleared for their care, and plans exist to expand capacity, as beds can be put where they do not normally go.
"That gives you a good idea of what's happening in the Hyde Park neighborhood," Landon said at a virtual town hall organized by Ald. Sophia King (4th). "Certainly there are people there who are getting their care elsewhere and having test results elsewhere, but those are the numbers I can give you about what's happening right now."
"We are getting to the point where we're getting a lot of positives everyday," she continued adding that there is "clearly transmission happening in the community."
Landon said it can take a few weeks to start seeing a difference in the number of patients admitted to hospitals. With the number of test kits limited, she urged people to consider how many coronavirus patients have been admitted as the "base line."
"We're just not getting a good feel for what's happening in the community," she conceded.
Testing swabs that UCMC uses for testing are made in Northern Italy, she said, the first place the coronavirus pandemic took hold outside of China, and the materials used in the tests are very difficult to produce. She said the tests are not great and that they should not be used for asymptomatic people: "After you've been exposed to someone and you're not sick, you should not be getting tested." 
Tests are a scarce resource best reserved for health care providers, who must stop seeing patients if infected, she said, as well as patients admitted to the UCMC, which lacks sufficient personal protective equipment. Knowing who has it allows face masks to be reserved for workers who need them.
"We really are short, much more than I had ever anticipated we would ever be, even in this situation," she said. "We knew it would take awhile in the beginning of the pandemic to get our supply chains to open up, but this it's not happening the way any of us had anticipated."
Landon said N95 masks should be preserved for providers, adding that it breaks her heart when she sees pedestrians wearing them. Those masks and construction N95 masks can be donated to health care workers; cloth masks can be used for personal protection and to prevent the spread of the disease to others.
Tele-health options are good for patients right now, she said, and the UCMC emergency room is operating well and under-capacity. If patients are well enough to stay home, they should call their doctors and use tele-health options available to get care: "If you do get sick, you are welcome in our ER, and any ER, where we will be able to take care of you."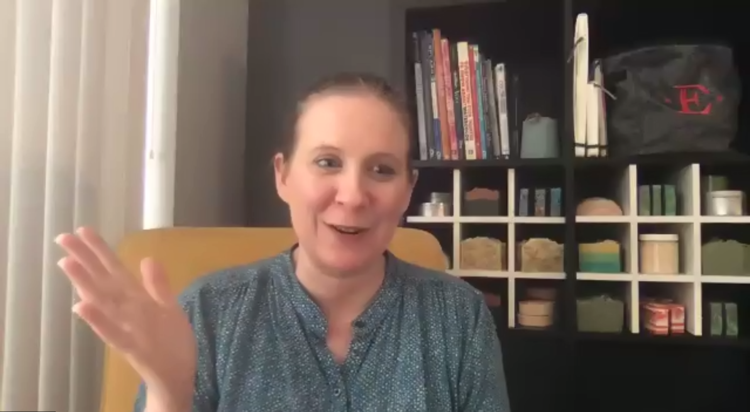 Landon stressed the importance of maintaining social distancing at work, observing the health care providers, school lunch distributors and grocery store employees still on the job. At the UCMC, she said, teams of physicians are only meeting virtually and no one is "hanging out" in floor work rooms. Communication has to be done from at least six feet, and the number of people allowed in the hospital has been curtailed.
She encouraged anyone involved in essential services to think about implementing similar mandates: "Moving a work station six feet away can make a big difference in terms of exposure."
Asked about the need to take precautions during activities like grocery-shopping, Landon defined the term "inoculum dose."
"With every infection, you have to get a certain number of viable viral particles or bacterial particles into you in the right place at the right time at the same time in order to cause infection," she said. "For some infections, that number is very low, like just a few organisms would be enough. For other infections it's much more. For other coronaviruses, it's much, much more than what they're finding just ambiently in the air or on surfaces not in the room of someone who is very sick with the coronavirus."
Just finding "snippets of the virus" on surfaces does not mean it is enough to infect people. Changing clothes right after getting home may be necessary for health care providers working around a lot of sick people every day, but it may not be necessary after going to the supermarket or for a walk.
"The most important thing is just to just keep your exposure as low as possible," she said. "If you are very high risk and you want to wipe stuff down from the grocery store, go for it. If you are limiting, if you're going to the grocery store once in a while, the grocery store is making sure not to have too many people inside at the same time, (and) it doesn't appear as thought there's a lot of sick people there, keep your distance. Take the measures that have been recommended to you."
She also encouraged people to get more sleep, drink plenty of water, stay active and take care of other aspects of health. She discouraged people from taking many times more or many new kinds of vitamins or supplements than they normally do.
And she touted the work of health care workers amid the worst public health crisis in a century, urging people to post to social media with the hashtag #ThousandsOfDifferences to keep up clinicians' morale: "We will get it directly into the eyes of our health care providers." 
"We all feel like there's been a train coming at us," Landon said before observing the day's figures: 6,980 COVID-19 cases in Illinois, including 715 more today, and 146 deaths so far.
Nevertheless, "The good news is that the forecast we're looking at in Illinois is looking better and better every day," she said.