As required by the Affordable Care Act, UChicago Medicine (UCM) is conducting its third Community Health Needs Assessment (CHNA), in part through an online survey, uchicagochna.norc.org, to determine how best to provide social supports to its South Side coverage area.
The CHNA also includes focus groups, stakeholder interviews and secondary data. It will take around 18 months to complete; the survey is online through the end of October.
The 2019 CHNA included the prevention and management of chronic diseases (with risk areas of asthma and diabetes), building trauma resiliency (violence recovery and mental health) and reducing inequities caused by social determinants of health (access to care, food insecurities and employment) as its priority areas.
Previous needs assessments have led UCM to develop community programs like the Violence Recovery Program, the South Side Pediatric Asthma Center, the South Side Health Transformation Project and other community programs that focus on the care of primary and chronic conditions.
"Part of standing up our Trauma Center and our hospital-based violence prevention intervention was a direct response to the needs that we got out of the needs assessment," said Brenda Battle, vice president of UCM's Urban Health Initiative and its chief diversity, inclusion and equity officer. "We leverage a lot to help us determine what programs and interventions we're going to do to address the needs."
UCM learned, for instance, that six of the nine worst neighborhoods with the worst asthma outcomes in Chicago are on the South Side, and 20% of South Side children have it.
So the medical system partnered with area federally qualified health centers and La Rabida Children's Hospital, 6501 S. Promontory Drive (which specializes in the treatment of chronic pediatric conditions) to start the South Side Pediatric Asthma Center.
Community health workers were hired to work at the FQHCs and the UCM's asthma clinic and emergency department "to start the process of engaging families into asthma education (and teach) them to self-manage their asthma," Battle said.
A lot of that care happens in people's homes, where assessments can be done to determine what triggers exist — things as common as Clorox and other cleaning products.
Workers taught families to make solutions out of vinegar and water instead. They brought in hypoallergenic sheets and blankets. They taught asthma-aware pet care, or what to do if there is a smoker in the home. During the COVID-19 pandemic shutdown, when home visits could not happen, patients got iPads and other tablets to have virtual visits with their workers.
"What was more needed than more allergists or more physicians was more informations in the hands of the patients and their families to learn what to do in the case of a kid having asthma," said Battle. "That's been more effective in terms of helping asthma to be managed."
All of this has caused a 50% drop in kids visiting the emergency room with asthma and a 50% drop in missed school days, according to Battle. Similar progress has been made in diabetes care due to investments spurred by the CHNA.
Community health workers who staff the programs "are people who are from the community. These are peers," Battle said. "These are individuals who may have had similar experiences as individuals who may have chronic diseases or asthma, or individuals who have experienced violence, and you're connecting the community with their peers, with their neighbors, who are being that partner in helping them be educated and to manage their health, and to navigate the health care system, and to navigate systems that help support them around addressing the social determinants of health."
When the Trauma Center opened in May 2018, UCM had two violence recovery specialists. Now there are 16 to meet with patients and families and provide "psychological first aid," Battle said, to explain what is happening in the emergency room and, in the context of gang infighting, what the consequences of further violent retaliation could be.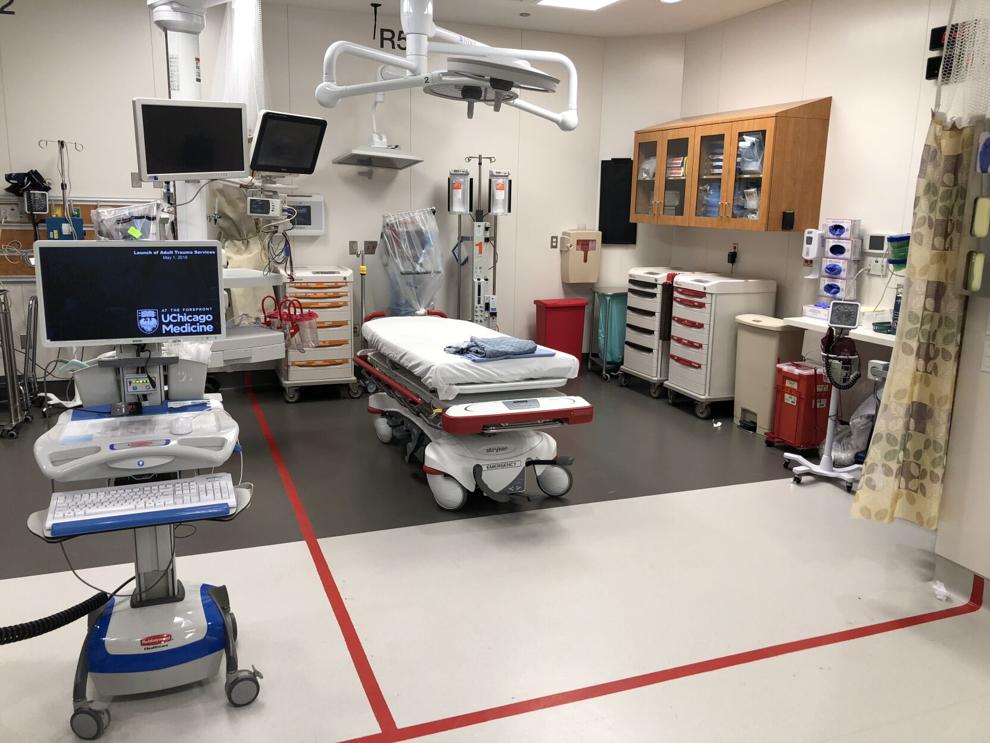 The Violence Recovery Program liaises with organizations like the Centers For New Horizons, 4150 S. King Drive. Cleophus J. Lee, the centers' director of violence prevention and intervention, said UCM has referred patients for housing, mental health support, and employment and vocational training. The partnership began in January.
"We've had individuals go through some of our workforce development programming, wherein they've received some assistance for employment," he said. "We've had some individuals some individuals who were in need of some housing as well as some individuals who were in need of some mental health services, which is some individual or family counseling because a family member has been shot or whatnot."
Lee said people who did not know how to financially get themselves and their families out of hopeless situations are able to rebuild their lives because UCM refers them to the centers' employment or mental health programming.
"The approach is trauma-informed care," he said. "It's really just being able to help someone who has found themselves destitute or in a bad situation, to help them be on a road to recovery. It's been very beneficial."
UCM Violence Recovery Program specialists also help with housing and food insecurity. Battle said they have been effective at reducing recidivism: at the U. of C. Medical Center, fewer than 2% of the more than 3,000 clients in the violence recovery program have return at the hospital, though UCM does not know if they are going to other hospitals.
Battle was frank that the community's needs, as revealed by the triennial CHNA, do not change much. Violence is still endemic on the South Side, and it is unlikely to come off as a high need. But she reiterated that the direction of resources has made an impact on the South Side.
"It took years to create the disparities that we see in our community," she said. It's going to take more than three or nine years to change it. We're going to have to longitudinally work on these things over a period of time to ensure that we're able to reduce the disparity that we see in this survey."