Two infectious diseases specialists at the University of Chicago Medical Center (UCMC) urged people to stay home to help "flatten the curve" and limit the spread of the coronavirus in order to protect the most vulnerable.
Containment is impossible now, said hospital epidemiologist Emily Landon, but slowing the virus is possible.
Avoiding contact with people will slow the virus' spread. It will lengthen the outbreak but prevent a flood of sick people who would overwhelm hospital capacity if they all need care at once. Fewer people will become infected if people avoid contact with others, they said.
"Most people who get sick will not get very sick at all," Landon said. About 80% will be able to recover at home, but 15% will need extra oxygen, fluids and antibiotics at a hospital — and some will need a ventilator.
"In the end, if everyone is able to access the care they need when they need it, we expect to only have one to two percent of people who will succumb to this illness. So 99 to 98 percent of us are going to be just fine, and some of us won't ever even get sick," she continued. "The real concern here is not about each of our own personal safety, but the most vulnerable among us need to be protected so they don't use up all of our resources at one time."
Hospitals are not designed to treat 15-20% of an entire population at once, hence experts' instruction to "flatten the curve" by asking people to engage in social distancing — staying indoors, and six feet away from others at all times.
Landon said social distancing should not be about being afraid of your own bad outcome: "This is about protecting the people who need to use our healthcare system when they do get sick by spreading it out as much as possible."
"I cannot stress this enough," she continued. "We do not have the capacity to manage that big, red peak. There will be people who die because they cannot get into the hospital to get a bed unless we all, even those of us who won't have a bad outcome and are going to be just fine … stay home so we slow the spread — so that my mom and your mom can get a hospital bed when they need one."
Pediatrics doctor Allison Bartlett offered good news: "Children seem to be incredibly spared from becoming very sick with COVID-19." No one knows why — common influenza disproportionately affects the very young and the very old. The concern is for the people with whom they come into contact.
She stressed that people have control over where they go, how they social distance, how they wash hands and clean surfaces. Closing schools and having children at home has been done for the sake of social distancing. It should not be replaced, Bartlett said, by "giant play dates in the basement." Parents and guardians have a responsibility to keep children apart from each other while they are at home.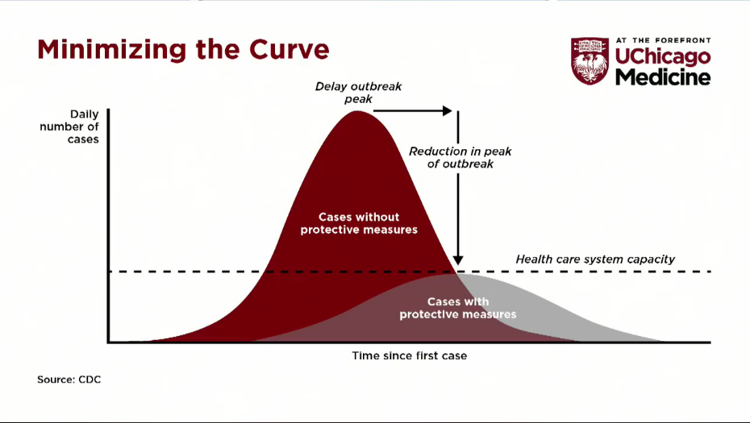 Bartlett said infected pregnant women went on to deliver healthy babies, with no increased risk for the mother — different, again, than the flu — though there is no evidence about women infected early in their pregnancies.
Landon suggested people perhaps take a daily antihistamine to cut spring allergy symptoms. Interactions with herbal supplements and vitamins are unknown; Landon said if they are taken regularly and do not interact with other medications, she does not see any problem taking them if infected with the coronavirus, though it may not be a good idea to begin taking them, or taking huge doses, to deal with symptoms.
People need to wash hands and cover their mouths when they cough, but Bartlett said more can be done as far as cleaning. She said doorknobs and frequently touched surfaces should be cleaned more. Wash hands for 15-20 seconds, or the time it takes to sing "Happy Birthday" twice. Landon suggested cleaning all shared surfaces every hour.
Social distancing can be practiced at work (public health authorities have recommended people work from home as much as possible), and Bartlett said desks and common surfaces should be kept cleaned off. Even if people have to work, Landon suggested attending meetings via teleconferencing and performing tasks over the phone rather than going in person. Workplaces can also divide staffs into smaller shifts.
"Any little bit you can do to reduce the number of human beings that you are within six feet of at any given time will reduce the risk of this disease spreading too quickly through our community," Landon said. "You just have to be creative and think of good ideas."
Being out in wide-open spaces is safe, Bartlett said, and warmer weather will allow for better coping with social distancing.
"It's probably OK to spend time with one or two other people, but you want to limit it," Landon said. The UCMC recommendation is that groups larger than six not gather together; Landon said even fewer should be together at home. While everyone needs to limit their exposure to others, she said anyone who has recently traveled should take some time to be away from other people.
"If you are the one who has direct contact with someone who has COVID, you need to stay home for 14 days," Landon said. "If you are the direct contact of someone that you don't know whether or not they have COVID, it's a little harder to make that decision."
Landon said health care facilities should be left to those who really need to be there at present and that non-essential care should probably be delayed. Testing is still a "precious resource" that should be prioritized, Bartlett said, in order to identify patients who can become very sick if they contract the coronavirus and uninfected health care workers who can remain in the field.
Bartlett added that, without widespread testing, it is unknown how many asymptomatic people are spreading the virus. People can have COVID-19 without a fever.
It is unknown how long the coronavirus stays on clothing. Landon encouraged machine-washing clothes after wearing them. Bartlett discouraged healthy people from wearing facial masks.
Riding mass transit is risky, Bartlett said, because it involves being in a confined space with other people. There is only so much transit agencies can do to clean; hand hygiene and not touching the face are important to preventing the spread. Landon said some health care providers have to take the bus or train to get to work, stressing again the importance of social distancing.
"This is going to be hard," Landon concluded. "It's different than any way we've ever lived before, and I personally can't believe that we're in the middle of this. But we have to do it. And it may take longer than we want it to take, and it may be different than we want it to be — and no matter how much you think you're going to be fine, 'So why do I have to be doing all of this, it's just like the flu?' If you keep having that behavior and that thought process, there are a lot of older people and people who are immuno-compromised that will die. And we really don't want to have that.
"So it's important that everyone take a minute to start thinking more about everyone else around them and not just themselves," she said. "This will end, and we will get through this. And almost all of us are going to be just fine. So just be patient, and we'll get through it together."