Dr. Timuel Dixon Black Jr., the son of an Alabama sharecropper-turned-steelworker who came to Chicago as a baby a month after the 1919 race riots, served in Europe during World War II, worked in union organizing and on the Civil Rights Movement with Martin Luther King Jr., loved jazz and became a celebrated educator and historian of the Black experience on the South Side, died on Oct. 13.
He was 102.
In his childhood, Black lived in a bustling, expanding Bronzeville metropolis built up by African American immigrants from the South.
He also experienced firsthand the racist, restrictive legal mechanisms and violent conflicts with which white Chicagoans maintained a regime of segregation. (His own family moved to Hyde Park-Kenwood after the Supreme Court ruled against restrictive covenants in 1939.)
As an adult, he was an ardent, independent-minded activist, a progressive force that maintained a degree of separation from any political establishment.
And toward the end of his life he turned to scholarly work, producing two volumes of oral history that memorialized the people who populated the South Side of his youth.
Born in Birmingham, raised in Bronzeville
He was born in Birmingham, Alabama, on Dec. 7, 1918, to Mattie and Timuel Black, an admirer of the Pan-African activist Marcus Garvey. All four of his grandparents were enslaved. His grandfather's enslaver's son was Hugo Black, the United States senator and Supreme Court justice. ("These are facts," Black wrote in his 2019 memoir, "Sacred Ground." "I'm not proud of it, but I can't throw these facts away.")
As his often-told story goes, as a baby, he looked around and said, "Shit, I'm leaving here," and his mother said that the family ought to accompany him.
"The story is humorous but has a serious point," wrote Black. "My family knew we were not safe in Birmingham, especially since my daddy … did not put up with any nonsense."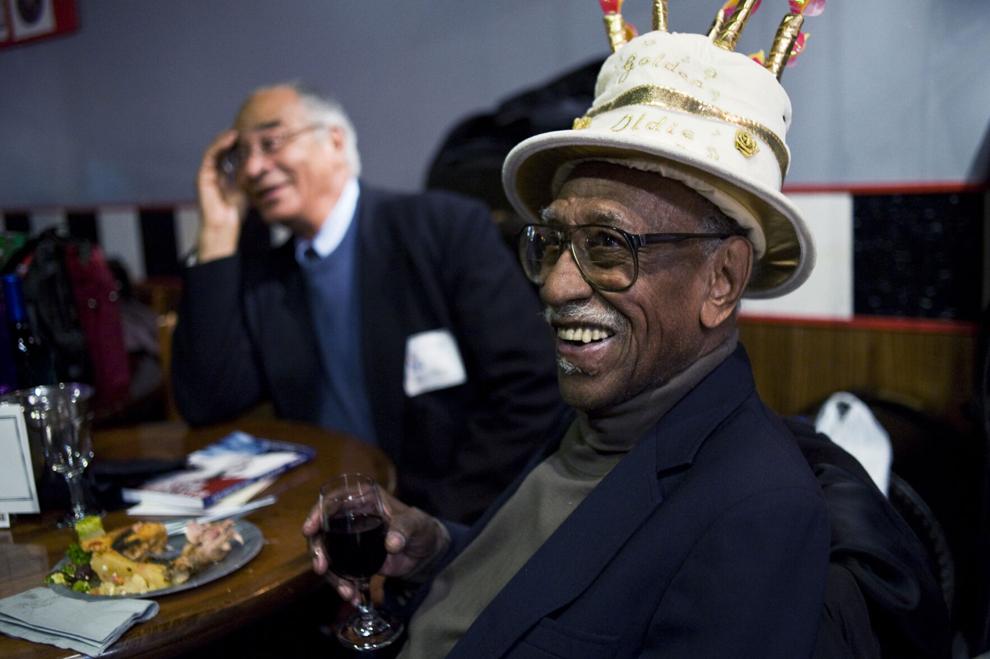 Birmingham was the South's steelworking center, and Chicago at that time had steel industry jobs. The family — with sister Charlotte and brother Walter — arrived in August 1919; a baby sister had previously in the Spanish Flu epidemic. Black grew up in Bronzeville during the first wave of the Great Migration, as African Americans, segregated into Chicago's so-called Black Belt, set up a largely parallel society with its own economic and social institutions.
He attended Edmund Burke Elementary, 5356 S. King Drive, and DuSable High School, 4934 S. Wabash Ave. He wrote of the importance that "a few Black agitators among our teachers" had "to our dawning political interest," including the teaching of Black history.
While working his first job in a shop as a cleanup boy at 13 or 14, Black met a union organizer who asked him why he wasn't working behind the cash register, and the two began to organize African American clerks into the Colored Retail Clerks Union, as the whites' union was segregated. Salaries rose from $12 to $18 a week and employees got a week of vacation.
Army days
The bombing of Pearl Harbor happened on Black's 23rd birthday; he heard about it while listening to jazz on the radio with friends in a bar. He was drafted into the Army in August 1943. His response to the notice that his Uncle Sam needed him was that he did not have an uncle named Sam.
"I was very much against being in the army at that point, not only because of the abuse within the military, but more generally," Black wrote. "There was a race riot in Detroit just before I was inducted, and another in New York. My daddy's position was, 'Why are you going to go over there and fight when you should be going up to Detroit and fighting those battles?' It was hard to argue with his logic.'"
His mother, meanwhile, considered the opportunities an honorable discharge would provide him and told him to earn one.
He was assigned to the 308 Quartermasters Corps, the Quartermaster Railhead Company, and in Normandy four days after D-Day, running transportation along the Allied advance across France, Luxembourg and Belgium. He marched down the Champs-Elysees during the liberation of Paris; crowds yelled out "Louis Armstrong!" as he and other Black soldiers passed. He also fought in the Battle of the Bulge.
Hearsay from the combat soldiers motivated Black to go into Germany after the battle with his white commanding officer to see Buchenwald. The experience — the smells, the cries, the mechanisms to commit industrial genocide — first made him want to kill all the Germans, before he realized that Gen. Dwight Eisenhower and some of his other military colleagues were also of German descent.
"This got me thinking," he wrote, "and I thought, this can happen anywhere to anyone."
Years later Black said it was then, aged 26, that he decided to dedicate his life toward peace and justice for all people.
He received four Battle Stars, the Croix de Guerre, the Legion of Honor and an honorable discharge.
Civil rights and move into politics
After the repeal of racially restrictive covenant laws for returning veterans, Black and his family moved to Hyde Park-Kenwood in 1953, where he lived for the rest of his life. With his first wife, Norisea Cummings, whom he later divorced, he had two children, Ermetra Black-Thomas and Timuel Kerrigan Black, who went by his middle name and preceded him in death. He later married and divorced a second time.
A religious skeptic, he joined the First Unitarian Church of Chicago, 5650 S. Woodlawn Ave., around 1954, after his daughter asked where God is; he wrote he did not have the right to impose his beliefs on his daughter, but that his children would be exposed to many views there.
Writing for the Herald in 2016, he recalled working against racial discrimination as a member of the University of Chicago's 1942-founded Congress of Racial Equality (CORE) chapter (Black earned a master's degree from the school in 1954).
"Hyde Park has always been an intellectual, activist, social, cultural and civic-minded community," he wrote. "Living in Hyde Park for these 64 years, I have enjoyed developing relationships with the people in this community. I believe that we should pass this legacy on to the young newcomers so that it will encourage them that change is going to come and they can help to make that change a positive one," he wrote, going on to endorse the Obama Presidential Center and an associated community benefits agreement for the project.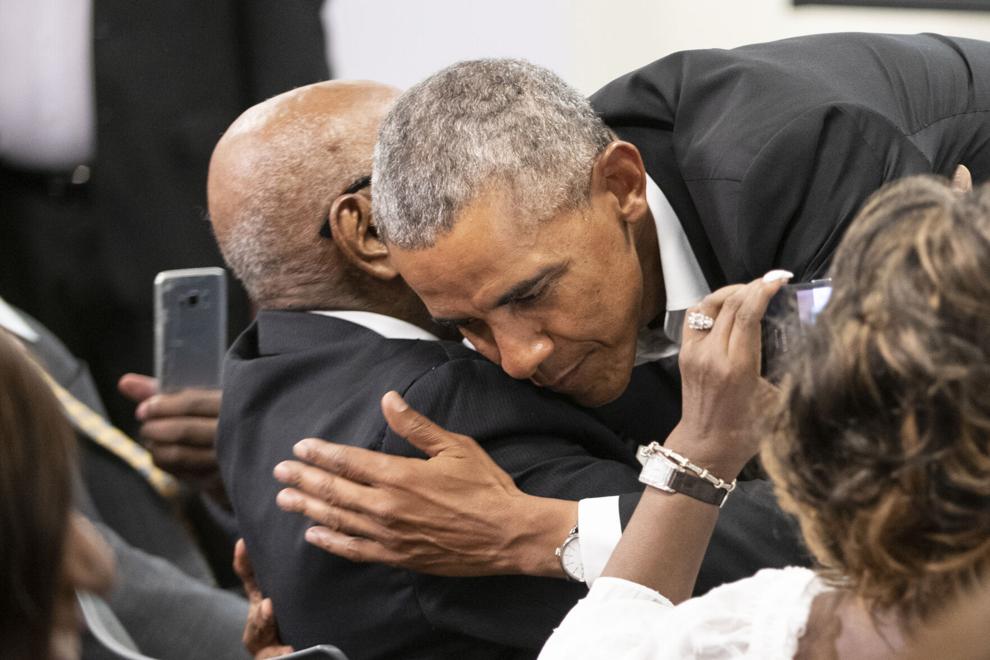 Black first saw Dr. Martin Luther King on television in December 1955.
"His presence on television was so impressive to me because, not only was he a very handsome man, he articulated for me a feeling I had carried most of my life, what had been given great expression when I was in World War II, in combat areas in Europe," Black told the Herald in 2018, for a piece commemorating the 50th anniversary of King's assassination.
"He articulated a feeling about violence and peace and cooperation. And that idea in terms of race in America, taking what Rosa Parks had said earlier when she started the boycott: "I'm tired. I'm tired of segregation. I'm tired of war." He did it so beautifully that that day I got on a plane and went to Montgomery, that same evening."
The next year, Black invited King to speak at a conference of Unitarians and Universalists. The First Unitarian Church was too small, so church members asked the university to host King at Rockefeller Chapel, 5850 S. Woodlawn Ave., instead.
In a Chicago political scene that has long valued patronage and paths of succession, "(Black) challenged the insularity of black politics from a maelstrom of activism," historian Dr. Charles Branham said in 2018. "He was one of those storming the barricades of complacency to liberate marginalized … communities from the de facto and de jure white supremacy that had entrenched wealth and power in the hands of a few and denied resources and opportunities to people of color."
That fall, Black was part of a "Protest at the Polls" committee organizing to increase Black representation in Illinois legislative politics and mobilize Black voters. He ran unsuccessfully for 4th Ward alderman in 1963.
In 1966, he withdrew as a candidate for the Illinois House, lambasting the General Assembly's passage of a bill replacing a primary with state party conventions. He told the Herald that a convention was "a cut-and-dry affair" and that the nomination of an "anti-civil rights and anti-fair government Negro" machine Democratic candidate to replace the retiring incumbent, Abner Mikva, who later went onto a career in Congress and the Clinton White House, was a "slap in the face of the Negro and the liberal white community."
With A. Philip Randolph, Black, after a challenge from AFL-CIO President George Meany, helped form the Negro American Labor Movement, best known for its role in organizing the 1963 March on Washington for Jobs and Freedom, where King gave his "I Have a Dream" speech." Black co-mobilized the Midwestern contingent of attendees to the protest in the capital. More than 4,000 Chicagoans went.
Three years later, Black took part in King's Chicago Freedom Movement, including the protest against housing discrimination in Marquette Park.
"Many of the people who walked with us were Catholics, black and white, and Marquette Park was primarily Catholic. They were so vulgar towards their fellow Catholics. And then someone hit Dr. King, and still Dr. King got up and forgave that unknown person," Black said in 2018. "I had said to myself, 'If one of them hit me, the nonviolent movement is over.' Others had refused to be in the march because that's how they felt. Dr. King was knocked, and then he continued."
Black was also working against the machine Democratic Party of Mayor Richard J. Daley in the mid-20th century.
His 1963 run for alderman was as part of a coalition of independent Black candidates running against "Silent Six" Black machine incumbents. He led protests against the "Willis Wagons," the portable classrooms installed, and left to deteriorate, outside overcrowded, predominantly Black Chicago Public Schools buildings under the tenure of Superintendent Benjamin Willis, which culminated in a boycott of Black CPS families.
"End plantation politics," was his refrain.
Black taught at several high schools (in Gary, Indiana, and in Chicago at DuSable, Farragut and Hyde Park). In 1969, he became dean of Wright College, part of the newly formed City Colleges of Chicago system. A promotion to vice president of academic affairs at Olive Harvey College followed in 1972.
After a controversial firing in 1973, a protest campaign backed by heavy-hitting reporters like Lu Palmer and Vernon Jarrett ensured his reinstatement as community affairs director for City Colleges. That position was terminated in 1975 and Black went back to teaching, this time at Loop College — since renamed Harold Washington College — until 1989.
A committed member of the Independent Voters of Illinois-Independent Precinct Organization (IVI-IPO), he ran for state Senate in 1978 and again for the state House in 1980, losing both times.
His deep aversion to Daley's machine could override his commitment to the Democratic Party. Former U.S. Sen. Carol Moseley Braun, a longtime ally and staunch Democrat today, remembered in 1976 that the two of them worked for Republican James R. Thompson, who was her boss when he had served as a U.S. attorney, in his successful 1976 gubernatorial run against then-Secretary of State Michael Howlett, whom Daley had endorsed. She compared that political action "to taking your life in your hand."
"Tim was fearless," she said. "I'm grateful to him for that leadership."
He was a classmate of Mayor Harold Washington, also a World War II veteran, at DuSable and Roosevelt. At a Hyde Park Historical Society event on the 25th anniversary of his death, in 2012, he noted that a bit of Chicago political lore — that Washington's father had been a Democratic precinct captain passed over for an aldermanic endorsement in the 3rd Ward — was ironic, because at the time most African Americans were still Republicans.
Washington's father was an independent Democrat, and so was his son, who became a state representative in 1965. "(The community) was independent," Black said. "We took our agenda to him, and he would introduce our ideas."
When Black community leaders pushed Washington to run for mayor in 1982, he told them, "There has to be a war chest of at least $250,000 to $500,000, and you have got to prove that you can get at least 50,000 new people registered."
In response, a group of activists started the People's Movement for Voter Registration; Black served as co-chair, playing a pivotal role in the push to get 263,000 new African American voters registered before Washington's run.
It was at this time that Black met his third wife, Zenobia, who survives him, as does his daughter.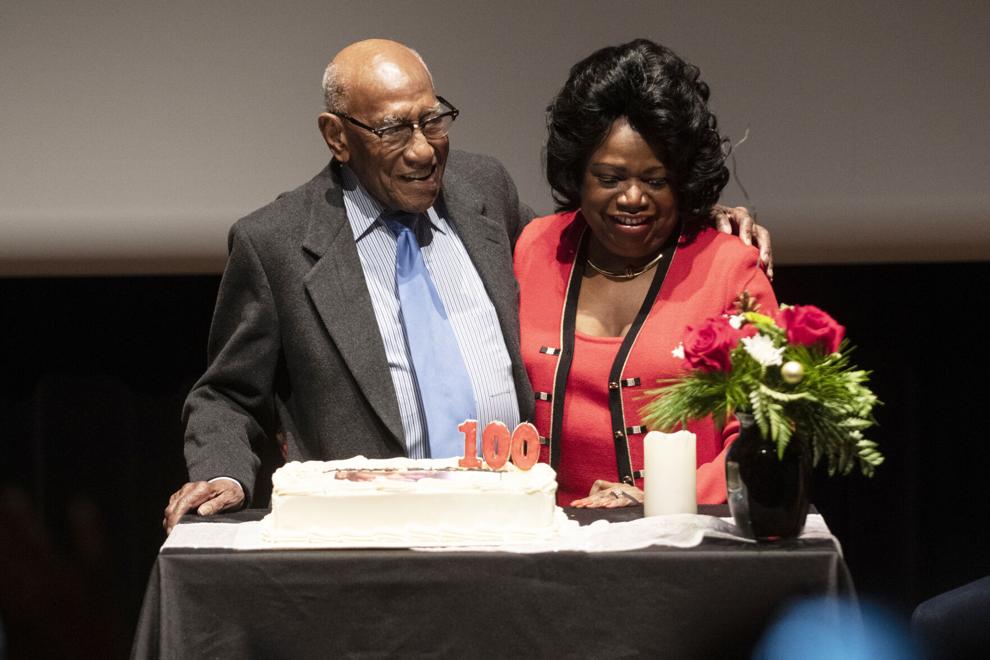 In 1992, he helped on the Senate campaign of an old associate, and a friend of his wife's, Moseley Braun.
"Tim Black has lived an impactful 102 years," she said as he was ailing. "He gave to his community and made a big difference in a lot of people's lives. And I'm just hopeful that he can be remembered for the contributions that he made, that he gave more than he took, and that he, hopefully, will be part of the city's legacy."
Later years
Black first met Barack Obama at the Medici, 1327 E. 57th St., in the early 1990s — at a time, he wrote, when the young man was already talking about running for president and ingratiating himself with South Side power players.
He fully supported his 2008 presidential run and attended his Jan. 20, 2009, inauguration, describing it in his memoirs as "a day I never dreamed I would see, as magical as the March on Washington."
Black was also involved with the Civic Knowledge Project (CKP) at the U. of C., an effort started in 2003 by Dr. Danielle Allen to help "overcome the social, economic and racial divisions among the various knowledge communities on the South Side."
Black led history tours through Bronzeville and taught courses for U. of C. students with the CKP. In 2009, the CKP started the Timuel D. Black Edible Arts Garden at 5710 S. Woodlawn Ave., donating its produce to a local food pantry.
"Calling him the Senior Statesman of the South Side scarcely begins to do justice to this extraordinary man, who has been actively fighting for social justice for longer than most people have been on earth," Dr. Bart Schultz, Allen's successor at the CKP and editor of Black's memoir, wrote in 2016.
At his 100th birthday symposium at the U. of C., Dr. Eve Ewing, who interviewed Black over the phone for a school project as a girl — his number was always listed in the phone book, and he typically answered it himself — predicted his legacy, "not only as a knowledge-producer but a knowledge sharer," would last another 100 years.
His talent as a writer earned him several awards. He published two volumes of his narrative history project "Bridges of Memory" about the Great Migration in Chicago. Winner of the Paul Cornell Award from the Hyde Park Historical Society, the first book includes oral history interviews with residents who "found work in the stockyards and steel mills of Chicago, settled and started small businesses in the "Black Belt" on the South Side, and brought forth the jazz, blues and gospel music that the city is now known for."
He was a lifelong jazz enthusiast, writing authoritatively on the genre's Chicago maturation — how it came north from New Orleans during the Great Migration and spread here over generations, neighborhoods and the color line over the 20th century — for the Herald in 2000.
"Jazz," he wrote, "is a history and a real contribution of an oppressed people who found a creative way to make joyful and unique music in spite of oppressions and rejections. It is now universally accepted as the only truly original folk art form of America. Chicago jazz enhanced that development."
In a statement, U.S. Rep. Bobby Rush said that one of his favorite memories of Black was when he told jazz pianist and composer Herbie Hancock, a Hyde Park Academy graduate who is now 81 years old, about his relationship with his father, Wayman Edward Hancock, "and seeing the gleam in Herbie Hancock's eyes as he told the story.
"Tim's enthusiasm as an author and educator was inspiring, and his impact is utterly incalculable," Rush said.
Writing in the Herald during final days of Obama's presidency, Black said he believed that his legacy would be that "younger people of all races, gender and ethnic groups" would think that "the impossible can be possible," alongside the Affordable Care Act and Obama's foreign policy. "I know that we will overcome Trump's ideas of a 'great' America because I have inspiration that was given to me by the success of Barack and Michelle Obama," he wrote.
Obama released a statement the afternoon after Black's death. "Today, the city of Chicago and the world lost an icon with the passing of Timuel Black. Tim spent decades chronicling and lifting up Black Chicago history. But he also made plenty of history himself," he said. "Above all, Tim was a testament to the power of place, and how the work we do to improve one community can end up reverberating through other neighborhoods and other cities, eventually changing the world."
Writing at the close of his memoir, noting the "Dixie Republicans" had gotten the Supreme Court to gut the Voting Rights Act, Black wrote he was aggravated but not discouraged "because we have seen what the power of an awakened people can accomplish." He mused that Justice Clarence Thomas could not be reasoned with, as some had suggested he could, and argued that a constitutional amendment that protects voting rights and makes all men and women equal is necessary.
He wrote that Chicago's government tramples on its Black community and institutions, especially its schools, arguing that state and local legislators need to be confronted, especially those on finance committees, "so that they hear our demands and consider their political futures."
"They ignore us at their peril," he wrote.
Last year, writing two weeks before the murder of George Floyd in Minneapolis, Black wrote a commentary for the Sun-Times acknowledging that he had been born in the worst year of the Great Influenza pandemic, and saying he was not "ready to leave in the year of COVID-19."
He wrote that society would have to fight the pandemic as hard as it fought World War II, and that young people would have to become the new Greatest Generation. He wrote that certain politicians' dismissiveness amid the pandemic towards older Americans infuriated him, noting his contemporaries' vast reserve of talent, ideas and positive experiences."
"We have been change-makers," he wrote, "and we are not done yet."
He urged people to talk to their grandparents and ask what they had been through. He urged support for needy and incarcerated people. He hoped for the defeat of the former president in that November's elections.
"Our great cause in the days of my youth was the defeat of tyranny worldwide. It took an international effort. Every young person came forward," he wrote. "We did it then and we can defeat this enemy today."
In a June 2020 interview with Chicago magazine, amid the riots and protests, Black did say he was glad not to be a teenager, because of their lack of optimism. Today's instant communication enables them to "see as they feel," he said, to see "reality in terms of the negative part of life."
"If my ancestors hadn't had that optimism about the future, given the conditions that they were in," he said, "I wouldn't be here."