South Shore resident and Alabama native John Caleb Pendleton may be Chicago's first guerrilla florist. After his first foray, when he put up an un-sanctioned wreath around the bust of Jean Baptiste Dusable on Michigan Avenue, Pendleton quickly moved onto a more ambitious project. At 5 a.m. one day last summer, he woke up to place a lavish floral arrangement on the Monument to the Great Northern Migration in Bronzeville. The installation honored Juneteenth, the national holiday commemorating the day in 1865 when Union Army General Gordon Granger announced slavery abolished in Texas. 
Pendleton said he was first inspired to create his public, short-lived projects after seeing New York designer Lewis Miller's "Flower Flashes," in which huge bouquets are often placed into city trash-cans. It was important to add a twist, said Pendleton. "I wanted to add beauty to the city, but I also wanted to do something that had more meaning to me. And so I was like, 'Why not put flowers on Black statues?' " 
Each component of his Juneteenth installation, adorning a statue of a Black man walking north with his suitcase in hand, possessed a particular historical meaning: "Behind the statue was dry cotton, thistles, and straw, representing the journey up from the South. So, just hard and dry and rough. And then we put roses into the man's briefcase, representing how people saw the North through rose-colored glasses. In the front, it was bountiful, to represent diversity of Black expression and beauty and vibrancy of Blackness. 
"There were red wooden boards representing redlining, and how all this Black brilliance was confined to tiny slivers of the city. There were silk flowers, fake flowers, some white, wrapped around the red boards. That was as a critique of the fakeness of white liberals, showing how white liberals were entwined with redlining," he told the Herald.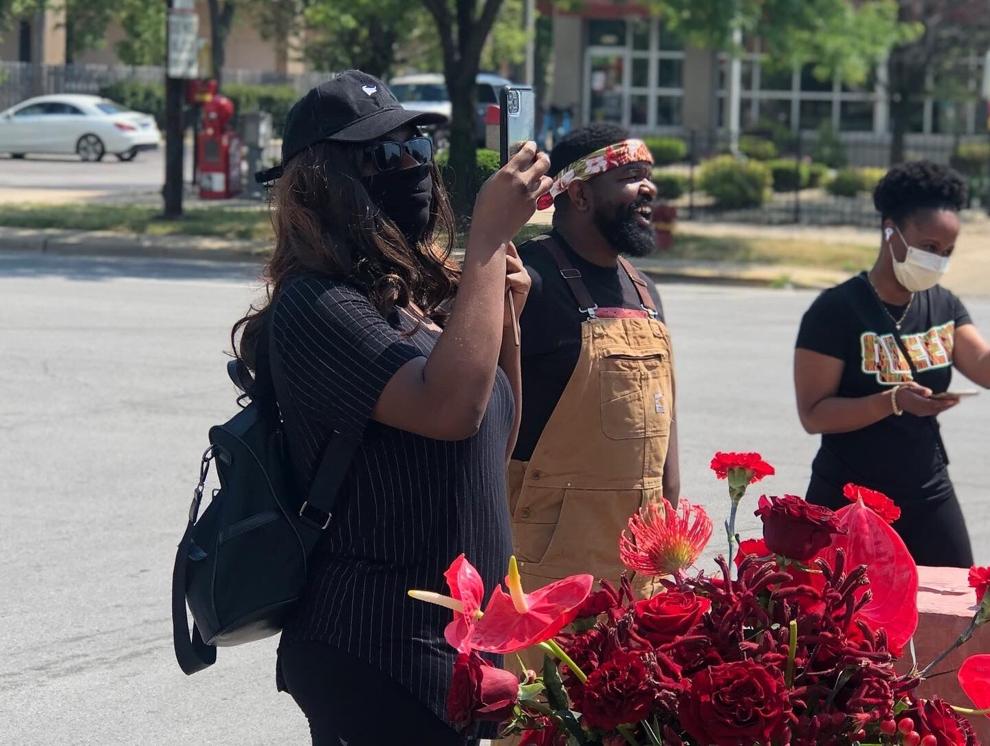 Pendleton himself migrated to the North, coming to Chicago from the small town of Grove Hill, Alabama, in 2010. There, he said, his father's woodworking business and his mother's garden work inculcated an early love of carpentry and flowers. Pendleton has since cultivated his passion into a business, Planks and Pistils. 
The business evolved gradually, Pendleton said, growing out of his habit of arranging flowers for his wife Kari. "Doing work with wood and plants has just been a natural thing, doing it around the house for my wife was a natural thing. The business part has been what's unnatural," Pendleton said.
Pendleton said that he had only begun working as a florist full time this year, after a coffee shop he managed closed in March. Before that, Pendleton had been creating floral arrangements for friends and Instagram followers for about three years. 
He began by getting flowers from the Mariano's Grocery Store at Chicago and Damen, and has since graduated to buying in bulk from Kennicott Brothers and Bill Doran Company, both on the near West Side.
"I gradually realized there's a whole art to floral arrangements. It feels quite natural to me, but it's like oh, this is something that is an industry that people study, there are different techniques. I have a lot of florist friends who have been ever so kind as to teach me things," he said. 
He emphasized that his methods are subjective. "It's like painting to me. I associate certain colors with certain feelings and I try to create the right feeling. If I want a certain feeling, I'm not gonna choose reds or dark purples. If I want another feeling, I'll pick lighter purples."
This year, Pendleton will create floral arrangements for the wedding of a young man he mentored seven years ago, when he worked for the GRIP Outreach for Youth nonprofit, and with whom he has since kept in touch. 
Pendleton's other public installations include floral homages to Mayor Harold Washington and Breonna Taylor. For the latter's installation, he wove a wreath of goldenrod (the state flower of Taylor's native Kentucky) into the shape of an Adinkra, a type of Ghanaian symbol, and placed it in Gwendolyn Brooks Park in Kenwood. 
There are very few Black men in the floral industry, said Pendleton, and other florists are sometimes surprised to see him doing the work.
"I know a lot of florists, I follow a lot of florists. I can name three other florists under the age of 40 who are black men," he said. "It's a white woman activity, even white guys aren't encouraged to play with flowers. When I'm in the flower market, there will be a little old white woman who will be like, 'oh my gosh, that's a great selection' in a surprised tone. And it's like, 'Yeah, we're here for the same reason lady.' "
But the industry's lily-white gentility may be an asset when Pendleton is putting up public installations, which could otherwise arouse greater suspicion from the law.
"We were out on King Drive at 5 a.m. putting flowers up," Pendleton said. "But in public spaces, it looks like you were hired to do that. Police passed by all morning. No one thinks 'Oh they don't have clearance to put up flowers.' "
Pendleton said that the streets and sanitation superintendent of the Fourth Ward had even complimented him on his installation at the Monument to the Great Northern Migration, encouraging him to coordinate with Ald. Sophia King on other installations. Pendleton said he has met with King and hopes to gain approval for future projects.
Still, Pendleton found some lines can't be crossed in Chicago. When he arranged flowers around Harold Washington's statue outside the Harold Washington Cultural Center, 4701 S. Martin Luther King Drive, the installation was removed almost immediately.
Pendleton said, "I told this older Black man I was putting flowers on the statue and he just said, 'Oh you put flowers on Harold's statue without permission? That's like putting flowers on a statue of Jesus. I don't care how good it looks, you gotta get permission before you do that.' "
As for the future, Pendleton hopes to expand his business and to create public installations at Black historical sites throughout the U.S. 
Pendleton said, "I don't want to have a retail space. I'm just gonna keep working on my studio. I want to get to the point where I can employ more young Black people, especially young Black men. And I want to do more installations. 
I want to go to places like the grocery store where Emmett Till would go, and do a huge installation. I want to go to the 16th Street Baptist Church. I want to do a floral tour of all these historical places." 
Pendleton then checked himself: "But right now it's just like, 'John, get your business handled, make sure everyone gets paid.' "