Fiberglass heart sculptures painted by 11 artists were placed in 11 South Side neighborhoods on Sept. 8, including Hyde Park and Kenwood, as part of the LUV Institute's Parade of Hearts project. 
Since the Herald first reported on the project in July, the LUV Institute's goals have expanded "to actually do all 77 Chicago neighborhoods," said Damon Reed, art advisor for the entire project and lead artist for the Hyde Park heart sculpture. Reed's piece is located on the 53rd Street edge of Nichols Park, across from the Target store.
"Each artist took part in a virtual peace circle" with neighborhood residents, said Reed, as he described the process that was used for creating a design for each sculpture. "We took that information (from the peace circle)," continued Reed, "and then went back and created a design. So it really is community art."
Speaking about his own piece, Reed said that during the pandemic people were "kind of forced to, you know, go into their bubbles."  "We were like, on our digital devices, interacting."
"My piece is kind of like a response to that, and that's why it's called 'Reconnecting,'" continued Reed. 
"The guy in the front, he's actually coming out of his computer to start his connections. He's kind of jumping out of that, you know, digital device."
Haerim (Rim) Lee, a Kenwood resident and painter of the heart sculpture located on the median of the 5100 block of South Lake Park Avenue opposite Whole Foods, said that she was inspired by Bill Walker's Childhood Without Prejudice mural, which is located on the southeast side of the Illinois Central/Metra 56th Street viaduct. In particular, Lee admired Walker's design of interlocking faces, which she incorporated into her own piece.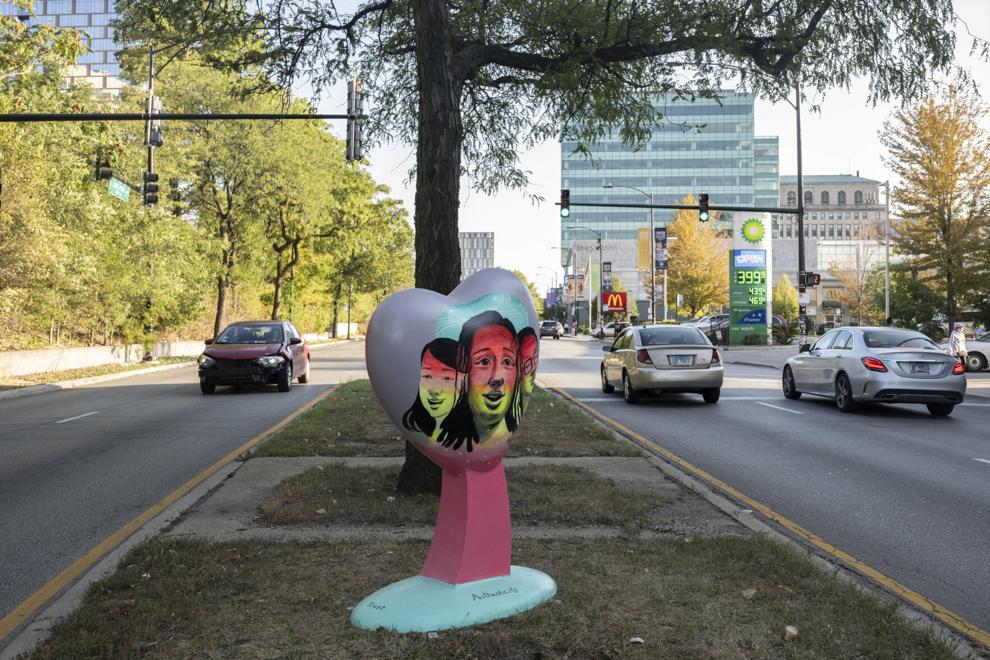 Lee is originally from South Korea. She said she was drawn to live on the South Side because as a child living in Connecticut she had African American neighbors.
Although she didn't want to focus on Korean culture in her piece, Lee does think that "Asians are pretty, you know, invisible or not valued that much."
With her sculpture she hopes to create a space where, "we can learn from each other, share (with) each other and be more vulnerable."
Biographies of the initial 11 artists for the Parade of Hearts initiative can be seen here.