Chicago Public Schools fully reopened for the first time since March 2020 on Monday, and, whatever difficulties may occur through the still-present pandemic, Hyde Park–Kenwood students returned to their classrooms en masse.
The schools had cautiously reopened over the last academic year, with smaller class sizes, hybrid learning and the option for students to stay home should parents choose. No longer is that the case.
Chalkbeat Chicago has summarized the differences: masks are required, except for during outdoor activities, sports and meals, as are the high efficiency particulate (HEPA) air filters in each classroom and copious hand sanitizer.
Out are the online screeners everyone — students and school visitors alike — had to fill out before coming to school, and the daily temperature tests. Students are also going to be kept 3 feet apart, per district mandate under guidance from the federal government.
CPS made a "Virtual Academy" available for students with serious health conditions that could lead to severe COVID-19 complications, but only 750 children applied for 4,260 spots.
Chicago has mandated COVID-19 vaccines for its teachers, but fewer than half of eligible Chicago children have been vaccinated, with discrepancies in vaccination rates for minors on the South and West sides that mirror the overall rates.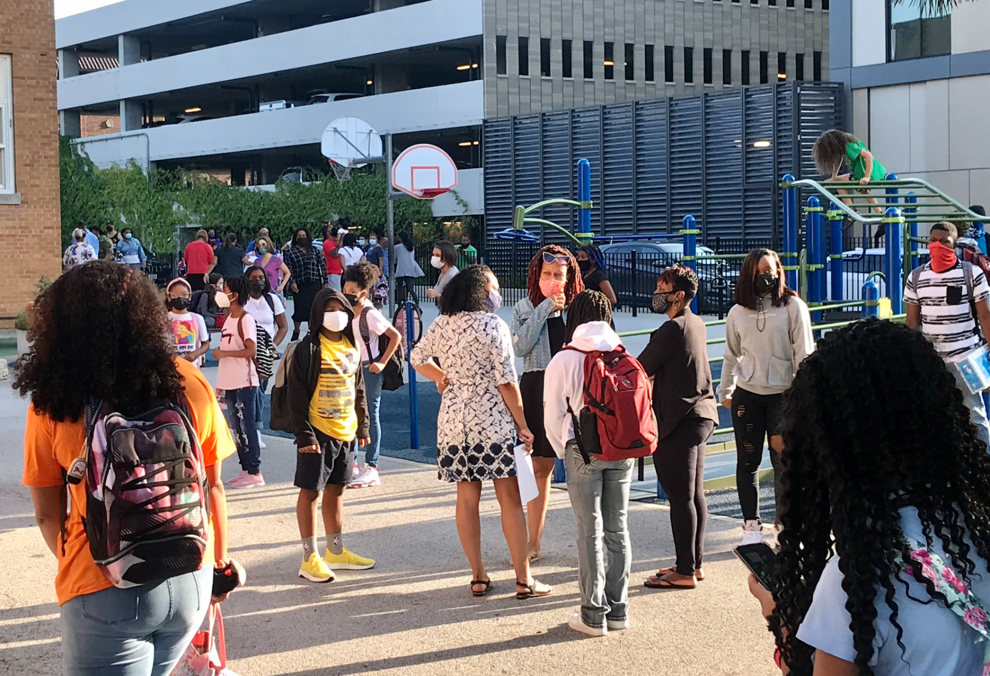 At Bret Harte Elementary, 1556 E. 56th St., Cindy Johnson was sending her nine-year-old son back to school for the first time, after keeping him home for virtual learning for each of the last 533 school days. He's a "scholar," she said, who could academically thrive in any environment and was teaching her things on the computer during his year-plus of virtual learning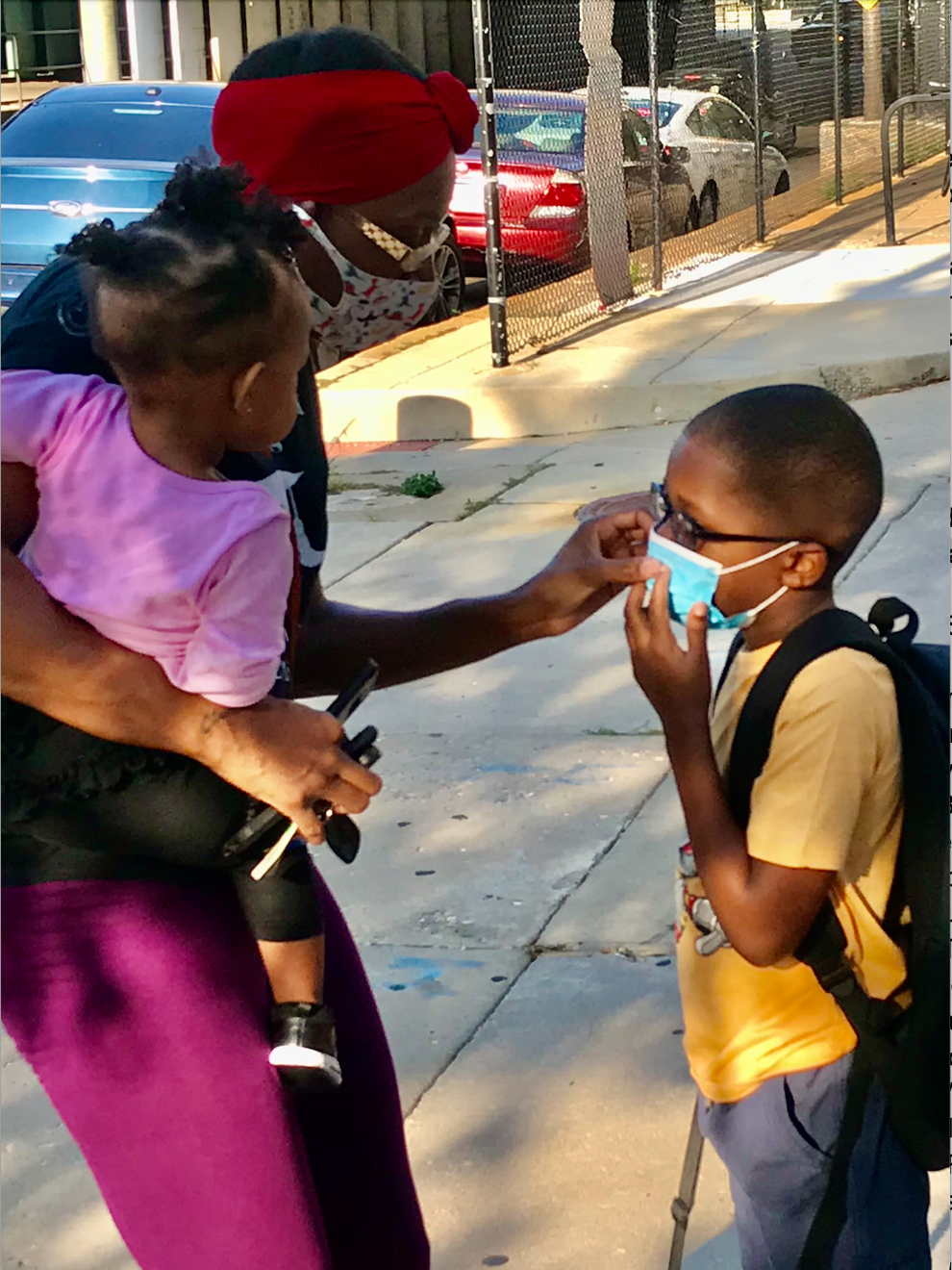 "I did not choose. I did not want him to go back into school," Johnson said. "I didn't have a choice."
She is concerned about the coronavirus variants; she prays for the students' safety and for her family's, with a baby at home. "That's what's really unnerving," she said. "It wouldn't just be him getting sick, or me. It'd be the baby also, and she can't tell us how she's feeling."
Johnson has emphasized to her son the need to keep his distance from the other students, to keep his hands clean and to keep his mask on. "It's not just on the school but on the parents as well," she said.
Trials are ongoing to determine whether COVID-19 vaccines are safe for children younger than 12. If and when they are approved, Johnson said the shots will definitely be an option for her son.
Aia Cooper was sending her 11-year-old back to school, after he did hybrid learning at Bret Harte last spring.
"He was in the house too long, and I could just see that it was messing with his development and that he needed some type of social interaction," she said. He was spending too much time on the computer and not enough time outside, but once he went back, he became his happy-go-lucky self again, she said.
Nevertheless, Cooper said attendance at Bret Harte itself was dispiritingly low last spring when he returned, with its pods and some-kids-back, some-kids-away schedule. But on Monday, scores of students lined up outside for their first day, and she was happy to see the school back in session all together.
She trusts the safeguards CPS has put into place will keep her son safe, even with all the more students in the building. Her son turns 12 in January, and she wants vaccination to be his decision. "I'm pretty sure he wants to," she said. "I just want him to be safer," she added.
Paris Lawson, Sr., said his 12-year-old namesake was happy to go back, though Lawson and his wife seriously considered homeschooling him and his 8-year-old sister, both out of concern for the disease and because of how convenient remote learning had been.
"We were able to emulate a lot of things within his curriculum at home and outside in the city," Lawson said. The family also traveled a lot over the period and found that enriching beyond classroom work.
But bedrooms are not classrooms, home is a distracting environment, and there are no professional teachers there, Lawson conceded.
"The teachers don't get enough credit," he said. "I'm not too in-depth of knowledge of what's really going on with the union and administrators, but the teachers themselves really worked hard during the pandemic, making sure our kids got exactly what they needed."
Lawson and his wife decided not to get their son vaccinated.
"I really want to see what happens," said Lawson, who touted holistic wellness and reluctantly got vaccinated because of his job. "We're very on top of our health as well as our children's health. Honestly, from my perspective, that's the one thing that the media and the country really hasn't been pushing. Besides getting the masks and getting the vaccinations, actually just eating properly, taking care of your health and doing things that would combat getting a disease like that or building an immune system that can actually fight it."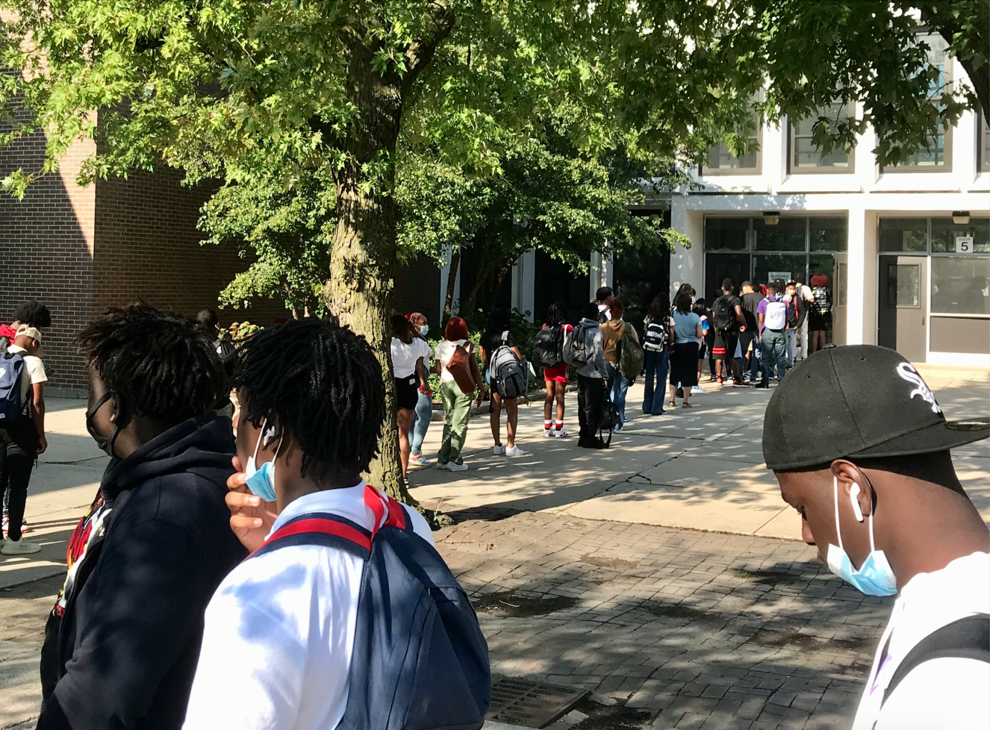 Colin Claffey, a student at Kenwood Academy, 5015 S. Blackstone Ave., attended high school in person a little last year. Going back full-time now "is a bit of a drag," he said walking to campus along Hyde Park Boulevard.
"I don't really want to do this, but I mean I guess I have to," he said. "I mean, I'm excited for senior year, but I know it's going to be a hard time adjusting to, you know, actual school."
No longer in front of a screen, he said accountability "to look like a student" will be up. Remote learning was easier, and he said he was happy to get a better education back in the Kenwood building.
That said, Claffey is on the Broncos wrestling team, so he has been seeing his friends plenty already.
He is vaccinated, but he said he is too preoccupied with the looming readjustment to an in-person social setting to be concerned about his safety.
Amaya Nelson and her friend, Makai Sykes, were nervous on their first day back. They're neighbors, living at the Kenwood-Bronzeville border, but ties with other school friends have worn over 17 separated months.
"I haven't seen these people in a long time. So I feel like, 'Who am I going to sit with in class and stuff? Where am I going to sit at lunch?'" Nelson said. "We're not the same people. It's definitely different now."
Sykes, for her part, said it will be a rough adjustment talking to so many people in person again. Burt nevertheless, Nelson said she will be more focused back in the classroom.
Neither was too worried about their health, though neither have been vaccinated. Sykes doesn't trust it. Nelson's mother wants her to get it, and she herself is worried because she has asthma.
"She's scared if I do catch something, it's going to be worse for me," Nelson said. "But I don't think I'm going to catch it. I think I'll be fine."
With so many Kenwood students, Nelson has doubts about the school's ability to maintain cleanliness, but Sykes chimed in that Principal Karen Calloway would do her best to make it safe for everyone.
"I feel like if everybody listens, we'll be OK," Nelson said.