It opened in late March, but state, county, and medical system officials gathered June 10 to mark the establishment of a standalone dialysis center at the Provident Hospital of Cook County campus in Washington Park.
"This 6,600 square foot facility located in the former pharmacy is safe, accessible and provides comfortable treatment for those needing renal dialysis," said Cook County Board President Toni Preckwinkle (D), observing that Black and Brown people are disproportionately impacted by heart disease, diabetes and high blood pressure that can result in kidney disease and that 15,000 Cook County residents are known to have kidney failure.
"This dialysis center is one part of Cook County Health's (CCH) ongoing effort to bring care to our residents in need, into the communities where they live," she said.
The goal of the center, which cost more than $2 million, is to treat 150 total patients on an ongoing basis.
Inside, there are private examination rooms before the communal dialysis treatment area. Dr. Kalyani Perumal, the dialysis center's attending physician, said most patients start treatment when their kidneys are functioning at less than 15% capacity.
"At that point, they're all having symptoms like nausea, vomiting, feeling fatigued," she said. "When they're on dialysis, they're actually having their blood cleaned. They start feeling better after they start getting dialysis. They start gaining weight. Women who have never been able to get pregnant can get pregnant. It's sort of a new life. Many people think that dialysis is the end; for me, it's the interim waiting for transplants."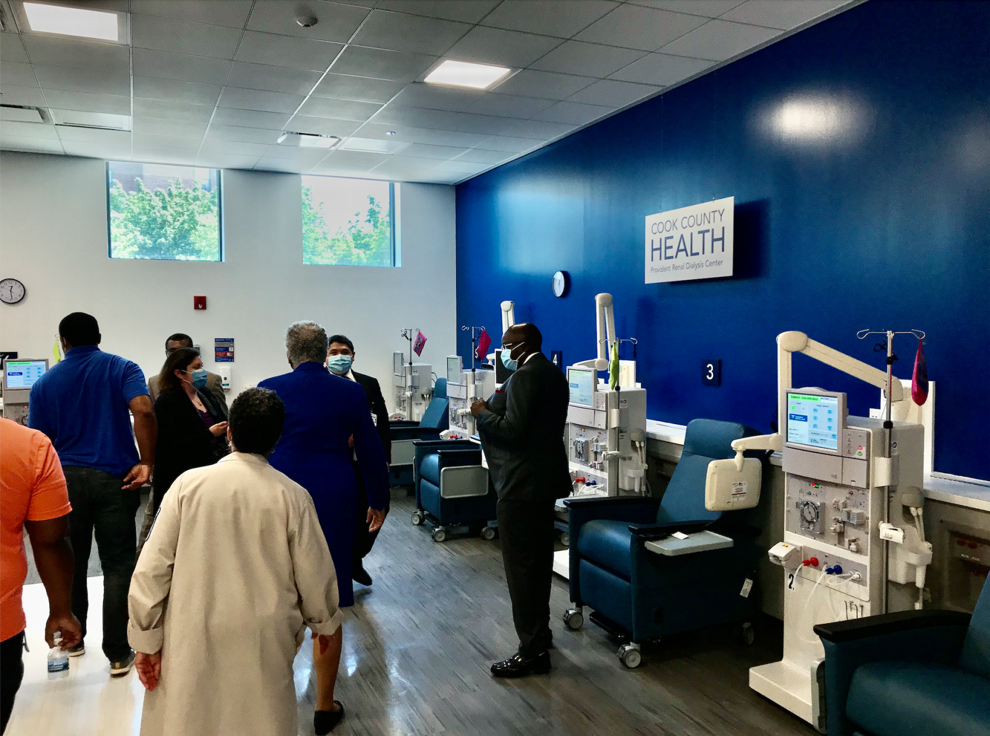 Patients can watch television, sleep or socialize during treatment; the machines are unfortunately too cumbersome to do work on a computer, Perumal said.
CCH CEO Israel Rocha said patients in his health care system are often more sick and have a more difficult time accessing care than those in other Illinois hospital systems, and that tendency is especially true for patients with kidney disorders. Dialysis requires three hours-long treatments a week, and up to 150 CCH patients have to go on dialysis every year; around 120 of them previously had to go to commercial dialysis centers.
"We want to ensure that patients can be treated close to home," Rocha said. "By opening the dialysis center here at Provident, patients on the South Side will have reduced travel time, will improve their quality of life and will have improved quality of care, keeping them within the Cook County Health system and with the doctors and nurses whom they know and with whom they've developed a system of trust."
Antwan Bartley, a South Shore resident who has been on dialysis for five years, started treatment at Stroger Hospital, 1969 W. Ogden Ave. — quite a hike by car or transit, which caused him to sometimes miss it.
"Now that we have this over here," he said, "I don't have to miss if the weather's bad."
Rocha called the dialysis center part of CCH's "larger strategy and ongoing commitment to services and the development of new services" on the South Side and at Provident. CCH closed two community clinics last year, in Bronzeville and Woodlawn, promising to consolidate and expand care at the Washington Park hospital campus.
CCH had planned to build a new $240 million Provident Hospital building but paused that plan in February 2020.
Rocha said a replacement plan is being developed, with the COVID-19 pandemic causing further delays. "But we continue to invest even now," he said. "So we have made new investments and have made modernizations to the current plant. Because we're growing, we want to make sure we can accommodate patients today."
The lobby has been reconstructed, and emergency department reinvestments are forthcoming.
"We will have some other announcements," Rocha said. "But again, today is about making sure that we're here to celebrate the work that we've done end-stage renal disease and for our dialysis program. But we are very excited that very shortly we will have some more discussions about some expansions that we're doing here. But we are making sure that our hospital is maintained."