The lakefront is one of the greatest things about living in Chicago, but to residents with disabilities at the Chicago Housing Authority's Vivian Gordon Harsh Apartments, it has not been easy to reach. 
A decades-old pedestrian bridge across Lake Shore Drive at 43rd Street, right by the building, is only accessible via stairs.
In two years, however, that will change. The Chicago Department of Transportation and Park District are going to build an Americans with Disabilities Act (ADA)-compliant bridge, similar in appearance to the one finished two years ago at 41st Street. A third bridge, over 35th Street, opened in 2016.
Maria Faulkner, informed of the project while waiting for the bus outside of the 14-story public housing tower, 4227 S. Oakenwald Ave., called the news "wonderful." In four years living at Vivian Gordon Harsh, she has never been to the many events held on the nearby sections of the lakefront because she has not been able to go over the 43rd Street bridge in her wheelchair. The 41st Street bridge is inconveniently far, she said, and had been under construction during part of the time she has been living there.
"It would help me and our seniors who are right close by," she said. "It's not just me. There are other people who are on canes or walkers, and they have events over here on the lakefront."
Faulkner, who spent a career working for Chicago Public School, said she wants to take advantage of free concerts and other cultural events in her retirement. "This improvement will really be a godsend for people like me and other people," she continued. "I see people having to carry strollers up those stairs. It would be beneficial to a great deal of people in this community and outside the community."
Block Club reports that the existing 43rd Street bridge, which is due to come down this winter to make room for the new construction, was built over the railroad tracks in 1938 and over LSD in 1954 — well before the ADA passed in 1990.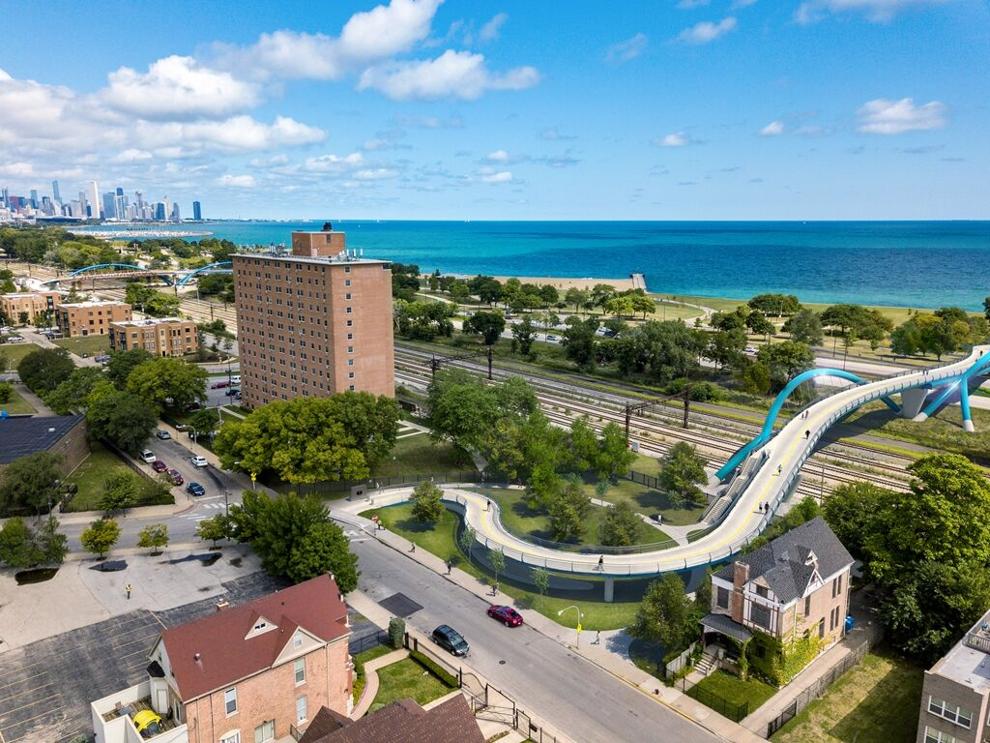 Minnie Jefferson, who uses a cane, has lived in Vivian Gordon Harsh for more than 12 years and described herself as "pretty mobile," but conceded that stairs are not her forte.
"Those 'lovely' brick ones that are there at 43rd right now are not the most helpful, and, needless to say, if it's wet or something, you really can't do anything," she noted. Furthermore, because the bridge over the railroad has grated flooring, she has to watch where she sets her cane as she crosses. 
The new bridge will have ramps, a difference Jefferson said will have dramatic improvements for people who use canes or walkers like her because it is easier to balance.
Residents at Vivian Gordon Harsh like to watch families cross the bridge to enjoy the lakefront, Jefferson said, but she also noted that many of them have to lumber strollers and toddlers up and down the stairs. "Something that's accessible will be an asset," she observed.
Like Faulkner, Jefferson enjoys the lakeside events, particularly the summer musicals. There is a balcony atop the Vivian Gordon Harsh Apartments, but she said sitting up there and observing the action on the lakefront, across LSD and the railroad tracks, is nothing like being in the midst of it.
"I am a lot more mobile than a great many other people, but you still can't do as much as far as having the bridge and being able to go and enjoy a different scenery," she said. "We have half a dozen people, and one of the gentlemen in the building, he walks a lot. He's been known to walk across the bridge. But that isn't available to the majority of the people in this building."
Carole Folkes moved into Vivian Gordon Harsh 21 years ago. After working a lifeguard and swimming instructor at YMCAs, girls' and boys' clubs across Chicago, she watched with anticipation as the Park District worked to complete Oakwood Beach, 4100 S. Lake Shore Drive, in 2010, from her 12th story apartment and the rooftop patio but was unable to reach it in her wheelchair.
"I was hoping that I would get a chance to use (the new bridge) before before I passed on, and one of the things I said before I moved into this building is that the only way I'd leave it is in a body bag," said Folkes, 74. "I feel very blessed to live right here on the lake like I do. I'm definitely one of the persons who's looking forward to ride my chair over to the beach."
After surgery at some point in the future, Folkes hopes to be able to walk again, with a walker, and perhaps even get into Lake Michigan, though she said that it is difficult to walk in the sand with a disability. But at any rate, she wants to get closer to the water, ride along the Lakefront Trail, "go out and go over there, enjoy the whole gamut of being on the lakefront."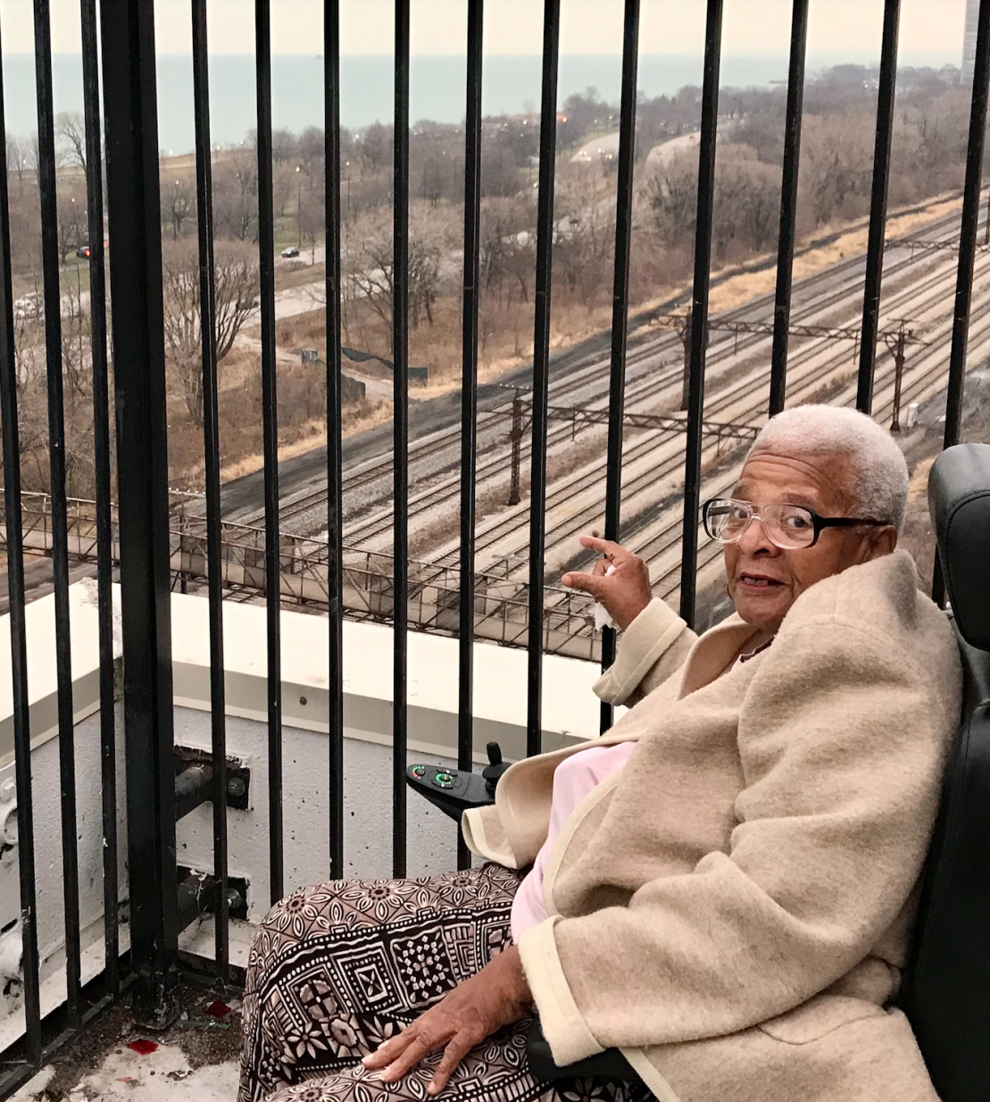 As a three-time president of Vivian Gordon Harsh's residents' council and an active attendee at 4th Ward meetings, Folkes said she has been pushing for years for the 43rd Street bridge to get built. Before the pandemic, she helped her neighbors with disabilities get out into the neighborhood and talked of leading a "disabled caravan" across the new bridge to the lakefront once it gets built "to roll over there and do our thing."
Folkes said there are times when she misses her greater mobility, but the depression ebbs, and she said being able to get to the lakefront would inspire her to get out more.
"We feel blessed to be here on the lake like this, because going further down, it costs so much money to live on the lakefront," she said.
"This is public housing, and we don't pay the exorbitant amount of money to live here like a bunch of the high rises down the lake. We're 14 floors, a 120-capacity building. To live here and to be able afford here, and then those other two bridges are so beautiful, I just can't wait to see how this bridge is going to be and to really use it to get out more and to really use it to do as much as I can on the lakefront."