Up to 13 police officers broke into U.S. Rep Bobby Rush's (D-1st) campaign office at Garfield Boulevard and the Dan Ryan Expressway early on the morning of June 1 as looters rampaged through stores in the surrounding mall.
"They had their feet up on the desk. One was asleep on my couch," Rush said at a June 11 press conference. "One had his head down on the desk. One was on his cell phone. They even had the unmitigated gall to go and make coffee for themselves and to pop popcorn, my popcorn, in my microwave, while looters were tearing apart businesses within their sight, within their reach! They were in a mode of relaxation, and they did not care about what was happening to business people, to this city."
It is unclear if the officers were the first people to break into Rush's office; staff found "a crisp $1 bill" waiting for them when they arrived on the scene the next morning, Rush's congressional spokesman Jeremy Edwards said.
With campaign signs and photographs of the congressman lining the walls inside and out, "I don't understand how they would not have known it was his office," Edwards said.
Rush contacted local Ald. Pat Dowell (3rd) to reach out to the mayor's office yesterday. Lightfoot invited him to City Hall around four hours later, and they, alongside Police Superintendent David Brown, reviewed the tape that evening.
Lightfoot thanked Rush for "his incredible generosity in this moment" and apologized several times.
"I am absolutely amazed at her response," Rush said, "how she takes it personally that these police officers — while on duty in uniform, 'white shirts' (i.e., supervisory officers) involved — how they took such a lackadaisical attitude, a non-caring attitude, violating my personal space while looting was occurring all around them. They didn't care, but I stand here to salute our great mayor, because although the policemen in that office in repose and relaxation didn't care, our mayor cared."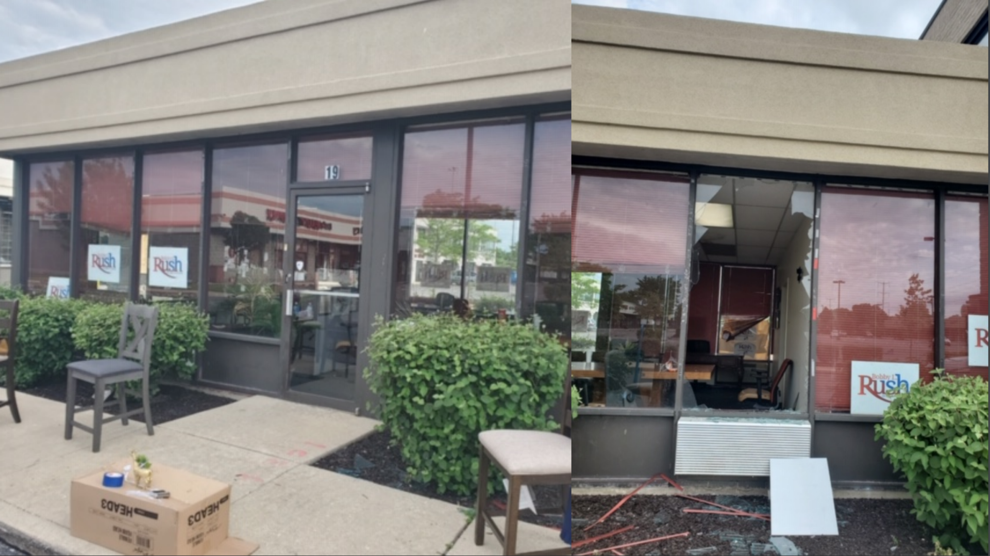 An emotional Lightfoot called it "the height of injustice when police are deployed, given a mission, and they fail to act."
"Public safety must be a reality everywhere in every neighborhood of our city," she said. "When you swear an oath to serve and protect, you are a Chicago police officer, not a police officer for only certain neighborhoods and only at certain times."
It is unclear whether the officers involved belonged to the 2nd District, 5101 S. Wentworth Ave., which covers Hyde Park-Kenwood. The Herald has requested comment from local Cmdr. Joshua Wallace about the incident.
Later that evening, the Chicago Police Department released a statement confirming an investigation "into the police response and actions that took place from the late evening of May 31 … into June 1" at Rush's office, including "confirmation of the timeline, responding units and officers."
The mayor used the moment to reflect on the expectations placed upon African Americans —"All my life," she said, "I have fought with every fiber of my being to survive in a world that was built to throw flaming roadblocks in our way as Black people" — and said she felt resolve as her administration responds to the scandal.
Lightfoot said the officers will be held accountable. "We cannot go on like this anymore," she said. "These officers and the supervisors will be identified, and they will be held to account. And I can tell you one thing for certain: not one of these officers will be able to hide behind the badge and act like nothing ever happened."
"The actions of these officers," Lightfoot said, "the deplorable lack of responsibility to do their job at the time when the city and their fellow officers needed them most, will confirm the perception that too many people on the South and West side were left to fend for themselves, that the police don't care of Black and Brown communities are looted and burned."
She promised a thorough investigation, including the state's attorney's office to determine if the officers committed a crime, though she did not say if she thought they deserved to be fired.
But the mayor did say that now is the time for a full-fledged reconsideration of what law enforcement means, saying the consent decree drafted in the aftermath of Laquan McDonald's murder is not enough.
"Now, in this moment, it's time for us to fully implement the recommendations of the Police Accountability Task Force more than four years ago that have languished," she said. "Now is the moment to be honest about the ways in which the Fraternal Order of Police contract has been holding back the necessary change and reform that we must bring to make this police department fully accountable to the residents of this city. And now is the time to act on licensing for police officers once and for all."
The mayor said her administration will draft legislation and work with Springfield "to forge a change in state law to require licensing and certification of police officers," acknowledging that "licensing is just one of several new measures that we must institute to make individual officers and departments far more accountable to the people."
On Twitter, local state Rep. Curtis J. Tarver II (D-25th), who has called for a special General Assembly session to address police misconduct in the wake of the George Floyd protests, pointed to the police's union contract as the answer to "why things like this occur and why officers feel so comfortable." He noted that the state requires athletic trainers, canine handlers, hair-braiders, nail technicians and private security forces to be licensed, but not police officers.
"I do believe that we need to go down the path of licensing, but when it comes to municipal police forces, that is something that the city also needs to act on," said state Sen. Robert Peters (D-13th) in an interview. "Whatever measures from come from this, there are things we can do at the city and at the state level. For instance, if we pass something at the state level, there needs to be a clear level of oversight and accountability at the city level.
"I think we need to start moving money from policing to areas that deal with real safety and justice — that is, mental health professionals, social workers, de-escalators, restorative justice practitioners — when it comes to folks experiencing trauma, as well as move from police in schools to social workers and nurses, so that children get the care, dignity and safety they deserve in a learning environment."
Lightfoot said future efforts may be imperfect, but she said the city would "finally make the changes that many thought were too politically sensitive or infeasible."
"The time for excuses is over. Our people are impatient, and rightfully so," she said.
Peters agreed.
"It's embarrassing, but also another example that we've become overly reliant on policing as a safety strategy," he said. "For 40 years we've seen racist, classist, tough-on-crime policies fail to keep people safe. We've seen police misconduct over and over again with little accountability. It's time for us to move from incarceration to investment. It's time for us to end the repeated embarrassments of our public safety program."