The Obamas held a groundbreaking ceremony for their $700 million presidential center and museum on Sept. 28, promising that the completed project would be an engine for continuing societal change and that its specific location in Jackson Park would benefit the communities of Hyde Park, Woodlawn and South Shore.
Former President Barack Obama said that Chicago taught him that efforts to build a better world should be centered in neighborhoods and communities, and that ordinary people working together can do extraordinary things.
"We are about to break ground on what will be the world's premier center for developing civic leaders across fields, across disciplines and, yes, across the political spectrum — a floor for those who want to strengthen democratic ideas, foster active citizenship," the former president said.
"A canvas right here on the South Side where where we hope to convene, support and empower the next generation of leaders — not just in government and public service, but also in those who want to bring about change through the arts or journalism, or who want to start businesses that are inclusive, socially responsible and responsive to the challenges of our time."
Former First Lady Michelle Obama said building the OPC on the South Side allows her and her husband to "give back something that is big and important and meaningful to the community that has given us so much."
Though the Obamas have lived in Washington since 2009, she said the OPC will make "the neighborhood we call home a destination for the entire world." More importantly, she said, is that it will be a "vital resource for the people who live right here."
"The OPC will be a place where folks can find work, where kids can learn and grow and envision bigger lives for themselves, where families can walk and ride a bike or have a reunion in the grass, where everybody can find calm and beauty and peace and safety," she said, saying that opportunities for art, music and museum-going, apart from the Museum of Science and Industry, required a trip downtown during her South Shore girlhood.
Jackson Park at the time "for the most part, just didn't call to us," she said. "It didn't always feel like a place for me. Too often this gorgeous park felt like something to drive through or go around to go somewhere else. And as I grew up and left my neighborhood to attend Whitney Young, I gained greater exposure to this magical city, riding hours — and I mean hours, every day — on the No. 6...I was able to see more of what Chicago had to offer."
She wondered why there were not more places to gather in her neighborhood or why there was "not more investment in us."
"So when it came time to decide where to build the OPC, Barack and I knew this was a unique opportunity to change that narrative, to help elevate how kids like me … feel about their neighborhoods and in turn about themselves," Obama said.
"Because this center is not about us. It's not about me and Barack. It's about the generations that came before us, the folks who did that heavy lifting. The ones who made Michelle Robinson and Barack Obama possible. It's about reimagining this beautiful park. It's about making a place that welcomes people in — not just folks from around the world, but families like mine who live right down the street."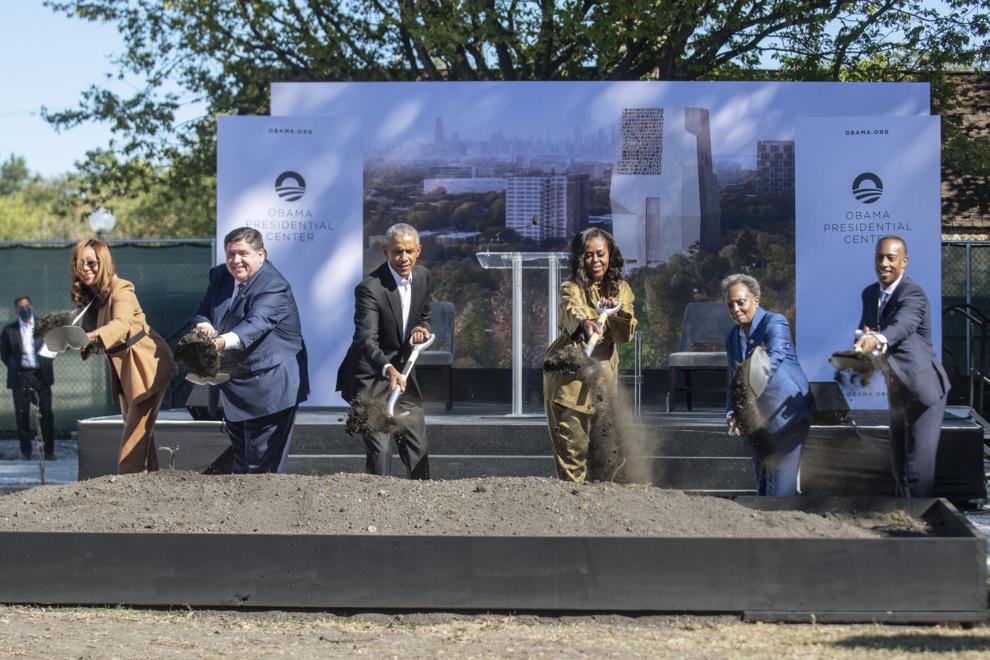 Along the way, the former president said, the OPC's construction will create many South Side jobs during and after construction, bring up to 750,000 visitors to Woodlawn and strengthen the broader South Side business climate and "preserve and enhance all the things that make Jackson Park special."
The former president said the Jackson Park site "is surrounded by vibrant neighborhoods, in a community where we believe we can help make a difference." He also noted that, as a 23-year-old moving to Chicago from New York, he first drove through the park en route to his new home after he exited off the Skyway.
He referenced the changes the OPC project will bring — the reunified parkland once Cornell Drive is eliminated, new trees due to be planted to replace the ones cut down, visions of green space outlined by the South Lakefront Framework Plan — as well as those planned for the OPC campus, like a recreation center and a Chicago Public Library branch.
"The Obama Presidential Center is our way of repaying some of what this amazing city has given us," the former president said. "But we're also building the center because we believe it can speak to some of the central struggles of our time, and we are living through a moment of rapid disruption, in technology, in the global economy, in our social arrangements, in our environments."
Zell Wilson and Trenton Banks, students at Hyde Park Academy High School and South Shore International College Prep, introduced the president and first lady, respectively.
A small crowd watched in person due to pandemic restrictions, including Alds. Leslie Hairston (5th) and Greg Mitchell (7th), Mayor Lori Lightfoot, Gov. J.B. Pritzker and two officials from the Obama Foundation, Chief Engagement Officer Michael Strautmanis and CEO David Simas. President Joe Biden sent a video message. Ald. Jeanette Taylor (20th) is recovering from COVID-19 and missed the ceremony.
Hairston said she was happy that the long-time-coming groundbreaking day had finally arrived and that she would update the ward about construction status as time goes by.
"I'm looking forward to it opening. Probably by the time this is over it will have been 10 years," she said. "I think that it is so much needed and welcomed in the neighborhood. I've been very fortunate in my career as alderman to have worked with people who have done well in life, and who have come to the community to invest in the community when investments were not being made."
Those people, she said, are Barack and Michelle Obama and Gary Comer, the Greater Grand Crossing native who founded the clothing retailer Lands' End.
In her remarks, Lightfoot referenced the Woodlawn Housing Preservation Ordinance her administration drafted in conjunction with Hairston and Taylor, specifically the Woodlawn Revolving Loan Fund that will provide nearly $10 million in financial support to help rehabilitate existing houses to fight displacement in the neighborhood. She also referenced her administration's capital improvements in South Side neighborhoods.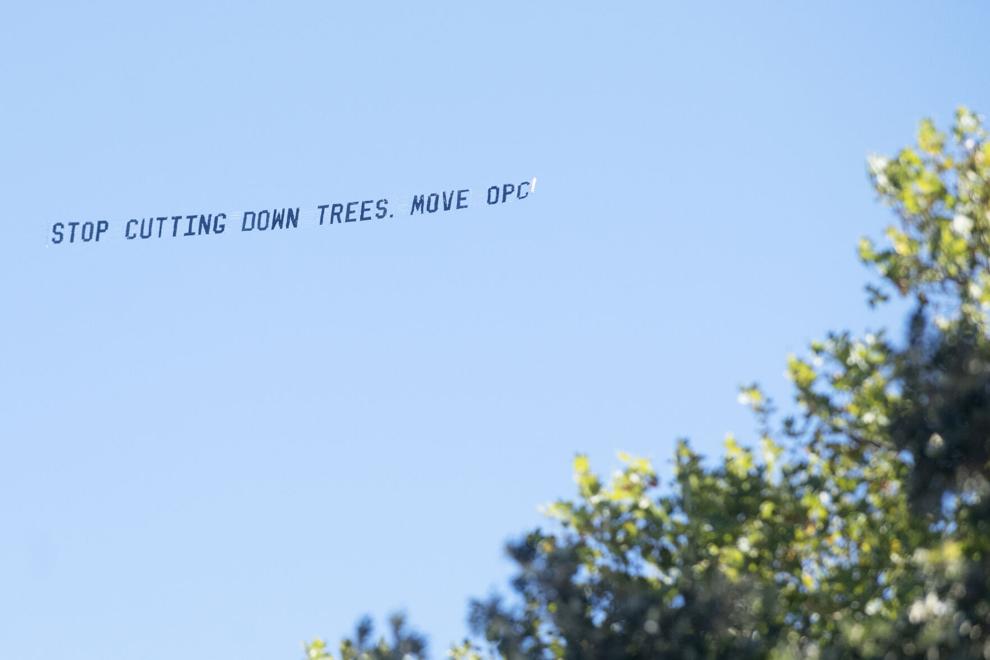 The Community Benefits Agreement Coalition did protest her administration before the ceremony, however, saying that there has not been a designation yet of which houses will be for affordable housing. The ordinance has an affordability requirement for the dozens of vacant, city-owned lots in the neighborhood which goes into effect next year.
Taylor, reached for comment, said, "Give my best to my community who's standing up and fighting for this, because if they weren't fighting for this, I don't know if I'd be in this alone, I don't know if other elected officials would be pushing for the jobs, and to make sure we had access to them."
(Taylor and Obama once spoke, in September 2017, about the need for a community benefits agreement regarding the OPC; the former president declined to support one, and Taylor ran for City Council two years later.)
Jasmine McEwen and Malique Jones, who are engaged, own a starter condominium in Woodlawn after renting in South Shore and came out to show support for the OPC along Stony Island Avenue during the groundbreaking.
"We feel like it's just a great addition to the community. We have been waiting for this, despite all the legal battles and everything," McEwen said. "We were super excited a month and a half ago when we drove by and saw them actually breaking ground. It's super exciting, and it's just going to be such a great addition to the South Side — all the jobs and all the opportunities."
Jones, a Bret Harte Elementary and Kenwood Academy graduate, said he is glad to see Woodlawn real estate investment appreciate as the OPC breaks ground, though he is sad that the site, and the park, will be a construction site until the center's projected 2025 opening date.
"I do have fond memories of this park right here; with Hyde Park being right here, a lot of patronage, a lot of family gatherings and things like that. So it's hard to see that leaving," he said. "The growth part and the aftermath: even though we've got to wait five years to see it again, it's worth the wait, and it's really exciting. I think it's an historic moment."
As the Jackson Park-adjacent neighborhoods grow, they would like to remain in the area.
There was also a literal sign of the bitter, settled controversy over the OPC's establishment in Jackson Park: an airplane circled the ceremony towing a banner reading "Stop cutting down trees. Move OPC."