Mayor Lori Lightfoot, Ald. Jeanette Taylor (20th) and the Community Benefits Agreement Coalition are supporting a compromise Woodlawn Housing Preservation Ordinance that modifies the mayor's draft legislation to accommodate more housing for lower-income households in the neighborhood.
The ordinance is a suite of programs designed to fulfill campaign promises made by the mayor, Taylor and Ald. Leslie Hairston (5th) to counter fears of gentrification and displacement ahead of the establishment of the Obama Presidential Center in Jackson Park.
The new draft ordinance shifts several of the housing programs in the original legislation to accommodate households with lower incomes. For instance, the compromise ordinance adds a stipulation that a quarter of city-owned vacant lots in Woodlawn will be used for developments where at least 30% of the housing units are set aside for households earning 50% of Area Median Income (AMI), about $25,000 for a family of four, or less.
For a household of two, 50% of AMI is $36,400 — in Woodlawn, about half of households earn less than $25,000, according to the Chicago Metropolitan Agency for Planning.
Similarly, Lightfoot's original ordinance required that a fifth of the housing units created through the Preservation of Existing Affordable Rentals (PEAR) program should be affordable up to 80% AMI — $58,250 for a household of two. In the compromise version, those units are now set aside for lower-income households: half for those making 50% or less of AMI, the other half for those at or below 30% of AMI.
On a press call, Housing Commissioner Marisa Novara said the affordability level set by the federal government is generally up to 60% of an area median income for a metropolitan area, which is often very high for low-income neighborhoods in Chicago itself.
"What we're trying to do here, and what members of the working group really pushed, is to specify that some of these units have got to reach to the lower income of people who are currently in Woodlawn now," she said. The proposal went into the ordinance because of fears that new home construction would only be affordable to high-income households without it.
The revisions reflect a point made by members of the CBA Coalition who have criticized Lightfoot's administration for touting the affordability provisions in the original ordinance while failing to deliver enough housing for those at the lowest end of the income distribution. But it also retains the general framework proposed by the Lightfoot administration, including $4.5 million of funding for new and expanded housing programs in the neighborhood.
Other changes include a shift to the homeowner grant repair program, which halves the amount of time — from 10 to five years — that a homeowner must have lived in their house before they can receive repair funds from the program. The new ordinance also lets owners receive up to $20,000 in assistance, instead of the $15,000 in the original legislation.
Department of Housing programs will include requirements designed to create jobs and economic opportunities for Woodlawn residents' and businesses' economic participation in the neighborhood.
The city is making $500,000 available from the Affordable Housing Opportunity Fund and other sources that may be used to construct, rehabilitate or preserve affordable housing in Woodlawn and other City Council-approved housing programs. This includes the continuation of the Renew Woodlawn Homeownership Program, which has facilitated the acquisition and redevelopment of at least 45 residential units and created over 30 new homeowners in the neighborhood.
The Community Investment Corporation and participating lenders facilitate the acquisition and rehabilitation of vacant residential properties in Woodlawn using $1.5 million from a new Woodlawn Loan Fund; the properties will be available for sale or rental as affordable housing by low-income households.
The City Lots for Working Families program, which allowed the sale of vacant, city-owned land to developers for $1 apiece for single-family homes and two-flats, will be modified in Woodlawn to allow the construction of condominiums and townhouses.
Grants of up to $30,000 in home repairs from the Chicago Community Land Trust's Affordable Homeownership and Housing Program will be available if homeowners agree to invoke long-term affordability covenants with the Land Trust. The $1 million Woodlawn Long-Term Homeowner Home Improvement Grant Program will provide forgivable home-repair loans of up to $20,000 to long-term, single-family homeowners of at least five years earning up to 120% of the area median income.
The city's PEAR program will provide $1.5 million to create a program in Woodlawn to refinance multi-family rental buildings in exchange for affordable rental covenants over a 30-year term for low- and moderate-income families.
The Daily Line first reported the news.
Officials, CBA Coalition respond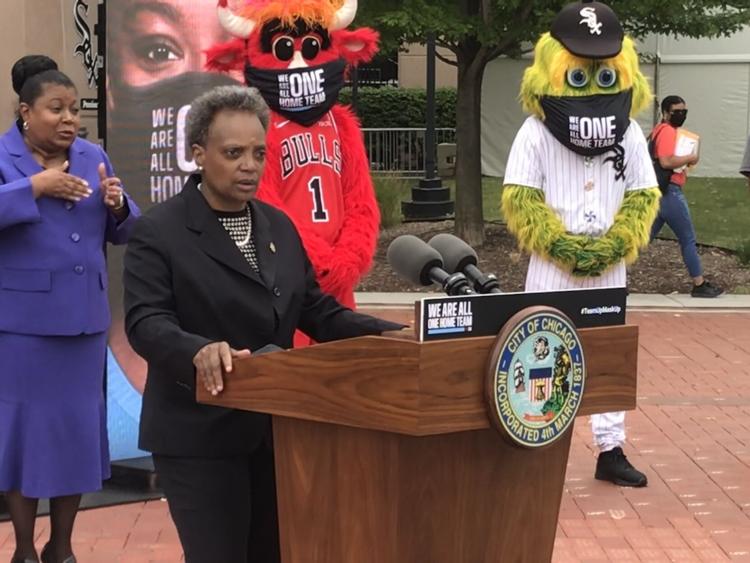 At an unrelated Tuesday press conference in Bridgeport, Lightfoot said the ordinance will be introduced to City Council on Thursday and hopes it will pass in September.
"We've been very engaged with the local aldermen, particularly Ald. Jeanette Taylor. We've had very productive conversations with her and members of her team," she said.
Taylor, in an interview, pledged support but said the ordinance still does not go far enough. She said she wants additional money for 20th Ward homeowners and additional protections for those with household incomes of $27,000 or under. She also wants a right of first offer for those who have had to leave the neighborhood but want to come back and a trust for neighborhood residents that area business-owners would pay into.
"People want to move into our community now that the OPC is coming — make no mistake, that's the only reason people want to move here," she said. "If you want to set up a business and make money, you should be able to put money in a trust so that it helps folks who currently live here
She said she would look at other anti-gentrification policies nationwide for future legislative endeavors.
"It's a step in the right direction, but it's not enough," she said. "I understood you don't want to walk away with nothing, but remember, I'm a community organizer. We want it all, and rightfully so when we see large projects come to our community.
"This isn't the first time this has happened. So it's definitely a step in the right direction. From the very beginning, we've had conversations on how we stop displacement. We just didn't agree on how we got to it, but we had some agreement. So we got more work to do. We have three more years of this."
"After five years of hard fought struggle, the Obama CBA Coalition and allies have won an agreement on the CBA Housing Ordinance," the coalition wrote in a statement, acknowledging that not all of its demands were met, like a "right to return" that would give recently displaced Woodlawn residents preference for newly built affordable units on city land, but that it would continue to push for them.
"As it stands, this ordinance has the potential to stop the displacement of thousands of low income and working class Black residents who live near the future Obama Presidential Center."
While the 5th Ward includes a small part of Woodlawn (as well as all of Jackson Park and the OPC site), the CBA ordinance Ald. Hairston initially introduced with Taylor last year included parts of Hyde Park and South Shore in its footprint. Hairston is co-sponsoring the revised Woodlawn Housing Protection Ordinance and said future work on housing policy could be done for the other two neighborhoods.
"We've got more multi-unit buildings in South Shore than we do in Woodlawn," she said, adding that South Shore activists and organizations want a tailor-made housing ordinance of their own. She said the Neighborhood Stabilization Program, for which the nonprofit Chicago Community Loan Fund is the city's lending partner, could be reformed to include condominiums and housing cooperatives.