City, county, state and federal departments are planning for Halloween and Election Day, both in Hyde Park and across the city.
In Hyde Park, which has seen widespread street fights break out every Halloween night since 2016, Alds. Sophia King (4th) and Leslie Hairston (5th) released a letter Friday noting that there are no activities planned on the 53rd Street business district, a consequence of the coronavirus pandemic, and that many residents have decided not to distribute candy.
The activist group GoodKids MadCity, however, announced on social media that it would put on a cop-watching event at 53rd Street and University Avenue starting at 6 p.m. 
The aldermen, along with the 2nd District and University of Chicago police, have strategized with the Hyde Park Chamber of Commerce, the South East Chicago Commission, block activation groups and Chicago Public Schools to maintain public safety.
In another letter, the Chamber of Commerce, the SECC, Downtown Hyde Park, the University of Chicago Commercial Real Estate Operations and other groups urged the Hyde Park business community not to pass out candy or sell eggs and to have additional staff and security on hand.
BuzzFeed News has confirmed that all 13,000 sworn officers of the Chicago Police Department (CPD) will be on duty on election night, Nov. 3, through the following morning. Effective today, CPD patrols are increased beyond regular deployments. The city has 60-300 garbage trucks that it will deploy to block off business districts in the case of civil unrest, akin to how they were used during the riots and looting this past summer.
"I want to stress that while CPD is focused on crime prevention, our officers will continue to ensure residents expressing First Amendment rights are protected and given the support they need to stay safe," Mayor Lori Lightfoot said at an Oct. 30 press conference. 
The Chicago Department of Emergency Operations and Communications (OEMC) has activated its Emergency Operations Center through Nov. 9.
"Our mission and the No. 1 goal is the safety and the wellbeing of the residents of Chicago," said OEMC Executive Director Rich Guidice. 
"We have refined plans to deploy public safety and infrastructure assets at pre-identified locations that include retail corridors, both in the central business district and throughout our neighborhoods in all 22 (police) districts," he continued. 
People can sign up for updates at notifychicago.org.
Mayor Lori Lightfoot said the city's efforts are oriented around election integrity and public safety, with the latter accounting for COVID-19 outbreaks, weather emergencies and "any protests arising from the possibility that the presidential election remains undecided on election night and contested for the following days."
Lightfoot said the plan has been in development since late summer, with "two citywide drills to ensure our strength and preparedness." 
The CPD and OEMC held two drills — one at 47th and Cottage Grove and another in Belmont Cragin — on Sept. 10. In a press conference following the drills, which were closed to the press. CPD Supt. David O. Brown told reporters that the drills were "tabletop exercises" in which the scenario was that police had information related to looting in one of the police districts, and officers wanted to test how quick and effective their response was.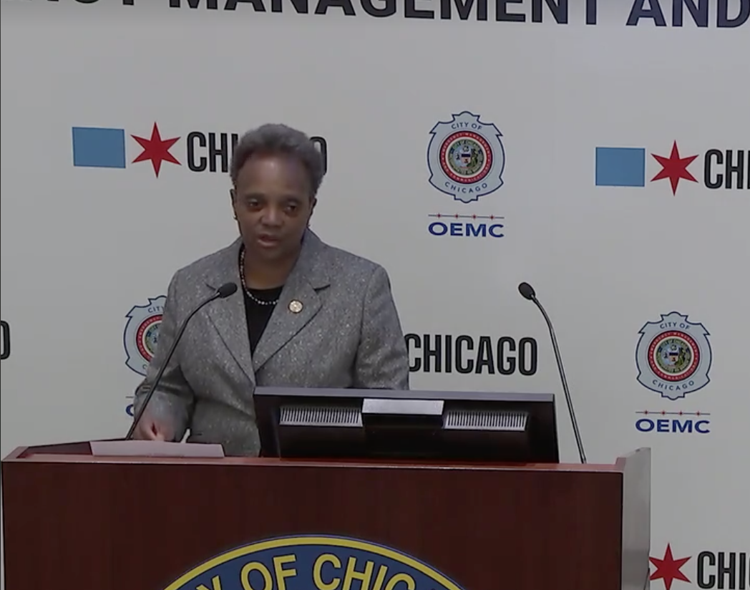 "We are laying out plans to prevent looting, vandalism and violence in our neighborhoods' commercial corridors," Brown said at the time. 
The CPD did not confirm or deny whether the September drills were the ones the mayor referenced today.
At the press conference today, Brown said "there are no incidents on the horizon based on our latest intelligence" but confirmed that all days off have been cancelled for Oct. 31 and that command staff has been meeting daily since Oct. 19 to prepare for the weekend and election week.
"Should demonstrations take place, our officers will be there to protect the First Amendment rights of protesters," he said. "People in general have very high anxiety as it relates to the upcoming election, and we understand that. We are focused on ensuring our own civil work to deescalate, to calm tensions, so that everyone is comfortable exercising their right to vote.
"We're also there to prevent lawlessness," he continued. "There will be zero tolerance for criminality during this time — or any time, for that matter — and officers will take action against anyone intent on spreading chaos."
Lightfoot noted that 270,000 more Chicagoans have cast ballots at this point this year compared with the 2016 general election — more than 650,000 have voted so far — and that the city expects record-breaking turnout.
The Chicago Department of Public Health has worked with the Elections Board to ensure that all polling locations have a COVID-19 prevention plan, with cleaning and disinfection protocols, traffic flow and social distancing guidelines and required face coverings for all employees. Lightfoot emphasized that voters must wear masks when they vote, too.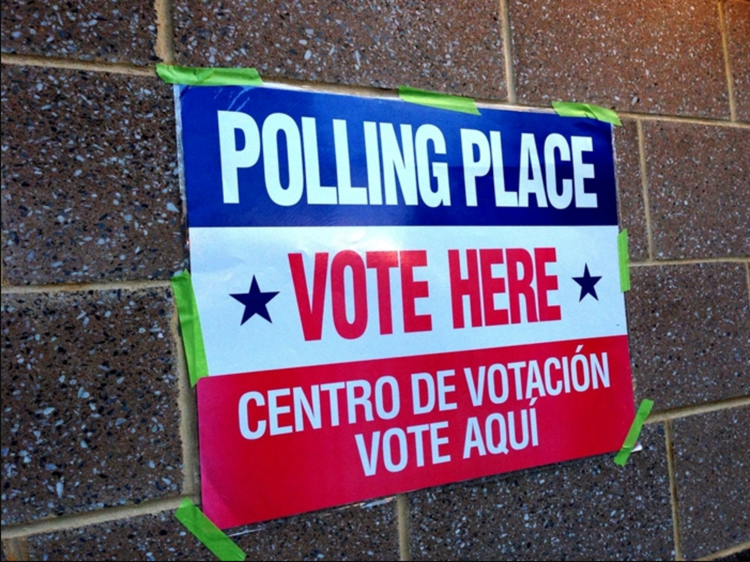 Early voting is open through Nov. 2, with information available at chicagoelections.gov, where a list of Election Day polling places is also listed. Mailed-out ballots must be turned into a drop-box by 7 p.m. on Nov. 3.
"No matter the outcomes of next Tuesday's elections, we all know that emotions will be high, because they already are," Lightfoot said. "I urge you to channel those emotions into peaceful and productive expressions."