A lawsuit alleges that the Chicago Police Department denied people arrested during the unrest sparked by the killing of George Floyd, including protesters arrested during the May 31 demonstration in Hyde Park, access to timely contact with attorneys and phone calls.
The University of Chicago Mandel Legal Clinic is backing the suit brought by the Cook County Public Defender and a group of activist organizations, including GoodKids MadCity and Southside Together Organizing for Power, key members of the Obama Presidential Center Community Benefits Agreement Coalition.
In an interview, Damon Williams, who was arrested during the May 31 protests in Hyde Park and released from the 2nd District police station, 5101 S. Wentworth Ave., early the next morning, described his experience.
Amika Tendaji with Black Lives Matter Chicago, one of the groups in the suit, witnessed the arrests and described what she saw.
"Documented by the thousands over the last 10 years or so, police violate basic human and constitutional rights," Williams said. "I, on a political and personal level, believe all detention is harmful. But even within the framework of the law, we see that illegal detention is pretty much the norm, the practice or commonplace.
"(The lawsuit) is taking them to court for breaking the rules. The steps that are in place to make the system follow its own guidelines should then be enforced, because then there's attention and public scrutiny to this common violation."
The suit recalls the CPD's alleged history of "black sites" such as Homan Square, a West Side warehouse that a 2015 Guardian exposé alleged functioned as an interrogation facility. According to the article, 3,540 arrested people, 82% of whom were Black, were held there from 2004 to 2015 with limited access to food, water or attorneys. The plaintiffs say CPD denying arrestees access to counsel and phone calls has gotten worse since the COVID-19 pandemic started.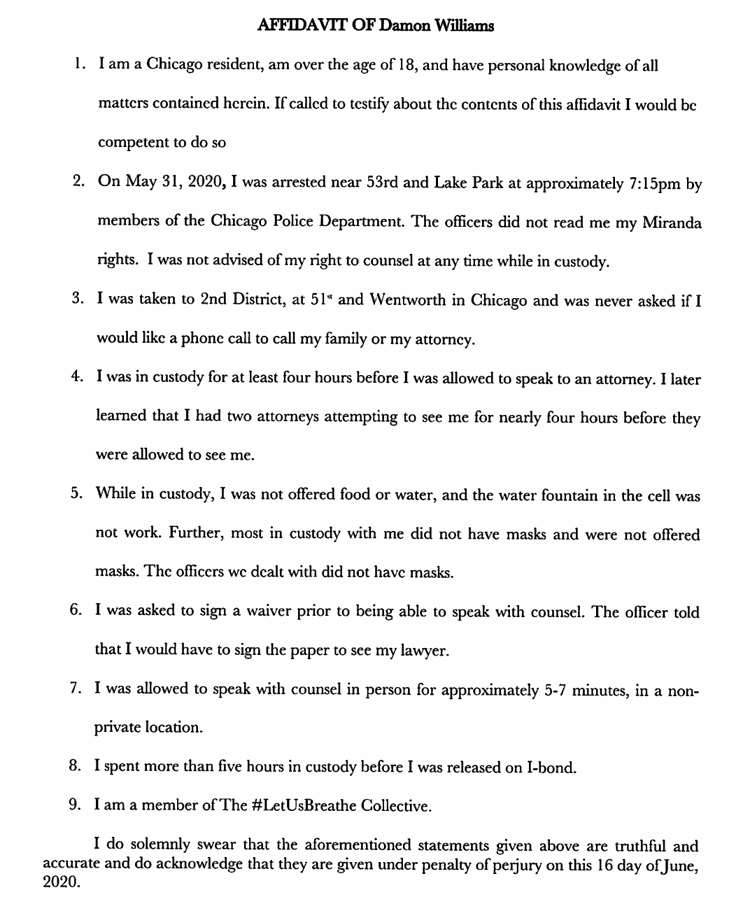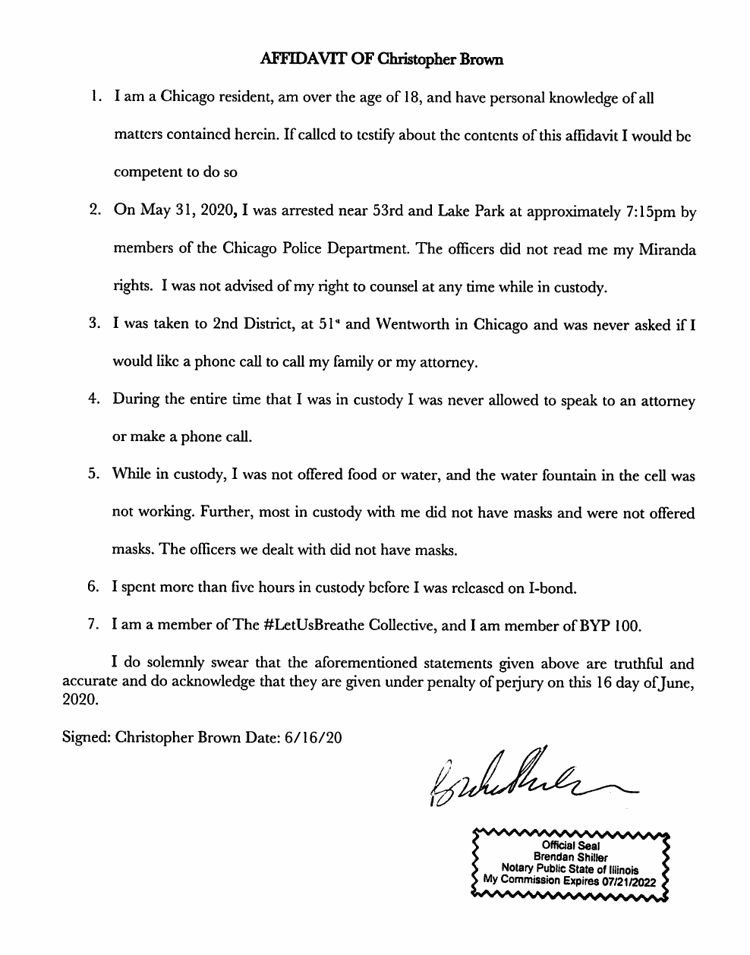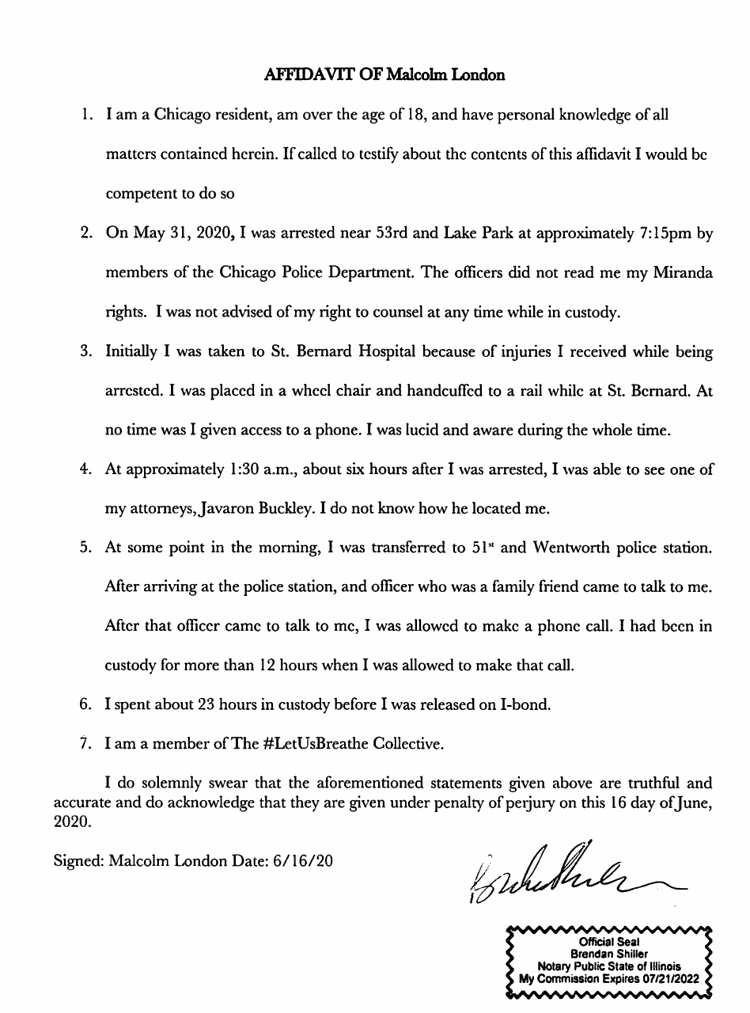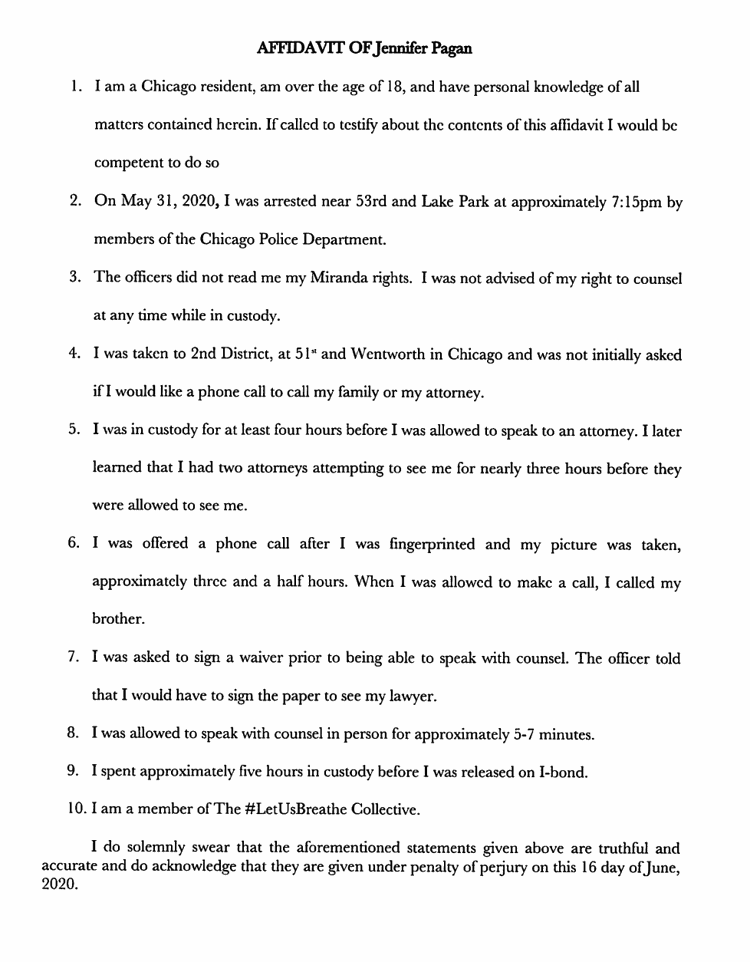 In the complaint, public defender Amy Campanelli said a survey of 1,468 people in bond court between April 16 and June 5 showed that 23% had never been offered phone access at any point while they were detained in a CPD police station and that 55% waited more than an hour before being offered one. The average wait time for those offered a call was 4.2 hours.
Furthermore, the complaint alleges that the CPD does not inform attorneys where their clients are being held in custody and does not allow them access to the stations where the arrestees are located.
"Denying phone access is a key CPD tactic to impede access to counsel," the complaint reads. "The result is that detainees are held incommunicado, without legal guidance or protection from police coercion."
In the complaint, Tendaji, Williams and other activists allege that the CPD often required those arrested during the Floyd protests and unrest to sign waivers to speak to an attorney, and that the attorney visits "were not private and did not allow for privileged consultation."
Attorneys swore in affidavits that 2nd District police only allowed them to speak to clients hours after they were in custody, hung up on or refused calls and forbade access to the station.
"If the police take someone, detain them and are holding them at the precinct, within about an hour that person is supposed to be able to call and access their lawyer or their family," Tendaji said. "If police are doing the practice they do all the time, which is telling family they can't tell them if they're in (a specific facility) and telling lawyers that they don't have this person in custody, then it's considered disappearing."
Reached for comment, CPD Sgt. Rocco Alioto said the department has a policy of not commenting on pending or current litigation. In an email, Chicago Department of Law spokeswoman Kathy Fieweger wrote that the city will "will vigorously defend against these allegations."
"We strongly disagree that the city and CPD maintain policies intended to prevent detainees from accessing legal representation," she wrote. "The complaint itself makes clear that the CPD continues to allow lawyers to consult with their clients. Plaintiffs' demand that they be allowed a specific, alternative method does not take into account appropriate security conditions and resource limitations.
Tendaji called the city's response to the lawsuit "very expected from an administration that's been dragging their heels about the consent decree, while, particularly, Lori Lightfoot (pats) herself on the back, saying that we're under a consent decree that's being honored, which is not really the case."
Tendaji was referring to the binding legal framework to reform the CPD after the murder of Laquan McDonald.
The consent decree's independent monitor recently found that the CPD has missed 70% of its deadlines. Mayor Lightfoot and Police Superintendent David O. Brown said in a June 18 statement that this "illustrates how the level of transformational change and reform that we are working towards cannot be achieved overnight."
"While we remain committed to fulfilling the requirements outlined in the consent decree, we have been clear that the consent decree is merely a baseline, not the ceiling, when it comes to police reform," the statement said. "Now, more than ever, we must double down on our efforts, which is why we announced a series of reform measures that will be prioritized over the next 90 days, including crisis intervention and procedural justice training, a new recruit program on police-community relations and additional reform measures.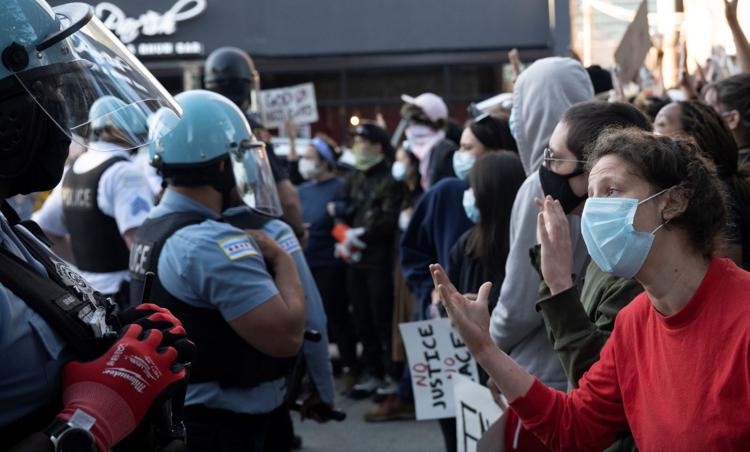 Police arrested Williams at what he and some other activists have taken to calling "The Battle of Hyde Park," the May 31 demonstration along 53rd Street that saw police beat and pepper-spray protesters.
Tendaji was there earlier than Williams. She said the events of the afternoon first escalated after a police officer called in an emergency when a group of protesters surrounded her squad car, making her feel unsafe. A line of officers then pushed the protesters around the car, as well as others that had been dispersing west, back into the intersection at 53rd and Hyde Park Boulevard.
"And there was this stand-off for a while, where the crowd is like, we're not moving toward the lake," she said. "The definite sense is that these are angry, humiliated police officers that then get angrier and angrier at protesters."
After a long, tense wait, police retreated. Tendaji walked with the rest of the crowd along 53rd Street toward Lake Park Avenue, where she saw some people breaking into Ulta Beauty, 5228 S. Lake Park Ave.
"Officers are snatching at the people, and we were trying to get (the people's) information — trying to find out their name, date of birth so that someone could find them," said Tendaji. "Just by our bodies being near these people, it helped folks to get away, and the officers were really angry.
"A very large Black officer began pushing my daughter and nephew with a baton, and so I got in the way of that. And then the officer was pushing and hitting me with the baton."
The next day, Tendaji said, she was "covered in bruises from batons."
Earlier in the day, Williams had stopped by a stretch of 47th Street in Bronzeville to observe what was going on there. He states that the police did little to stop property damage and theft in that area.
"I saw them stand on 47th Street and then stand next to the Villa while people were going in and out of it," he said. "It was kind of this cat-and-mouse game that was really casual."
In Hyde Park, however, police were much more protective of retail property.
"When I came to 53rd to support, knowing that the stand-off was happening, it was a much more aggressive, military formation. My perception is that was the general command — this is the space they were protecting," he said, noting also the University of Chicago Police Department presence. "(Hyde Park) is the North Side or downtown of the South Side, and so the fact that there are two police forces there speaks to that."
Tendaji recalled seeing a Black policeman covered in blood during the protest.
"It's got to be the blood of my friends," she remembered thinking. "He said that he was trying to cover my friends and not hurt them, that he's not one of the bad officers and that he would do anything to protect me. He said, 'I love you, sister. I love you.'"
She told him that he would push her with a baton in a few moments.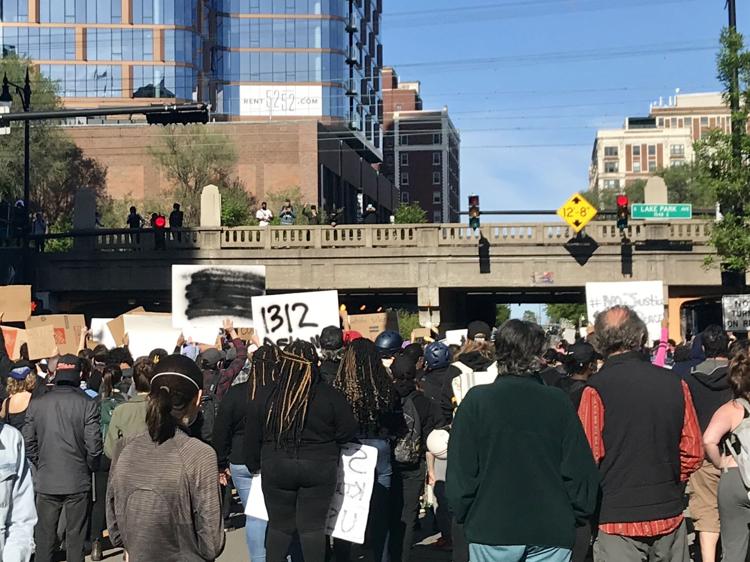 "Your comrades just covered you in my sisters' and my brothers' blood," she told him. "And you're not going to go to the station and file a complaint. You're not going to file a complaint and demand that this be investigated and that those officers be fired. So it doesn't really matter."
When Williams arrived and saw police pushing Tendaji and other activists, including his partner, Jennifer Pagán — who also was arrested, detained and submitted an affidavit for the lawsuit — he attempted to intervene.
"I began to try to put my body in the way of the force that I was seeing, trying to get people away from the situation, trying to get them to stop pushing folks," he said. "When they'd swing and hit, I tried to stop them from thrusting, and so I'd hold on to their baton as they're hitting me. At that first moment, an officer took his leg behind my leg, tripped me and slammed me to the ground."
While on the ground, Williams recounted, he pulled his partner down along with him to protect her.
"An officer with two hands on top (of his baton) like a plunger began jabbing to the side of my body," he said. "After I got up, I was angry, cursed at him, said some 'f-ck you' or something. And he was ecstatic. … I can't remember the quote (he said), but it was something like, 'You can get some more of that.' "
Williams was then detained and taken to the 2nd District police station, next to the Dan Ryan Expressway.
He said the police knocked his face mask off when he was arrested; in the heat of his time in custody, he said the pandemic was not on his mind.
"It wasn't until my lawyer came and said, 'Does he have a mask?' that I even thought about being offered one," Williams said.
The supervisor — whom Williams said was not wearing a mask herself, like other officers — offered one to him and other arrestees after that, he said.
Williams was himself not placed in a position where he could not avoid social distancing in the station, though he said others were. He said the officers took hours to fill out forms about his arrest.
"It felt like little boys in a locker room," he said, "as they were trying to rifle through paper and listen to what's going on on the radio. But they're really just shooting the sh-t like it was a barbershop, talking about what's going on and trying to guilt me, saying, 'What are you going to do when people come break into your house?' "
He described two patterns of behavior in particular among African American police officers: vulgarity from two policemen, who told arrested teenagers that they would "f-ck their mother for $40" or threatening them with beatings; and political debate from six to a dozen officers about the validity of policing, how terrible and violent the community is, how people make bad decisions there and "the ridiculousness of protesting police violence when we should be protesting when somebody else gets shot."
He recalled the reform proposals calling for Black police officers patrolling Black neighborhoods, but he said policing in and of itself is violent and abusive.
"We've seen militarism wherever it is in the world: there are internal ethnic contexts where people with military power abuse people, because that's what it is designed for," he said. "There were Black slave-catchers, and there have always been Black people who have participated in anti-Black operations.
"(Black officers) really think that they are superior people in the community who've made better choices and that they are the upkeepers of the good," Williams continued. "That's what they were trying to get me to understand, and that (activists) are naive and really don't understand what's going on in the streets."
Williams readily admitted to never having asked to talk to an attorney or make a phone call during his detainment.
"I am probably in the (99th) percentile of the population that has knowledge about this practice and about statistics," he said. "I did an occupation called Freedom Square that was about illegal detention in Homan Square and knew all the numbers, but the intensity of the moment and the feeling of being charged, then being bombarded with debate and ridiculous jargon, I was not in the thought of that."
He has been charged with disorderly conduct with a July 8 court date; he expects the charges to be dropped. He and Tendaji declined to say whether they would file misconduct charges against the police.
On June 30, Cook County State's Attorney Kimberly Foxx released a policy to not prosecute individuals charged with minor offenses related to peaceful protests, including disorderly conduct.
"Over the past month we have seen righteous anger, collective grief, action, and demands for justice," Foxx said in a statement. "I'm encouraged by the efforts of those who are standing against years of racial injustice to resoundingly state that 'Black Lives Matter'. We have the right to peacefully protest for change, but those choosing to exploit this moment, by causing harm and damage, will be held accountable."
After the arrests, Tendaji and other activists led protesters to the 2nd District station, where they got confirmation that Williams and others arrested at 53rd Street were being held. They were released at 1:25 a.m.
The City Council has not passed law-enforcement reforms in the immediate wake of the protests; a call from local state Reps. Curtis J. Tarver II (D-25th) and Kambium Buckner (D-26th) for the General Assembly to hold a special session on the issue has gone nowhere. But Williams said his hope and optimism comes from moving people, not achieving reforms in the state or local governments.
"The fact that the Chicago City Council is doing what the Chicago City Council has done for the past 100 years does not surprise me, and it's not something to really quiver about," he said. "For me, it's about making these systems (policing) obsolete and making this violence and abuse unacceptable. In doing that, the legislation will fall through as they will."
Tendaji said activism and mobilization will continue in a protracted struggle. He said activists will "certainly double-down on electing new people, and we know this is a protracted struggle."
But the 2014 unrest in Ferguson, Missouri, "taught us our lives actually depend on this," she said. "The kind of targeting that happens when you don't win means that we are at risk of being killed. We are going to give them hell and fight like hell for our very lives."