University of Chicago Laboratory Schools students' memorial in honor of Breonna Taylor — whose death in Louisville, Kentucky at the hands of the police touched off protests this summer — has been defaced again, just weeks after the tribute was initially vandalized.
"There's a lot that's still there, but they definitely took down a bit," said Lab kindergarten teacher Tracy Aiden on Saturday. "I found some stuff kind of balled up, and I was able to salvage a little bit of it and bring it back with me."
Last month, Aiden helped her class memorialize Taylor on the plinth of Czechoslovak statesman Thomas Garrigue Masaryk's statue, 1130 Midway Plaisance, after a Kentucky grand jury charged only one officer with a minor felony.
Aiden, who lives in Hyde Park, said there is no doubt the damage was deliberate. Late last month, someone tore down signs, spray-painted over others and posted a sign supporting President Donald Trump.
Now, she estimates that a quarter of the new monument, which the Lab community came together to create after the initial vandalism, is damaged. She will email parents to let them know what has happened tonight and plans to take her class to see the new vandalism next week.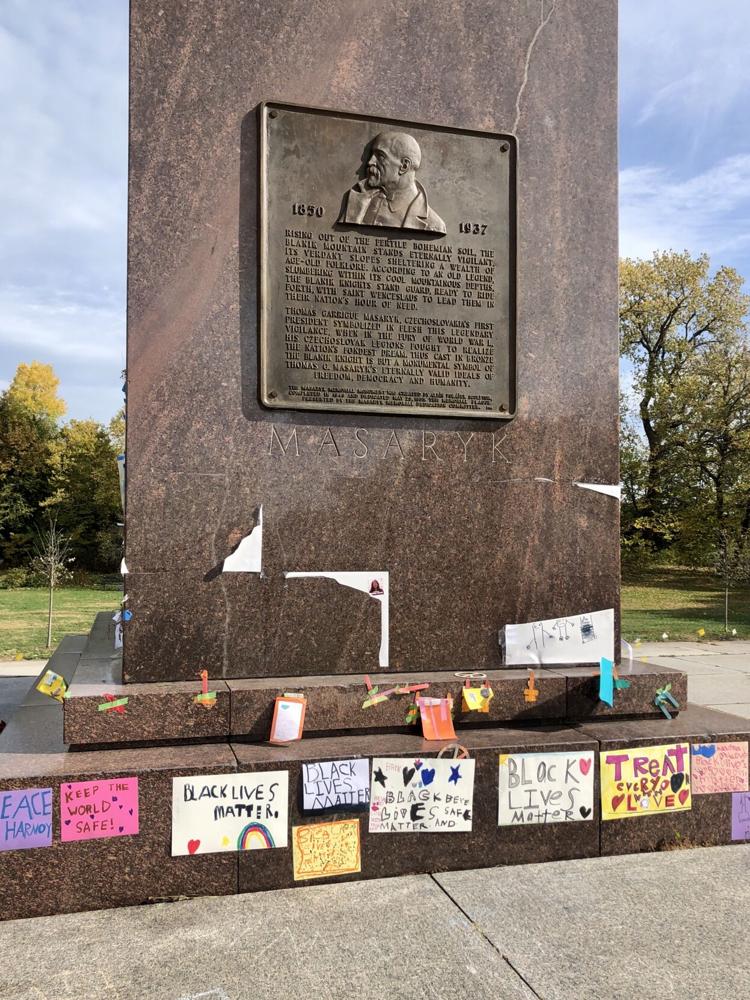 "There's a piece of me that just wants to give up a little bit. I just hate to have to keep disappointing the kids," she said. "But I also feel like this is an important life lesson: Sometimes people want to silence you, and sometimes people don't agree with you. But if you think what you're doing is important, then you should keep doing it."
Matthew Young took his Lab School kindergartener to the memorial Saturday morning and saw three mothers of middle school students in the Black Students' Association repairing the damage.
"My son brought us over there today to show us a poster that his class had put up, and when we got there, we saw that it had been torn down," he said. "My son went to go show us where the poster was, but it wasn't there anymore.
"He just said that he was sad that it was gone, it was a poster his whole class had contributed to," Young continued. "He showed us where it had been, and he just talked about how his class would like to put it back. And, you know, I think for a five-year-old, he kind of understands a little bit about why somebody might vandalize this and understands that they would want to recreate it.
"I think it's disappointing, and I would hope that the university would do something about not allowing this to continue. … I just hope when the kids recreate this, it can stay up this time."
Aiden said she was not surprised when the memorial was vandalized the first time.
"This is an example of how Black people are silenced every day," she emailed the Lab community, "erasing our voices, damaging our bodies and killing our spirits."
For as much as Hyde Park is an integrated community and in the heart of the South Side of Chicago, she said she is still not surprised that it happened again.
"You have to think about the climate that our world is in now," she said. "We're in the midst of election season. We're so embroiled in so many things. So many things are coming to light with the pandemic, politically, that it doesn't surprise me.
"I also don't feel disappointed, because as a Black woman, these are the kinds of things that I've had to deal with forever: knowing that people don't agree with me because of the color of my skin or don't value what I have to say because of what I look like. I get it. I get how people think like that."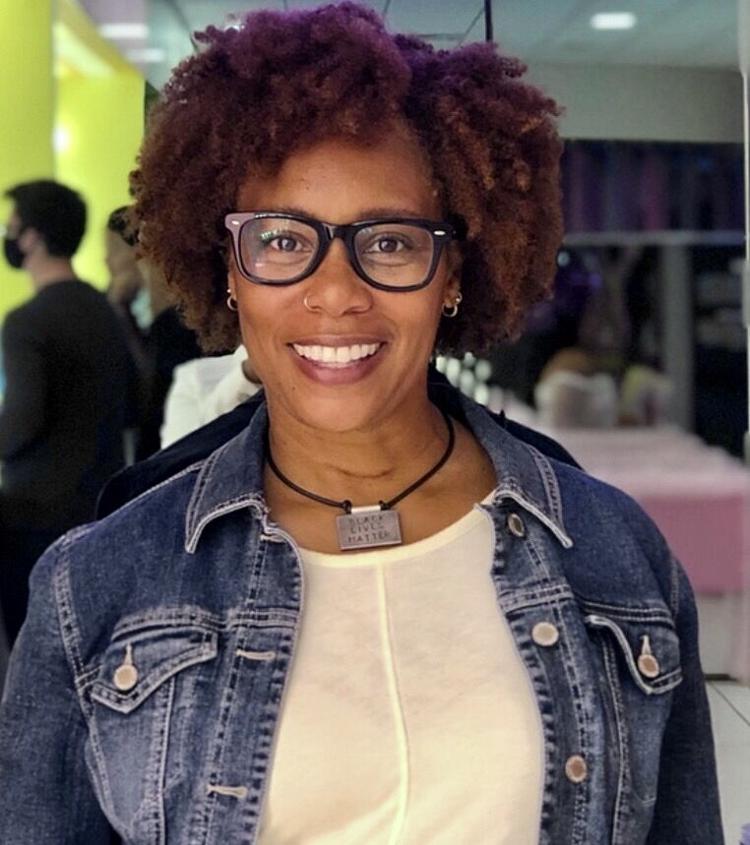 What angers her the most is that although the perpetrators feel like they are targeting "someone else or someone's racial identity, they're really targeting the kids."
Paper posters outside, even when not subject to racist vandalism, are not the most long-lasting of memorials. Aiden said people have reached out to suggest that she move the memorial elsewhere, and she wants the children to have something they can be proud of and cherish.
"I also think it's kind of sad that we have to go kind of into hiding," she said. "It almost feels like we're retreating, but I really can't make it a personal battle. It's not about me, it's about what the kids want to do, so I will listen to them.
"I just think it's just cowardly for someone to project their hate and racism on little children. It's clear that it's kids' work."