On Christmas Eve, some 57 people without homes, or simply short of money, gathered for dinner at Kenwood United Church of Christ. A half-dozen volunteers staffed the soup kitchen, serving from 9 a.m. to 1 p.m. as they always do, four days a week. Visitors could grab a hot shower in newly renovated facilities created just for them. (The same volunteers laundered the towels as part of daily cleanup.)  
A case manager and a podiatrist were there too, and a general-practice physician was available by appointment the next day.  
Gifts were distributed: hygiene kits, underwear and socks, cold-weather gear. You could eat ham and turkey with all the trimmings, and take home a second meal for the weekend.  
It's all part of a routine that has continued for almost 40 years at the Kenwood church, 4600 South Greenwood Avenue, uninterrupted even by the pandemic. The "Feed the People" program and the various other services are provided free to all who come, with help from other local churches and many individual cash donors. Hot meals are served from 9 a.m. to 1 p.m. on Mondays, Tuesdays, Thursdays and Fridays.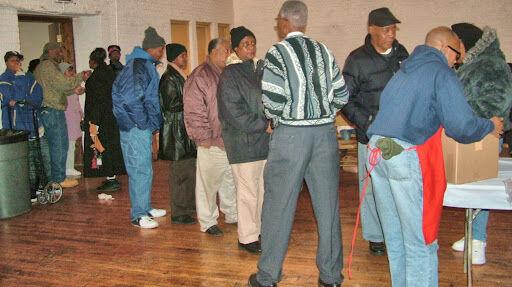 "Friday has always been our biggest day," proclaimed the Rev. Leroy Sanders with both pride and joy in his voice. "That's because it's fried chicken day. Word gets around fast among the homeless, and we're known for our fried chicken." 
Pastor emeritus of the church, Sanders has run the food programs since 1983, as well as a free medical clinic that was established on church premises in 2001. The case manager is paid by the Hyde Park & Kenwood Interfaith Council, which also supplies 85% of the cash support for the church's charities.   
During the pandemic, the number served has dropped by half. It's hard to say exactly why, as each client contends with different circumstances. Some may have died of Covid. But it's evident that, since the pandemic began, homeless people have been displaced and shuffled around more than ever. And this often leaves them with hard choices: A secure bed for the night, or a day's work on a loading dock? A secure bed, or a trip to Kenwood UCC for food and other crucial services? 
Sanders says curfews at shelters were tightened in response to the pandemic, limiting clients' ability to come and go without losing their bed. Likewise, a client encamped in a tent or abandoned building could go out to work or eat and return to find his belongings gone. The city has swept people out of encampments around town, and efforts to resettle them aren't always followed through. Sanders says some clients have relocated to the North Side, though most still come from within a two-mile radius.    
"If the weather isn't too bad, they don't mind walking two miles to get warm, have a meal or two, change clothes and have a shower," said Sanders, adding that, in contrast to many soup kitchens, his clients don't have to wait outside in the cold.
Pandemic precautions have placed some limits on serving capacity, but the church has always stayed ahead of demand. They required some volunteers who were immunocompromised to stay home for their own safety. They adopted strict health protocols — masks, distancing, surface disinfection, screenings for staff. But they've never turned anyone away who was looking for help.  
"It may be surprising that not all of the visitors to the soup kitchen are homeless," Sanders said. "Many are what you'd call the working poor. They'll come by on their lunch hour to eat, or take food home to their children."
For those who can get there, the church facilities are more inviting than ever, with a $50,000 renovation of the washrooms and showers essentially completed. There are now separate facilities for men and women, new flooring, and new lights, toilets and face bowls.
Currently the church is serving about 25 at breakfast and 30 to 35 at lunch. People picked up more than 300 take-away "baskets" for Thanksgiving. 
The church also provides space for another food project run by the Kenwood-Oakland Community Organization, which assembles some 125 food baskets weekly and has volunteers deliver them to seniors.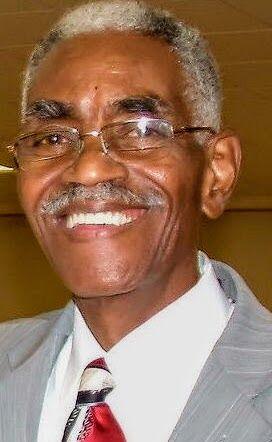 The case manager is on the scene while the soup kitchen is serving on Tuesdays and Fridays. "She's always in conversation with someone," said Sanders. She helps people find housing, jobs, benefits and medical care. She refers them to other useful social services. She helps them get ID cards from the state, even without a home address. Often the church takes mail for them. 
Doctors are being sought to volunteer at the clinic, which lost its medical director 18 months ago when David Stewart moved away. He co-founded the clinic in 2001 with Sanders and nurse Yoruba Siddiq. In 2006 it was renamed the Norma Jean Sanders Free Clinic, after Sanders' late wife.  
A clergyman as well as a physician, Dr. Stewart "was also the spiritual leader" at the clinic, according to Sanders. "We called it holistic health care." 
Currently there is a doctor available only by appointment on Saturdays. Sanders says that arrangement isn't optimal for the homeless crowd. "I'd like to get it back to Fridays," he said, without the appointments.
"Sometimes retired doctors want to give back," said Sanders hopefully. The church collaborates with statewide and nationwide networks to obtain medicine and supplies.  
In its first 12 years of operation, the clinic recorded more than 10,000 visits, many from patients who would otherwise have to resort to emergency rooms. Initially they were all part of the group who came to eat.  But now there are visitors even from the suburbs, most without ties to the church or the soup kitchen.
The facilities are on an upper floor of the church building. Sanders would like to hire a nurse practitioner to come twice a week, and has been trying to obtain grant money for that purpose. 
The whole operation relies heavily on the Interfaith Council and associated congregations, as well as the University of Chicago. Among the mainstays are Rockefeller Chapel, KAM Isaiah Israel, Hyde Park Union Church, the Church of St. Paul and the Redeemer, and the United Church of Hyde Park.  From these institutions come funds, volunteer help, food, and in-kind donations such as clothing and personal-hygiene items.  
"Many of our parishioners earmark donations," said Sanders, "and we're known in the community. People will ask, 'What do you need?' Even sometimes the homeless, when they get a job, they'll come by and drop a donation off." 
Cash donations can be made online through the church website or the website of the Interfaith Council. (There is a field on each website where you can leave a note to earmark your gift.) Personal checks can be dropped off or mailed to the church, Kenwood UCC at 4608 S. Greenwood Ave.