Jackson Park will play host to the inaugural Chicago Disc Golf Exposition for a week in August, including the first disc golf tournament to take place in the city. 
The expo, which runs from Aug. 9 to 15, was organized by Disc Golf Chicago with help from Hyde Park Disc Golf, a local group that has been working to make the sport more visible and accessible in the neighborhood over the past year. (Disc golf is played like regular golf, with discs and baskets replacing balls and holes.) 
"They wanted to put on this week-long festival, and we had some pretty good experience with organizing events," said Disc Golf Chicago founder Alex Seminary. "We were like, 'Alright, we'll help,' and you guys keep engaging people on the grassroots level." 
A temporary nine-hole course is being set up in Jackson Park in an open green space just south of the lagoon and near the inner harbor. (Hyde Park Disc Golf held a workday earlier this month to clear weeds from the space.) The course will be open to the public during the week of the exposition, and will also host clinics, mini-games, skills challenges and other events, including a women's night with Birdie Babes, an Illinois women's disc golf club. 
For South Side Glide, the all-day tournament on Saturday, Aug. 14, the course will be expanded to 18 holes. Most of the holes are par-threes, with a length between 200 and 350 feet; Seminary emphasized the design is intended to be fun for both beginners and experienced players. (For anyone interested in playing, it's unfortunately too late: all 72 competing slots were filled within 10 minutes of registration opening.) 
"We basically looked at, how far can we make it without it being excessive? And then we want obstacles in the way. If you're just throwing in an open field to a basket there's not much skill in that," he said.
Some holes are set up so that golfers will have to avoid trees, while others have "mandos" — mandatory obstacles, like a soccer goal that players will need to go through instead of around. 
"I wanted to have some holes where you'd have the Statue of the Republic right behind where you're teeing off, so playing this hole will make it very clear you're playing disc golf in Chicago," Seminary added.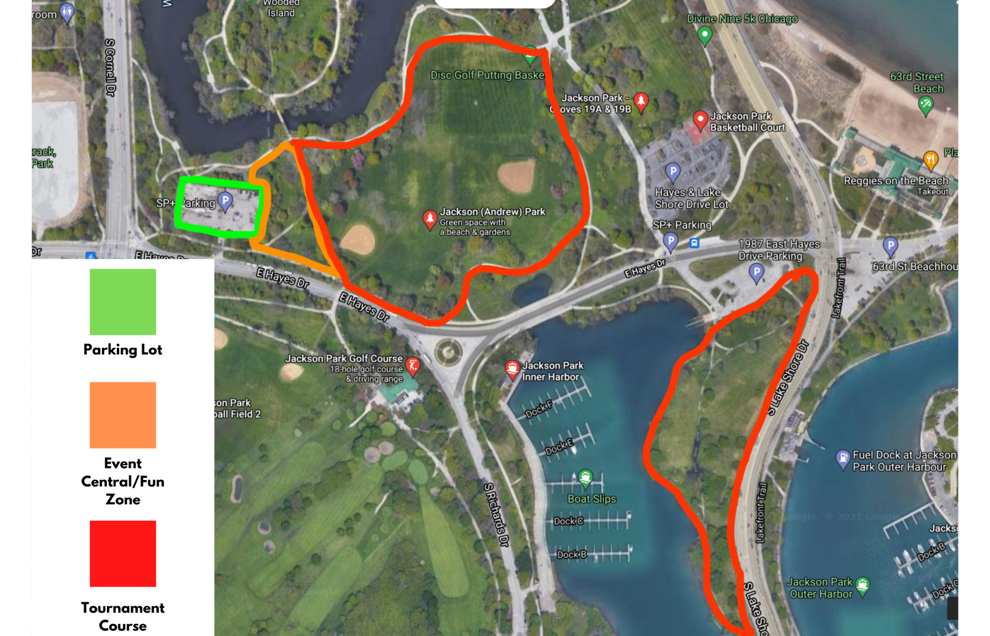 The opening ceremony on Monday, Aug. 9, will feature an appearance from five-time disc golf world champion Paul McBeth, the sport's biggest star, who signed a $10 million endorsement deal last summer. McBeth recently announced that his foundation is partnering with Disc Golf Chicago and Hyde Park Disc Golf to try to build a permanent disc golf course in Chicago. (There's currently only one in the city, a small nine-hole course at the Illinois Institute of Technology.) 
Seminary, who started Disc Golf Chicago in 2015, sees the expo as a way to continue growing the sport, which has only increased in popularity since the start of the COVID-19 pandemic. He pointed to the example of his friend Sean Callahan, who runs the Dellwood Disc Golf shop in the southwest suburb of Lockport. 
"At the start of the pandemic, he thought he was going to lose his business, and it ended up being his most profitable year by far," Seminary said. "There were so many families getting out and trying the sport — it just drove an explosion. If you want to order custom discs, you can barely get them right now, because around the world manufacturers cannot keep up with demand. Even getting baskets for this tournament was hard." 
The sport received another boost at the beginning of July, when James Conrad sank a 247-foot shot to force a playoff against McBeth at the Disc Golf World Championships. Conrad won, and his shot made it to number one on SportsCenter's Top Ten. 
"It strapped rocket boosters to everything," said Seminary. "It feels like the stars are aligning for disc golf to start coming to major metro areas. We've been positioned here for the last six years and it feels like the rest of the world is catching up with us." 
For now, though, Seminary, Disc Golf Chicago and Hyde Park Disc Golf are focused on the expo.
"I really want the focus to be on how good this is going to be for the community, just giving people a low-cost thing to do that gets them outside and active," he said. "It's so much bigger than I can put into words. It's really cool to be a part of it, and I'm grateful to Hyde Park Disc Golf for putting everything in motion."