Gates have gone up at the north and south bridges to Wooded Island in Jackson Park to keep the area safe from "criminal activity," the Chicago Park District says, and the island will be closed from dusk to dawn.
Per the district's website, the nature area's hours were already dawn to dusk. 
"The Wooded Island remains open and accessible to the public during regular park hours," district spokeswoman Irene Tostado said via email. "The gates are being installed in response to the community's request for the Park District to assist in deterring after-hours activity on the island."
Jackson Park Advisory Council President Louise McCurry has advocated for limiting after-hours access to the island. In an interview, she recalled her organization's work to rectify damage inflicted to the Garden of the Phoenix and "Sky Landing," Yoko Ono's sculpture, only to see plants pulled up, stones, turtles and koi fish stolen, motorcycles driven through the island and garbage cans burned.
The Japanese gardens are part of the legacy of the park's hosting of the 1893 World's Columbian Exposition world's fair.
"People have simply been there, doing damage, and it's a place that once it's destroyed — these are artifacts from history. You can't bring it back again," McCurry said. "Park District security has been requesting that we have some way to close it off at night because they only have a full-time person, literally, there's only one full-time person at night."
"​​Park security asked us a long time ago, 'Can we please get some way to close it off so that they're not running around trying to catch people after taking their bikes and riding motorcycles into the island?' It was just impossible. And it scares the birds," she said.
In comments to Block Club, Ald. Leslie Hairston (5th) also voiced support for the gates, citing crime and safety issues including the koi thefts, vandalism and "open, blatant sexual acts."
Both women denied any links between the construction of the gates and the construction of the Obama Presidential Center in the parks. An Obama Foundation spokeswoman told Block Club that the organization was not consulted about the plans, does not believe that limiting access to the island is necessary to securing the OPC site is not doing anything to restrict access or use of the park other than securing the OPC site.
Controversy accompanies installation
The new gates have proven contentious. Twitter users complained about the limitation of park access in response to the district's announcement, particularly in the beauty of night or after people leave work.
Matt Maxson, a student at the University of Chicago Law School who was also an undergraduate at the school, said on Aug. 27 that the Wooded Island is probably his "favorite place in the entire world," and he is quite upset to see access limited to it.
"I was in Chicago during the pandemic, 100% by myself. All my roommates went home," he said. "I would come here every day, and that helped a lot with my pandemic experience, made me feel a lot less lonely."
He often stays after dusk. Watching the sun set in the Garden of the Phoenix is one of his favorite things to do. "The gates restricting access to that or to coming here at nighttime, which is frankly very enjoyable and peaceful, is really frustrating," he said. "This is supposed to be a public space, and now it's not 12 hours a day."
The Park District announced plans to put up the gates the evening before the first gate, on the southern bridge, went up. Tostado did not reply to a question about what after-hours activity the district is seeking to curtail.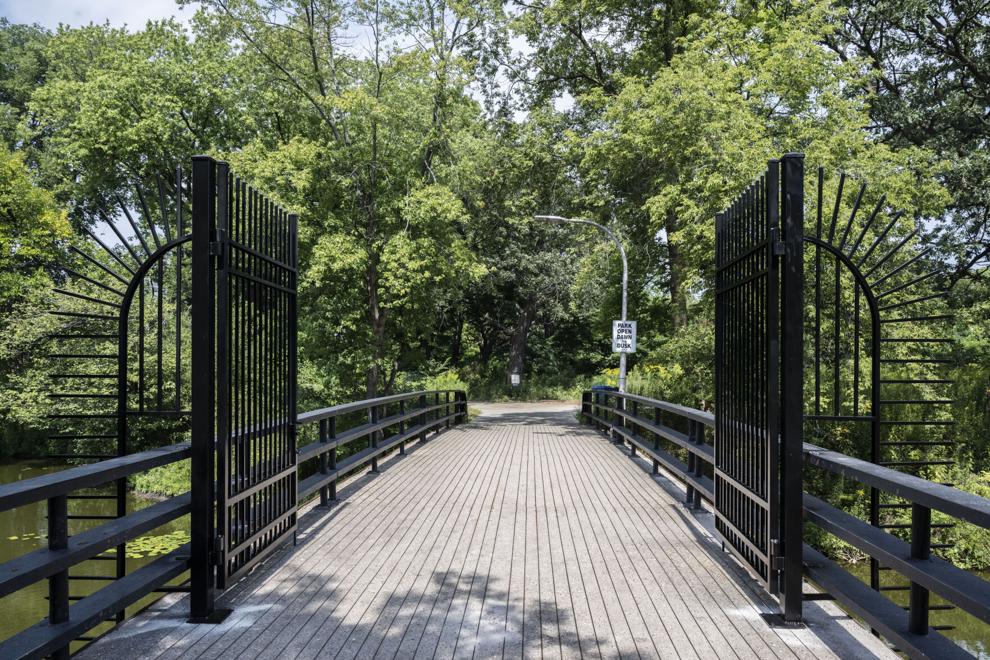 Wooded Island is popular with park users, bird watchers and men seeking casual sexual encounters with other men. Another Park District property on the North Side popular among the latter two groups, Montrose Point Bird Sanctuary, has no barriers to prevent access to it, though its hours are also dawn to dusk. 
Cruising for sex has substantially declined in popularity in recent decades as queer people have increasingly taken to internet-based apps to pursue anonymous and casual sex. It is today a more niche activity for those with a sexual proclivity for it (public indecency is a Class A misdemeanor in Illinois) and those who are unable to use hookup apps.
Wooded Island has been a popular cruising ground for decades; today, it is overwhelmingly frequented by Black men. Gay Hyde Parker and birdwatcher George Rumsey said the Illinois Birding Network warned in 1980 against going into the island's bushes. He joked that the two groups look out for one another.
"There was no threat, nobody was upset by anything or whatever, it was just 'a different kind of company,'" he said. He has not heard of any unpleasant problems or encounters. Dalliances are discreet, he said: "It's not like this is out in the open, and a show is being put on. It's just a very minor part of being in an urban park."
Two gay Black men in their 40s and 50s walking on Wooded Island on Aug. 26 who asked for anonymity — neither one was cruising — were not surprised to see the gates go up.
"The area itself is changing," one said. "It doesn't surprise me to see that the Park District is making changes to 'clean it up.' That's terrible to say, but it doesn't surprise me, wrong or right. It is what it is to me. … It is unfortunate that some people won't be able to get their rocks off! Quote me on that."
"There are people who do this for a number of reasons," the other man observed. "Some people do it because it's an outlet, and one of the only outlets that they have. I feel bad for those people. There are some people, especially the older guys, who don't get the play on the apps and all of that, and this has been a sort of easier way to get those needs met.
"My opinion about that is that I don't think it's just for someone to police how somebody else finds sex or gets their desires met," he said, adding that authorities cannot comprehend the experiences that many men who come to seek out encounters on the island have had.
Queer people have been pursuing clandestine casual sex for for centuries before the internet and the 1969 Stonewall riots. "People find a way," the man said. "That's how we survive. For me, it just feels like, 'Why do you need to police people's bodies?'"
While emphasizing that he does not promote public sex in Jackson Park, Rumsey questioned whether cruising there is an issue if participants are consenting and not harming anyone.
"Frankly, if the gay sex has anything to do with why they're putting up the fences, it's just ridiculous," he said. "I can understand motorcycles and all-terrain vehicles and damage to the Japanese garden and the Yoko Ono sculpture and stuff. If they feel the need to address it is with gates, they can try it. I don't think that will work, ultimately. This is Chicago."
Herald editor Christian Belanger contributed.