In the late-morning hours on Saturday, a group does yoga on the south side of the Nichols Park fountain.
A bright red Jeep Wrangler drives west on 55th Street blaring its horn, as a group of families and children spread out on colorful blankets clap in approval.
A little red-headed girl runs around passing out cards titled "Justice for Adam Toledo." 
On a weekend that saw thousands march in Logan Square and Little Village, Hyde Parkers held their own protest to protest the death of 13-year-old Adam Toledo, who was shot and killed by Chicago police officer Eric Stillman on March 29; the city released video footage of his death last Thursday, April 15. 
About 80 people showed up to the grass just south of the Hyde Park Neighborhood Club before 11 a.m. on Saturday. The event was organized by Laura Staley and Sam Ozik through the Hyde Park Parent Support Network, Hyde Park Help and Families for Antiracism at the University of Chicago Laboratory Schools. 
Cardboard cutout signs in black Sharpie referenced other police killings: "Daunte Wright, 20 years old in 2021"; "Laquan McDonald, 17 years in 2014"; "Cedric Chatman, 17 years  in 2013"; "Michael Westly, 15 years old in 2013."
One sign in kid's handwriting: "Dear Mayor Lori Lightfoot, Please no more shootings."
Another says "Don't hurt kids," scribbled with a Crayola marker, a colorful swing set drawn beside it.
"That's why I'm here," said 12-year-old Joseph Cavicchia, a student at Ray Elementary School. "Adam was close in age to me."
"I haven't watched the video myself," said Joseph's mother, Marilyn Cavicchia. 
"He has," she said, pointing to Joseph. "He told me after the fact he watched the video."
"Don't watch it," Joseph said to his mom.
"It's pretty clear he tossed the gun and put his hands up," Marilyn said. "It's really shocking and horrible that they shot him anyway." 
"You just wonder why, is it implicit bias? You know, they say it's a rush of adrenaline but if you're a police officer, you should be able to overcome that and give yourself a pause and think before you do something like that."
The pair said Adam was very interested in art and was was talented in graffiti design. 
"He didn't have a way to channel it because his school didn't have an art class," said Marilyn. 
"He got in trouble for it and no one reached out to him to say, 'Hey you're really good at art. Instead of doing this, why don't you do that?'"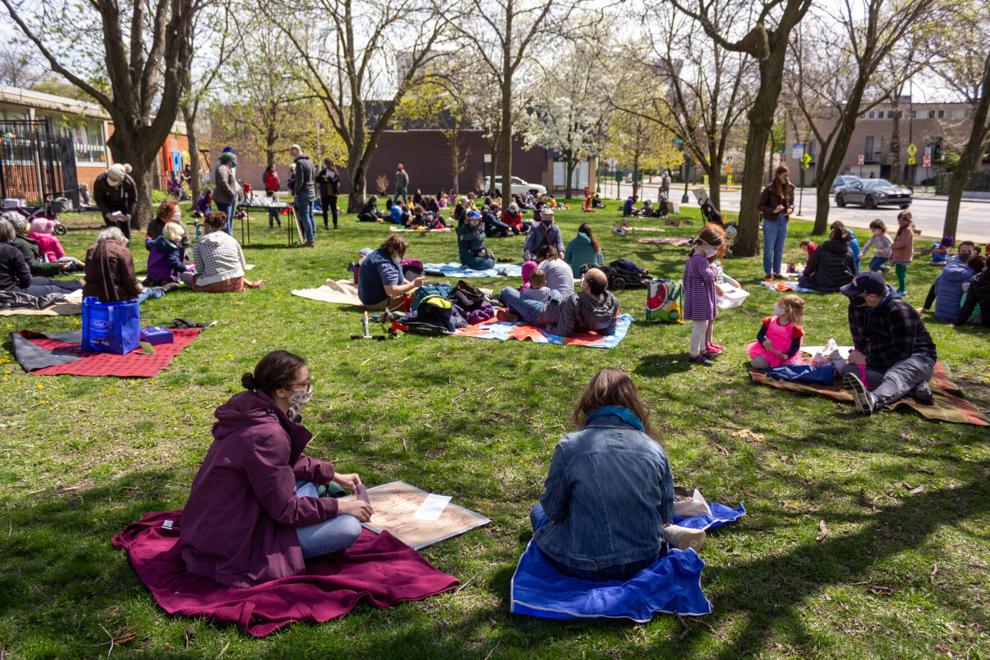 Another mother, Liz Parr, sat with her 10-year old daughter Lily Parr. 
"We are saddened by yet another shooting of a young person of color and we just felt like we needed to come out and raise our voices to support people of color in our community," said Liz, who is also a Lab School teacher. "And we wanted to feel like we were actually doing something instead of just saying things." 
Katie Gruber, a Chicago Public Schools mother to a 5th- and 7th-grader came out to show her support. 
"We do have to do something different and I do think it's in creating this critical mass of people who want things to change," said Gruber. "So I want to be part of that critical mass because I really want things to change."
"We just cannot keep doing things the way we have been doing them. I am in favor of pulling the police out of CPS schools and defunding the police," Gruber added. 
"We are in such a privileged place living in Hyde Park. Not that everyone in Hyde Park is privileged, but a lot of us are and the communities around us largely don't have the affluence or the privilege we do," said Staley, one of the sit-in organizers. 
Last year, Staley started Hyde Park COVID-19 Resource Outreach in the beginning of the pandemic. At first, the group was set up to help people with groceries or medications, but it transitioned into a mutual aid network after people requested financial aid. 
Staley takes one-time donations and recurring monthly donations. For anyone who donates on a monthly basis, Staley matches their donation every month. Since June, the mutual aid group has collected over $32,000 dollars and redistributed it out.
 "Being able to continue it as a way to take resources out of Hyde Park and into those communities (around us) has been really lovely," she said. 
The maximum payments Staley has given out is $200 a month to families in need. 
"There are no real limitations on what people want to use it for," said Staley. "Part of what I feel really strongly about is you don't need to justify it to me."
"If you tell me that you need it, I believe that you know what you need more than I do." 
For more information, visit hydepark.help. 
Correction: This article initially misidentified the school Joseph Cavicchia attends. It is Ray Elementary School, not the University of Chicago Laboratory Schools. The Herald regrets the error.