Advent, the beginning of the Christian year, marks a countdown to Christmas; by its nature, it also happens near the end of the calendar year.
To call Advent 2020 a strange blend of the customary and unusual for the churches of Hyde Park is putting it mildly. The Herald spoke to clergy from a number of traditions to put it into perspective.
St. Thomas and the Apostle Catholic Church, 5472 S. Kimbark Ave., has been open for limited worship since July, alongside other churches in the Archdiocese of Chicago, under advice from the Centers for Disease Control and Prevention and the Illinois Department of Public Health.
The Rev. Dan Costello, who arrived to the parish three months ago, said the church is taking parishioners' names before services to do contact-tracing if necessary, but that no coronavirus transmission has occurred. Daily Eucharist celebration occurs in the parish. Pews have been blocked off, seats have been assigned, masks are worn parishioners are provided with hand sanitizer, and they are encouraged to hum along to music instead of singing hymns.
"While a lot of people are able to watch the broadcast however parishes broadcast their services, it just isn't the same as being together in church, and it isn't the same as receiving communion," he said. "The Eucharist is a vital part of living out our faith and being nourished.
"There's always going to be risk. Even without a pandemic there's risk. There's flu bugs. You know how people get flu bugs every year. We're doing the best they can. Certainly if you're sick, don't come. If you've got quite a few birthdays in your life, maybe don't come based on that."
Reflecting on the nature of being assigned to a new parish during a once-in-a-century parish, Costello, a priest for 22 years at parishes throughout the city and suburbs, said, "We go where the Lord wants us" and called St. Thomas and the Apostle "a delightful place to be."
"I'm present at a lot of Masses, so people have seen me and met me. We don't coffee after Mass or any of that going on during the pandemic. Our 8 o'clock Mass is broadcast seven days a week, weekday Mass as well as the Sunday Mass. I'm frequently seen there celebrating Mass," he said. "So people are getting to know me anyway and my style. I have interaction with folks on the telephone, saying 'hello' socially distanced after Mass."
"It's just not the same human connection via Zoom as there is in person, but the in person stuff will come. That day will return."
Costello remarked on the duality of Advent — it is an anticipation of Christ's birth on Christmas with the knowledge that Jesus is always with us and will come again.
"I have found it comforting and in my own faith and prayer life to just ask the Lord to come more deeply into my life but also thanking him for being such a big part of my life already," he said. "That brings me and a lot of people comfort that he's been with us through this whole pandemic, and knowing that that companionship and support is there."
He recalled the miracle of Jesus calming the storm on the Sea of Galilee, described in the Gospels. The disciples were crossing on a boat when a storm came and nearly swamped them. Jesus was sleeping; they awoke him, he commanded the storm to calm, and he admonished them for having no faith.
"He was there in the boat with them, and he's in the boat with us through this whole pandemic. I know I take a lot of comfort in that, and I know folks I've spoken with take a lot of comfort with that, too," Costello said. "This type of preparing for a new coming is also a time to be grateful for the coming of the Lord present in our lives each and every day."
Vineyard Church, 5333 S. Greenwood Ave., met online and on the front lawn this fall but has moved back totally online for worship on Sunday mornings again. Each member got take-home Advent candles to light, and Christmas Eve services will be at 5 p.m. over Zoom.
"We have leaned into serving the community during the pandemic as we have continued to offer benevolence assistance with gift cards for food and assistance for rent and utilities," Pastor Rand Tucker said over email "God also blessed us with the opportunity to launch a food pantry. It has been a great experience to bless people in this time of need. So far we have been able to bless 350 households with food and other household supplies. It has been wonderful to see how the community has come together around this."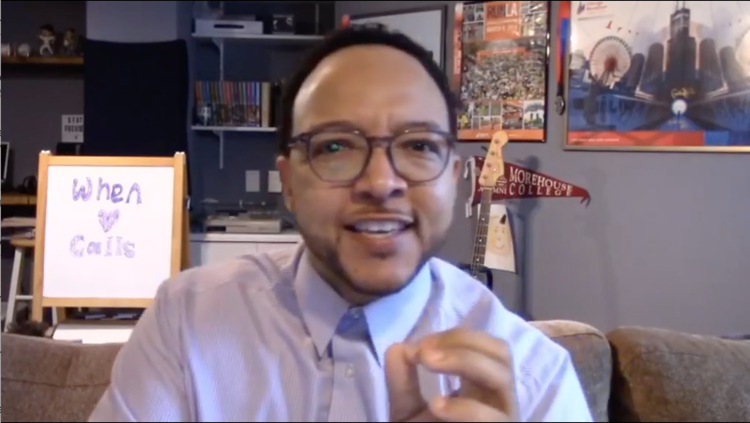 University Church of Chicago, 5655 S. University Ave., has not met for in-person worship since March. The senior pastor, Julian DeShazier, said he learned early in the pandemic how much he and his congregation had taken community for granted.
"Even theologically, the notions of 'community' are often pushed further back to what it means to have a private or individual stake," he said. "This moment has certainly made those things all real. And it's helped us to see how important community is and how, as we move back into a new world — not 'the new normal' but a new world post-pandemic — hopefully we will take those notions of community and do some stronger things with them than we've done before."
DeShazier is amazed at the tenacity and faithfulness people have shown amid the crisis. "They know how to come together even when we can't come together like we've always come together," he said. "They learned how to support one another in ways which we haven't had set up."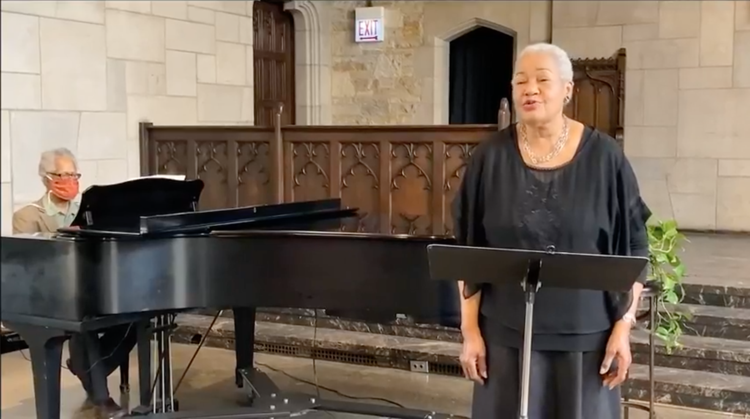 Rather than go through the established channels of church committees, DeShazier said congregants have been working to care and provide for one another directly through the pandemic. University Church does not have deacons, and members typically went to DeShazier for help before the pandemic. Now, he says, they are reaching out to one another for help and to offer it. Services are all online, and he said a lot of discussion is happening over chat.
"I think that just teaches us about the possibility for church moving forward," he said. "I think in a more traditional sense, once March hit and we couldn't do worship the way that we did it in person, people started seeing that I was carrying the load or making sure that worship happened. Many of these people would never join a worship committee, to help design worship, and had been there for years and had not joined the committee. But now, they're helping me on a week-to-week basis."
"In these moments of crisis, we're seeing the value of polity and the value of listening to your heart, listening to common sense and just caring for people and what it means to love people. I think that's one lesson that our church will certainly take moving forward, not only in terms of thinking about polity, but in terms of worship and everything that we do. Does it pass a few basic tests, and not is it in the bylaws? There are more important tests to ask, and COVID has shown us that."
University Church has continued offering its building to immigrants for shelter, and DeShazier said people have joined the church because of its online presence during the pandemic. "We've continued to open ourselves up to the community as they've needed," he said.
DeShazier said that even beyond Advent, COVID has allowed people to pause and ask what and who really matters to them — "Big questions that change our understanding of ourselves, our purpose in the world," he said. "What I've used Advent to do, because it's the season of anticipation and waiting, is to really draw them into the period of discernment, of asking questions about what the season of COVID and this year has meant to them as this year draws to a close."
Every day of the season, University Church has done an Advent devotional, and the church put out a children's "acts of kindness" calendar this year. The lighting of the Advent candles were broadcast online.
"We tried as much as possible to still remain community but to let Advent be this moment where we reflect not just on the coming of Jesus but on this year and what it has done to us," he said
While DeShazier has been preaching from home in his couch, the co-pastors at the Hyde Park Union Church, 5600 S. Woodlawn Ave., the Revs. Veronica  Johnson and Sarah Lusche, started taking turns leading Advent services from the sanctuary for the season.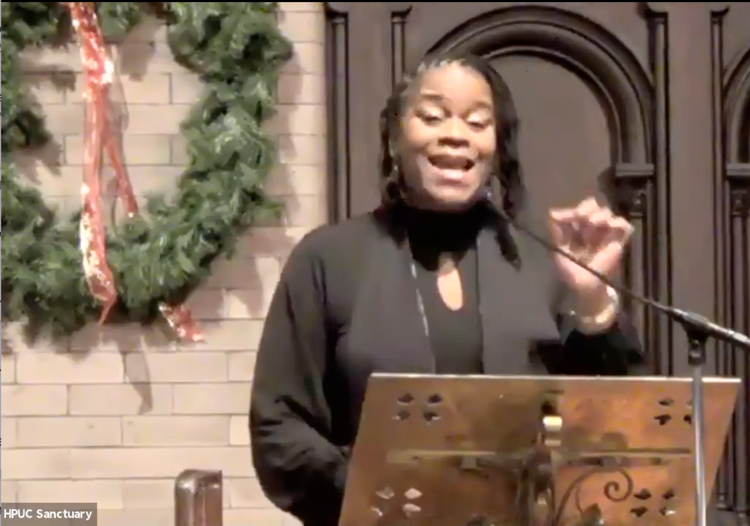 "We wanted to add in just giving people a view of the sanctuary. Folks really miss the church building," Lusche said. "That first Sunday that we were there, Dec. 6, it really meant a lot for folks to see the sanctuary and hear the organ. Our music director has been doing an amazing job with his keyboard at home, but it's something special to have the organ and have some music like that."
Johnson agreed. "Given that I've been preaching at my dining room table, sitting in my chair for nine months, to be standing free — I'm somewhat expressive when I preach — it was just great to be standing in the sanctuary," she said. Not having a flock before her is not she same, but she said she knows they are with her "in the virtual space and attentive, because they have been amazing throughout this pandemic as far as their presence, their engagement, their involvement."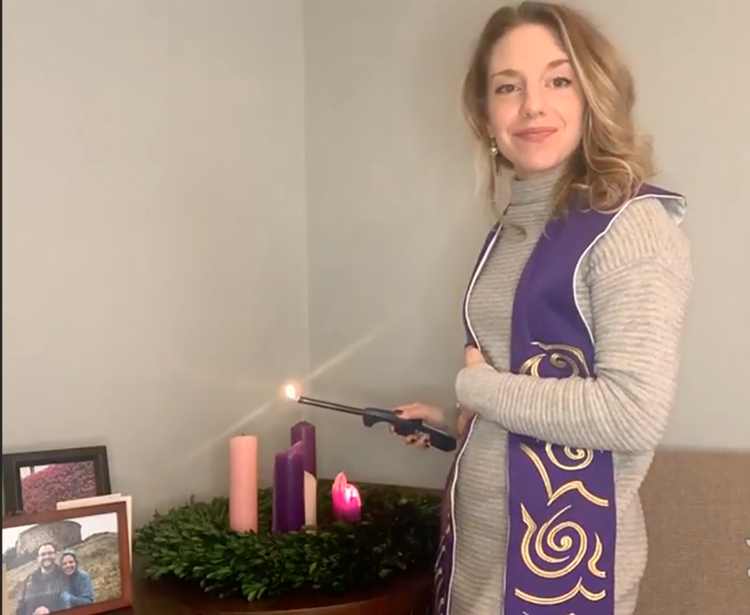 Before the pandemic, Union Church members only read Scripture during Sunday worship. Now, over Zoom, children give the invocation while congregants read announcements and the opening prayer. 
"We've had services that have been all centered around music and different soloists, and we've had services where the young people have had all of the different components," Johnson said. She called the experimentation not changes but opportunities, observing that they, and the pandemic, were all occurring within only the second year of her and Lusche's co-pastorate.
"I would venture to say, we would have been trying new things in Year 2 anyway as we are getting to know the congregation and getting to know us. We are dreaming what can be and what can be different and as we try to take Hyde Park Union Church into a new era as two new pastors," she said. "We would have been doing different things anyway, so this opportunity certainly created a different space to do that."
Lusche noted the strangeness that everyone in the church was not worshipping while looking at each others' faces over Zoom, instead of everyone facing the altar as in normal circumstances. 
"I think in some ways people who might have felt uncomfortable or a little stage fright have sort of maybe grown in that ability, because now we're all seeing each other face-to-face and it's maybe a little more comfortable to, from your dining room table or couch, read a Scripture or perform a song," she said.
Johnson said the Union Church has drafted a plan of return, gathered personal protective equipment and is reviewing a return to in-person worship every month, but she said there is no rush, given the congregation's average age and how well Zoom worship is going. Last year, before the pandemic, the church gained six new members; this year has seen members join as well. She said she looks forward to seeing how the building will welcome its members when they return to in-person worship.
In the year of the most profound American racial reckoning in decades, the Union Church has set up an anti-racism task force to outline the church's educational, healing and "action" mission going forward. 
At the close of the year, Lusche reflected on the concepts of "chronos," or regular time, and "kairos." "This idea of there being moments in time where so much is breaking forth, where there's the opportunity to really do God's work in another way," she said.
"We've really talked about this year as a kairos year, everything from the conversation that has birthed forth anew about racism and White supremacy, from what is happening with COVID and people being sick and losing jobs. We've talked about this as a time for us to really embrace our role as Christians in the world."
Union Church members have contracted the coronavirus, Lusche said, and two have died from it. Congregants have lost work and are struggling with their mental health. 
"We've really also had to, as pastors and as a church, really embrace caring for one another in ways that have always been present but have really been strengthened during this time," she said. "This is not normal, and that's disturbing, but that's OK. There have been many times in Christian and world history that have not been normal, and it's a chance to really figure out who we want to emerge as."
Through this Advent, Johnson said she has been thinking about who Jesus is that Christians are waiting for, and this opportunity presents a different opportunity to see Jesus than in previous years.
"This kairos time has given us the opportunity to stress for our people the excitement about waiting for Jesus who brings justice and healing to the world," she said. "It really brings an opportunity to connect Christmas and justice. Who does that?"
In the meantime, Johnson observed that the world her church serves is in crisis.
"People are hurting. People are really hurting. I mean my family has lost family members. People have lost family members and have not been able to grieve the way that they typically grieve in the way that they typically grieve," she said. "Those of us who are surviving and still finding ways to hope and flourish really may not even realize how much people are not."
Lusche said that is why finding joy in 2020's Advent is so radical, even if they are scraps — that in the midst of darkness, "We have hope, peace, joy and love, and God is with here with us."