This is the first of two stories covering the state of child care in Hyde Park. 
A former public and private school teacher, Peg Pavelec has long been bothered by the fact that formal education doesn't start until children are 5 or 6 years old. Brain development happens before then, but preschool is not mandatory.
She had her first child in the mid-2000s, when there were no infant centers in Hyde Park; her first-born went to a home day care, but she couldn't afford tuition for her second on a teacher's salary. So in 2008, having long been interested in school leadership, she founded Little Inspirations Child Care Center.
"I figured I'm educated in this area, I might as well serve other children and get to spend some time with my own children," she said.
She wasn't alone. Aware of the growth in demand and buoyed by grant funding, including from the University of Chicago, child care providers in the neighborhood sprang up and expanded. 
Little Inspirations was among the successes. Pavelec quickly reached her licensed capacity, and four of her families told her they were expecting new babies. In 2010, the business started an operation at St. Paul & the Redeemer Episcopal Church. Pavelec built out both a day care and a preschool at the Hyde Park Neighborhood Club (HPNC) in 2012.
But now, Pavelec and other child care providers in Hyde Park and the surrounding neighborhoods have found themselves struggling to make do with their usual model. The continuing pandemic and its unfolding aftermath have created a serious shortage of staff and space for many providers, and some have been forced to close completely in an industry already built on razor-thin profit margins. 
The immediate crisis has laid bare, and sometimes exacerbated, longer-term systemic failures: Child care is prohibitively expensive for parents, while employees — especially women and women of color — are underpaid and often work without benefits, making jobs in the field a less enticing prospect. 
Local providers pointed out that government aid is often inadequate, making it difficult for them to accept children from lower-income families. Congressional Democrats are attempting some kind of fix to these problems through President Joe Biden's massive Build Back Better Act, the social policy and climate change package being pieced together in Washington. 
All the while, however, Hyde Park is continuing to experience a care shortage — in October, Little Inspirations had 47 outstanding applications and 18 waitlisted children.
---
The university at its center lends Hyde Park a distinctive set of demographic characteristics. There are a lot of young adults — graduate students, post-docs, fellows, young faculty members — and a lot of them are pregnant or having young children. Many of them are transient, though the overall population of people who need child care is fairly constant, if not increasing a little.
"It certainly has been (the post-secondary institutions') goal to attract more women and families in the last 10, 15 years," said Dr. Sarah Diwan, the early childhood specialist at HPNC, 5480 S. Kenwood Ave. "And with it comes a higher demand for child care. And certainly the university recognizes it."
These and other parents in Hyde Park and the surrounding neighborhoods have many different options to choose from when it comes to child care. Grandparents and extended families sometimes help out. There are shared and private nannies, the most expensive option — Diwan said that Hyde Park nannies are currently earning $17-30 an hour, higher wages than they have in the past.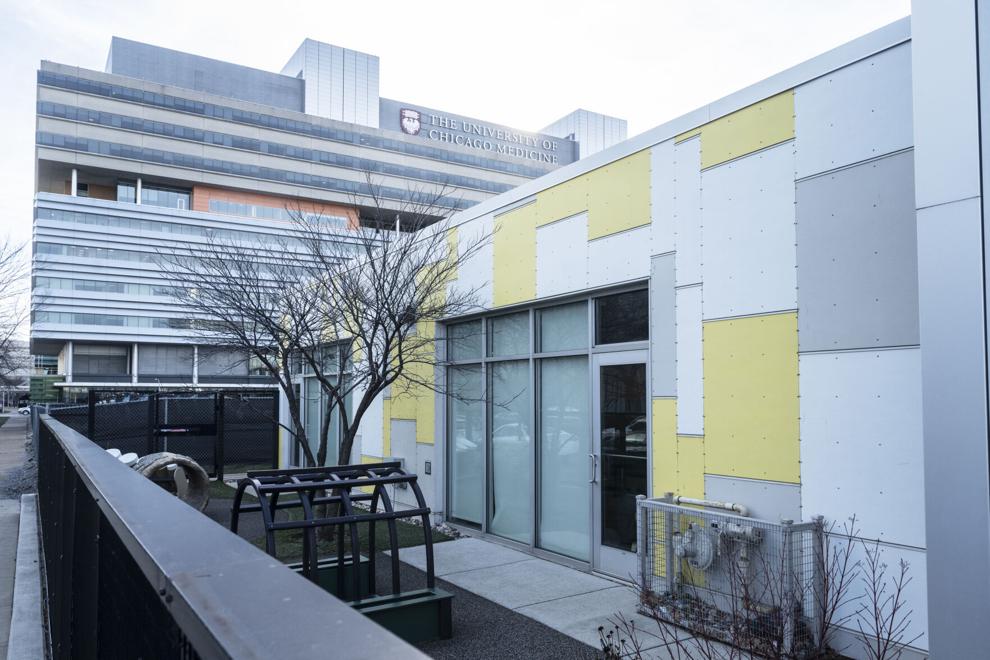 Hannah Lee, interviewed at Bixler Park, has two young children and a half-time nanny she employs with another household. She hired her through HPNC. 
Lee is a social worker working two jobs, therapy and a research project, and her partner is a teaching fellow at the University of Chicago. They both work full-time. The money they're paying their nanny "is our most-expensive cost," she said. "If we could, we would pay for more child care, because the rest of the child care we juggle between us."
As for larger centers, commercial storefronts located along retail strips may be the most visible, but there are also home-based day cares: larger ones need to be licensed, while those caring for three children or less are exempt. Centers may only cater to certain ages, too — some don't accept infants or younger toddlers under the age of 2. 
These kinds of distinctions mean that gaps in the type of providers don't always affect all families equally. Before 2006, for instance, there were no centers in Hyde Park that accepted infants, Diwan said. That year, she received $200,000 from the U. of C. for her own at-home day care, Baby Ph.D., while a pair of other organizations received grants for a little over $100,000 each. Pavelec began Little Inspirations a few years later.
Diwan began her consultations at the Neighborhood Club in 2010, advising parents on child care options and working to expand the number of home-based day care spots in the neighborhood for 3-year-olds and younger. And in 2013, the university opened a pair of UChicago Child Development Centers at 5610 S. Drexel Ave. and 5824 S. Stony Island Ave., with each enrolling 124 children from infancy through preschool. 
Hit hard by pandemic
The COVID-19 pandemic, however, has made life significantly more difficult for providers. As in most other industries, many child care centers closed down at the beginning of the pandemic last spring. A study published this past summer showed that a hefty subset of them did not reopen — out of the nearly 90,000 centers researchers tracked, about a third remained closed as of April. 
In Hyde Park, Diwan said there were a significantly higher number of local day care spots for infants through 5 years olds before the pandemic began. Some centers have permanently closed. Others have had to significantly restrict the number of children they can serve and have only recently begun trying to return to full capacity, though many are struggling to fully staff.
Joslyn Ewing-Brown was in the home day care industry for more than 20 years, operating in Woodlawn, before taking a short break this year. 
"The beginning years of child care were great," Ewing-Brown said. "It was a lot of fight to get a fair wage, but the industry was definitely beneficial as far as financially being able to provide for my family and accomplish a lot of things." 
She enrolled 20 kids, from infants through 12-year-olds, split between daytime and evening hours. The business made enough money that she could pay for school at Olive-Harvey College, making her the first in her family to get a college degree. 
She also worked 12-hour days, and had to deal with work stress from customers who thought of her as a babysitter, or someone who watches children without qualifications. Licensed family child care providers typically have degrees on top of mandatory hours of training, she said.
The pandemic "was a complete nightmare," she said. Ewing-Brown put in an outdoor pickup and drop-off system to limit the number of people coming into her home; she said nearly all of her clients were angry about that. Buying cleaning supplies was a nightmare at the beginning of the pandemic. (She remembers leaving home at 5 a.m. to get to the store.) Children came in with COVID-19 symptoms, while her employees quit for fear they would get the coronavirus. 
It was difficult running remote learning as a day care operator. "I had teachers thinking I was supposed to be their liaison, and it's like, 'Dude, I'm here changing a diaper and stopping a 1-year-old from drawing on the wall with a crayon,'" Ewing-Brown said. "It was just a nightmare. It was just a system that was broken, and it wasn't anything that any of us really did. It was COVID."     
"I liked the money. I liked the children. I don't like the parents," she said. "And I don't like the parents for the most part because you have parents who are very ignorant about what sweat, blood and tears you put into this industry."
Ewing-Brown is a member of the SEIU Local 73 bargaining committee. She supports child care for all, for low- and middle-income families. 
"I have families paying $250 a week for me to watch their child," she said. "To them, that's a lot of money, but to me, working 12 hours a day, that's nothing. But it's income. And how I make my money is based upon my ratio of children in my home, and there's a math and science that goes behind that, and people don't appreciate that."
What eventually motivated Ewing-Brown to take a brief pause with her business — she had returned to work by the time of this story's publication — was Gov. J.B. Pritzker's September announcement that his administration would expand a child care subsidy program to pay for three months of unemployed people's child care, so long as they were seeking work.
"Common sense would be to help those parents who are actually going out here working, who don't qualify for the program," she said. "Allow them to get financial incentives, so they continue to be an asset wherever they're working at, versus giving it to a parent who's sitting at home doing nothing, because they are comfortable with the unemployment benefits they're receiving."
Ewing-Brown nevertheless commends Pritzker for helping her industry stay afloat during the pandemic — the Illinois child care providers have gotten a lot of state-directed federal pandemic aid money. The pandemic-related regulations and interventions have been hard for everyone to navigate, she said. What will help more than anything, she said, is universal child care.
"That will take out the middleman for working-class and working poor families, the headache of trying to figure out how to qualify for child care expenses," she said. 
Persistent staffing shortages
At Little Inspirations, meanwhile, Pavelec is also dealing with the effects of COVID-19. The center is licensed for 80 children but currently serving only 40 — both because of the pandemic and staffing shortages. Before the pandemic, 60 kids would be its "sweet spot," she said, "where things are comfortable and running smoothly, but there's a little bit of financial padding where we feel like we have what we need and can prepare a little bit for an emergency." Now, 60 would be a break-even point.
To attract more staff, Pavelec would like Little Inspirations to have a retirement plan for its teachers, "something that only the bigger child care centers have," she said. "We've done good on having good medical coverage, and dental and vision — a good benefit package — and I feel like a 401(k) or an IRA program, where we could contribute, would be the last piece of the benefit puzzle."
Little Inspirations has had trouble finding the right candidates for open positions, Pavelec said. She would ideally like all her employees to have associate's degrees in early childhood education, but few teachers have that qualification, so it's only a requirement for lead teachers. Other applicants have bachelor's degrees or years of experience, but Pavelec said she is often getting new graduates with little experience, or applicants who don't want to work full time.
Nevertheless, some staff members have master's degrees, and Little Inspirations is restructuring to give more seasoned teachers experience to focus on training less experienced teachers, hopefully helping everyone toward a long-term career path.
There is also the challenge of Little Inspirations employees taking off to work at places like CPS. Some qualified candidates get hired but then move to the district, or move to the district and want part-time, seasonal work at Little Inspirations.
Pavelec conceded that she cannot compete with CPS in terms of compensation and benefits, but she did impress that she offers a great community-minded working environment.
Therefore Pavelec cannot take in more children (without over-extending or sacrificing anyone's safety) and increase her business's revenue, which she said she would use to improve her employees' benefits, which would make the job openings more attractive.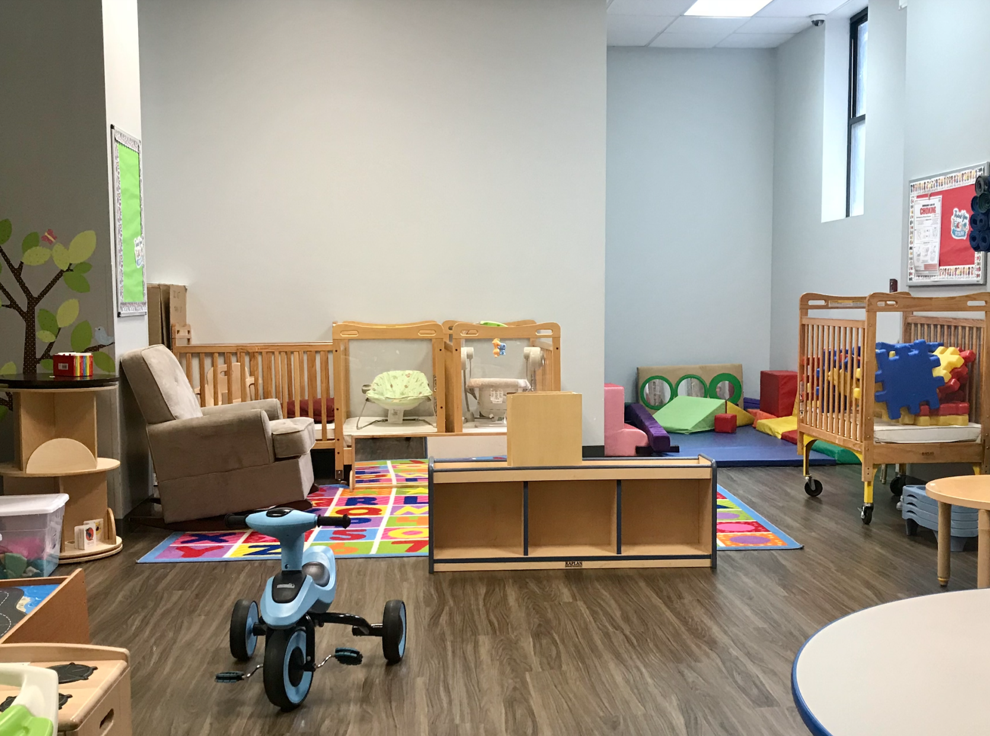 "There is a discrepancy between the number of staff we currently have and the number of staff needed to serve enough children to be at our break-even point," she said, "but we are getting closer and finding some nice new hires — it's just taking a really, really long time and a lot of hard work interviewing!"
She added that tuition will need to go up next year in order for 60 students to still be a hopeful break-even point, absent grants or subsidy funding
Diwan, for her part, works with a home day care operator who would like to take in more infants but has not been able to hire an assistant. "The day cares, obviously, are limited to pay, based on their own expenses," Diwan said. "A day care is a very expensive operation, partly because of licensing regulations, where we have to have certain child-to-adult ratios."
Child care workers are traditionally underpaid, with a median annual wage of $25,460 per the U.S. Bureau of Labor Statistics. (That agency found that their nationwide median hourly wage was $12.05, well below Chicago's $15 minimum wage, but even the occupation's 75th percentile wage is $14.78.)
Examining national data, the University of California, Berkeley's Center for the Study of Child Care Employment has found that workers in child care centers who work with infants and toddlers are paid $8,375 less per year than those who work with preschool-age children. 
There is also a national Black-white racial gap for industry employees who work with preschool-age children ($1.71 less an hour) and infants and toddlers (77 cents less). Overall, Black early educators are paid, on average, 78 cents less per hour than white workers.
The Berkeley Center's 2020 index noted that a lack of employer-provided health insurance and paid sick leave compounded the industry's low wages. 
"Since the vast majority of the providers are women and disproportionately women of color, the sector benefits from existing unfairness and discrimination in labor markets," a recent U.S. Treasury report commented. "This suggests that the economics of the industry would be even more untenable without the structural unfairness."
Diwan, at HPNC, said child care workers' rough state mirrors that of American workers at large. 
"In this country, we make a lot of demands of our workers, and a lot of those workers are parents. And if they have long hours, then the child care providers have to work long hours," she said. "But the child care workers are also workers, needing the same supports that don't really exist in our state and federal government."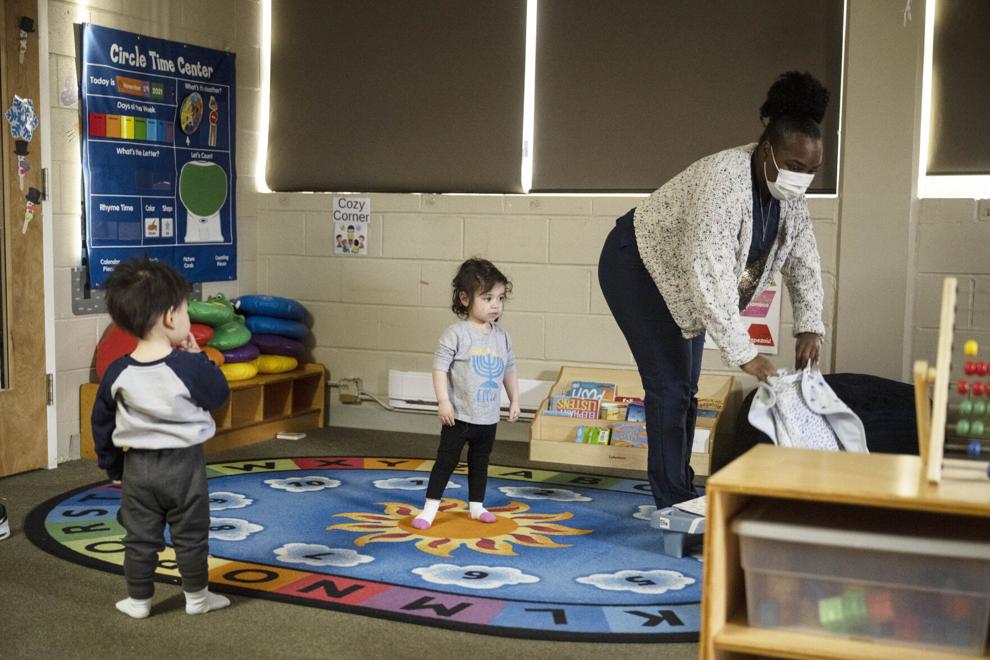 Krystal Phillips, Little Inspiration's teaching assistant director, began babysitting as a 12-year-old and got a bachelor's degree in early childhood education, with a specialty in child and family services. She's worked in Hyde Park since 2014; at Little Inspirations, she works where the biggest need is at any given time, be it implementing activities and lesson plans in the classroom or working in the kitchen.
She took the Little Inspirations job because it offered some path for advancement.
"I do love working with kids, but I do want to have some growth within the field," she said. "When I met with Peg, when the opportunity came for my current position, teaching assistant director, I told her, 'These are my goals: I want to be outside of the classroom, still work with kids, but I want to be able to learn the business, learn all the things that I need to in case I wanted to dive into my own line of child care at some point.'"
Little Inspirations, in that sense, has given her an opportunity for advancement, but she said she needs the tools to generate revenue, too. She lives within her means: her student loans are taken care of. She rents in South Shore, but she is thinking about buying a home with rental units in order to supplement her income.
"You don't want to be at a job just for the money," she said, "You also want to have some type of incentive for the work that you do put in."
She is content for right now, but should Little Inspirations grow, she would like her wages to increase. "We don't want to be underpaid and overworked," she said.
---
Despite the pandemic and the national labor shortage, at least one provider in the area has been able to expand from an at-home business to a storefront. Kiley Russell runs Kemit Academy, which opened this past July at the corner of 51st Street and Dorchester Avenue and enrolls children between 6 weeks and 6 years.  
Russell taught at Ariel Community Academy, 1119 E. 46th St., and worked in school administration before starting a day care at her home in Kenwood in the mid-2000s. She spent about a year and a half renovating her new storefront before moving in. In part, that was because she accepts children with special needs and offers occupational and speech therapy, services that require a bigger space. 
"The communities we service are even as far as Englewood and South Shore. We even have families that come all the way from Beverly," she said. "I tell people school is for everyone, and a lot of early childhood facilities will turn away children with special needs because they don't have space to service them — if there's a child in a wheelchair, for example, or a child with cerebral palsy." 
As at Little Inspirations, Russell is having some trouble finding staff. The center has nine total employees, including four lead teachers, but is looking to hire more — the positions include benefits such as health insurance and a 401(k).
"It's been very challenging during the pandemic," Russell said. "A lot of people are not comfortable coming back to work, and many people have found other options to make a living during the last two years." 
When Kemit Academy opened this summer, occupancy restrictions were limited to half capacity — Russell said she hopes to use the full space by next year. "We're able to with DCFS, but we've kind of done this slow approach to make sure we do weekly testing of children as well as staff." 
Like Ewing-Brown, Russell is able to give a precise account of her finances, and will happily explain the economics of government aid. The state subsidy comes through the Illinois Action for Children nonprofit — for low-income working families, providers get some percentage of the parents' bill on a sliding-fee scale. Diwan noted that many providers in Hyde Park don't accept Action for Children because their fees are too high.
Russell does, though she says it cuts into her profit margins. For children under the age of 2, for instance, she receives $50.89 a day, or a little over $1,000 per month. If a child is there for 9 hours, that comes out to $5.65 per hour. 
Her regular monthly rate for infants is $1,945. This difference makes it difficult for her, she said, to take as many subsidized children as she'd like. 
"There have been points in anyone's life where they have not been able to afford things and taking care of your child shouldn't be one of them. And so we do our best to make the numbers work as much as possible and balance it out between subsidies and regular," she said. 
"You hope that this country, that they value education. You want to believe that. But when it comes down to financials, where is it?"
What Build Back Better might do 
There is precedent for federal involvement in child care. In the 1940s, the government funded temporary day care centers with care available for cents a day for mothers working in World War II industries. 
Thirty years later, Congress passed the Comprehensive Child Development Act, legislation that would have initially budgeted nearly $14 billion in contemporary dollars for locally administered day care centers — free for lower-income people and subsidized for middle class families. 
President Richard M. Nixon vetoed it, saying the "radical" bill "would commit the vast moral authority of the national government to the side of communal approaches to child rearing (and undermine) the family-centered approach."
Biden's Build Back Better Act would guarantee both a month of family leave and the federal government's biggest involvement in child care since the creation of the Great Society program Head Start.
As The Associated Press reported last month, the House-passed plan includes $400 billion to child care and preschool. It would immediately begin free prekindergarten for families who earn up to their state's median income (in Illinois, $87,771 in 2019) by giving them subsidies for use at participating facilities like child care centers to home day cares.
So as not to overwhelm the child care industry with new families, subsidies would be phased in to families making up to 250% of their state's median income (in Illinois, $219,427.50) by 2025. States have the option of participating in the program; the AP notes concerns that some Republican-controlled states may opt out. The program would expire in 2027, requiring Congress to renew it. 
The goal is that families would get enough subsidies to not have to pay more than 7% of their household income on child care expenses.
Lee, the social worker and parent interviewed in Bixler Park, said the Build Back Better Act would cut down on her household's expenditures. She and her partner could save more, she said, or get a bigger home than their current two-bedroom house. 
The expanded version of the child tax credit, which comes out in the form of monthly checks to families, would also be extended for a year.
Participating child care providers would be paid according to a payment model study of rates of child care services in the state, depending on the state's system for measuring quality, according to First Five Years Fund, a Washington, D.C., early childhood learning interest group. The goal, as the fund and The New York Times report, is to raise industry payment rates in the industry to that of elementary educators with similar credentials. 
Illinois policy is already moving, part of the state's pandemic response. On Dec. 2, Pritzker announced $300 million more in grant money for Illinois' child care industry — $725 million has already been given, including to providers on the mid-South Side. 
Around $25,000 per classroom would go to child care centers, and between $10,000-15,000 would be available for home day cares. Half of the funds would have to go to new personnel and workforce initiatives. The application opens in January, and the money is available through January 2023.
Everyone in the Hyde Park area child care industry the Herald interviewed had recommendations for federal policy that went beyond what Washington is considering.
Diwan stressed the primacy of paid family leave is as important to fixing the nation's compromised child care system. She said the government should further consider underwriting infant care, considering its inherent cost to providers compared to other kinds of child care because of regulatory staffing requirements (four babies to one adult, compared with 10 2-year-olds to one adult). She said the resulting shortage in infant care is a national problem but an acute one in Hyde Park, given the neighborhood's large number of young families.
Pavelec wants more opportunity for professional development at Little Inspirations. She said doing that during working hours would require time away from the business making money doing child care.
"As an employer, I want to hire these people who are educated, and I want to help them get the experience and grow along their career paths and feel like they're being professionally developed, and it's hard to find the time and money to do that."
Russell and Pavelec both have clear-eyed advice for anyone who might be thinking of entering their field. 
"Be patient, and then figure out more patience because you can't have enough of it, whether it's from dealing with the state in terms of licensing, or dealing with staff and families," said Russell. "It's a very emotional business, because you're dealing with people, you're dealing with their most precious cargo." 
Pavelec, 13 years on from the beginning of Little Inspirations, was just as measured. 
"Everyone whom I know who has dreams of opening a child care business of any sort is all about the passion," she said. "I think there is a case of, 'Wow, it's such a low-paid industry, I want to do what I want to do, and I want to make a living,' right? I have met people who have gone into this business with an entrepreneurial spirit thinking that it was going to make a lot of money, and they ended up selling very quickly, because it's so much work."
Marc Monaghan and Christian Belanger contributed reporting.