Hundreds of young children were vaccinated in Hyde Park over "Vaccine Awareness Day" on Friday, when Chicago Public Schools encouraged families to get their kids immunized.
Sites in Hyde Park-Kenwood included the little auditorium at Kenwood Academy, 5015 S. Blackstone Ave., Little Black Pearl, 1060 E. 47th St., and Mitchell Hospital, 5841 S. Maryland Ave., where the vaccination clinic for Comer Children's Hospital has been set up.
Francis Collins of Chatham brought his daughter, who attends Ray School, 5631 S. Kimbark Ave., to get vaccinated at UChicago Medicine. Collins is a fireman and took advantage of first responders' front-of-line access to the vaccine last winter.
Survey data from Kaiser Health News suggests that about a third each of parents are ready to get their newly eligible young children vaccinated now, but the other groups want to wait and see or plan to not vaccinate them entirely. But just as Collins got the vaccine as soon as it was offered to him, so, too did he get it for his daughter.
"When we were kids, we all got vaccinated. And I think if anything I can do to make sure my child is healthy and well, I'll do it. All the doctors recommend it, everybody recommends it. So it's a no-brainer to me," he said.
His daughter has been fine, but she has been affected by the COVID-related quarantines at Ray since the school reopened.
"It's a little difficult, but her mom and I have finally figured out a way to work it out," Collins said. "Her mom actually works from home, so it makes it easy, and as a fireman, I work every three days."
But it's still a bit of a disruption. He is happy to know he's safe.
After Chicago police officers, firefighters have been second-most-reticent at disclosing their vaccination status to the city government.
"We all have a choice. I choose to get the flu shot every year. I chose to get the vaccine when I had the first opportunity," Collins said. "Knock on wood, I've never had it. I've been fine. I just think people are apprehensive of the unknown. You hear so many things … but I'm a numbers guy. And I just know in the United States that hundreds of thousands of people have died from COVID. I don't know of anybody that has supposedly died of the vaccine."
Indeed, Reuters has fact-checked online misinformation spreading about the safety of the vaccines and deemed it false, finding that the article was based on misinterpreted data.
"I deal with what I can see, and my job as a parent is to do whatever I think is best for my child, and that's why I brought her here," Collins said. "If I didn't believe in doing it myself — which I took it — I wouldn't get her to take it. But ever since we were little kids, we got all kinds of vaccinations. So I don't know why this vaccination is a big deal. People are making it even bigger than it is."
"You have choices, and I chose to get it. People who don't choose to get it, that's their choice as well," he said. "It seems like nowadays to do most things, you're going to have to be vaccinated."
Zaheera Abdul-Wright brought her 8-year-old to get vaccinated — her last unvaccinated child, with all of her other kids older than 18 and out of the house. Abdul-Wright and her husband have changed their lives significantly to keep their youngest child safe until it was her turn to get her shots.
Much of her daughter's 8 years, however, have been under the cloud of the pandemic. While she has avoided taking her daughter to settings where she could be exposed to unvaccinated people, Abdul-Wright has slowly become comfortable with her being back in school, given the safeguards in place there — and the increasing number of vaccinated people, adults and older children, who are vaccinated there.
"I know everybody has their choice with regards to vaccinations, and I get it. I'm not the one to tell them otherwise. But put your child in the best place possible with regards to getting to this," Abdul-Wright said. "Because to watch your child go through a cold is bad. To watch your child go through a flu is horrible. If they were in the hospital with COVID would be the worst thing a parent could ever want for their child. I'm just circumventing that at this point."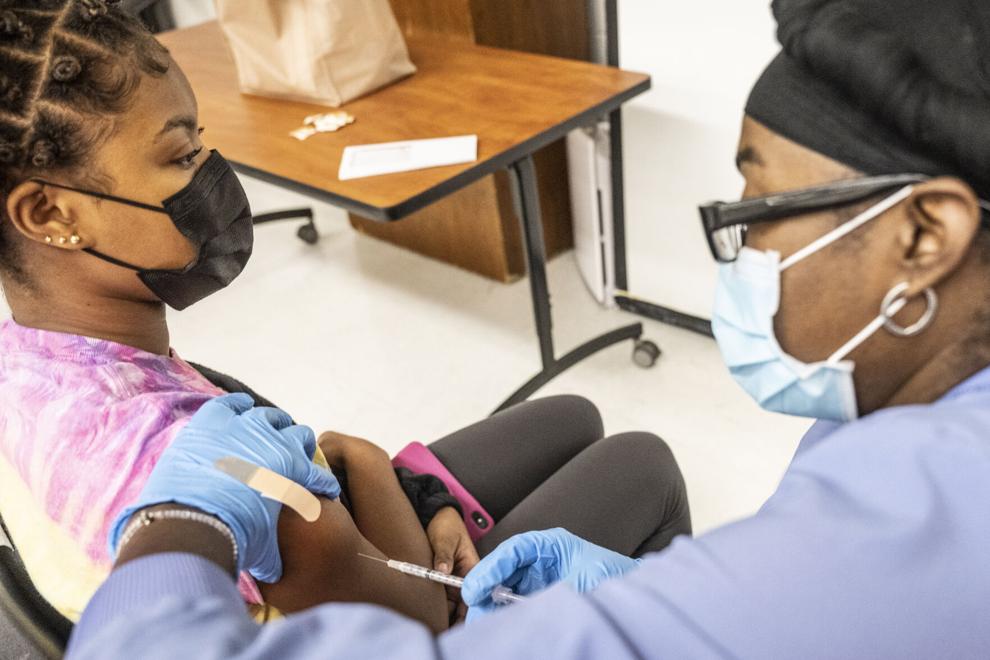 Bronzeville 11-year-old Thomas Turner, a student at St. Thomas the Apostle School (STA), 5467 S. Woodlawn Ave., was glad to be getting vaccinated so close to the former age cutoff, in part because how tedious interactions with his "germophobic" grandmother have gotten over the course of the pandemic.
"It's good that she takes it seriously, but every single time that we got in her car, we had to wash our hands very thoroughly, even though she washed her car multiple times while I was there," he said.
His mother, Jakil Turner, who teaches at CPS, has been worried since last spring about bringing the disease home and infecting him. She kept him home from STA for as long as possible, and seconded that the wait for him to get his shots has been frustrating, given how close he has been to 12.
But now, he will be able to socialize more. They just started going to weekday movie matinees; now they can go when other people go, at night. Extracurricular activities are safer. They can travel for the holidays to Atlanta, where they have family.
Just shy of 300 people got vaccinated against COVID-19 at UChicago Medicine on Friday. About 60 were adults, but the rest were kids.
Most of the people getting the vaccines at Little Black Pearl, the arts school and nonprofit, were adults, but the Chicago Department of Public Health had administered 20 flu shots and administered eight pediatric COVID-19 vaccines.
Shirley Kennedy, 86 and getting her vaccine booster, said she had gotten all nine of her kids vaccinated.
"In the past, I stood in line with them to get their shots, because they couldn't attend school to get their shot!" she said. "That's how we got rid of all the viruses."
Kennedy said she would like to live her life "until it's ready to end, but if everybody doesn't do what they're supposed to do, we won't ever get rid of this virus," noting the current rise of infections with cold weather.
As a young girl, Kennedy had chickenpox, measles, mumps and whooping cough — which are all vaccine-preventable diseases.
"We've got to get vaccinated, so that we can protect the next generation," she said. "I'm just praying that people are paying attention. Now that the children from 5 to 11 are going to get it, I'm glad."
Outside of the Kenwood track and field, a group of parents were busy, protected by a tarp from the late-fall precipitation, making eggs, sausages and mostaccioli, with CPS-style butter cookies for their football-playing sons busy with football practice. They all, as high schoolers, became eligible for the vaccine months ago, and their moms had all ensured they got their shots.
LaRonya Taylor said that her 16-year-old's vaccination was not just due to football, but due to "being a person who's in this world that is a part of this global pandemic."
The ongoing vaccine hesitation, Sharron Mayes said, is about not knowing how to do research on the topic, or past experiences with the health care system.
But knowing that her son is vaccinated — and that, per CPS policy, all his teammates must also be, or tested for COVID-19 weekly — gives her comfort. With other kids at Kenwood proper not vaccinated, knowing that her 17-year-old is going to school, and out into the world, with a substantial layer of added protection also makes her feel better.
Back outside Mitchell Hospital, Keisha Guy, of South Shore, was getting two of her three children vaccinated, her 4-year-old being too young. She said the pandemic taught them discipline and structure they otherwise would not have had. They also know a lot about virology and epidemiology.
"The washing of the hands, the continuing, especially at their age, to keep the masks on, because they're at school all day — I think that that has been great," she said. "Even if you taught them some questions in regards to the virus, they're knowledgeable about it. These are things that, when we were their age, were the last things on our minds. But now?"
Guy knows that the vaccine won't mean that her kids can take off their masks immediately. She hopes they won't have breakthrough infections, but she is happy that they won't get as sick as they would have been if they were unvaccinated.
She and her husband both got mild cases of COVID-19 a year ago; they got vaccinated this summer, waiting to see about the shots until after a few people in their social network got theirs. They read and believed media reports about the vaccines' safety and efficacy — and about how many unvaccinated were dying of COVID-19,
On Friday, they made the decision to get their kids vaccinated at the first opportunity.
"Both myself and my husband are vaccinated. We trust in whatever research has been done. We trust that it won't harm them, because we both lived through it, and who better to be the guinea pig than the parent first?" she said. "Neither one of us have had any side effects. Everything has been OK."
---
The rise in COVID-19 cases that took off in Chicago at the end of last month is reflected in mid-South Side data from the week of Oct. 31 to Nov. 6.
In 60653, covering North Kenwood and Oakland, 42 people tested positive for COVID-19 out of 1,776 tests — a 2.5% positivity — up from 18 the week before, and no one died, the same as the week before. The number of tests performed increased 5%.
In 60615, covering northern Hyde Park, southern Kenwood and northern Washington Park, 43 people tested positive out of 2,302 tests, up from 20 — a 1.9% positivity — and no one died, the same as the week before. The number of tests rose 3%.
In 60637, covering southern Hyde Park, southern Washington Park and Woodlawn, 59 people tested positive out of 3,469 tests, up from 46 — a 1.9% positivity — and no one died, the same as the week before. The number of tests rose 6%
In 60649, South Shore, 42 people tested positive out of 3,135 tests — a 1.7% positivity — up from 29, and no one died, the same as the week before. The number of tests performed rose 15%.
In Hyde Park, 74.2% of the population aged 12 and older is fully vaccinated, up 0.4% from the week before.
In Kenwood, 63.6% of the population aged 12 and older is fully vaccinated, up 0.4%.
In Woodlawn, 47.1% of the population aged 12 and older is fully vaccinated, up 0.6%.
In Washington Park, 43.2% of the population aged 12 and older is fully vaccinated, up 0.5%.
In Oakland, 54.7% of the population aged 12 and older is fully vaccinated, up 0.5%.
In South Shore, 48.6% of the population aged 12 and older is fully vaccinated, up 0.5%.
In Douglas, 54.8% of the population aged 12 and older is fully vaccinated, up 0.4%.
In Chicago, 69.5% of the population aged 12 and older is fully vaccinated.
The city's website for COVID-19 testing information is chi.gov/covidtesting. The city's website for vaccine information is chicago.gov/covidvax. The federal government's vaccine information website is vaccines.gov. City operators are available at 312-746-4835 to handle any questions regarding the vaccine.
Beginning on Monday, 5- through 11-year-olds can also be vaccinated through the Protect Chicago at Home program. Up to 10 people at once can be vaccinated at their homes by appointment through it; hours are weekdays, 8 a.m. to 6:30 p.m. Anyone who gets vaccinated (both the Pfizer and Johnson & Johnson vaccines are available) will receive $100 Visa gift cards, which can be used anywhere Visa is accepted. More information is at 312-746-4835 or chicago.gov/athome.
Neighborhood pharmacies, including Katsaros Pharmacy, 1521 E. 53rd St., Walgreens (1-800-925-4733) and CVS (1-800-679-9691) are offering the vaccine by appointment and on a walk-in basis. Appointments at Katsaros are available online at katsarospharmacy.com.
Howard Brown Health is offering the Pfizer vaccine at its Hyde Park clinic, 1525 E. 55th St., with sign up at 773-388-1600. UChicago Medicine is vaccinating everyone regardless of patient status. The scheduling number is 1-888-824-0200.
The Cook County government is offering sign-up for vaccines at vaccine.cookcountyil.gov.