Ray School is the Chicago Public Schools food distribution point in Hyde Park-Kenwood, where five cooks distribute around 60-80 kits containing three breakfasts and three lunches every day, Monday through Friday, 9 a.m. to 1 p.m.
Mauveline Preston, an elementary lunchroom manager with Chicago Public Schools, came to Ray School over the second week of March. Her job typically requires her to float between schools, filling in for other managers on leave. 
"Right before the pandemic really started, I was sent to Ray just to do regular school work," Preston explained. Two months later, she is still working in Hyde Park. 
She said the demand was overwhelming at first — "We were trying to get in the hang of how to distribute everything safely to the students" — that it lessened after a week, and that it has been picking up lately.
"Once Ray became the focus school for us to distribute the food to the students in the Hyde Park area as a community, to different schools, it became a great honor," said Preston, who has worked in the district for 10 years. "It was a little challenging, but then it became a great honor to serve, because we never know what anybody is going through."
CPS assigned more staff as demand increased. "It just became greater than what we thought it would be," Preston said. "I never would have imagined that it would have gotten to be the way it is now. 
The meals in the kits require no cooking. There are six cartons of milk in each. Breakfasts may be apple-cherry bars with dried cranberries or honey-oat bars and an orange. Lunch may be sunflower butter-and-jelly sandwich kits with graham crackers and baby carrots or chicken nuggets, celery stalks and an apple. 
The menus change day to day. The food is good for three days. Preston said there is very little waste, as she uses the previous day's numbers to plan distributions every day.
The district is distributing meal kits every day, rather than every third day, in order to meet demand as it comes. "I know a lot of people, because of the demand and the way the economics is now, they may need more," she said. "We don't know how a person's personal dynamic is. We don't know what's going on. We don't ask questions. We'll just give you whatever you ask for."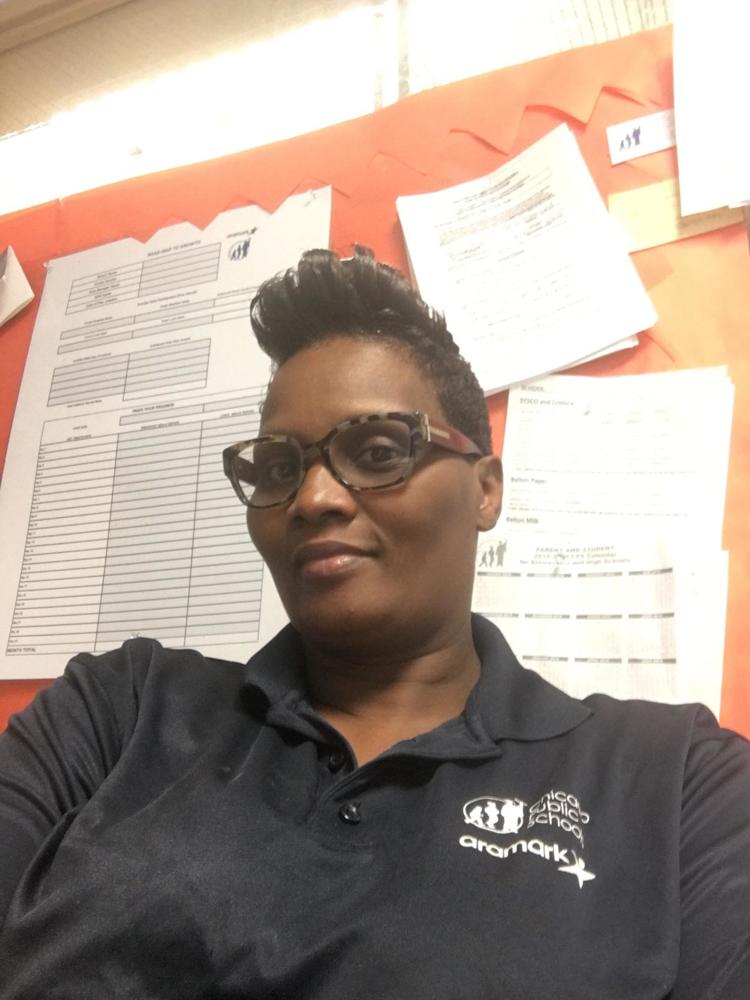 The workers' workday starts at 6 a.m. They stay six feet apart in the kitchen and wash their hands every 15 minutes. Bagged kits are kept refrigerated until they are distributed. Distribution is contactless: people young and old approach a sanitized table at entrance near the cafeteria at Ray, 5631 S. Kimbark Ave., and ask for meals, which a masked worker hands out. Then the worker sanitizes the table again and changes her gloves.
"Each transaction we're changing and we're washing and we're sanitizing," Preston said. "Honestly, I'm scared, but at the same time I know there is a demand and there is a need. What I do, I just pray, come on in and make sure I'm following the safety protocols so that we can stay safe in here. As well as protecting ourselves, we can protect them as well."
What's more is when parents, guardians and kids thank her as she leaves work for the day at 2:30: "It boosts me up to want to come tomorrow, because there is a need and people actually appreciate what we do."
"And I'm just glad that, one a day-to-day basis, we're able to meet the demand that is put in front of us," Preston said. "People need to know that the food is here, to come get it. We're not asking for anything. We don't ask questions. Whatever amount of kits you say you need, we make it available to you."