Halloween night passed without any arrests or major incidents in Hyde Park. 
The usual crowd of young people gathered on and around 53rd Street were met by a heavy police presence, with officers deployed from at least three other districts across the city. Beginning in the early evening, about ten cars belonging to city and University of Chicago police were parked around the intersection at 53rd Street and Lake Park Avenue. 
Chicago Transit Authority (CTA) buses lined up along Lake Park Avenue, where they were used as rest areas for police. Several salt trucks were positioned to potentially block off 53rd Street. 
By around 7 p.m., a crowd of young people — smaller than in past years, though still large enough to fill a city block — had formed near the 53rd and Lake Park intersection. 
At 53rd Street and University Avenue, the activist group GoodKids MadCity (GKMC) held a block party starting at 6 p.m. — members said the purpose was to watch the police and provide a space for young people coming to the neighborhood.  
"We're out here with our youth, we're out here with our young brothers, because we're out here to show you that we are not doing anything criminal, we're not doing anything wrong. Even if we were, the resourcing is at the root of that," said Jalen Kobayashi, an organizer with GKMC. "We're out here to cop watch, to show people that we're in the community every day. We are what's keeping us safe." 
People from the block party marched east on 53rd Street around 7:30 p.m. toward Lake Park., where the large group of young people had gathered. The Chicago Freedom Ensemble, a newly formed brass band, provided a musical backdrop. 
Taylore Norwood, a member of GoodKids MadCity, criticized the police presence in the neighborhood. 
"I think police are always the agitators in the situation. There's no reason to police kids who are in their own city just trying to hang out with each other and have a good time," she said. "There's no reason for them to have to see police with guns and badges and cuffs on every corner — police on bikes, police in unmarked cars, police in stores everywhere they go simply because they're out enjoying their youth."
There were some small scuffles over the course of the evening. One person was detained outside of Harper Theater, 5238 S. Harper Ave., following a fight at around 10:30 p.m. He was later released by police. 
Around 9:45 p.m., a fight broke out by Mellow Yellow, 1508 E. 53rd St. After the fight, one woman was taken to the hospital. Police did not detain anyone, and had no information the next morning on the woman's status. 
At 7:56 p.m., a firework was set off at the corner of 53rd Street and Blackstone Avenue. No injuries were reported. 
One 15-year-old girl in the crowd said she didn't think this year's Halloween was much different from years past. "It's not that different — it's still a lot of people out here," she said. "It's fun. You see fights, you see police chasing people, it's so fun." 
She also said the young people in the crowd weren't there to do serious damage. "They not gonna do nothing for real — they just come out here to have fun, enjoy the people, meet new people and stuff." 
Ald. Sophia King (4th), who was on the scene early in the evening, praised the police response around 9 p.m., noting that officers weren't chasing young people when they ran away or forming a line to disperse crowds. 
But police would later form a line close to 11 p.m. while attempting to clear people from 53rd Street. As police cleared the street, young people present formed smaller groups and began to disperse. There were few reports of subsequent property damage on the neighborhood's residential side streets, which remained relatively calm.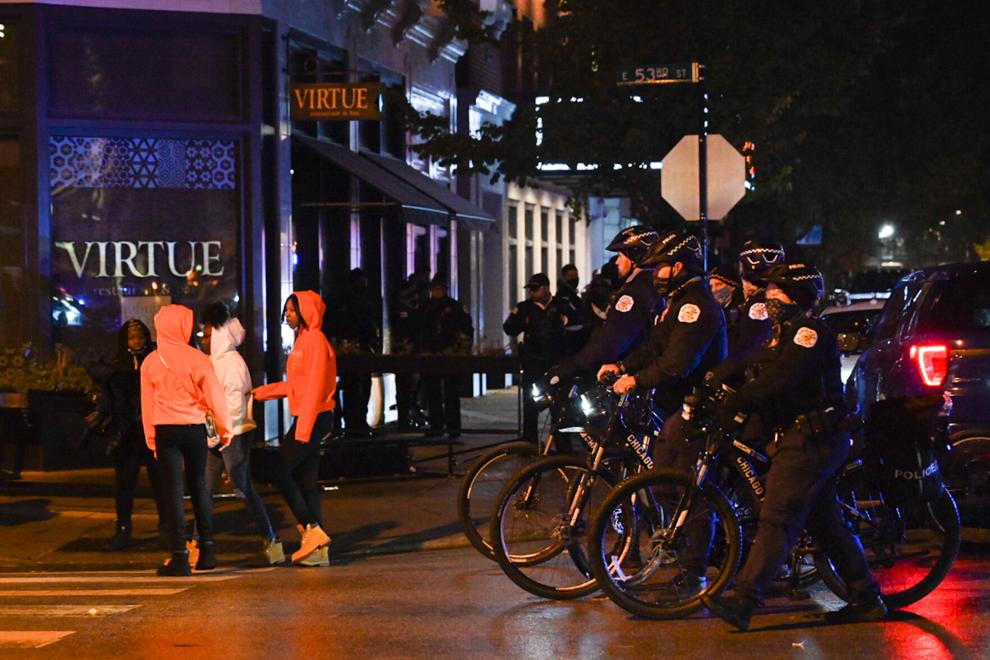 At the BP gas station, 5130 S. Lake Park Ave., employees temporarily shut down the store after a group of people, they said, pounded on the front door while yelling at people inside. No other property damage was reported. 
There was some minor property damage on 53rd — outdoor dining partitions and planters were knocked over at two restaurants; at one, they broke. 
In a continuing trend, police scanners reported a number of paintball attacks over the course of the day and evening. Bennie Currie, who heads up the CollaBOOration initiative that ordinarily puts on a Halloween event, told the Herald that he had been shot at from a passing car early in the evening. 
The police scanner also reported that a silent alarm was activated around 10:20 p.m. at Red Snapper, 1418 E. 53rd St. The restaurant manager later told the Herald that a worker had accidentally pressed the button.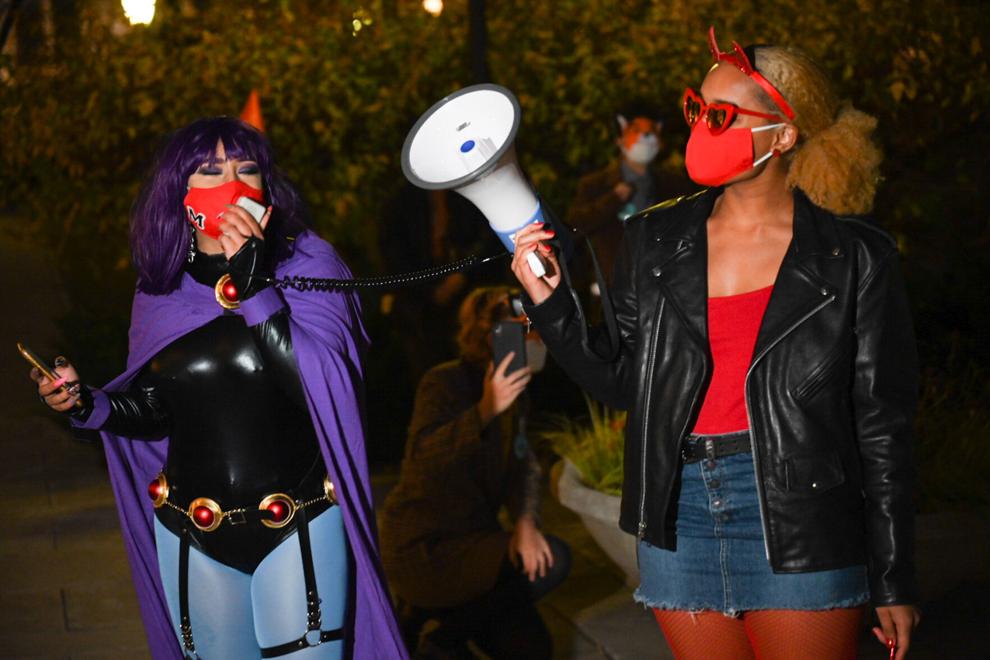 On the University of Chicago campus, activists with the group Care Not Cops held a protest calling on the administration to disband UCPD and fund an ethnic studies department. Around 100 people attended. 
Marc Monaghan and Aly Tantawy contributed reporting.