Gayle Harris-Neely has wanted to be a principal since she was in fourth grade.
A math teacher at Sherman Elementary School, 1000 W. 52nd St., would whack students' knuckles with a stack of rulers if they got problems wrong — all until her principal walked into class one day.
"We didn't know what was going on, but the teacher had to step outside," Harris-Neely said. "When she came back inside, the teacher never did that again. Just as a kid, I was in awe: 'She has that much power to make her stop doing these bad things? I want to be her when I grow up.'"
Now, as the head of Ray School, 5631 S. Kimbark Ave., she has the opportunity to achieve goals like increasing teaching alignment from grade to grade, all while guiding the Hyde Park elementary through a continuing public health crisis. 
Harris-Neely's ascendancy has been a long time coming. She began college at Eastern Illinois University in Charleston before returning to Chicago to get married. With an associate's degree, she worked two years as a pre-school teacher. As a working mother, she finished her bachelor's degree at Chicago State University in 1994, later earning two master's degrees from Concordia University in 2005 and 2007.
"Each position I kind of worked my way up the ladder," she remembered. She spent years in the classroom, teaching high school English at Gage Park, 5630 S. Rockwell St., then at John Hancock High School, 4034 W. 56th St.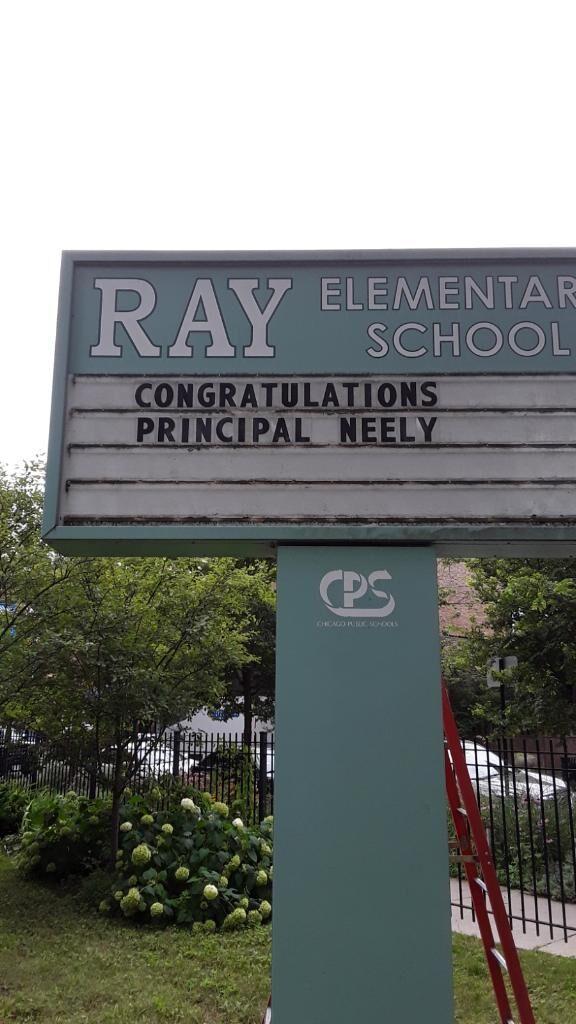 "I loved teaching English because it opened the door for opportunities for students to communicate and express themselves in different ways," she said. "It wasn't just through writing: they had speaking opportunities. I taught journalism. I taught remedial English. I had Advanced Placement English. It was just an opportunity to get to know the students and allow them to express themselves in multiple ways."
She recalled having her students read the first chapter of Sharon Draper's 1994 young adult novel "Tears of a Tiger"; students returned to class the next day having finished all 180 pages. "That type of thing really inspired me to stay in the classroom as long as I did," she said.
After Hancock, Harris-Neely directed an alternative learning program at William Rainey Harper High School, 6520 S. Wood St., until 2014, when a friend encouraged her to apply to be the assistant principal at Ray. The program at Harper was about to close, and she wanted to stay with Chicago Public Schools.
With her predecessor, former Principal Megan Thole, who resigned last month after six years to take a job in Iowa, Harris-Neely initially focused on climate and culture, as middle school students from Shoesmith School, 1330 E. 50th St., were also new to the school. The adjustment was hard for both students and faculty.
"We had to change the lunch program, the way the students entered and exited," Harris-Neely recalled. "Morale was really down among some of the students coming from Shoesmith, so we had to make it really inviting. We had to put some incentives in place."
So she reached out to Shoesmith staff to see what worked well at that school and worked to establish better relationships with parents. "It was just a matter of merging some things," she said. "We worked a lot with Positive Behavioral Interventions and Supports. We had to do school-wide assemblies, teaching how we walk in the hallways."
After three years, she saw a significant, positive change. With Thole treated her more as a partner, Harris-Neely began working more with teachers. But now, having signed her contract on July 24, the gravity of the responsibilities that accompany her title have dawned on her.
"At the end of the day, your name is on everything," she said. "I think that the responsibilities on me are going to greatly increase, but my instructional leadership will not change. And I think that is one of the things that the staff really appreciated: I wasn't just going to come in and make all these changes immediately. They know my style."
As an administrator, Harris-Neely said her work with faculty thrives on support and collaboration, priding her ability to identify teachers' areas of strength as well as areas in which they need additional support.
Ray is a Level 1 school, and Harris-Neely would like to achieve the Level 1+ rating. "We need to align some things," she said. "We need to make sure that we're being very transparent across the board, meaning that eighth grade (teachers) know what preschoolers are learning. Once we get that together as a team, I think we'll be fine."
Alongside meetings with the local student council and the parent-teacher organization, a town hall with teachers is scheduled for this week; she declined to discuss further goals for having yet briefed her faculty about them.
But she is taking on the role in the throes of the coronavirus pandemic; CPS is holding town hall meetings on the coming academic year and has said the plan — for elementary schools to teach "pods" of 15 students two days a week, Monday-Tuesday and Thursday-Friday, with a deep cleaning on Wednesdays — is subject to change. Harris-Neely thinks there is a strong probability it will.
"I think we're going to be fine," she said. "But right now, I'm pretty much in listening mode. I want to hear what the other stakeholders are thinking. I want to make sure that they know we'll have a solid plan in place and everything will be fine."
Nevertheless, she conceded major concern with teacher and student safety under the current plans. "I have three children myself," she said. Two of her daughters are teachers. "Not only do I have professional concerns. I have personal concerns as well."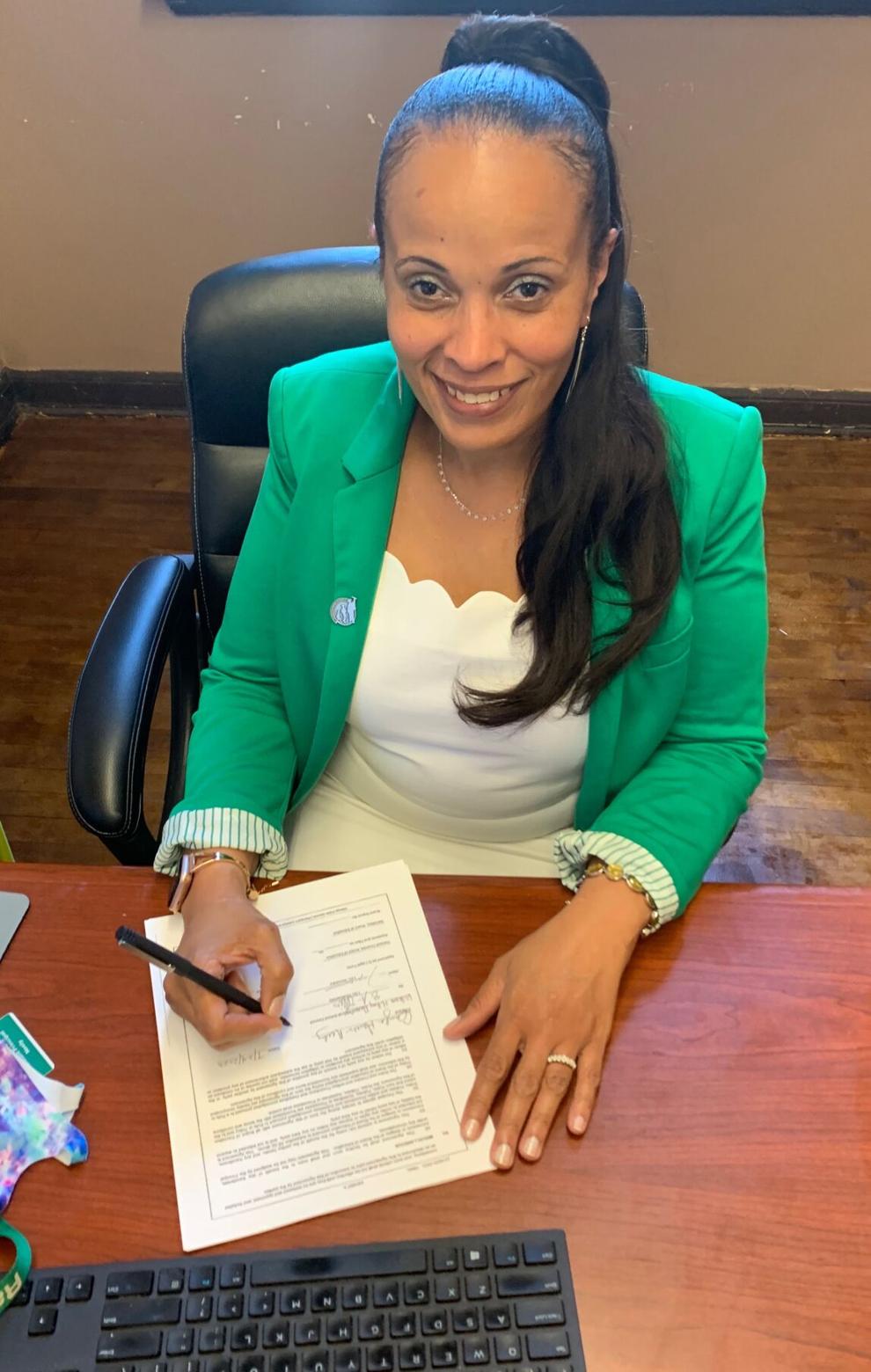 But she said she trusts the district to get it right, proclaiming respect for CEO Janice Jackson. As a product of CPS, she has always wanted to teach in public schools, saying, "It's all about giving back to the community."
At present, Harris-Neely is also pursuing a doctorate in urban leadership at the University of Illinois at Chicago; though she is not yet sure what the focus of her research will be, she wants it to coincide with the nature of her work at Ray. She said student growth and development professionally drives her.
"I love to meet students where they are, and, as an educator, to give them the tools and strategies to help them grow," she said. "I think the academic is paramount, though I do like to see the social-emotional growth as well."
In her free time, Harris-Neely runs, cooks, hikes and reads. She lives outside of Hyde Park but loves working in the neighborhood.
"I grew up not too far from Hyde Park, but I think it is wonderful seeing the diversity," she said. "I love the way that people are so committed not just to the community, but to each other. It amazes me how they've embraced me not just as a teacher, but as a person."
Sometimes she takes Metra to work, just to enjoy the street scenery en route to the school. The kids joke, asking her if she has a car. She reminds them that she does, adding, "I just like walking through Hyde Park, because it is a beautiful place."