Two mid-South Side community organizations, the Emerald South Economic Development Collaborative and the DuSable Museum of African American History, have received grants funded in part by the state's revenue from adult-use marijuana sales.
In all, 81 community organizations around Illinois got Restore, Reinvest and Renew, or "R3," grants to help fund legal services for low-income residents, youth development, violence prevention and economic development in areas hardest hit by the war on drugs.
"We know that too many communities, disproportionately Black and brown communities throughout our state, have suffered from over-incarceration and decades of disinvestment due to the failed war on drugs," Lt. Gov. Juliana Stratton, who chairs the R3 Program Board, said during an interview with Capitol News Illinois. "And so the R3 program was one component that was included by the members of the General Assembly, with the leadership of the Legislative Black Caucus, in particular, to make sure that we focused on restorative justice."
The largest single grant, $2.5 million, was awarded to Emerald South to provide a combination of youth development, economic development and violence prevention services on the mid-South Side.
In an interview, Emerald South head Ghian Foreman said "it is a lot of money and it's not a lot of money," as it will go towards the organization's five-year, $25 million "Terra Firma" initiative to address vacant land on the mid-South Side with the Greencorps jobs-training program, modeled after a similar program in Philadelphia.
"They took ex-offenders, locally owned companies, women- and minority-owned companies, and they fenced, seeded, cut, planted bushes, trees and that kind of thing, and they found these incredible results," Foreman said. "Their property values increased. Violent crimes decreased. Employment opportunities and opportunities for locally owned companies improved significantly. People's sense of mental health and wellbeing increased … and overall community pride was improved."
"Basically, we're preparing the land for ownership and the government," he said. "Part of what we want to do is, while reducing crime, while improving employment opportunities, we want to look at the opportunities that come in the future."
Foreman said Emerald South is targeting 20 acres, or 871,200 square feet, in the first round of the program. Two acres have already been completed. (One acre is 43,560 square feet; Foreman said the average city lot is 3,700 square feet, meaning the whole Terra Firma program would target around 235 total vacant lots.)
"We're going to be fencing vacant lots. We're going to be doing plantings in vacant lots. We're going to be doing art installations on the fences in the vacant lots," he said. With 5 million square feet of vacant land in Washington Park, 3.5 million in Woodlawn and 1.5 million in South Shore — much of it polluted — he sees the program as reparative and stabilizing for the mid-South Side.
"Not seeing vacant land as a negative but as a positive," he said. "Here's an opportunity that we have to own land, to develop land, to have jobs associated with land and to just have our built environment impact our health outcomes."
Meanwhile, the DuSable Museum, 740 E 56th Place, received $264,600 from the state.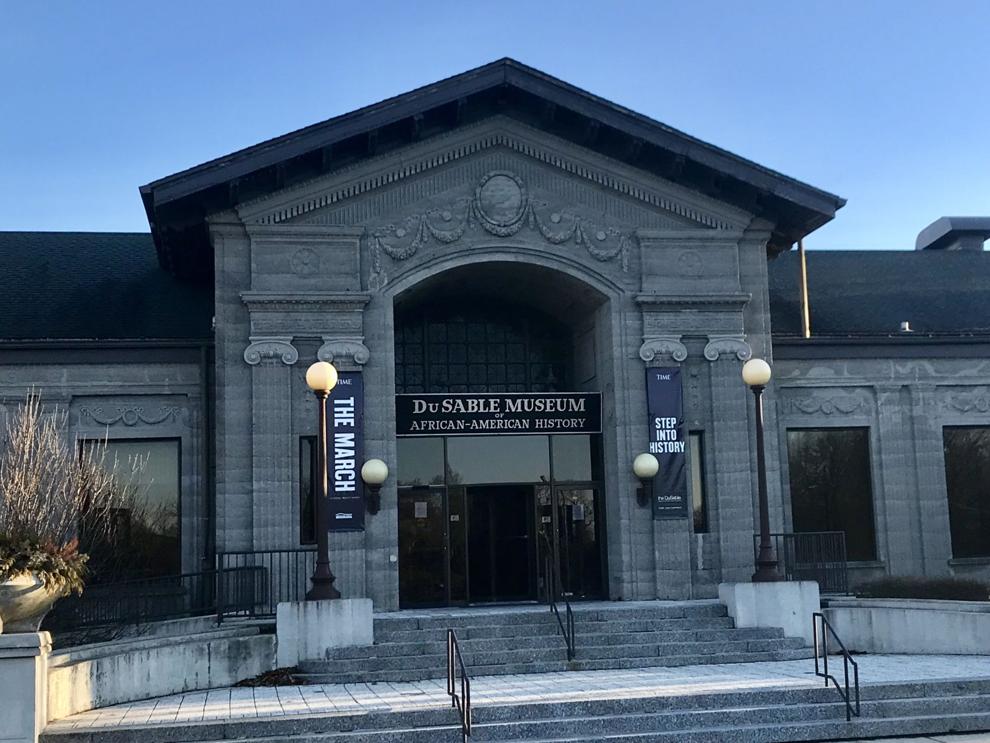 The Cannabis Regulation and Tax Act, of which the R3 grants were a key element, went into effect on Jan. 1, 2020. Under that law, the state levies an excise tax of 10% of the purchase price of marijuana with a THC content of 35% or less. Marijuana with THC levels higher than that is taxed at 25% of the purchase price while cannabis-infused products are taxed at 10%.
The law also provides that 25% of that revenue be used to fund grants in communities that have suffered from economic disinvestment, violence, and the severe and disproportionate damage caused by the war on drugs, largely low-income communities of color.
Officials said the grants announced Thursday were funded with revenues from the first month of legalized sales through the present. The deadline for submitting applications for the first round of grants was in July. Applications were submitted through the Illinois Criminal Justice Information Authority, which was also responsible for identifying communities that were eligible.
"What I'm really proud of is not just the fact that these funds are getting to communities, but I'm proud of the way that it's getting to communities, and that's centered on equity," Stratton said. "We made sure that we had town halls and meetings throughout the communities that were attended by hundreds of organizations and hundreds of people to make sure that we were doing outreach, especially for some of the smaller organizations that that might not often have had an opportunity to get these grant funds."
Stratton said the R3 board hasn't set a timeline for distributing the second round of grants.
"We are very excited to get this first round of grants off the ground," she said.
Hancock reported from Springfield. Capitol News Illinois is a nonprofit, nonpartisan news service covering state government funded primarily by the Illinois Press Foundation and the Robert R. McCormick Foundation. The Herald is a member of the Illinois Press Association.